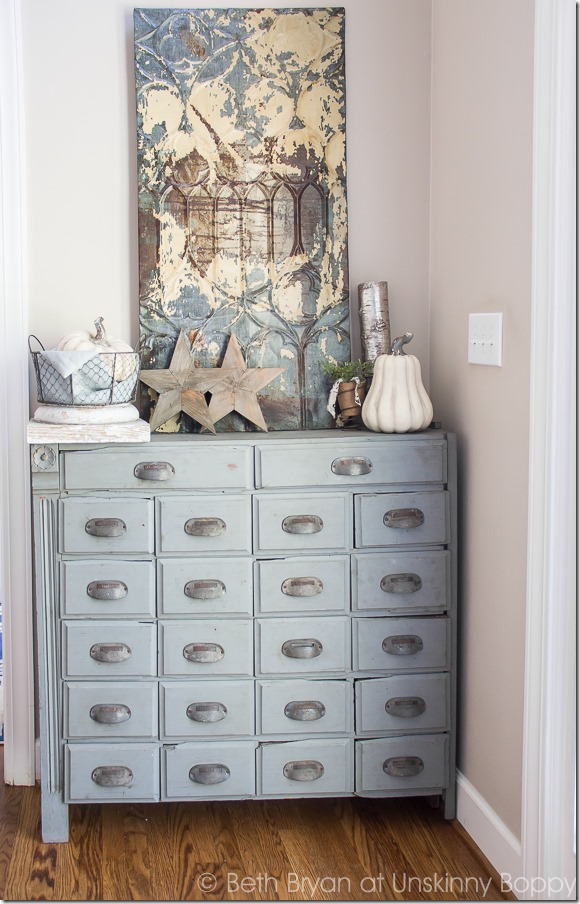 It finally happened.  After years (decades!?) of searching for the perfect apothecary cabinet for my house, I have found it.
This pre-1900 beauty was sitting in one of my very favorite antique stores in the world- Scarlett Scales Antiques in Franklin, TN.  And now, after our weekend road trip to the City Farmhouse Pop-Up show… it's sitting in my foyer!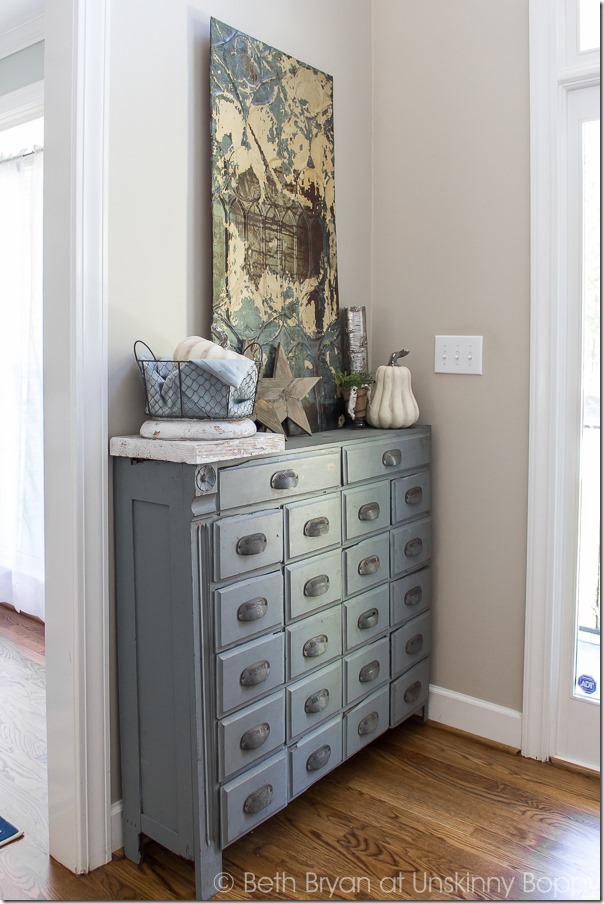 Once it got settled in at home I wasted no time decorating it for fall.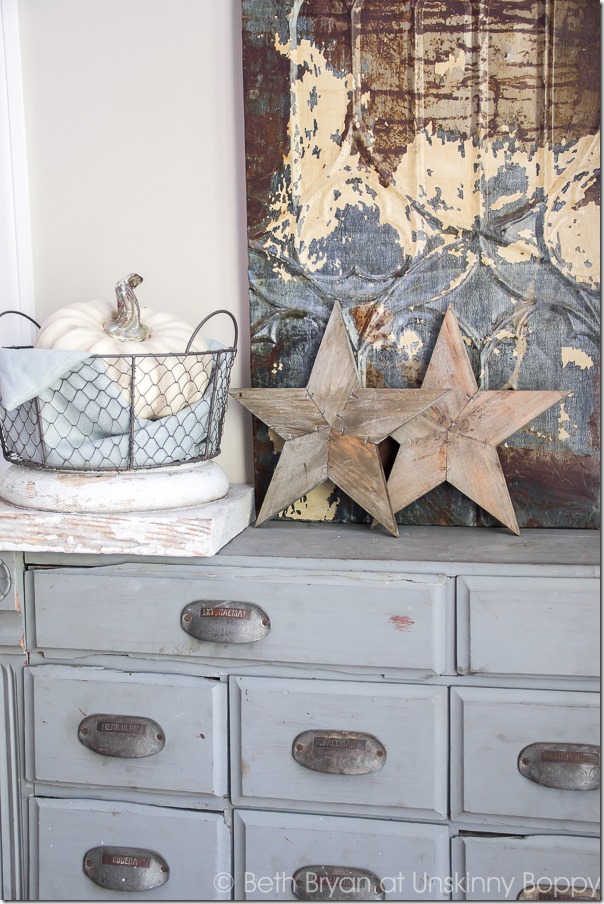 But the fall decor is not why we are here today.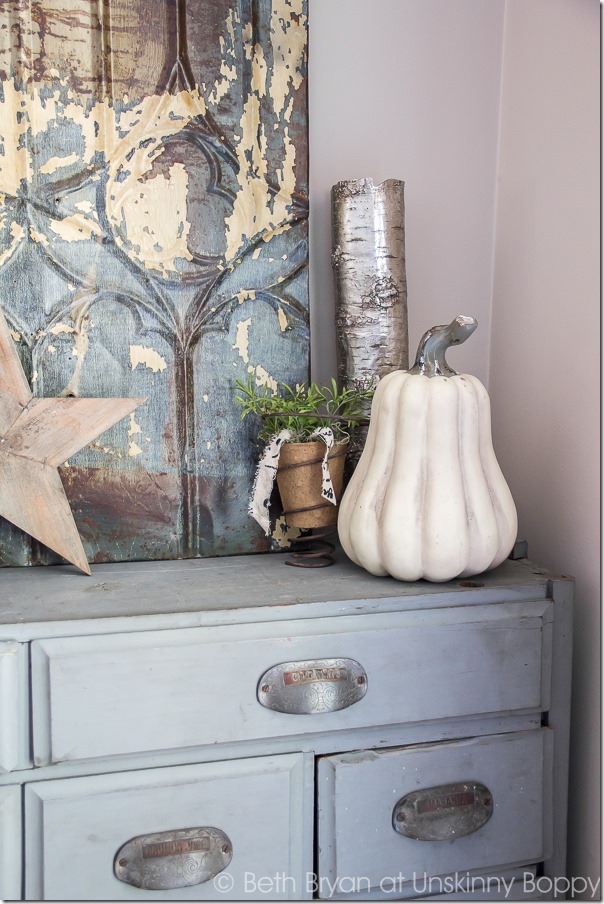 It's ALL about this cabinet.  I feel like I have hit the jackpot with this piece of furniture, for real.
The details are incredible.  The drawers are cracked and broken but still in fine working condition.  We pulled them all out before we moved it inside the house and I gave the cabinet a major clean-out with the leaf blower to get all the 100 year old dust out.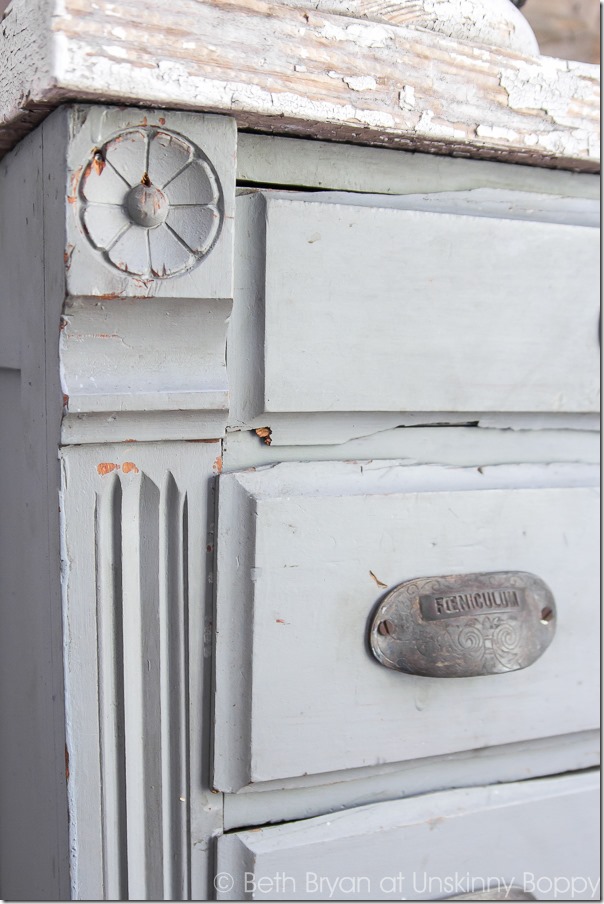 Even though some of them are broken, just look at the way the drawers are assembled inside!
This is called a Knapp joint, or a scallop and peg way of assembling furniture that dates an antique piece between 1871-1900.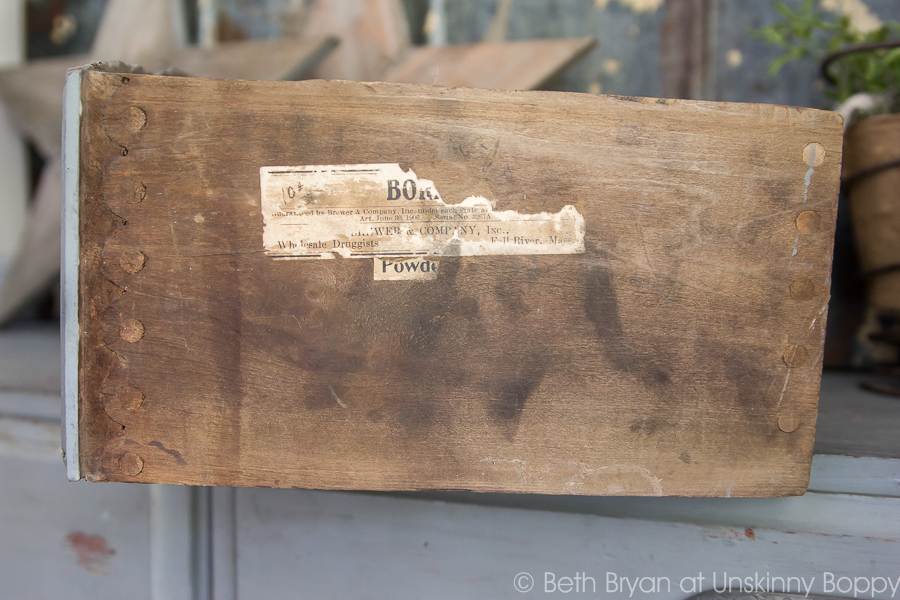 Way back in the olden days before Google was invented, I was in college studying interior design. Since we didn't have wikipedia at the click of a button inside our pockets back then, one of our class projects was to go to the library and research antique furniture history. I had to create an encyclopedia of furniture styles through the ages, starting literally with rocks that the neanderthals lounged on beside their fires.  I still have my furniture book somewhere in a moving box, but I will never forget how much I dreaded working on that project. And now here I am, going gaga over this Knapp joint that would have made a nice addition to my homemade furniture encyclopedia right there between Hepplewhite and Louis XIV.
But I digress…
This sticker right there has a date on it of June 30, 1906, so that also gives me confirmation that this piece is from the turn of the century.  It says "Brewer & Company Wholesale Druggists, Falls River, Mass."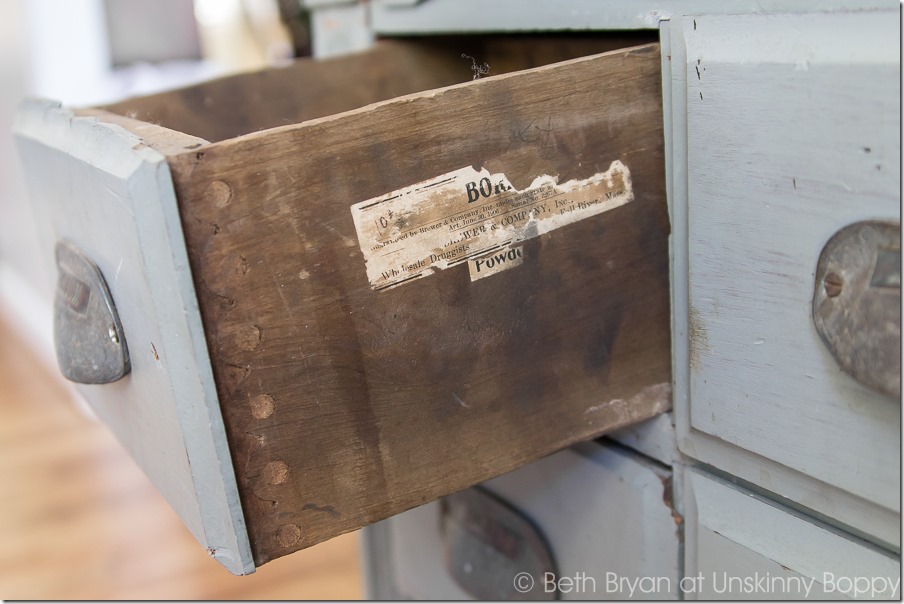 But my absolute favorite part?  The absolutely exquisite detail on all the drawer pulls.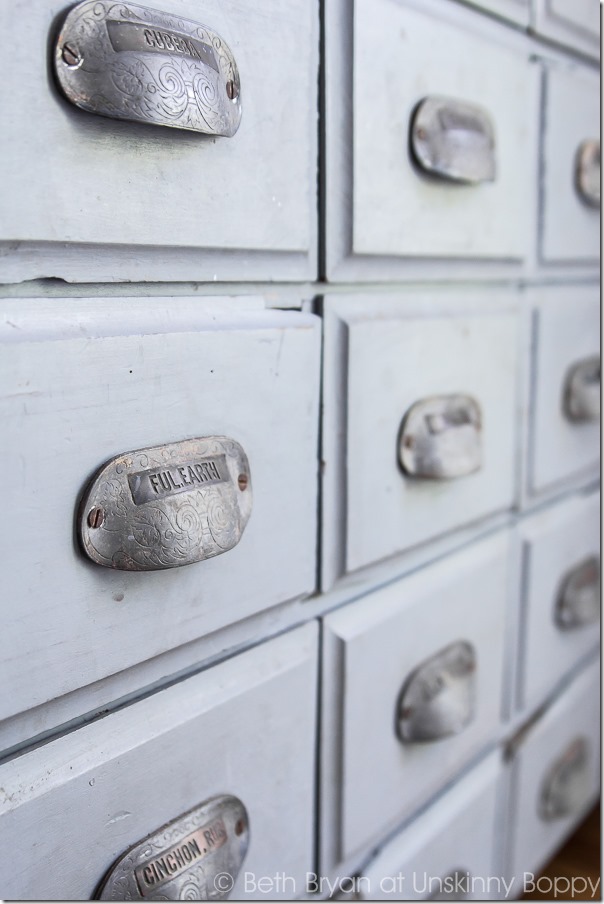 Can you see the names of all the old herbal remedies written right there in Latin ON THE PULLS??
I can't even, y'all….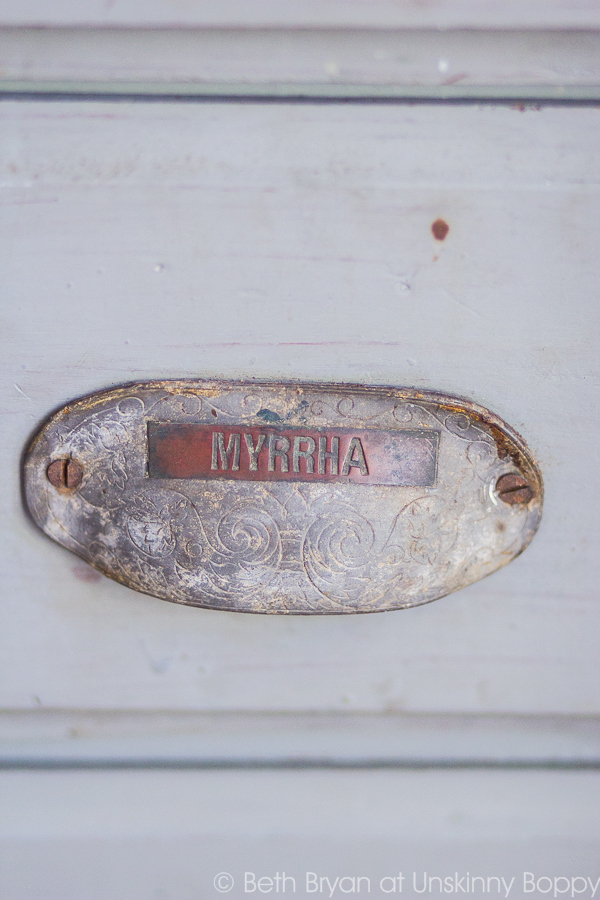 They're just beyond anything I've ever seen.
Valerian, Calumba, Myrhha, Lini Farina, Glycyrrhiza…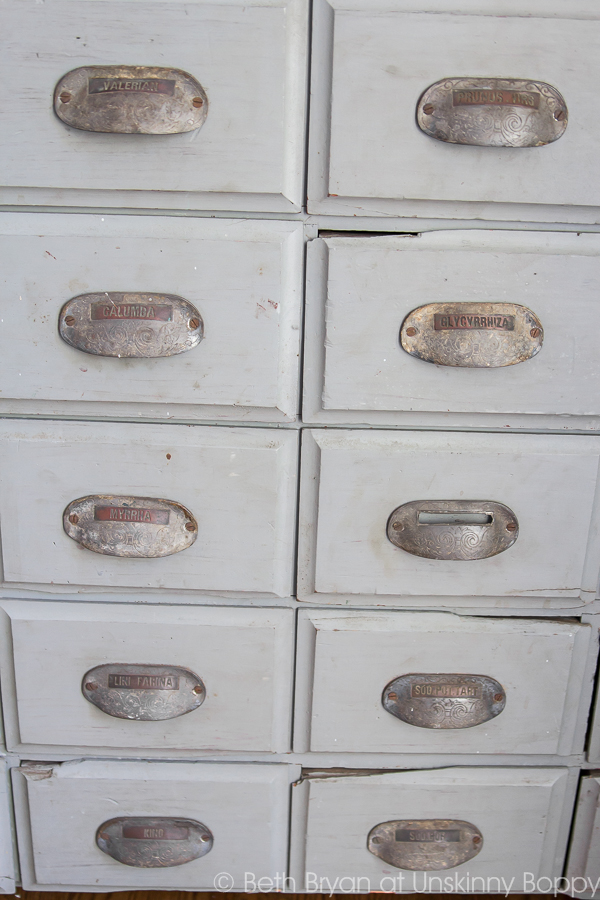 Be still my Outlander and essential oil loving heart.  I'm pretty sure I can store my entire essential oil collection in here and still have room for Caroline's pacifiers. 🙂
So. If you guys have not been to visit Scarlett Scales' shop in Franklin… you gotta go!  I just love it so much. Every time I step foot inside I see something new that I NEED to make mine. And hey, good news! She just opened up a new online shop so you can browse her goods even if you don't have a trip to Tennessee anywhere on your radar.
Click here to go shopping at Scarlett's and see what you can score!