It's been a long time since I've shared a good before and after decorating post with y'all, so get excited, because today's post is gonna be awesome!
Our house came with a hot tub on the back porch that was used approximately 2.5 times in the 3.5 years we have lived here. I thought we would enjoy it more since our Master bedroom opens right onto the screened-in porch, but I was totally wrong.  It sat in the corner, covered in a thick layer of dust, taking up too much space on my porch.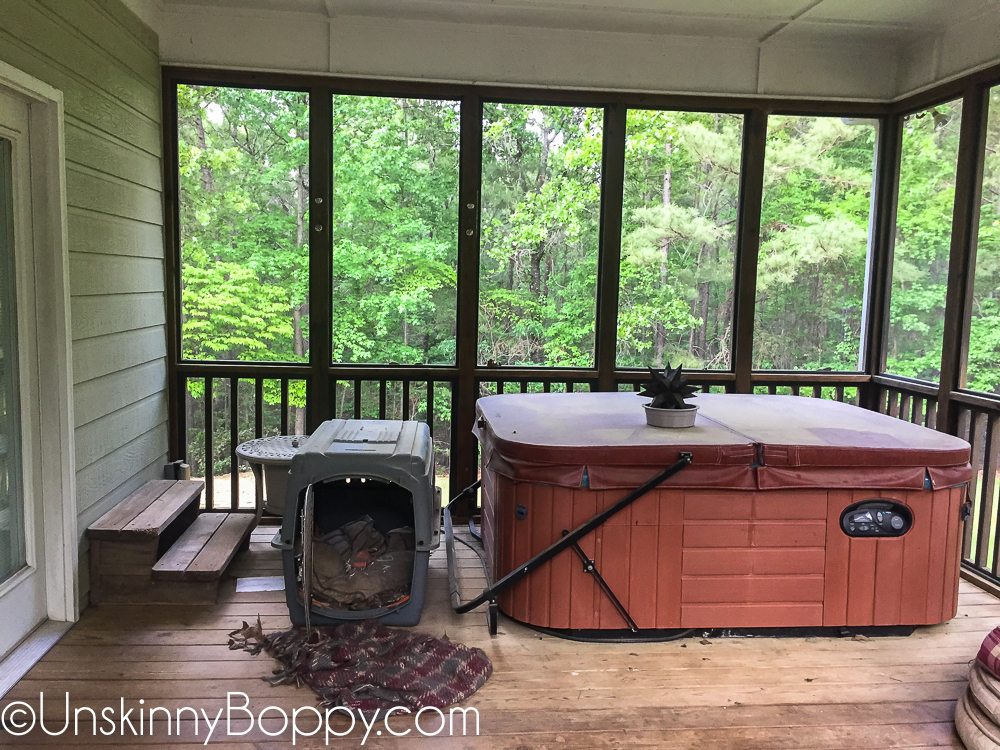 We decided to sell the hot tub to my sister last fall, so the porch sat empty all winter long, looking forlorn and shabby. It was pretty pitiful.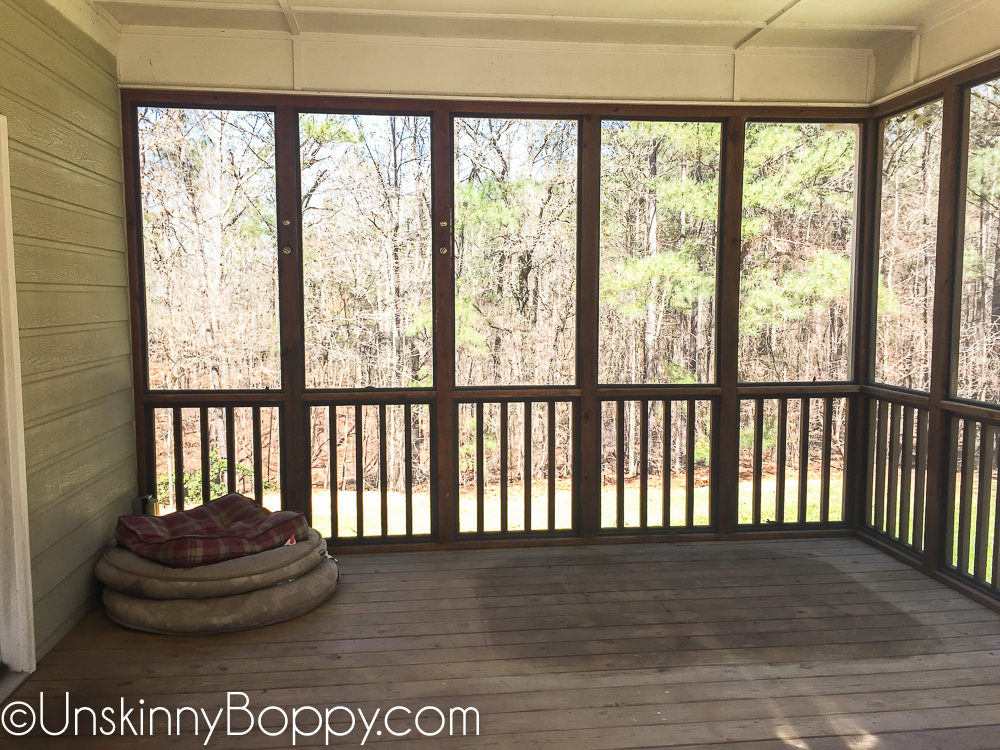 And then one day I was browsing Facebook Marketplace when I stumbled across a guy who makes swing beds here locally in Birmingham. His swinging day beds looked nice and his prices looked reasonable, so I messaged him to say that I wanted one.
And within just a few weeks, it arrived on my porch, fully installed and ready to go. Next came the painters to give everything a fresh coat of pretty paint. Then I made a few trips to TJ Maxx and Costco for some decor and now I have a whole new outdoor living space right out my bedroom door.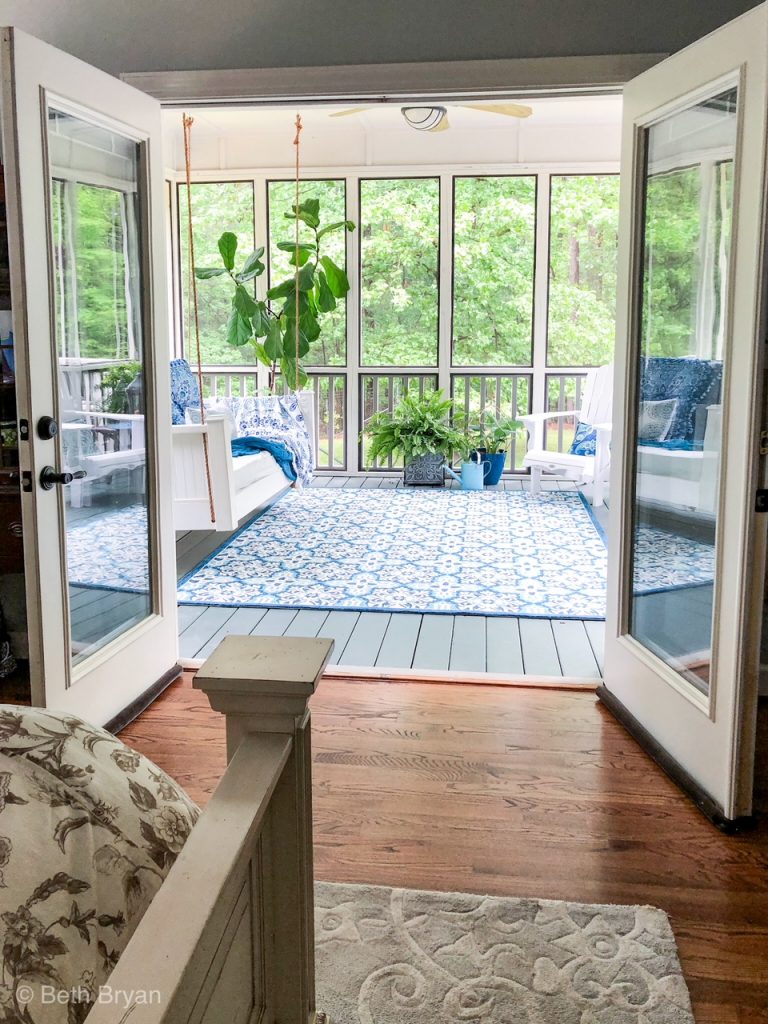 And here is what it looks like today! Ahhhh pure bliss.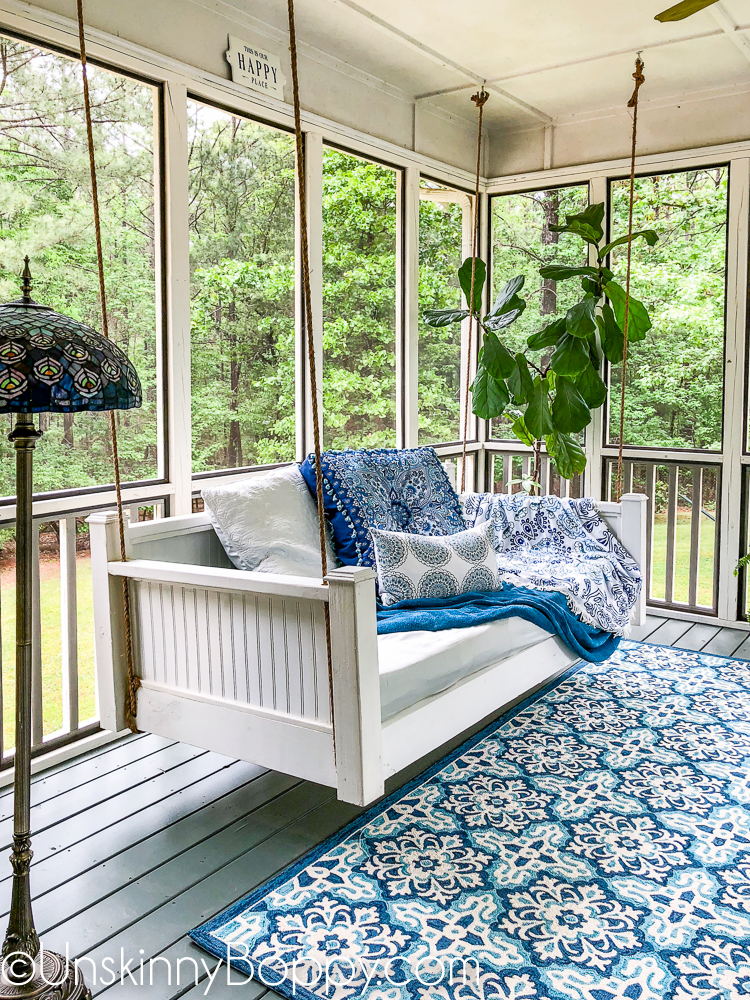 I found these Lifetime brand Adirondack chairs at Costco for just $129 each (WHAAAAA??), so we snagged two of them for the porch. They are made out of recycled plastic so they won't rot. Plus they are SUPER comfy and SUPER cheap.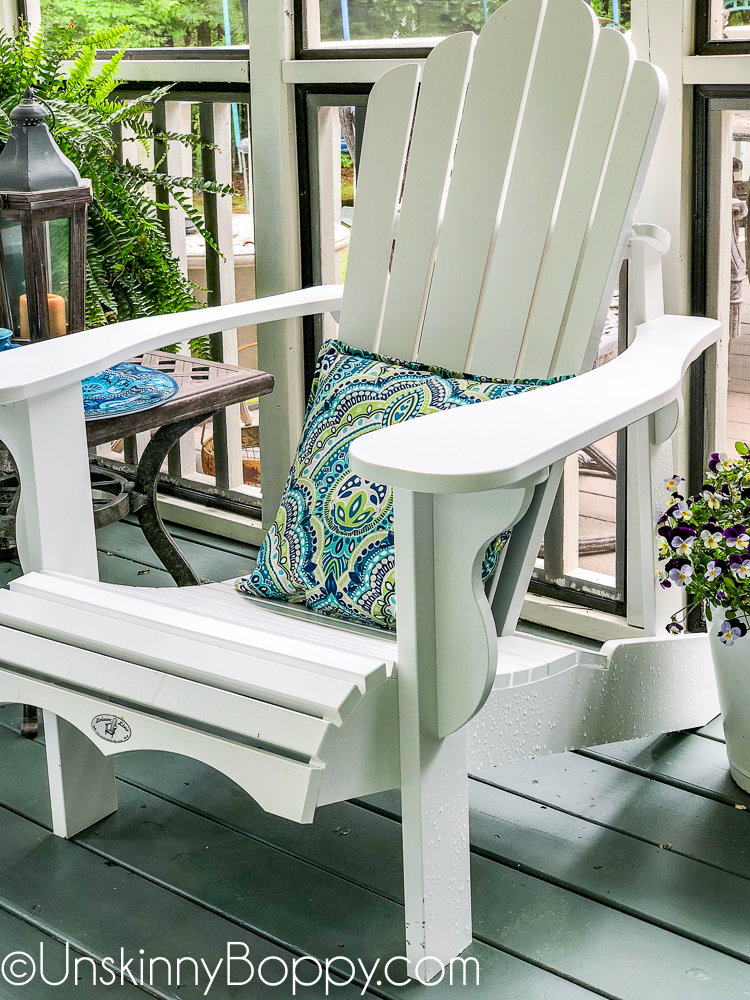 I'm still searching for some kind of ottoman to prop our feet up on in this corner. Any suggestions?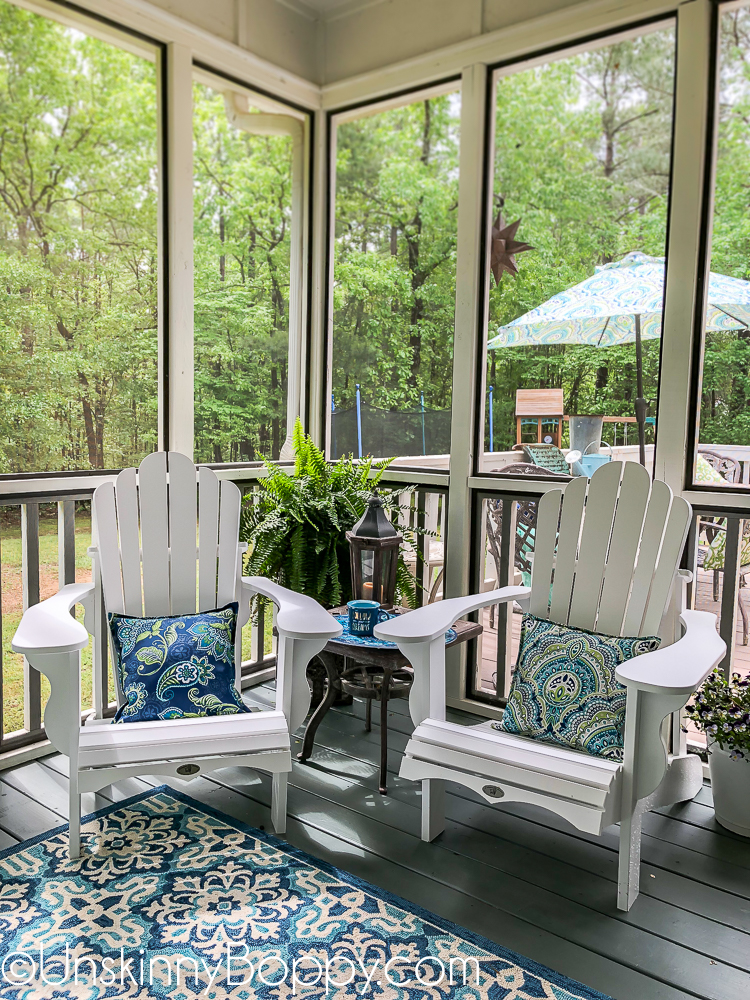 It's a great place to sit and relax with a cuppa.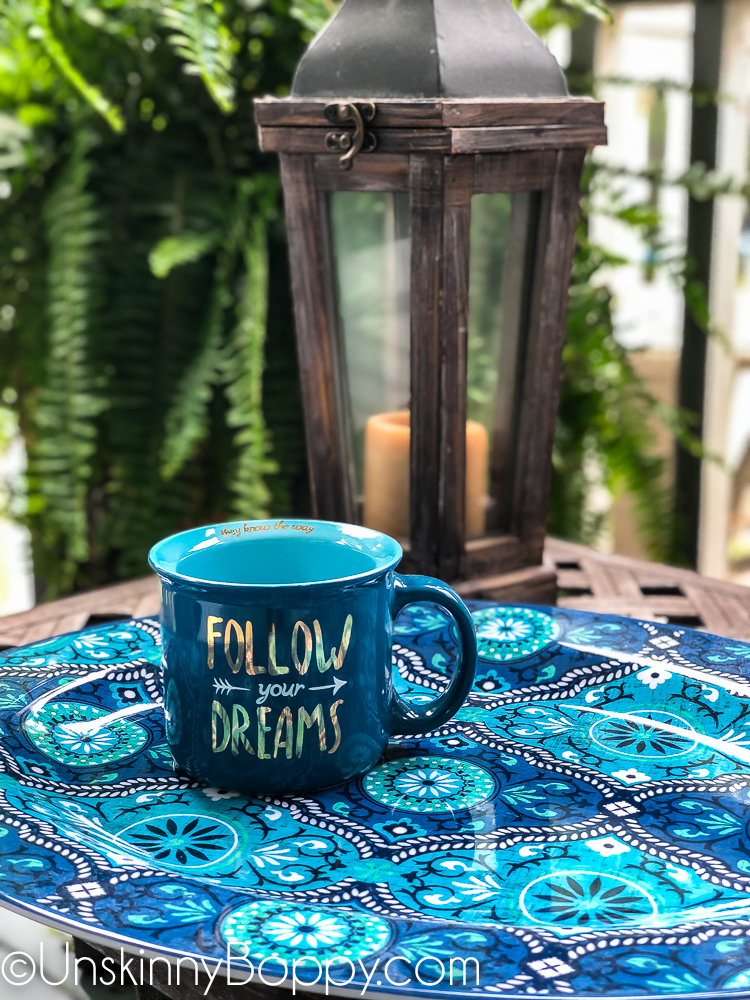 I brought in some shade loving plants to brighten things up a bit. The fiddle leaf fig has been an indoor plant his entire life, so I will not leave him out here for very long. Once the Alabama summer heat hits he will wither and die, so back into the air conditioning he will go… He's about 8 years old and 8 feet tall, so I've invested too much time into him to let him die now.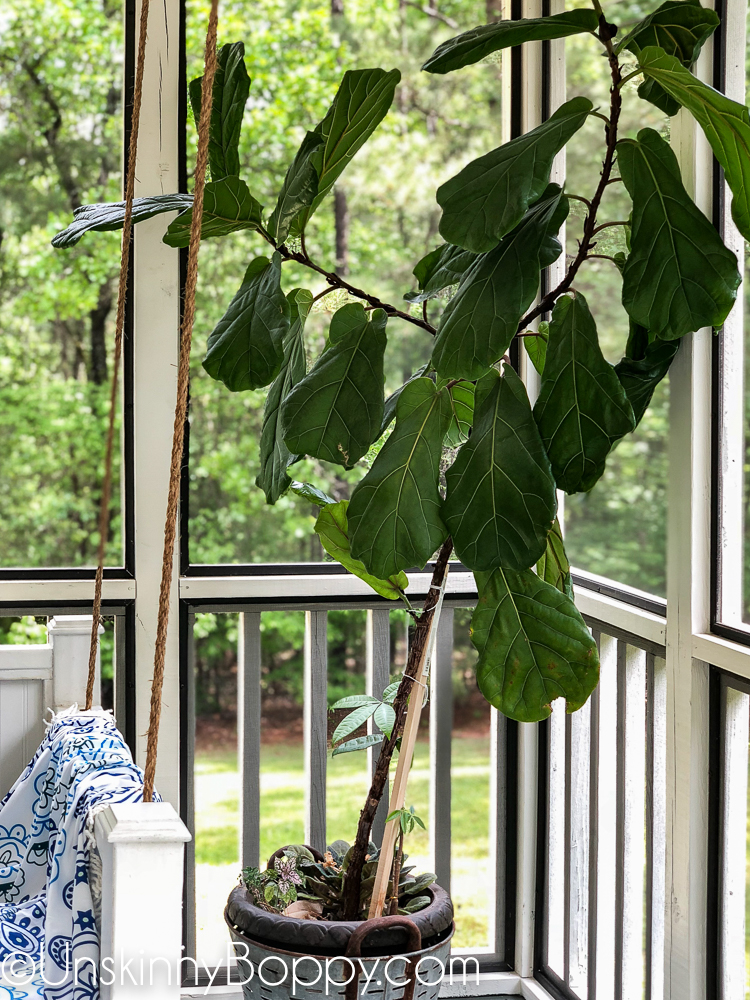 That hosta was one that I divided off last year with plans to plant it in a shady spot in my yard. It's happy in that pot so I'm gonna leave it alone.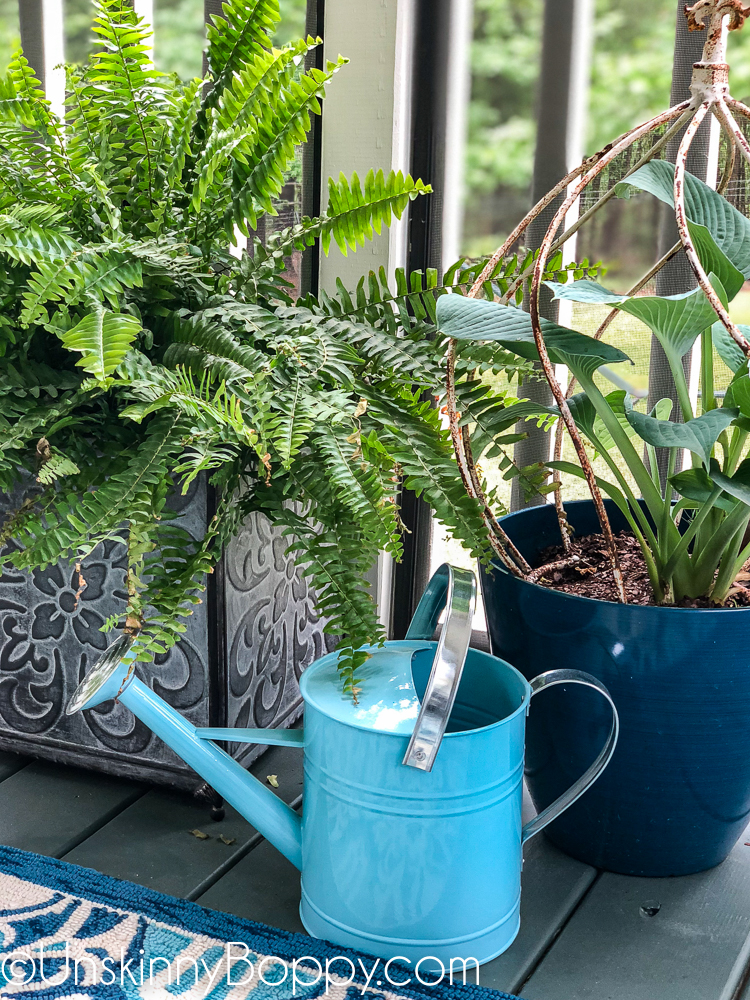 Shop the Porch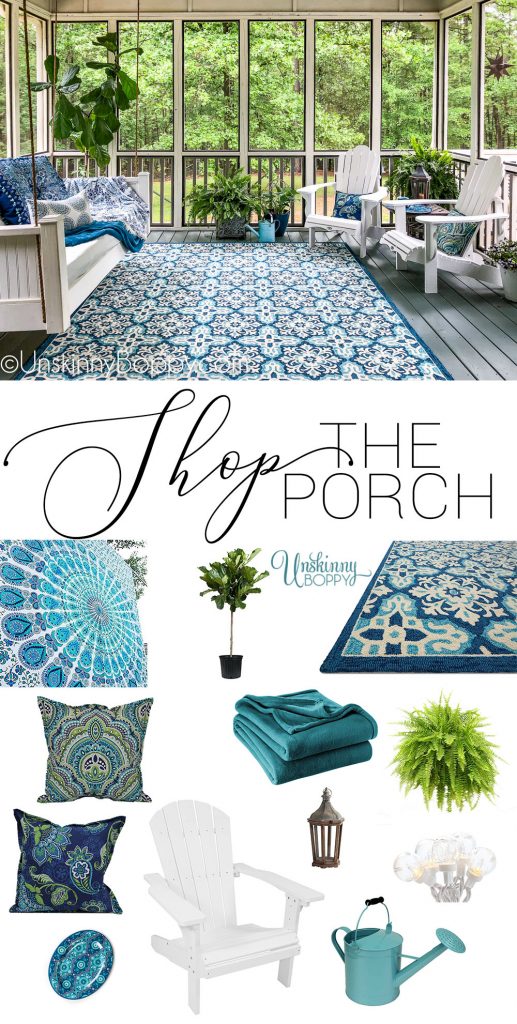 Want to recreate my porch at your house? Here are my afflinks for some of the products I used on my back porch.
Now, I'm gonna admit that I nearly returned this rug to the store the day after I bought it.  The more I stared at it, the more it looked like a vinyl swimming pool liner.  But, my husband liked it (and I was too lazy to return it) so I decided to keep it for now.
Since our backyard is more of a private woodland retreat by the lake and not a beach house with a cabana boy, I worried that the white/blue color scheme wouldn't work. But I was wrong. I love it now! Plus, we compromised by agreeing to change out the decor in the fall and winter so it's not so inground-swimming-poolish out there for the colder months. I can't wait to decorate it for Christmas. 🙂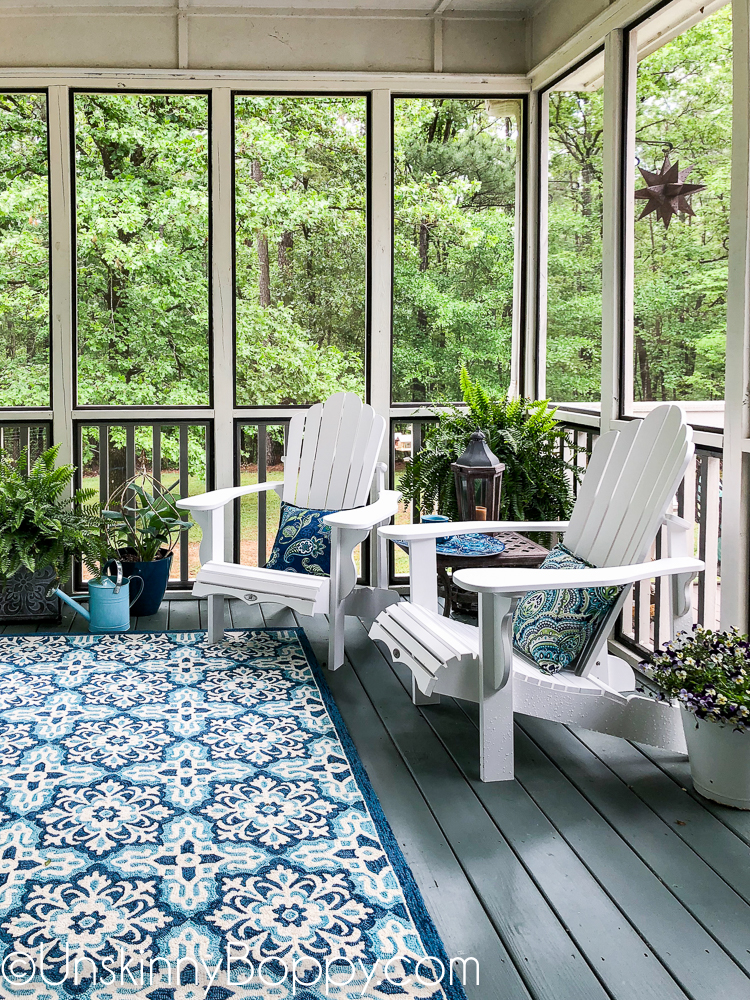 I chose Sherwin Williams 6208 Pewter Green for the porch paint color.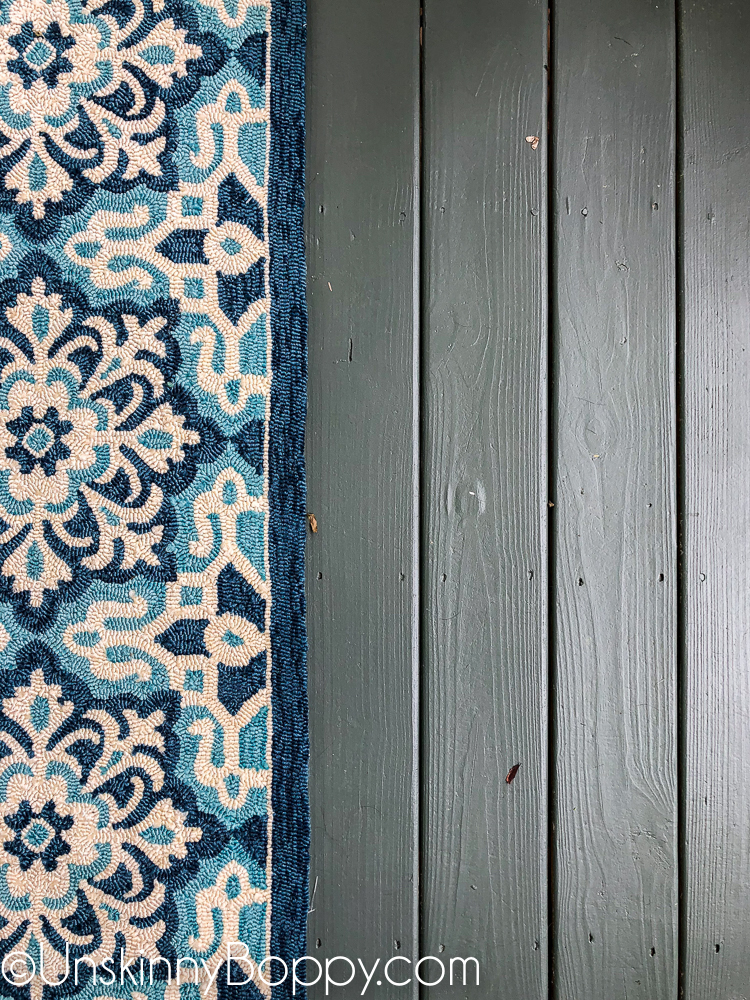 I considered matching the floor color to the outside porch, which is kind of a muddy brown color. If you remember we refinished the outside deck with Rustoleum Deck Restore last year, and it's still holding up great! It looks as good as it did the day we painted it, and I don't regret that decision one bit.
But I'm so glad that I chose a pretty green color instead. It is a versatile color that will work with lots of different color schemes, so I'm extremely happy with it. Here are the two colors where they meet in the doorway. They coordinate really well together.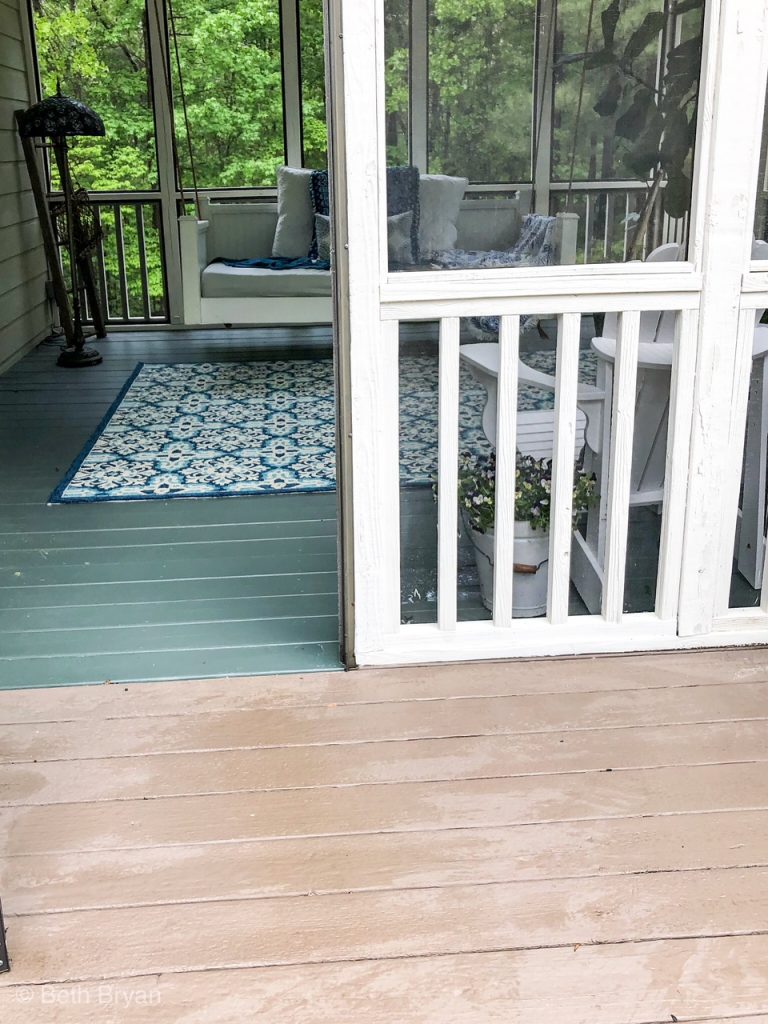 But the swinging bed is by far the star of the show…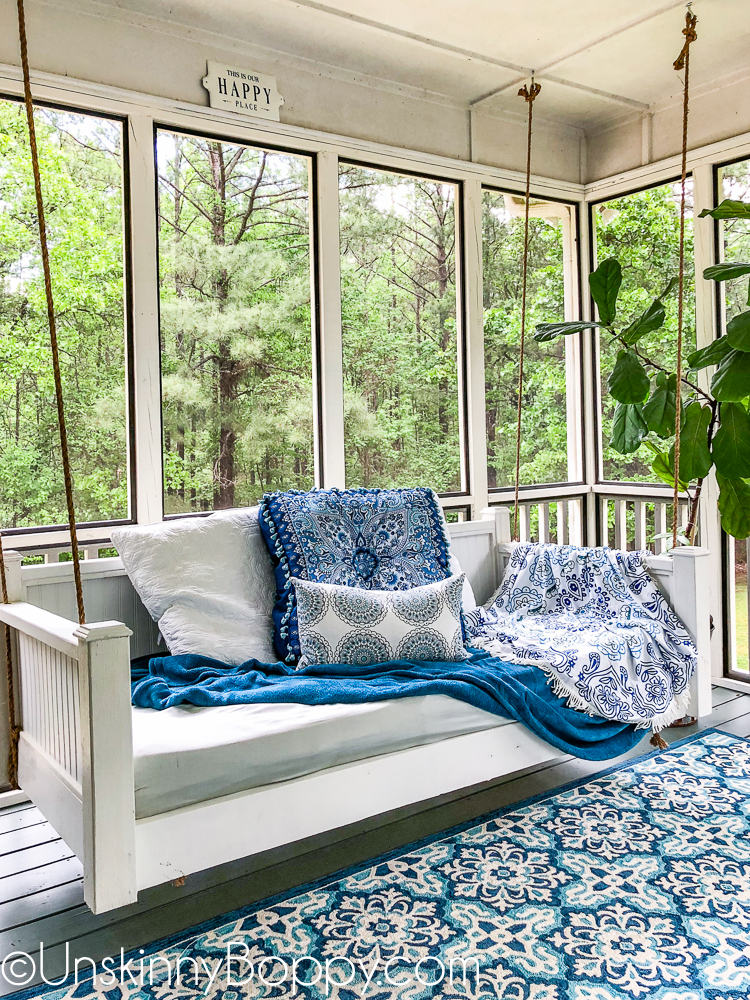 The kids LOVE it out here now. We have spent more hours on this porch in the past month than we have spent in the past three years since this swing came along. As I type this post I'm sitting in the swing, rocking back and forth and listening to the sound of rain pouring from the eaves. It's like heaven.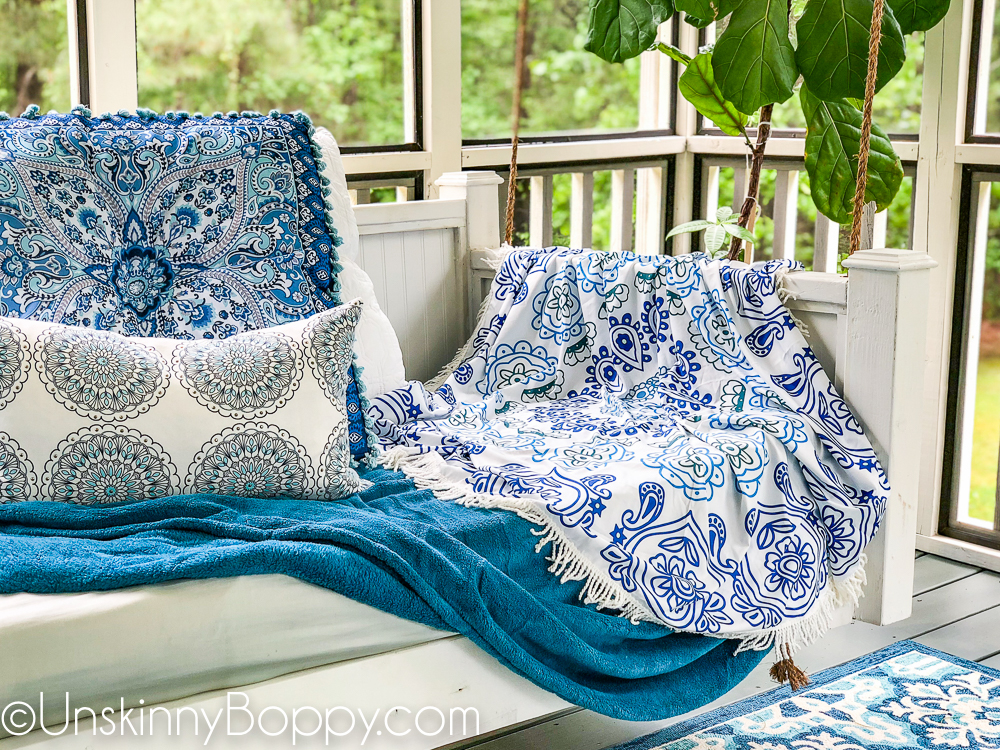 There are still a few things left on my to-do list out here, but I was too excited to have it finished to wait for everything to be done before I shared it with you. I plan to hang some string lights around the inside for nighttime ambiance. I need a new ceiling fan but I'm striking out on finding the right one so far. I'm also considering bringing in a coffee table to fill up the middle space.
But for now, I love it…. even if it does look like an old-school swimming pool liner.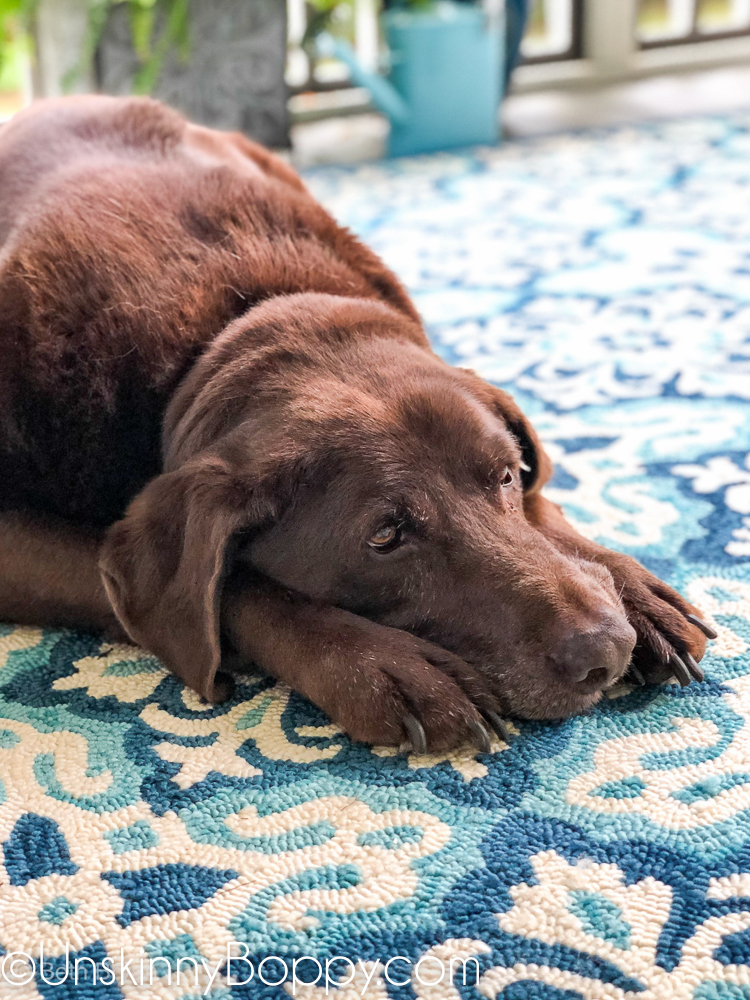 It's kid-tested and Woodrow approved.
If you like this idea, don't forget to pin it for later!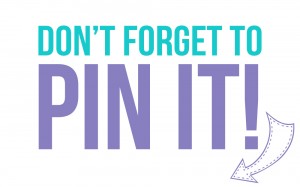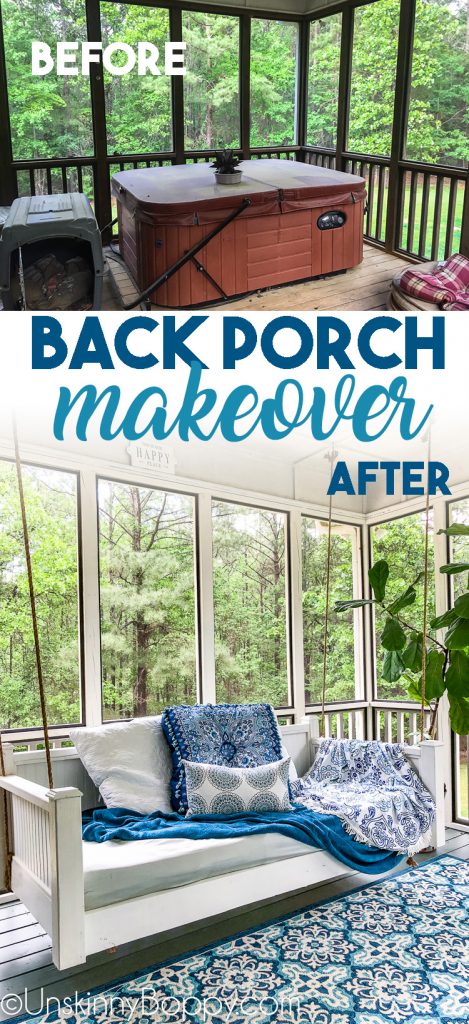 Like this post? Here's a few more you might enjoy…
To see more of my backyard makeovers, click on any of these posts: