If you're on the search for a delicious Thanksgiving Pecan Pie, your search is over with this delicious holiday dessert!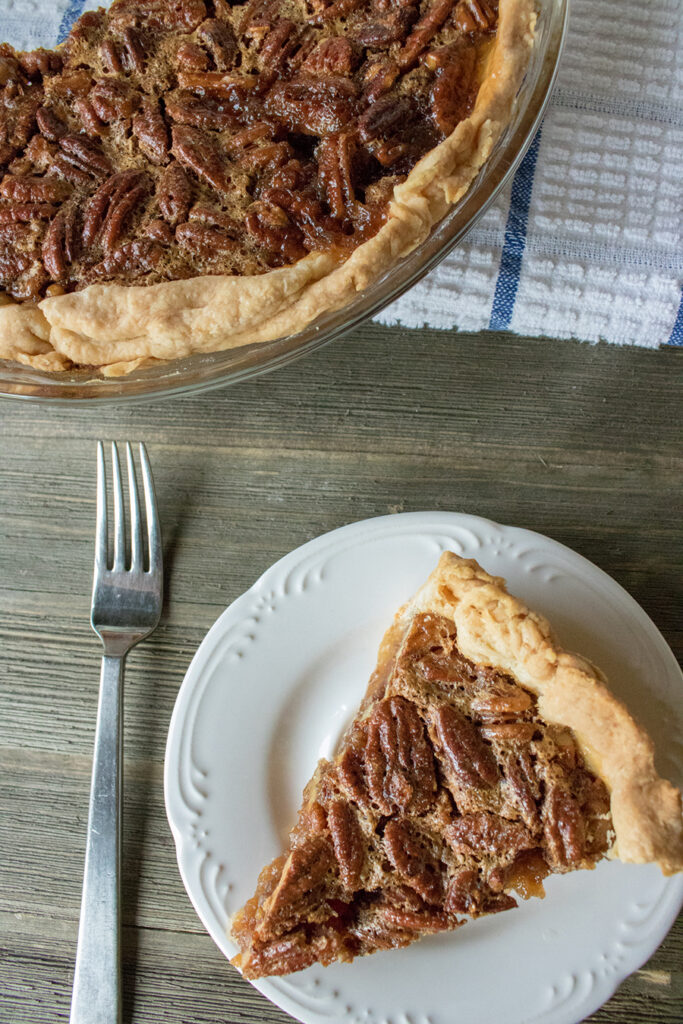 There's nothing quite like a homemade pecan pie…the crunch of the pecans, the sweetness of the middle and the way that the crust perfectly flakes and melts in your mouth…Thanksgiving dessert is simply amazing.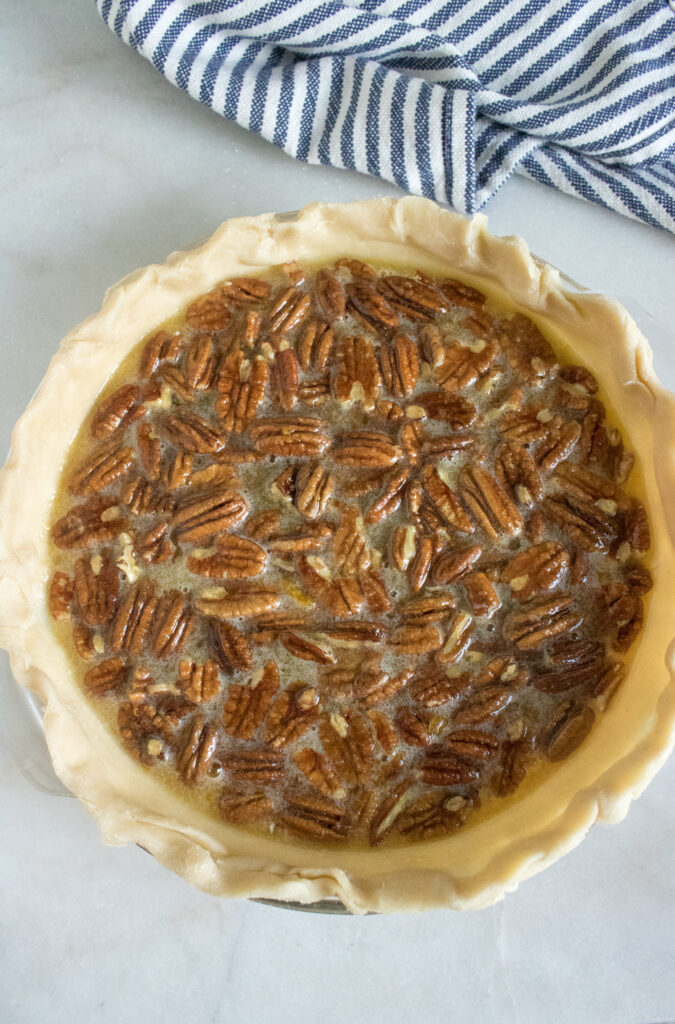 In our home, we love pies and this Pecan Pie is one of our favorites. There's something about baking together in the kitchen that is also just such a great bonding moment for families. Tomorrow, when you are celebrating and being thankful for everything in your life, create another wonderful memory by creating this homemade Pecan Pie from scratch.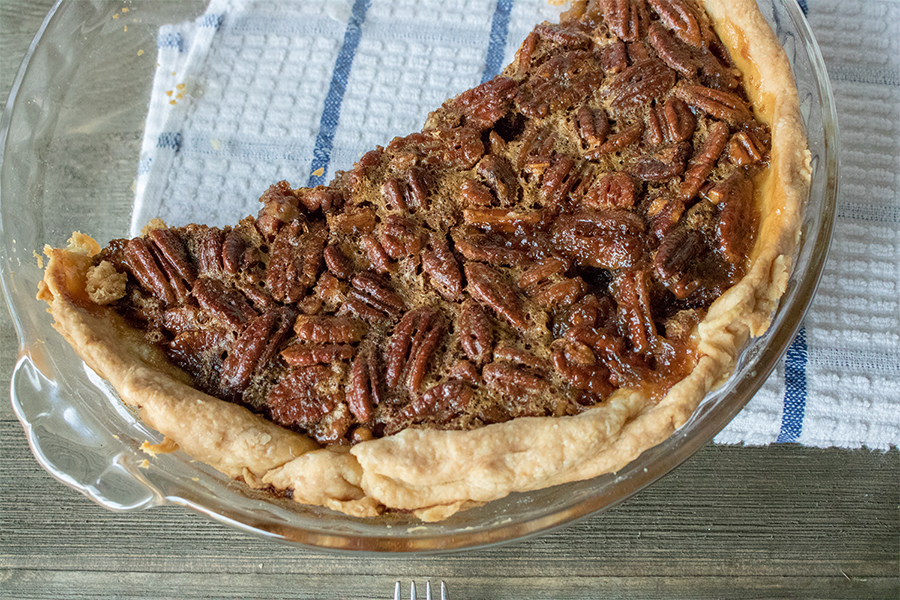 This crust recipe actually makes two crusts…so, if you wanted to plan ahead and make 2 pecan pies, you can with ease! After all, can one ever have TOO much pie at Thanksgiving? It's just not possible!
Thanksgiving Pecan Pie Recipe and Instructions
Thanksgiving Pecan Pie
If you're on the search for a delicious Thanksgiving Pecan Pie recipe, your search is over with this delicious holiday dessert! Certain to be a hit!
Ingredients
Crust (makes enough for 2 pies)
2 ½ cups all-purpose flour, plus extra for rolling

1 cup unsalted butter

1 teaspoon salt

1 teaspoon sugar

6-8 tablespoons ice water
Filling
1 cup light corn syrup

3 eggs

1 cup granulated sugar

2 tablespoons melted butter

1-2 teaspoons vanilla extract

1 ½ cups pecan halves
Instructions
To make the crust, pulse flour, sugar and salt in a food processor and pulse to mix together.

Add in the butter, cut into small chunks, and pulse until the butter is no larger than pea size.

Add water in a little at a time and pulse.

Remove the dough from the food processor and knead together, forming two 4-5 inch disc shape with the dough. Pat dough out into two 4-5 inch circles.

Wrap each piece of dough in plastic wrap and refrigerate for an hour or overnight.

When you're ready to make the pie, preheat oven to 350.

Roll out one of the pie crusts. Line pie dish with one of the pie crusts.

Mix the corn syrup, eggs, sugar, and vanilla. Add in the melted butter and pecans and stir.

Pour pecan filling into crust in the pie dish.

Bake at 350 for 70 minutes. Test the internal temperature of the pie. The pie has finished cooking when the temperature is 200 degrees Fahrenheit.
Notes
You can use a storebought pie crust if you'd rather not make a homemade crust. The filling is the best part, anyway!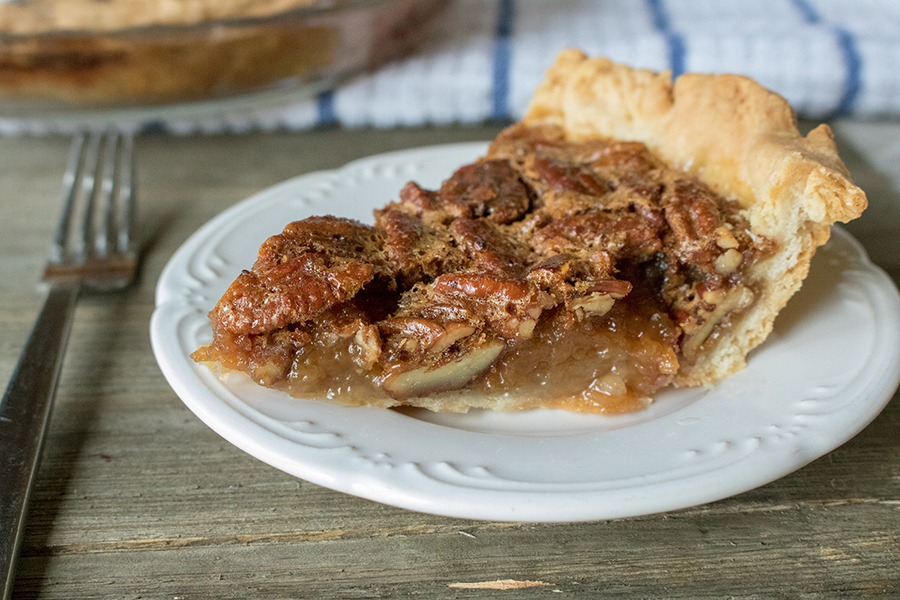 Enjoy this Thanksgiving dessert with your friends and family. It is truly a simple, delicious holiday dessert.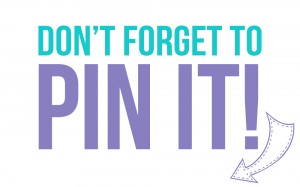 ---
Here are a few more Thanksgiving recipes you might enjoy…
Beautiful Pumpkin Pie Recipe (Semi-homemade)
This pie is absolutely delicious at any time of the year but everyone knows Pumpkin Pie is made for Thanksgiving dinner.  Since it uses a storebought crust it's an easy pie to make and bakes up beautifully. 
Click Here for the Recipe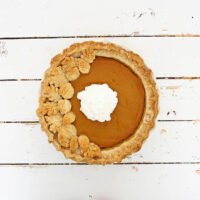 Cute & Easy Thanksgiving Cheeseball
Need a last minute Thanksgiving appetizer? This super cute turkey cheeseball is an easy way to make your turkey table festive with hardly any effort at all.
Click Here for the Recipe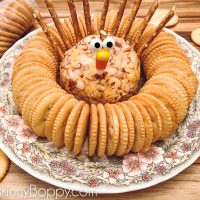 Perfect Thanksgiving Turkey on the Big Green Egg
Step-by-step instructions on how to smoke a whole Thanksgiving turkey on the Big Green Egg. Juicy and delicious!
Click Here for the Recipe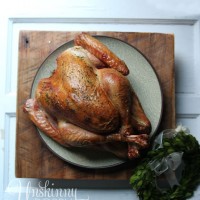 THANKSGIVING TURKEY OREOS
Cute little cookies to make for your Thanksgiving Feast! Great for kids and preschoolers
Click Here for the Recipe