These blueberry lemon scones are the perfect way to start, or end your day. All you need are a few simple ingredients and you'll be sipping your tea or coffee and enjoying bite after bite!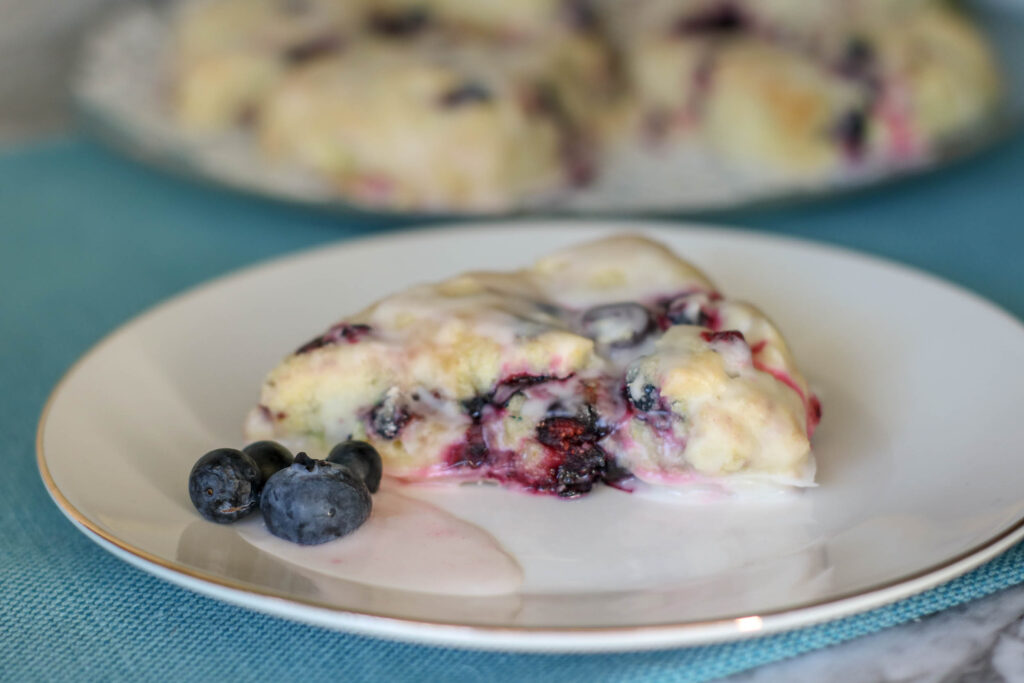 Delicious Blueberry Lemon Scones
When it comes to enjoying flavors, the combination of blueberry and lemon just can't be topped. It's a little sweetness combined with a bit of tart to create one of the best tastes you'll truly ever have.
And while I may be just a little bit partial since this is one of my favorite recipes, I feel certain that you'll agree after you give it a whirl as well.
Make up a batch or two of these delicious scones and you'll be prepping your taste buds for breakfast and brunch wants every single day!
If you like this recipe, make certain to check out my Hummingbird Bunt Cake as well!
Ingredients needed for these lemon scones:
2 cups all purpose flour
1/4 cup granulated sugar
2 teaspoons baking powder
1/4 teaspoon salt
1/2 cup (1 stick) unsalted butter, very cold
1/2 cup heavy cream, plus 1 tablespoon
2 lemons, zested and juiced (reserve juice for glaze)
1 cup blueberries, fresh or frozen
For glaze:
3 tablespoons lemon juice
1 cup powdered sugar
Pinch of salt
How to make these delicious homemade scones:
1. Preheat oven to 375 degrees. Line a baking sheet with parchment paper or use a seasoned baking stone.
2. In your food processor, blend together flour, sugar, baking powder, and salt. Add butter and pulse until the butter is incorporated and the flour is the texture of sand, sticking together when pressed.
3. Pour 1/2 cup heavy whipping cream into food processor and pulse to combine the dough. If the dough becomes too thick, remove the blade and use a wooden spoon. This is a very dry dough.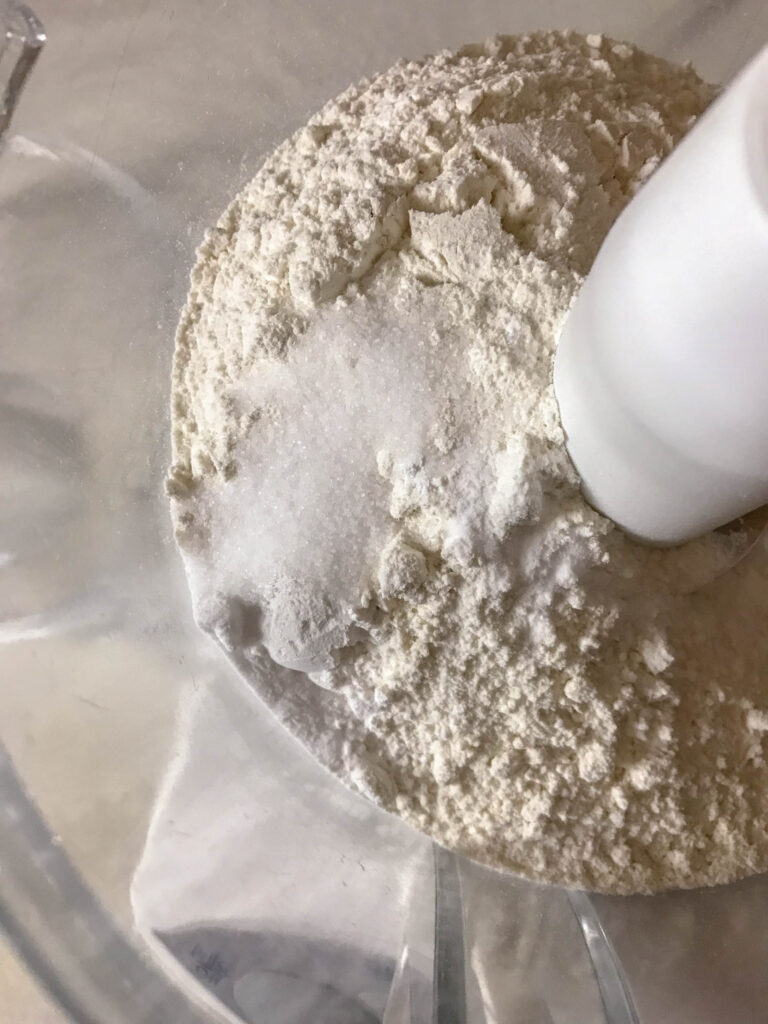 4. Turn dough out onto a floured surface and add blueberries. Fold four or five times to bring the soft dough together. If blueberries will not stick in the dough, create a well for the loose blueberries with your finger and drop the blueberries into the hole. Pat dough into a circle about 1 to 1 ½ inch thick. Using a sharp knife, cut the circle into 8 wedges.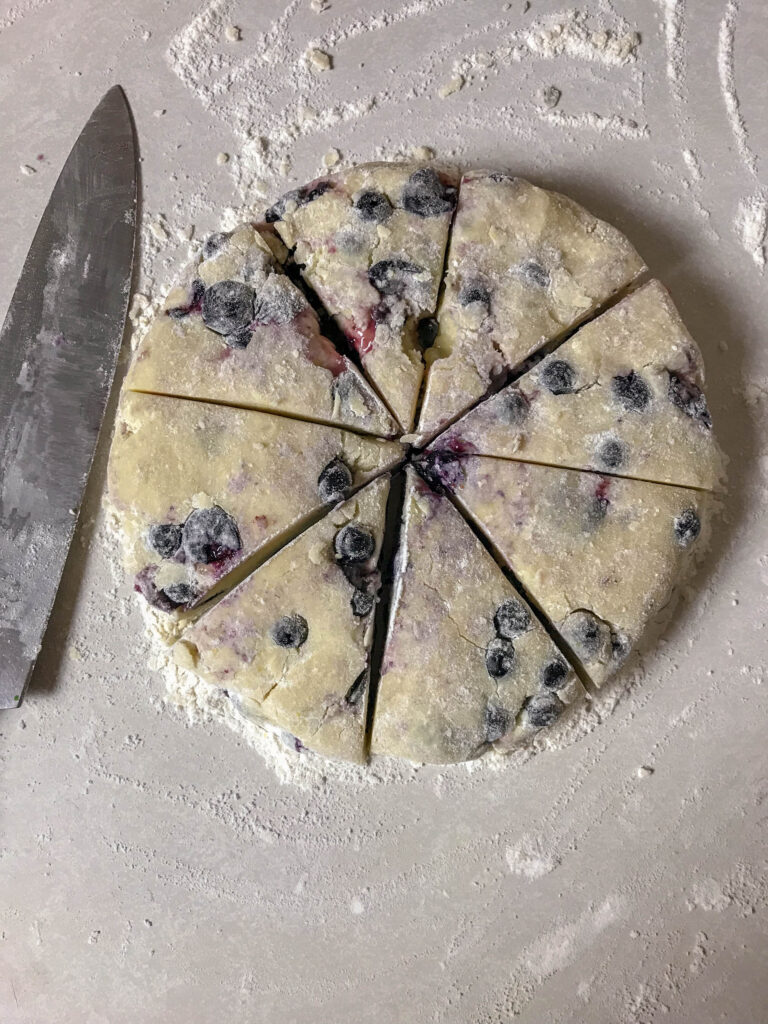 5. Place wedges on baking sheet.
6. Bake for approximately 15 minutes or until scones are crispy on the outside and soft in the middle. Allow to cool before applying glaze.
7. Whisk together ingredients for glaze. Spoon over the scones and allow to dry slightly before serving.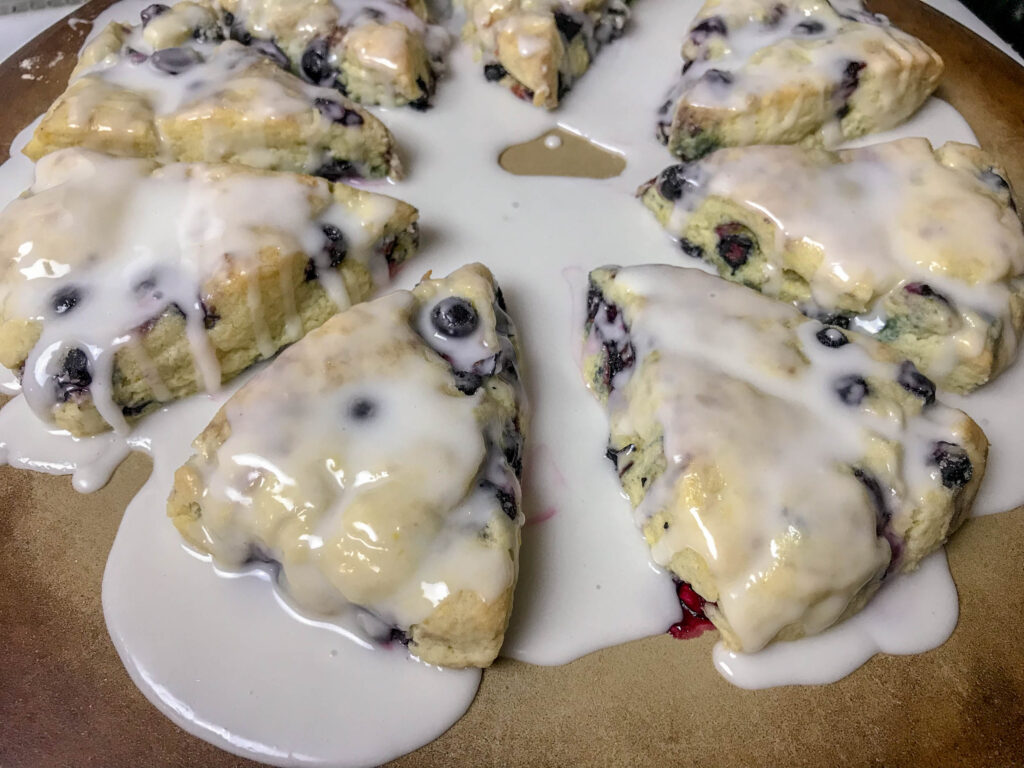 So delicious and easy to make!