Love Halloween but feeling like you're out of creative treat ideas? This "monster" list of Halloween sweet treats has you covered! 
I just love the Halloween season. The decorations, the costumes…the fun and adorable trick or treaters showing up at the house trying to peek inside your candy bucket to see what goodies you're holding…Everything about it is just fantastic.
I'm one of those moms that love to create, but sometimes, my creative juices take a little hiatus and I have to find inspiration from elsewhere. Thankfully, we're surrounded in life by some truly amazing and creative people, so finding adorable Halloween treats isn't all that hard!
When Halloween times rolls around, you can rest easy knowing that you have 11 awesome Halloween Treat ideas that are ready to rock and roll. And some of these are just too darn adorable!
Halloween Sweet Treats to Kick off the Spookiest Time of the Year
How to Make Your Own Spooky Halloween Monster Bark – Honey and Lime
Who doesn't love spooky Halloween Monster Bark? So good, so fun and so simple!
Spider Doughnuts – Easy Peasy and Fun
Eating a spider in real life may not be all that appealing, but I'm certain you'll make an exception for these spider donuts!
How to Make Your Own Monster Eyeballs – Somewhat Simple
EEK! Monster eyeballs are super creepy…and perfect for Halloween.
Easy Halloween S'mores Graveyard Treats – A Mom's Take
Forget the traditional s'mores and say hello to these tasty graveyard treats!
Easy Fruity Halloween Poke Cake – The Crafting Chicks
I always thought that poke cake was more of a Christmas recipe, but this Halloween poke cake proved me wrong!
Halloween Orange Scream Pudding Cups Recipe – Must Have Mom
You scream, I scream, we all scream for…pudding cups!
Twinkie Mummy Halloween Treats – OHMY! Creative
I love just how fun and versatile these Twinkies are! Adorable. (but spooky, of course!)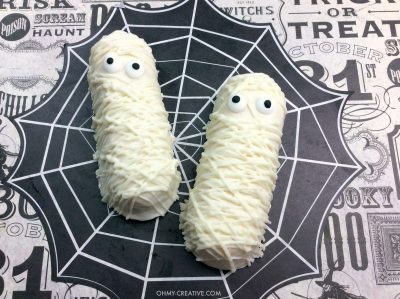 Photo by OHMY! Creative
Frankenstein Rice Krispie Treats – Big Bear's Wife
It just wouldn't be Halloween without Frankenstein.
Halloween Cream Cheese Swirl Brownies – Persnickety Plates
I'll never turn down a good brownie. Ever.
Halloween Candy Boo Bark – Third Stop on the Right
Another great bark recipe that's "boo"tiful as well. (ha! See what I did there?!)
Healthy Candy Corn Parfaits – Penny Pinchin' Mom
Take a break from all the sugar and processed foods with this easy and healthy Halloween treat! Finding that balance between sugar and healthy is important, even if it is Halloween!
Halloween is a time of the year that the streets and sidewalks are lined with children running from house to house, eager with anticipation about all the amazing treats and candy that they'll get. (Trust me, everyone knows what house in the neighborhood hands out the full-sized candy bars, right?!) When it comes to cooking and baking together, have fun doing so as a family. Plus, the best part of cooking? Those who make and bake also get to taste-test along the way!
If you need a few more fun ideas, here's a video of some spooktacular treats I made for Halloween one year:
Have fun kicking off the Halloween season by creating and making up one (or two) of these awesome Halloween treats. Not only are they spooky fun, but they are scary good, too!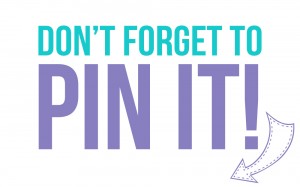 If you like this post, you might also like:
Easy Pumpkin Patch Candy for Halloween