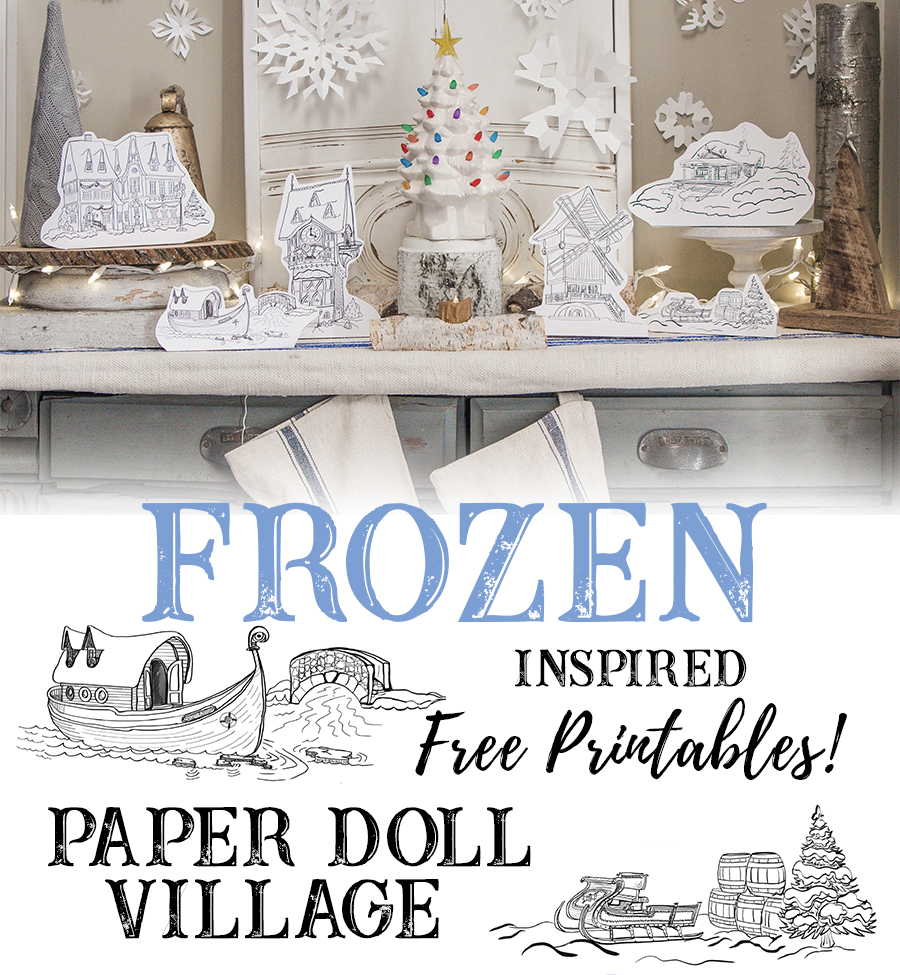 We took the kids to see Frozen 2 last week, and you can imagine how excited Caroline was to see her idol Elsa back on the big screen. She's only four years old but already she's dressed up as Elsa for Halloween AND had a Frozen-themed birthday party this year.
Needless to say… we are huge Frozen fans.
Between the new Frozen movie coming out and the release of Disney+ we have been in full princess mode here lately.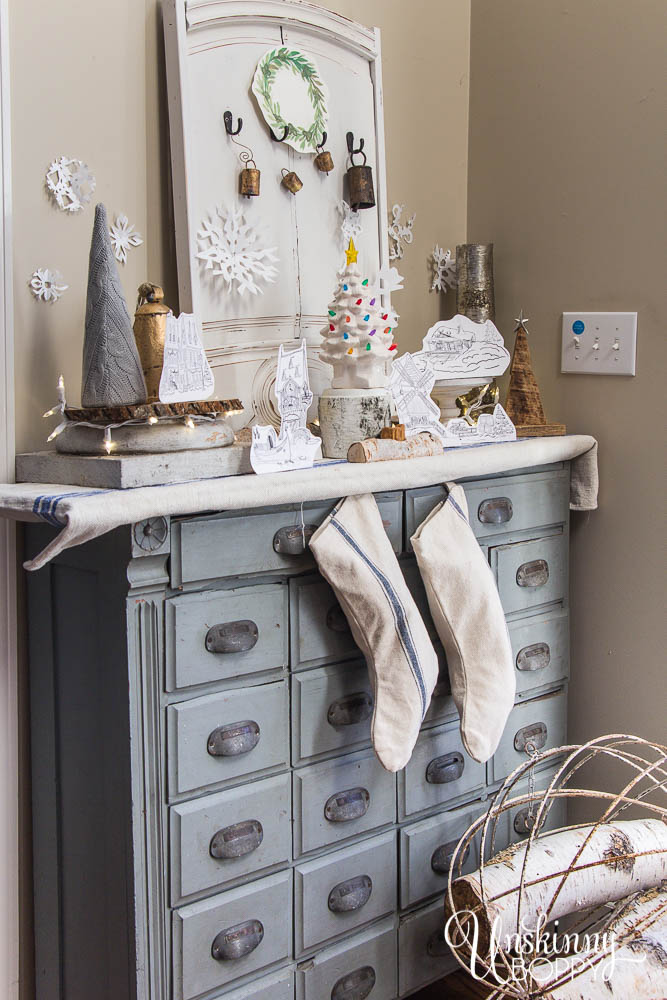 I was thinking about how to decorate for Christmas this year when I remembered the super cute paper Christmas village that my friend Alice hand-sketched a few years ago. I loved those things so much, so I decided to put my own Disney spin on things and create free printable village scenes from around the Kingdom of Arendelle!
Come take a mini-tour of the village!
I set the scene on my little blue apothecary cabinet in my foyer. The grain sack stockings add a vintage touch since y'all know that's my jam.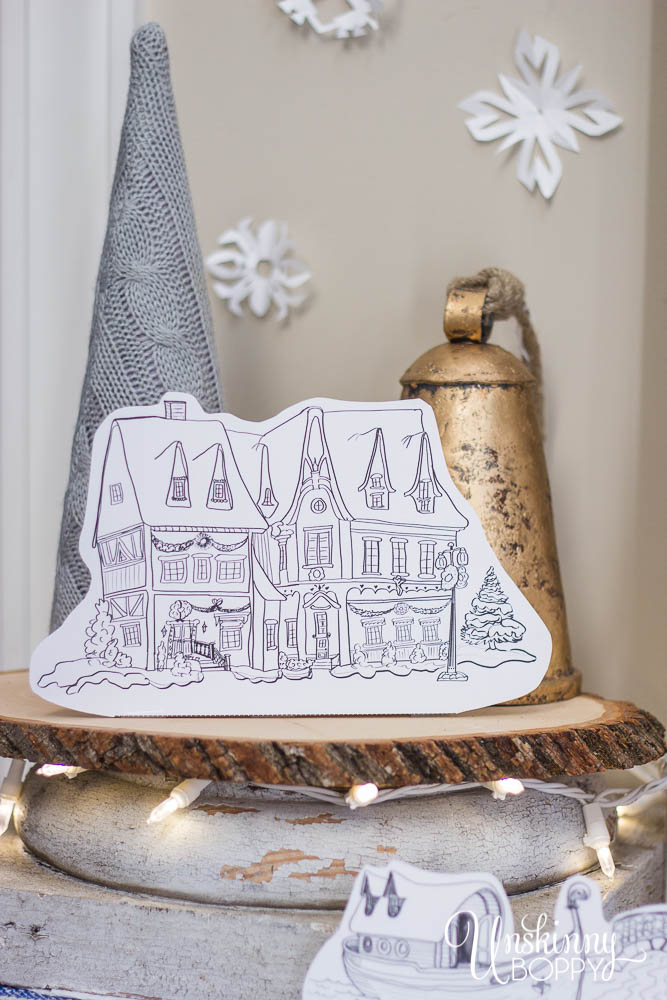 On the left, you'll see some of the beautiful homes of Arendelle all decked out for the holidays with evergreen swag. Of course, it's a snowy day in town so watch your step.
As we cross the rock bridge you'll see a fancy two-story Nordic boat floating down by the docks.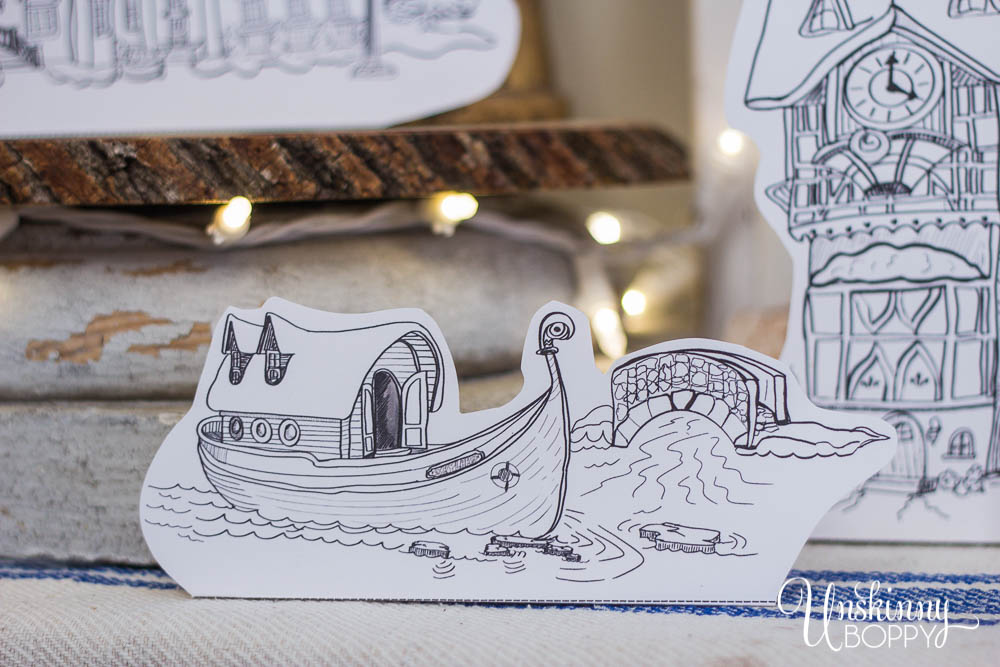 Behind that, rising above the village is the huge clock tower where Ana and Hans shared their mental synchronization while doing the robot.
So glad that dude is no longer in the picture.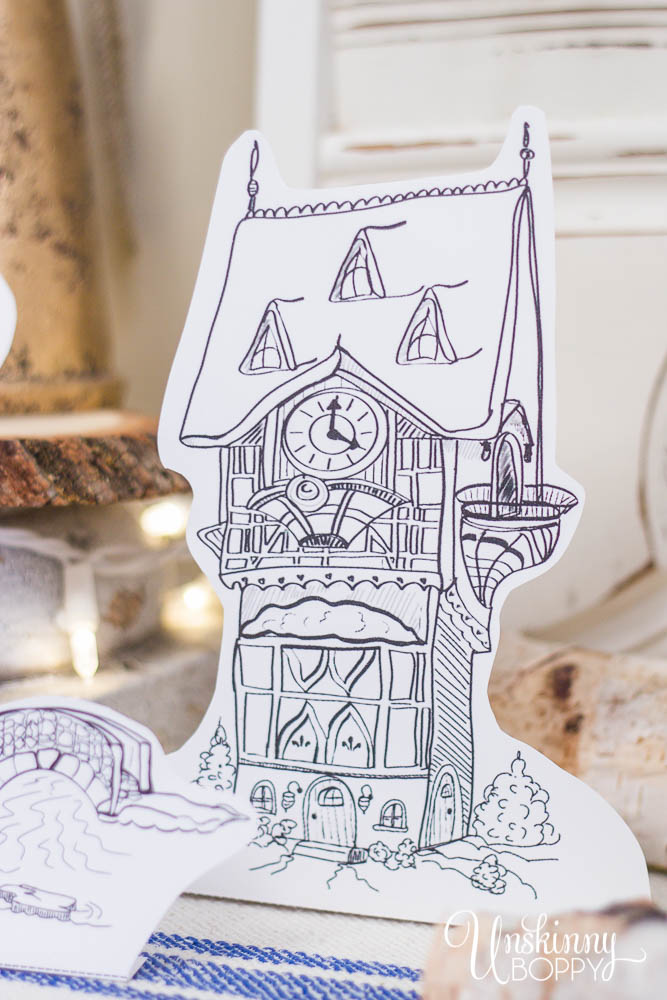 Kristoff is way nicer and has a beautiful sled to take her on rides around town. Look at his fancy sled parked over by the barrels. Shiny.
Every magical medieval village deserves its own windmill. Kristoff needs a place to grind Ana's corn after all.
Haaaa!! Sorry I couldn't resist throwing in a good Outlander joke.
Oh man…this story is going downhill faster than a burning sled being chased by hungry wolves.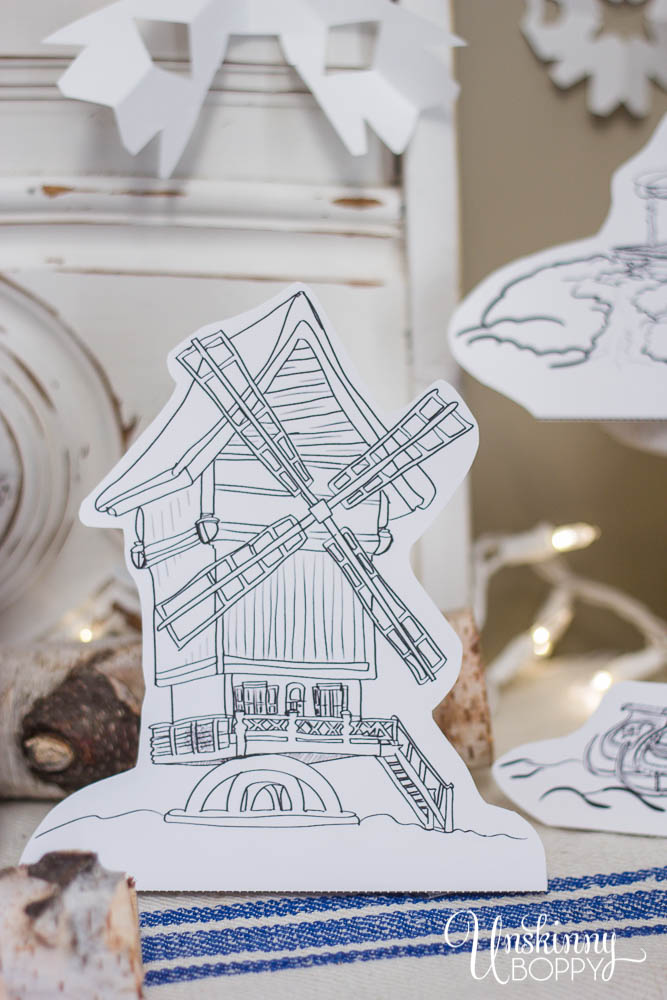 And finally, way back in the woods sits the home of everyone's favorite Sauna Enthusiast!
The Trading Post is sitting in deep, deep, deep, deep snow so be sure to wear your winter boots for this journey.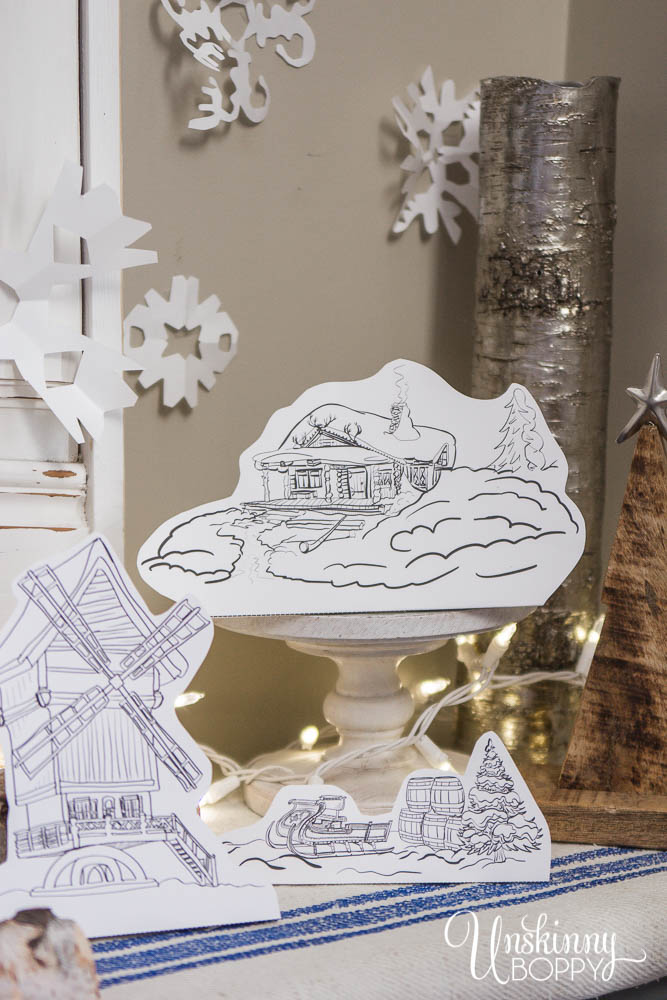 These prints are super easy to create at your house. Just think of them as old-fashioned paper dolls. Just print, cut and fold.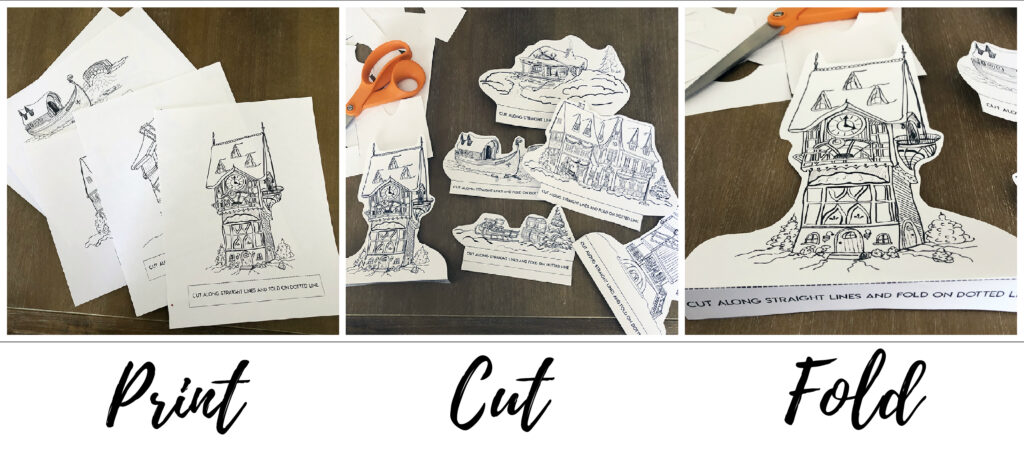 I used pieces of tape on the bottom of each one to hold it in place.
Pretty simple, right??
Garrett and I sat down and made a bunch of paper snowflakes to set the scene even further. Do you know how to make paper snowflakes or should I create a how-to video? I feel like every elementary school kid in America has made these before but if you need instructions, let me know!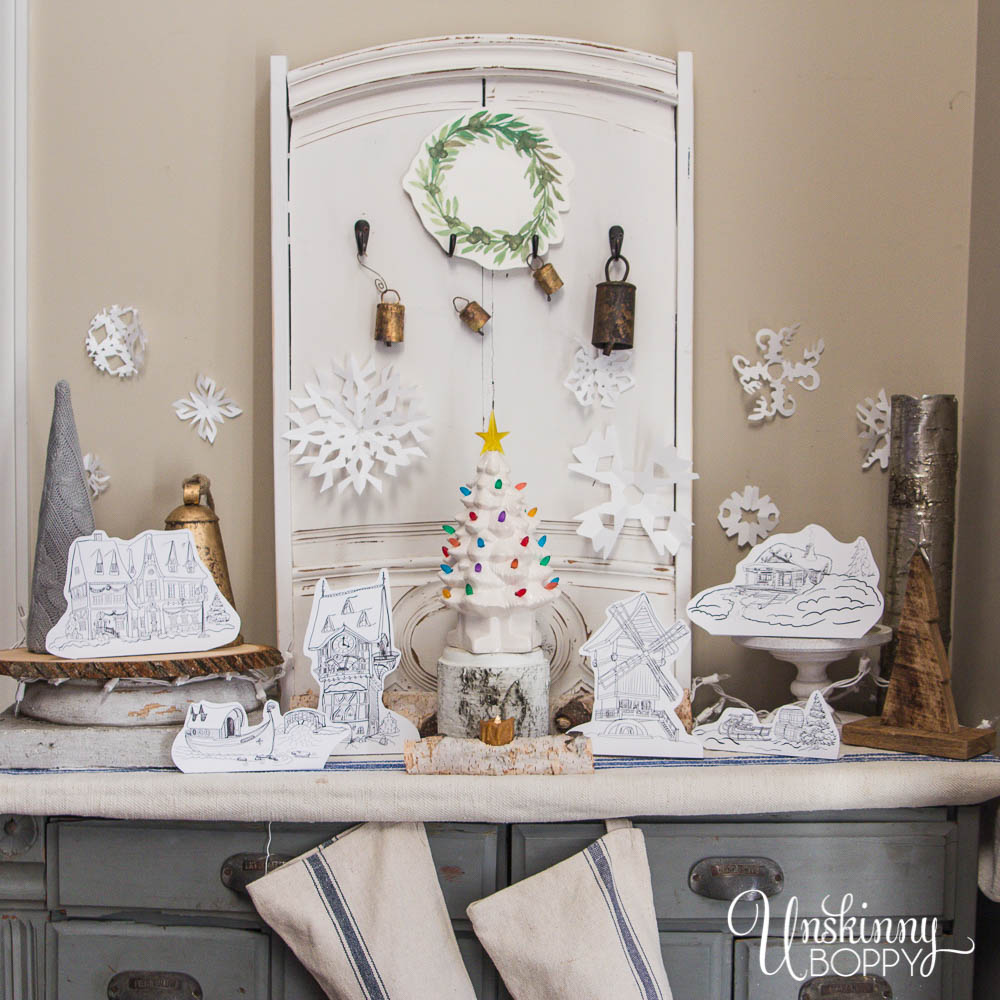 Download your free Frozen Inspired Village!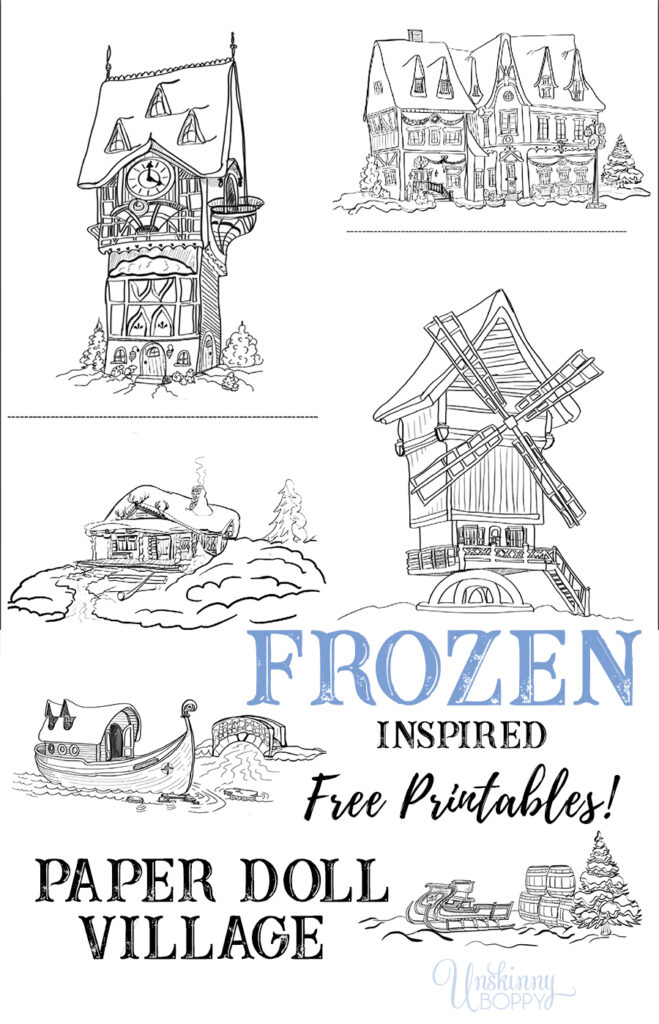 All these sketches are hand-drawn by me using my Procreate iPad app and an Apple Pencil. I LOVE PROCREATE! It's a game-changer for artists and creators.
I purposefully didn't draw any of the characters or add the names to the buildings out of fear of the wrath of Disney. Hopefully, they are generic enough (and FREE!) so that I won't get in trouble.
I'm actually not sure that many folks will realize that these are scenes from Ana and Elsa's hometown unless you tell them, but I bet your Frozen-obsessed little ones will!
And even if you don't have any little ones, you can totally play it off as a simple Christmas village scene and get away with it! I love multipurpose, fun Christmas decor.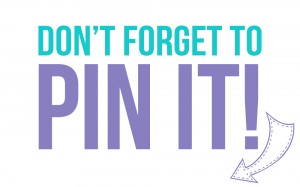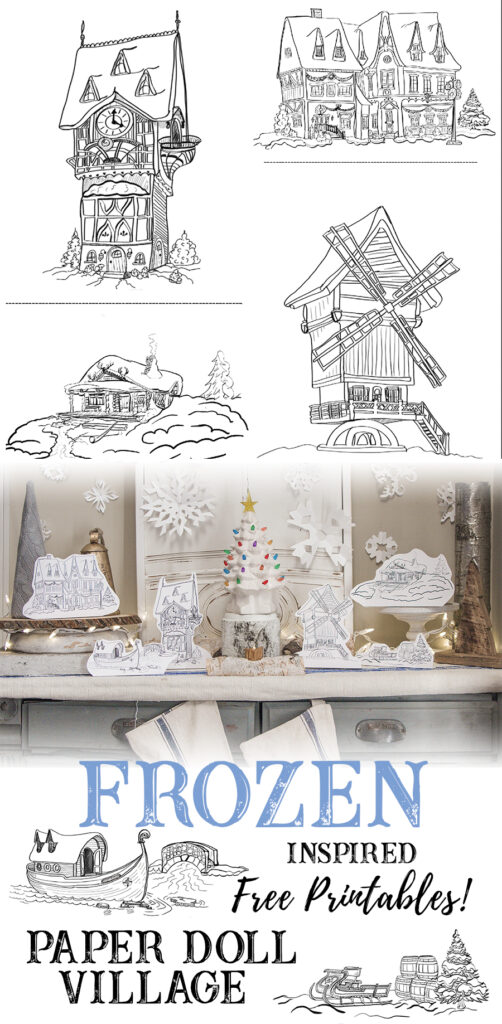 Planning a trip to Disney World soon?