Spring Break 2013 has come and gone.  That means this year is already a quarter of the way finished.  Unbelievable.  This year for Spring Break we headed back down to our most favorite piece of heaven on Earth, scenic highway 30-A on the Florida panhandle between Destin and Panama City Beach. 
I found this pretty  cottage on VRBO named "Cabana Blu", and when I called the owner for more info she said it had just been completed last month.  Brand spanking new within a few blocks of the beach?  I'll take it! 
When we walked through the front door, my mouth fell open.  It was GORGEOUS.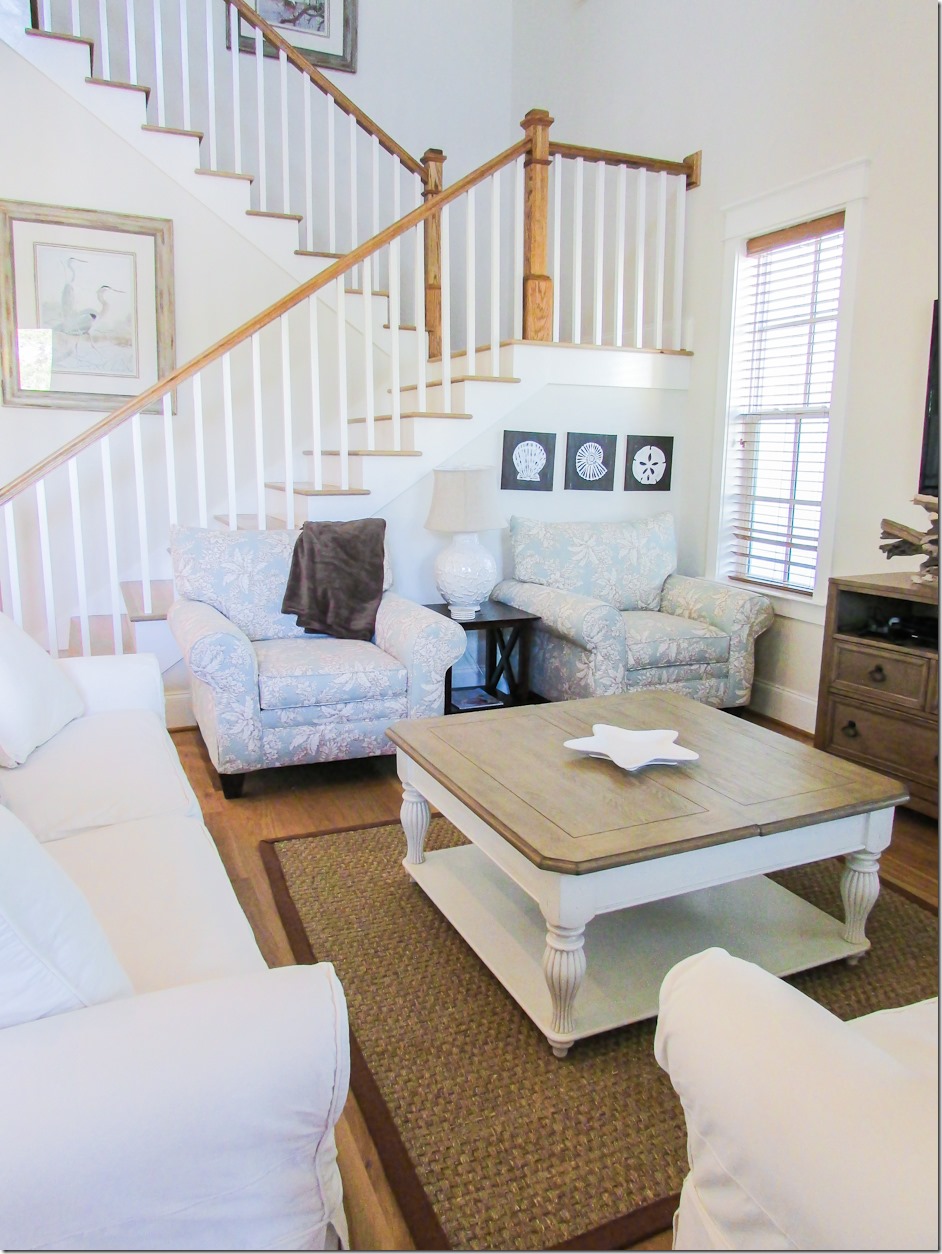 I felt like I was stepping into the pages of a Coastal Living magazine.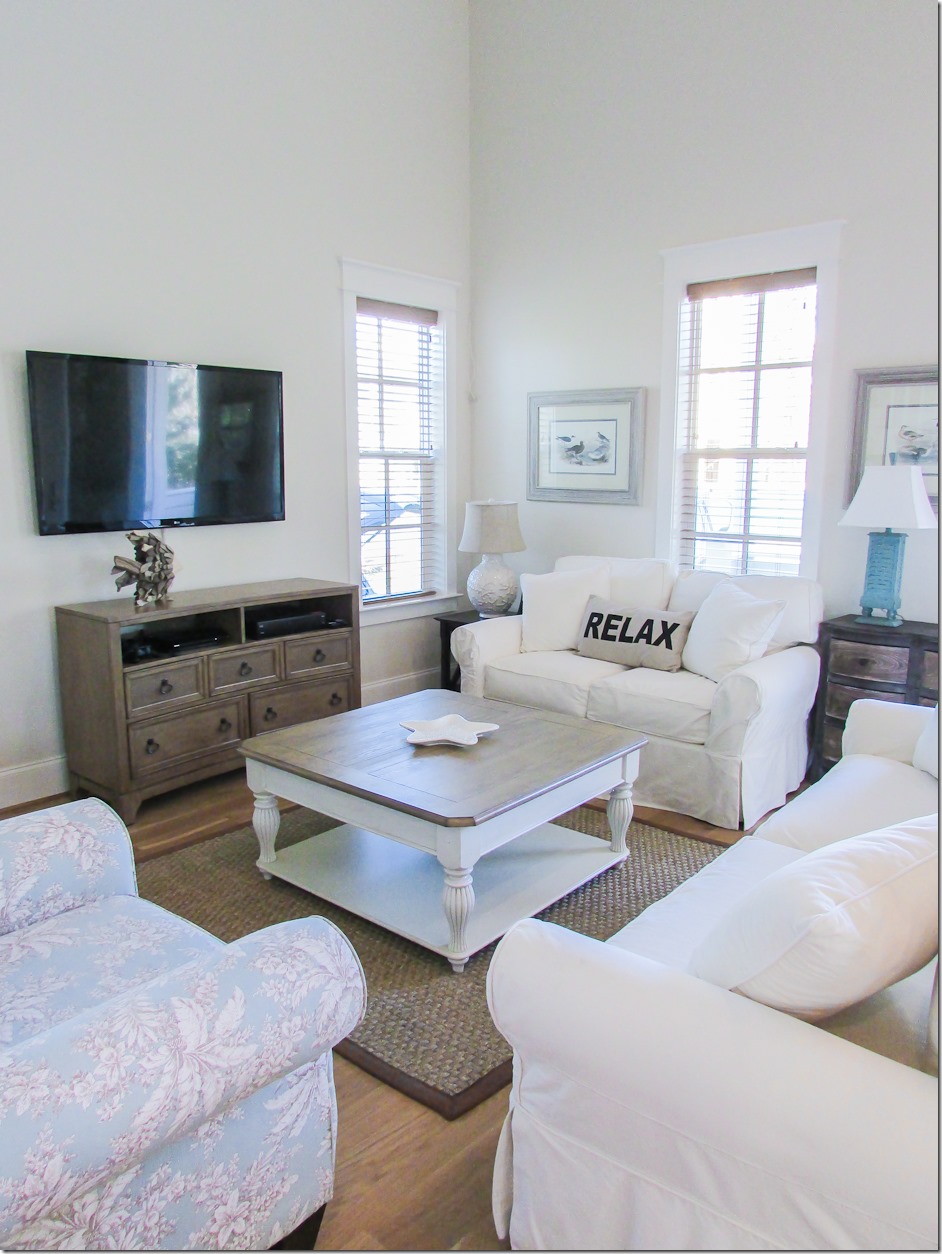 Every single room had a flat screen tv mounted to the wall.  Every. Single. Room.  This place was a dream come true for any family with kids and men who would rather watch tv than sit on a beach.
Check out the white canvas sofas with gorgeous blue side chairs and a seagrass rug.  I love this look so much, but I learned very quickly on this trip that white canvas sofas and five year old boys do NOT mix well. I was scrubbing chocolate ice cream off of an arm like a mad woman within about 48 hours.  Speaking of chocolate ice cream, the Blue Mountain Creamery is just right down the street on the way to the public beach access.   This house + ice cream shop + beach all within walking distance = a trifecta of perfection.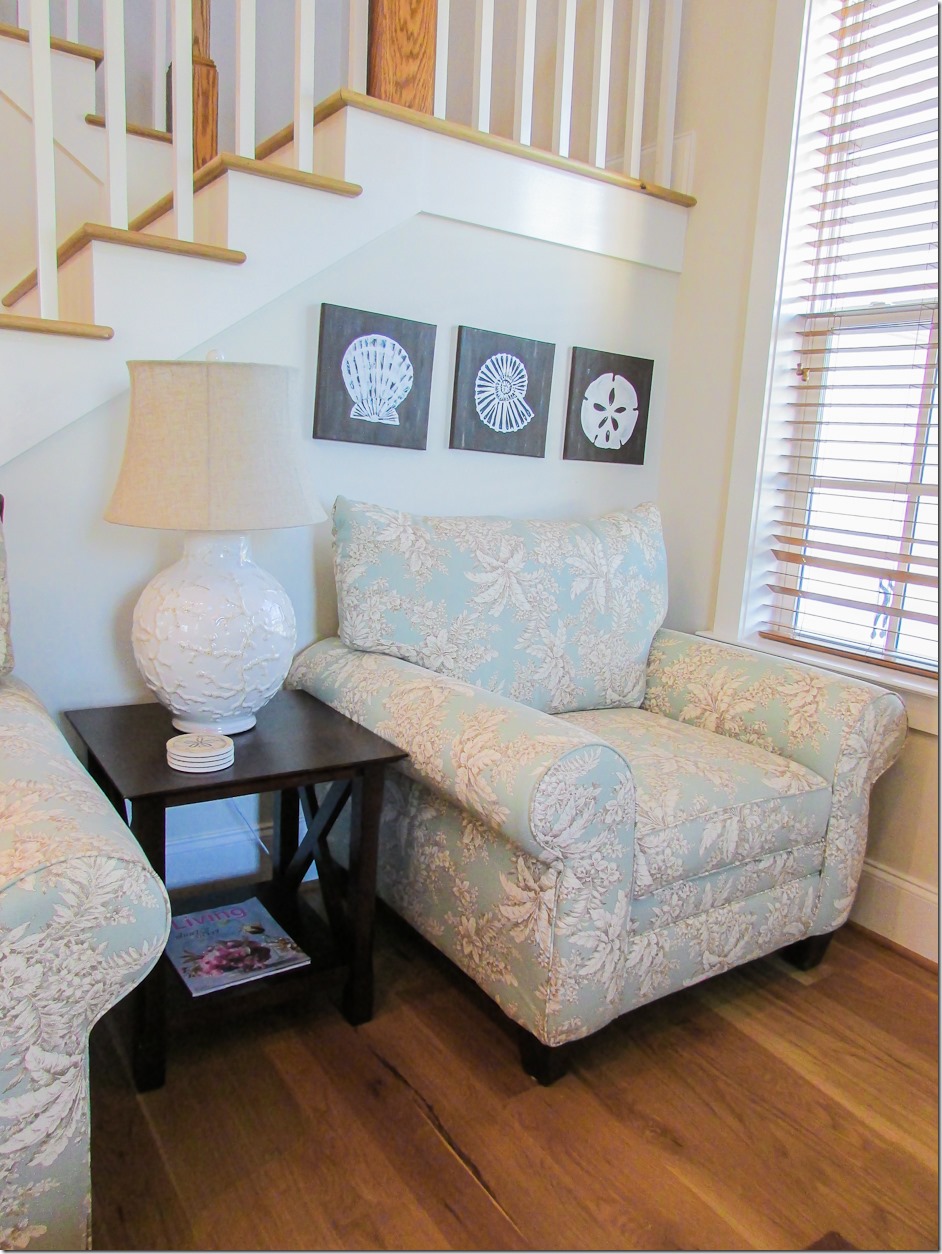 The decor was so serene, and for now this was the only house on the street (and maybe in the whole subdivision) that had been completed.   It was peaceful and quiet, and perfect for attempting to ride a bicycle as an adult after 20 years.  It's true what they say…You never really forget how to ride a bike.  My husband hopped on one and took a spin with no problems.  There were about seven bikes in the garage available for use, which was awesome!  I even made a wobbly spin through the garage on one, but I had visions of face planting into the concrete and ruining the whole trip, so I stuck with my own two feet for the rest of the trip.
Still, it was a super peaceful place.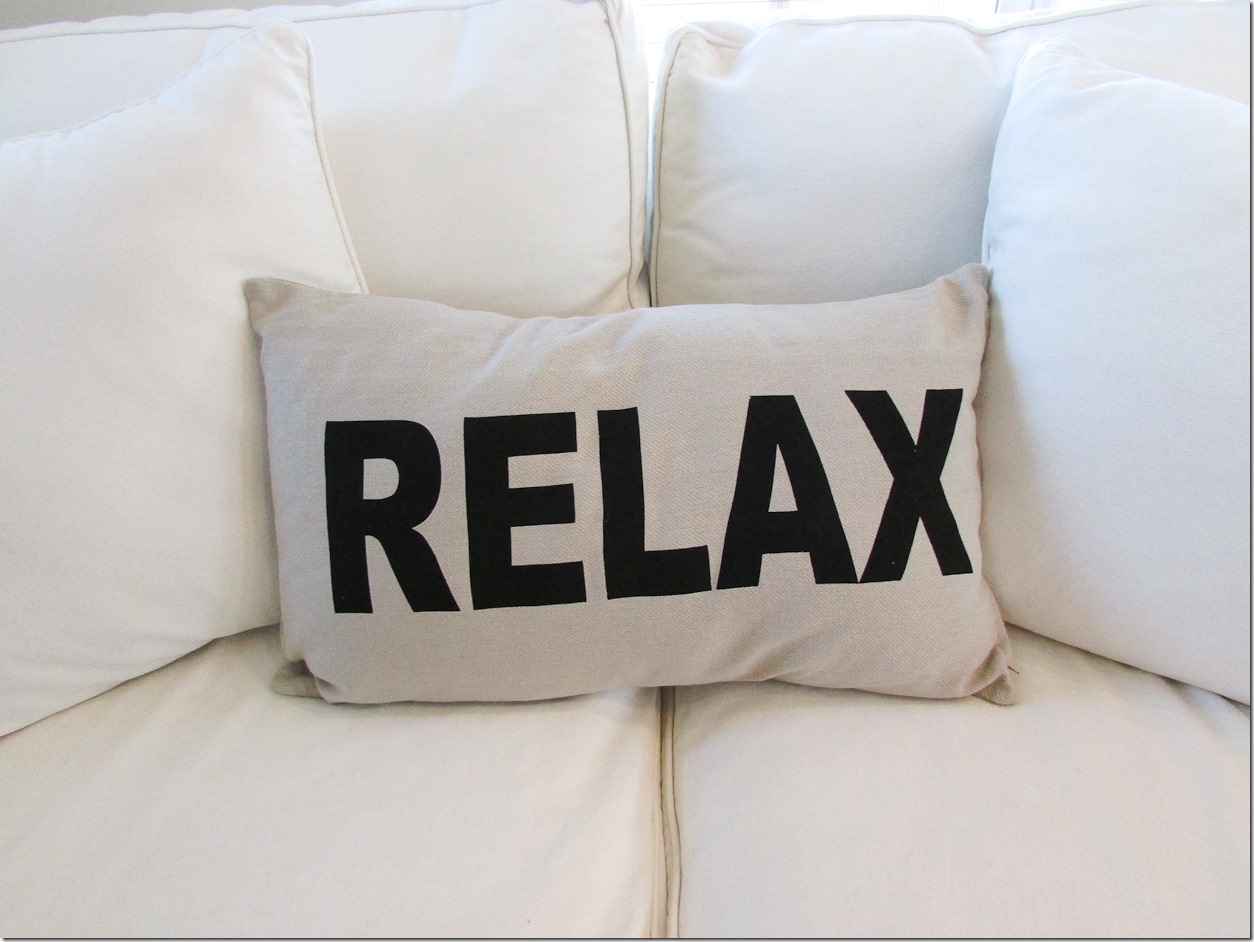 Even the pillows commanded you to "Relax." 
 Ok, pillow.  Can do. 
 No need to scream.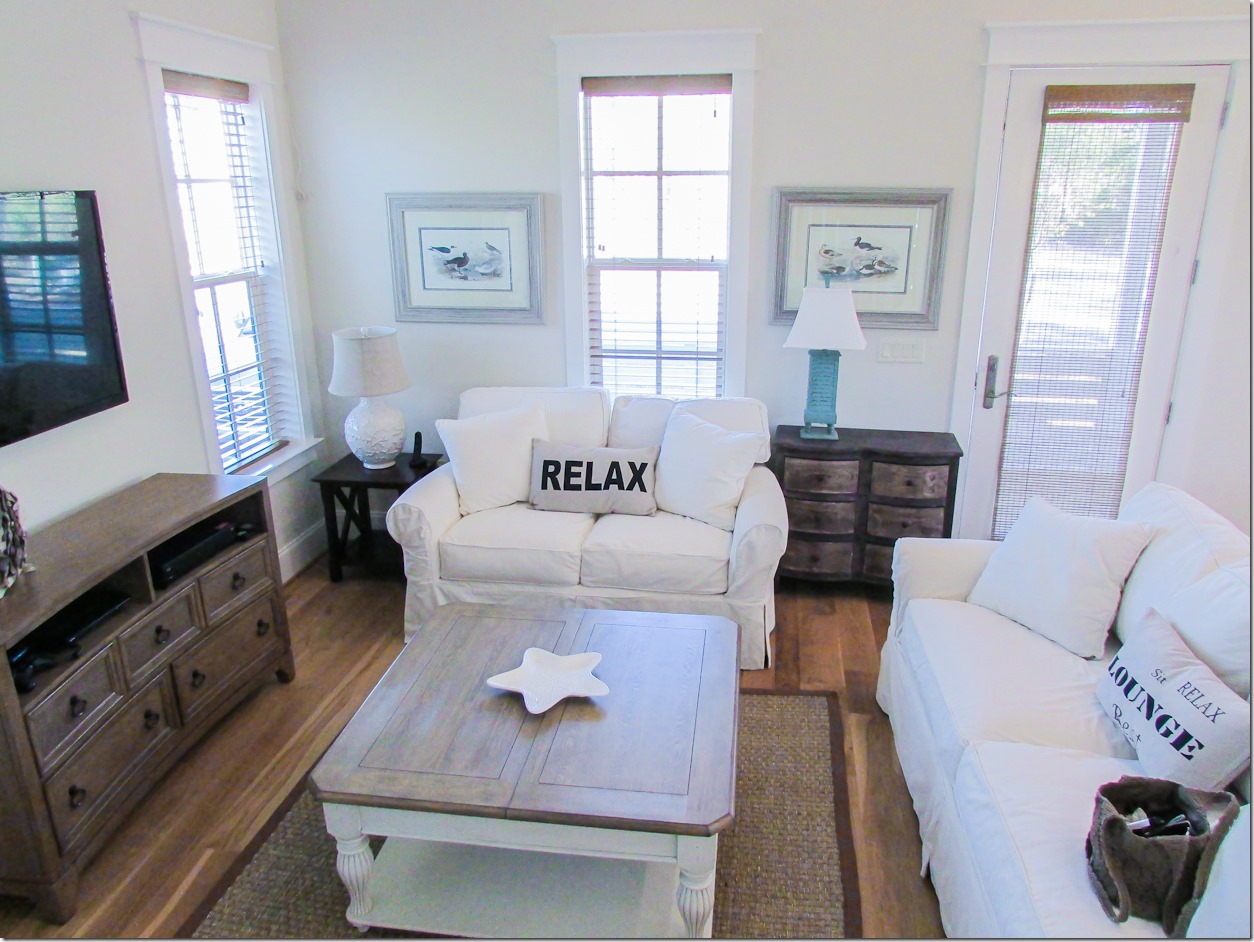 Twenty foot high ceilings with rough hewn wooden beams… I gotta say I coveted this ceiling more than anyone ever should.
The living room and dining room were open to the kitchen, so it felt large and spacious.
I was digging this kitchen rug that was hand painted with sand dollars.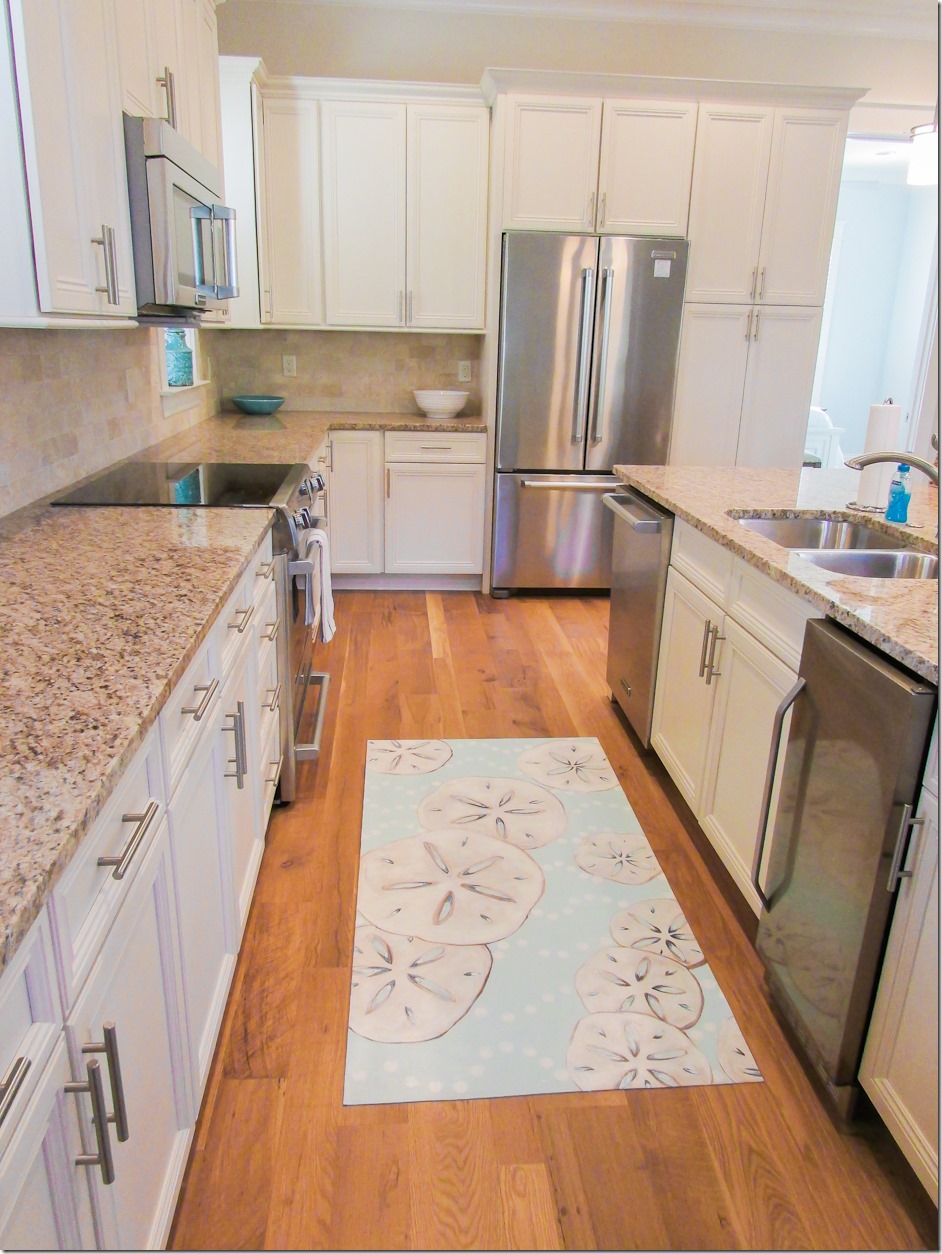 Throughout the house the artwork on the walls really wanted to jump into the back seat of my car and come home with me, but I figured the owners wouldn't be too happy about that.
This is the main level master bedroom.  It's like I've died and gone to symmetrical heaven.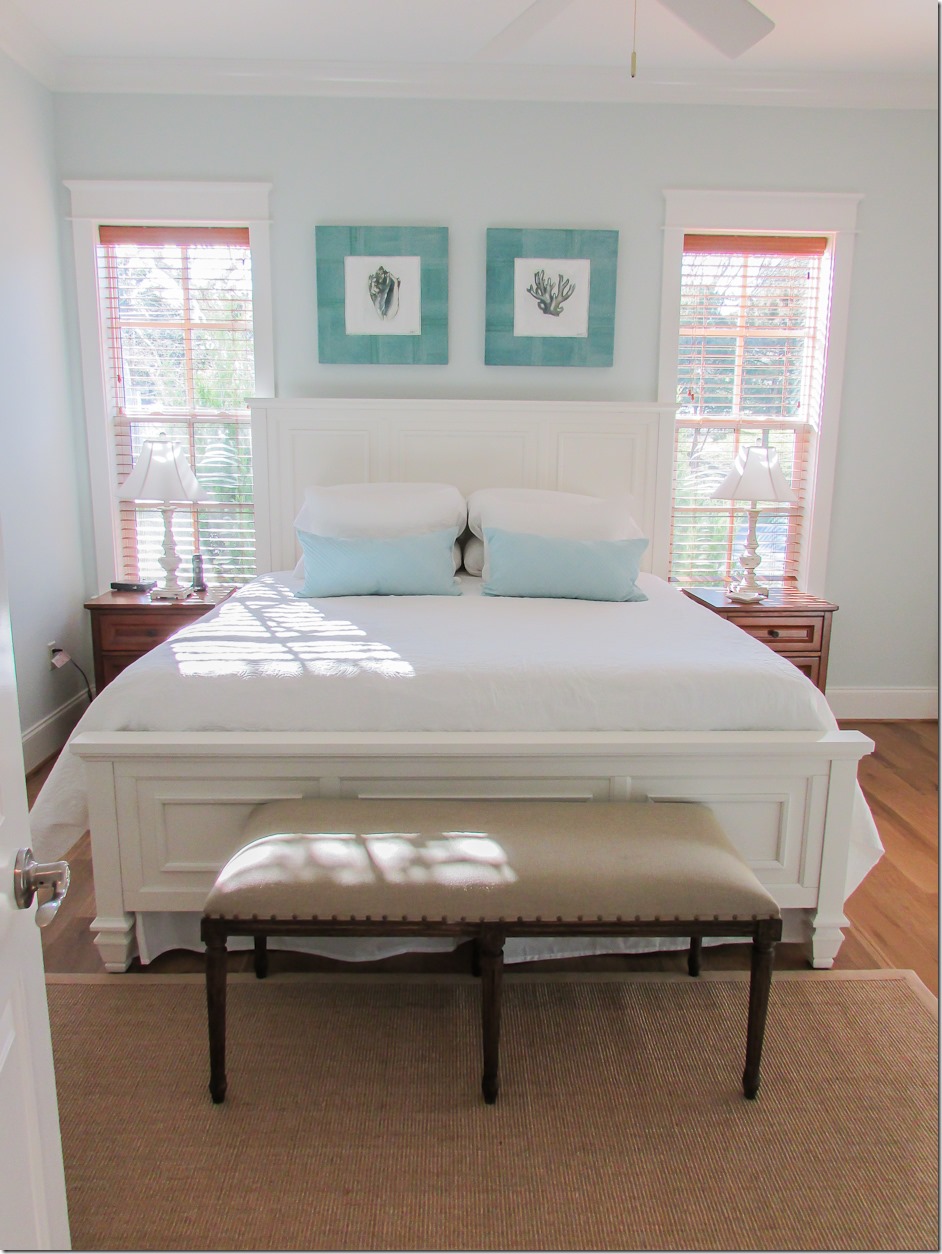 The master bath had a rainfall shower head.  Love those things. Garrett thought it was hilarious to get rained on in the shower.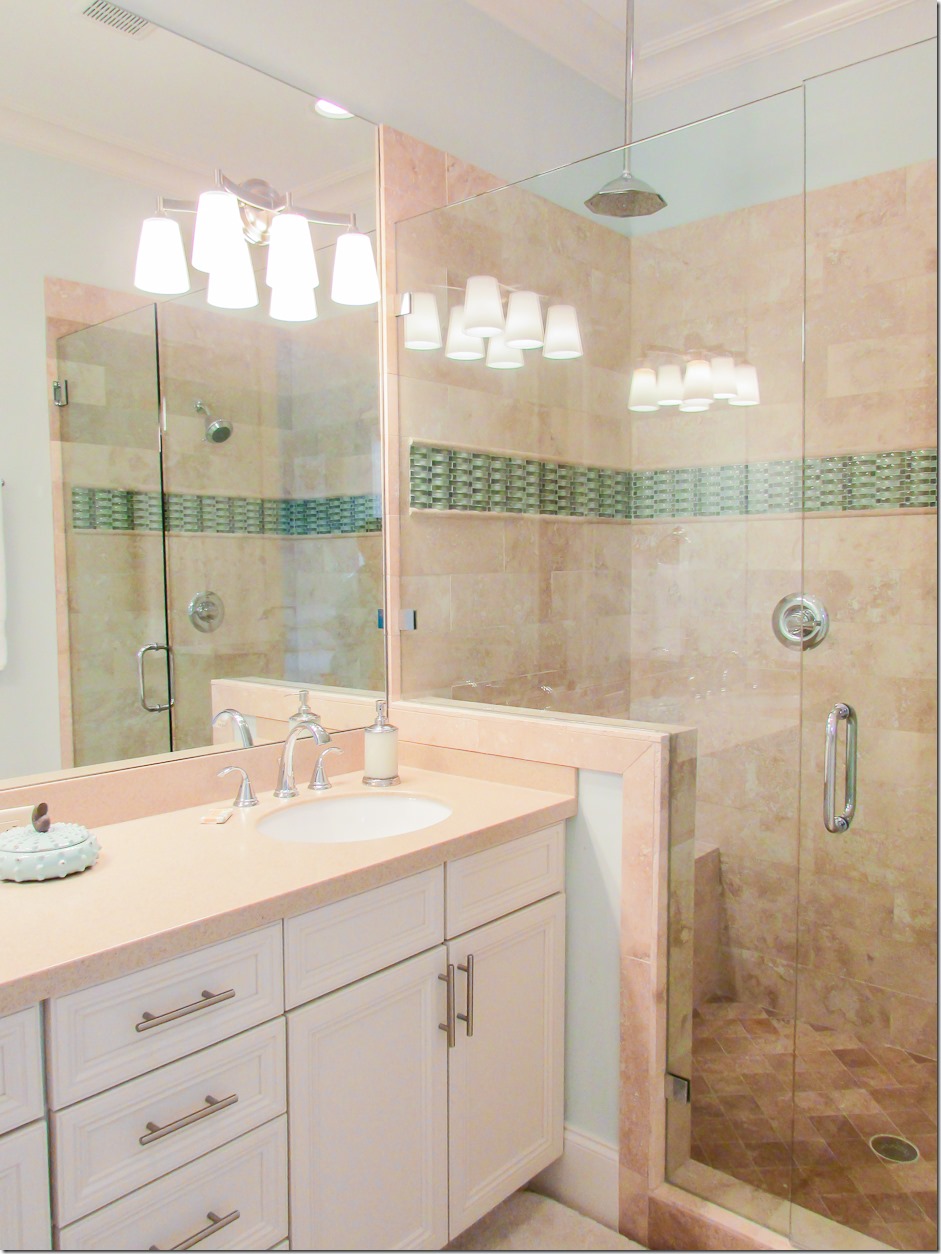 Upstairs there were three more bedroom- one with two beautiful double beds that were so high I felt like Princess and the Pea just looking at them.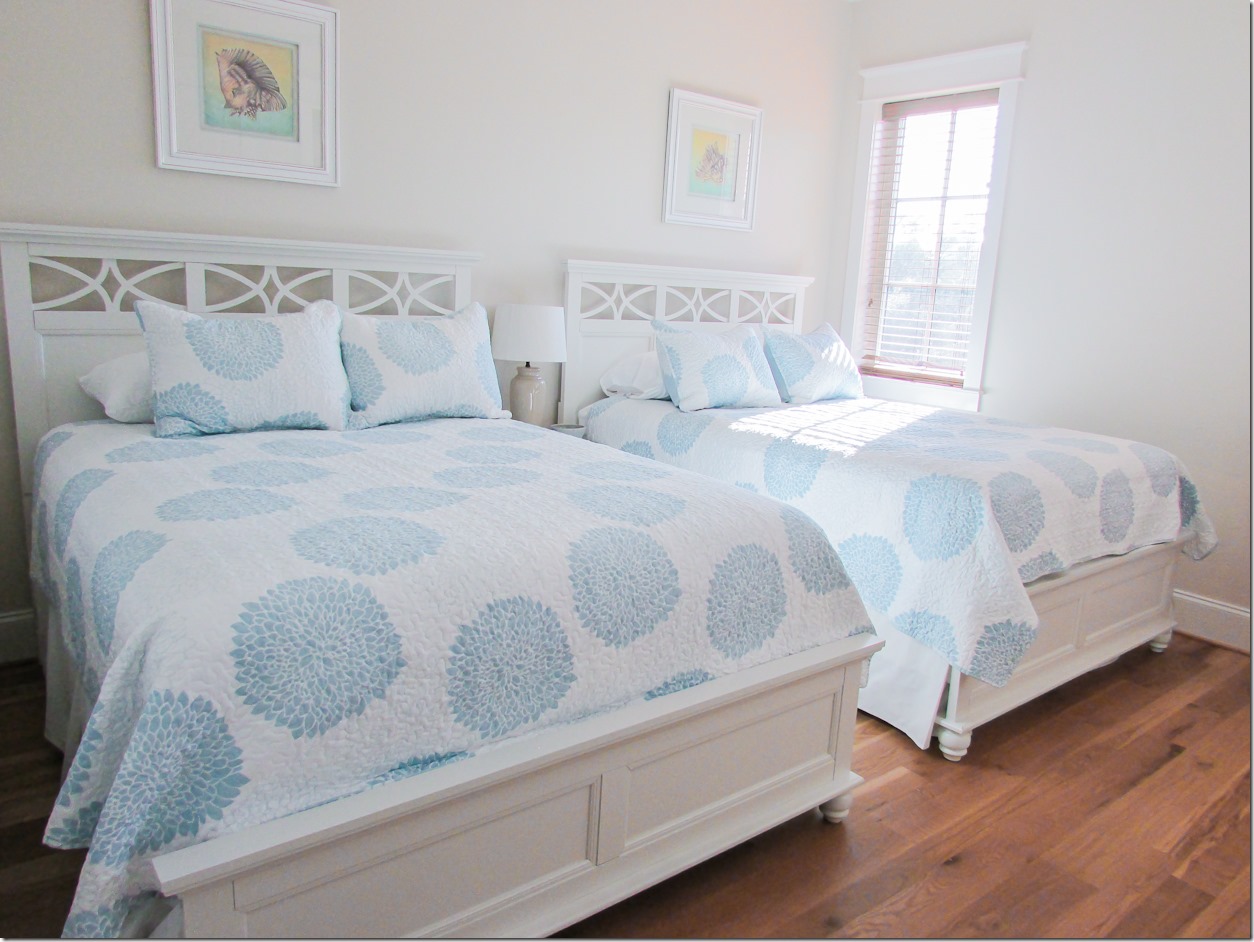 There were two full bathrooms and another bedroom with a King bed upstairs, along with a kid's room that had four bunk beds.  You could sleep a whole bunch of folks in this place!  I'll let the rest of the upstairs pics speak for themselves…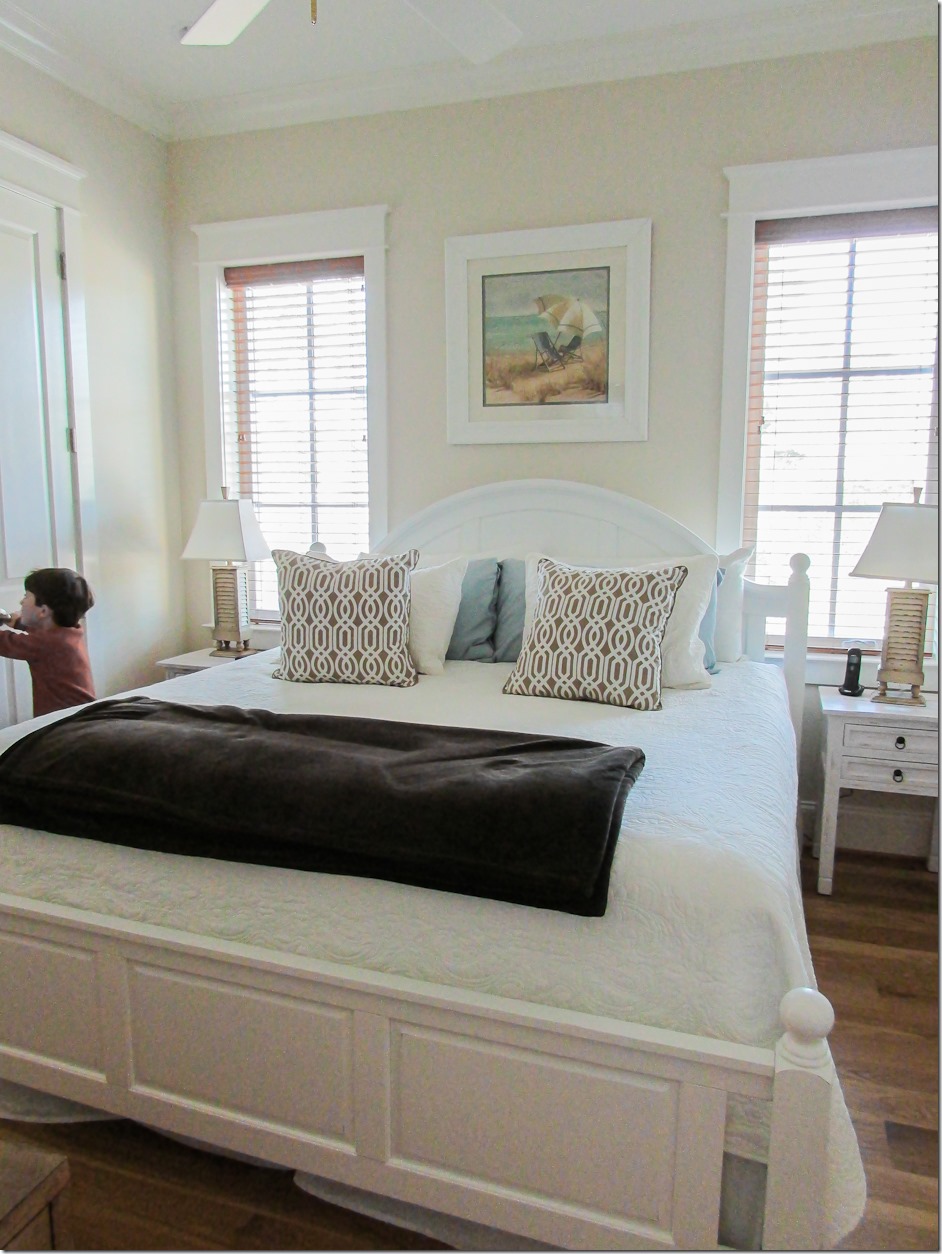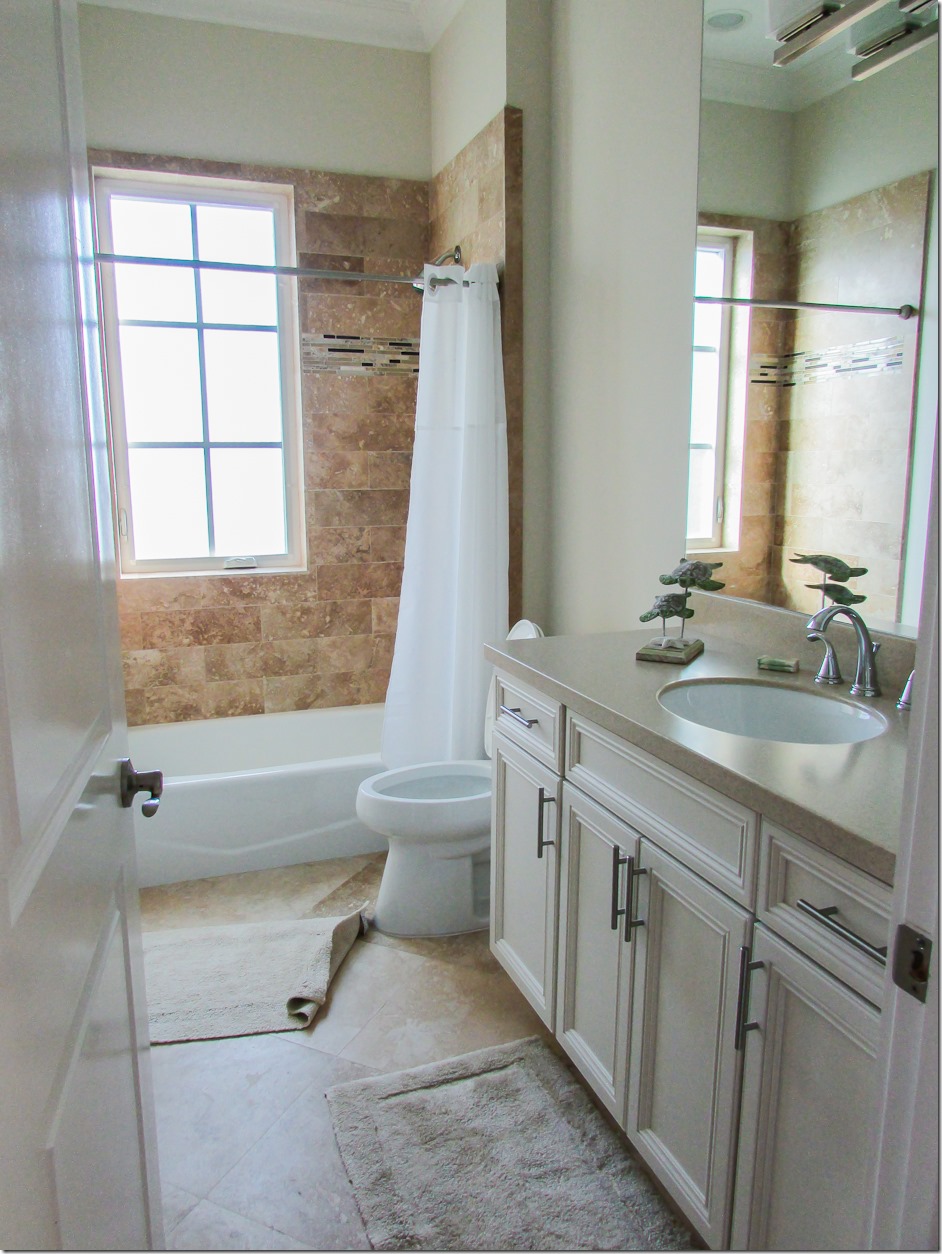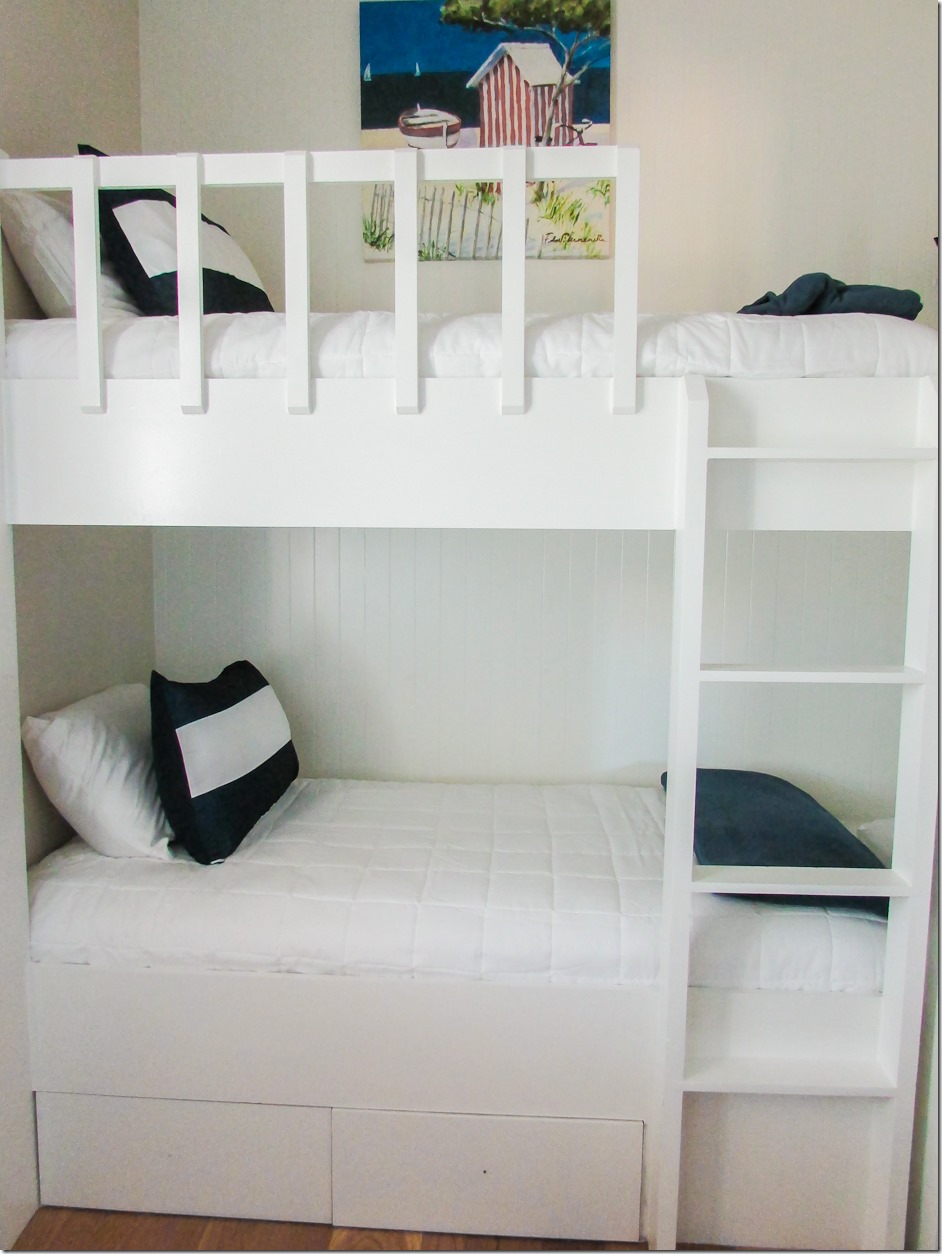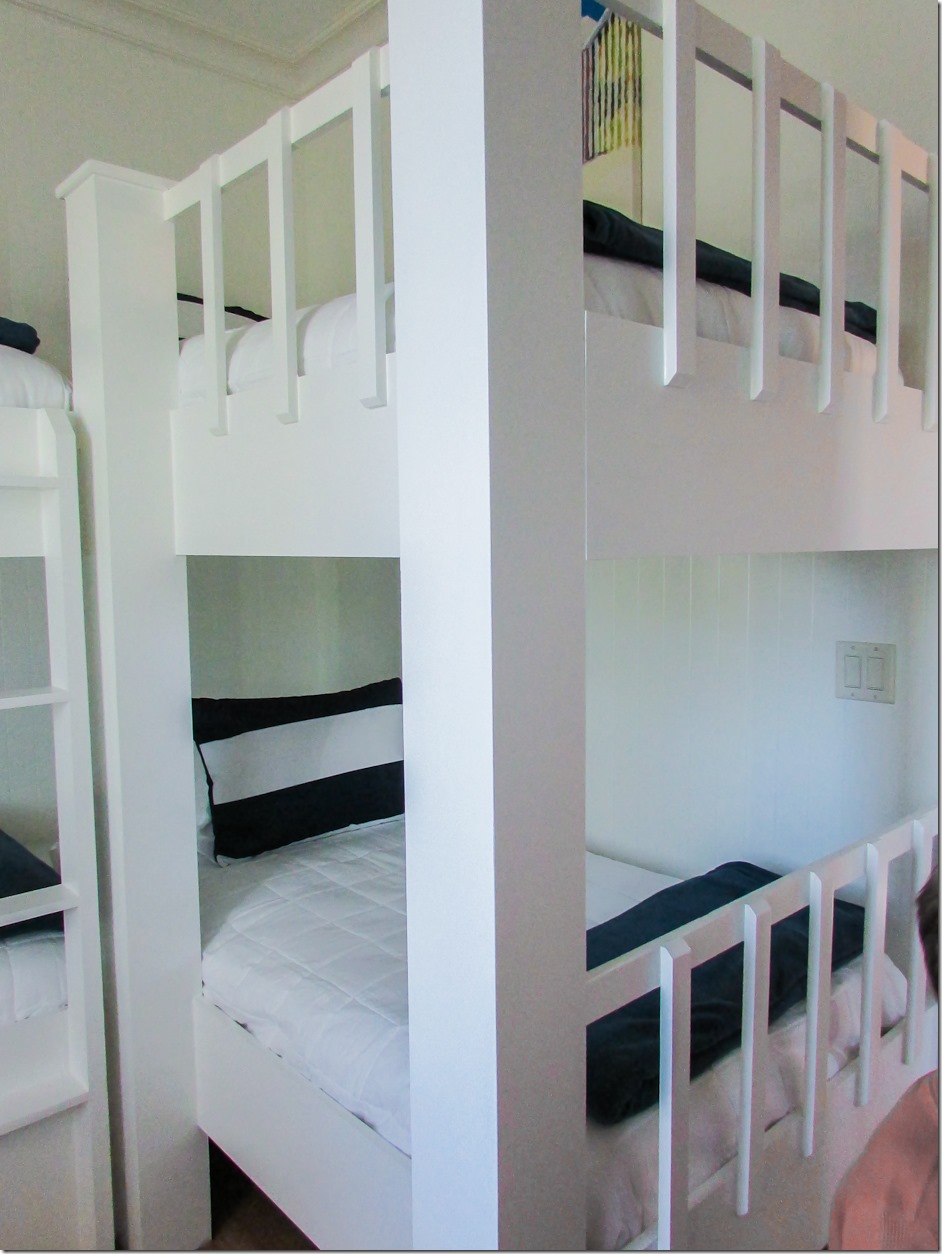 Aside from the house and the ice cream shop right down the street, there is always something to do on Spring Break in South Walton.  No trip to 30-A is complete without a meal at Red Bar.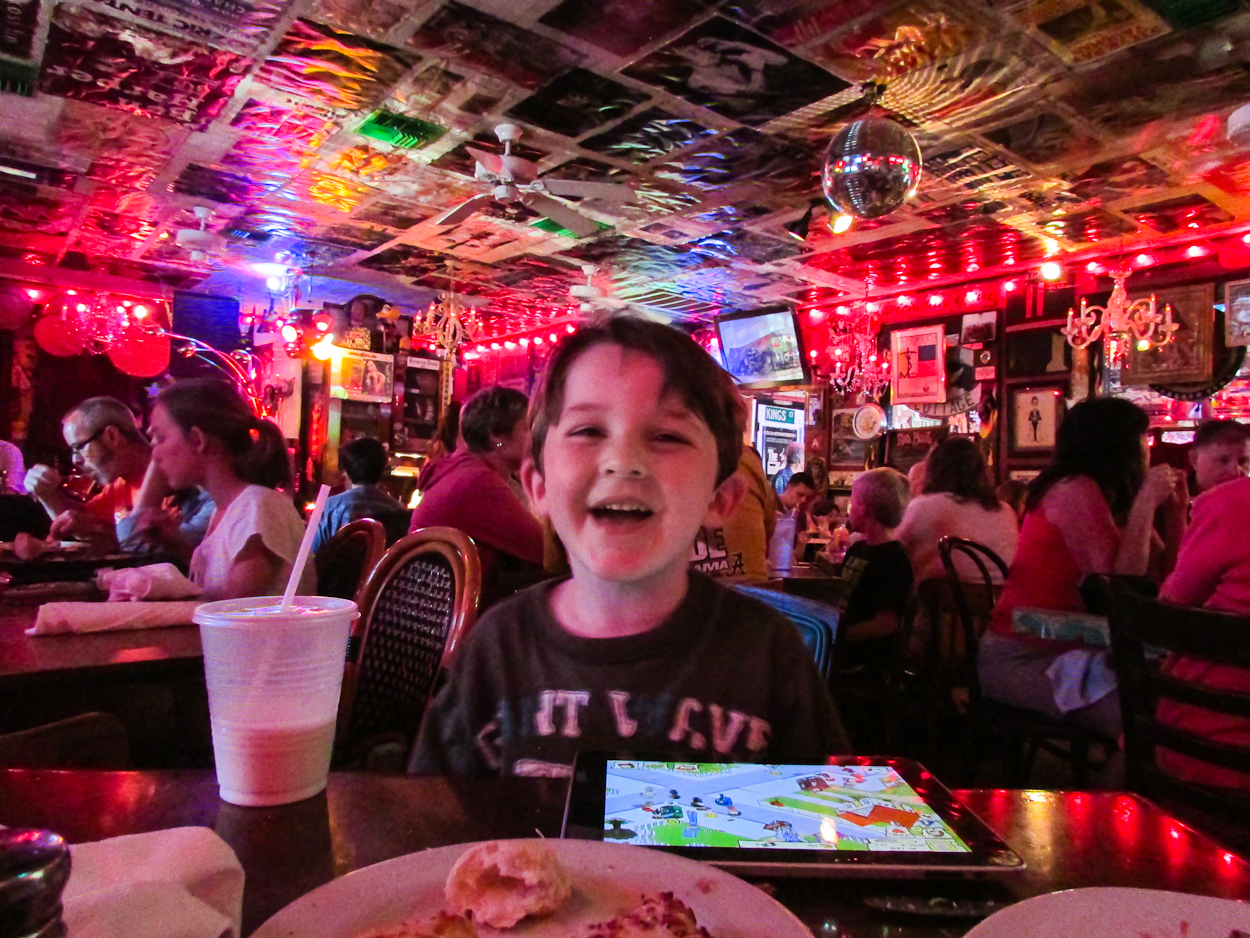 And shopping. Then more shopping, Then a little window shopping at all the places you cannot afford.  Check out the planter outside of Harman & Wright interior design studio located right across from The Studio Gallery at the Shops at Grayton.   I think the white flowers are bacopa, and the greenery is rosemary.  Love it!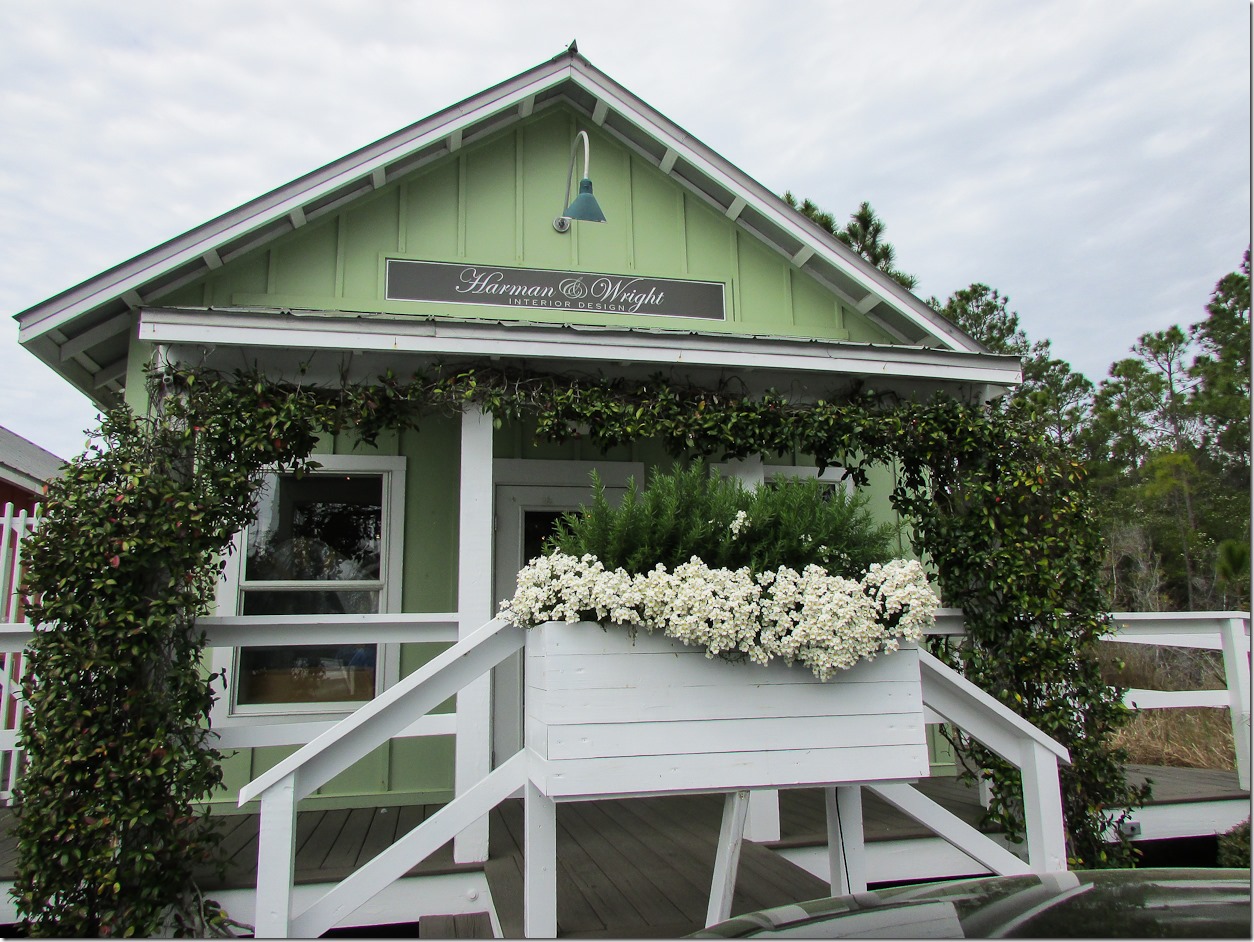 I
NEED some flower boxes like these. Wow.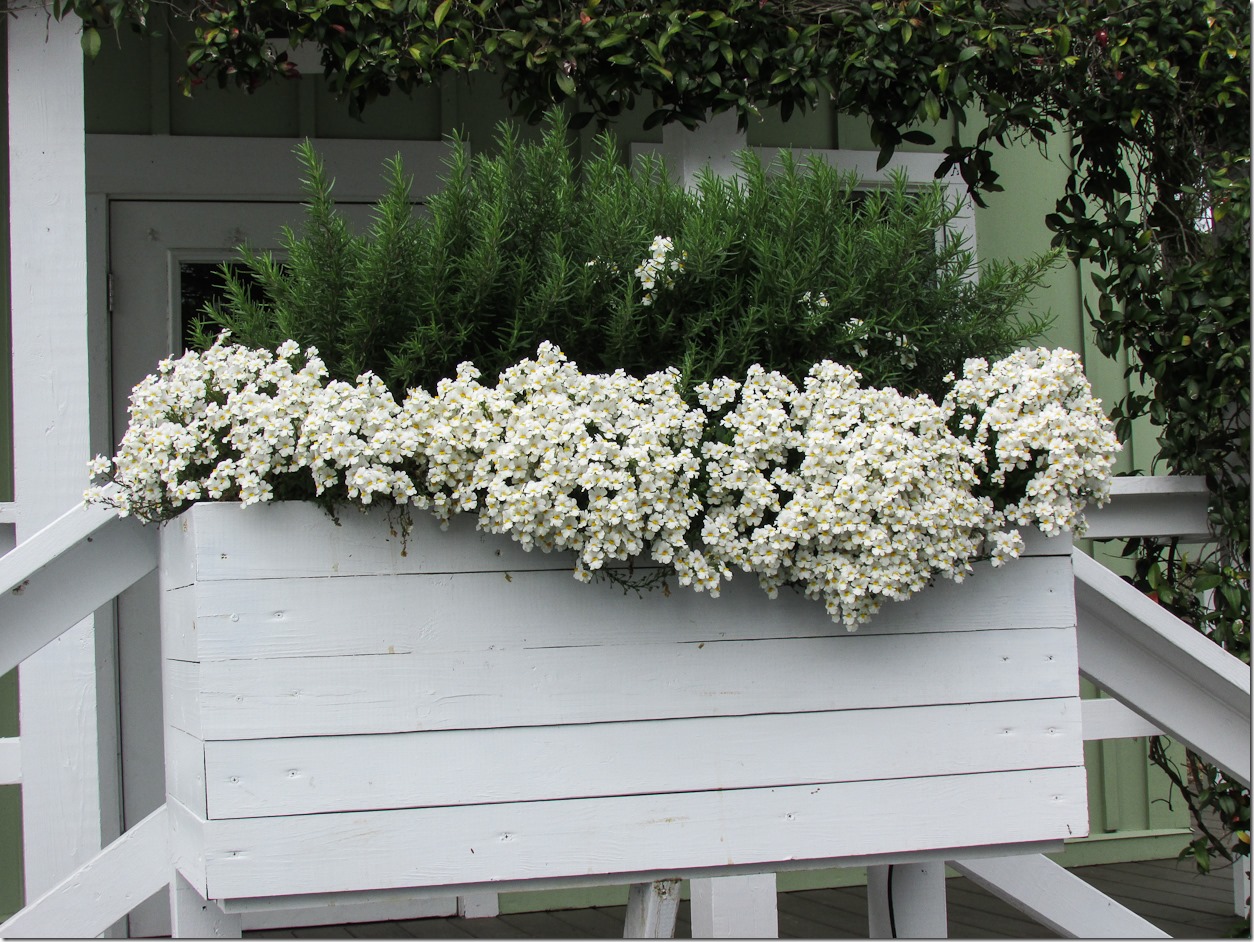 We spent a lot of time shopping and eating since the water was SO cold.  There were a few beach days, and I had hoped there would be a heated pool nearby but unfortunately the subdivision pool had a serious frog infestation and looked pretty gross.   I counted 14 frogs inside the subdivision pool with more on the way, if they keep up their activities. It was like a Roman froggy bathhouse up in there. We did have a great time running around the side and getting Kermit and his loverboy friends to jump into the water and swim to the other side.  That's one of the great advantages of being a boy mama- adventure can be found in the strangest of places.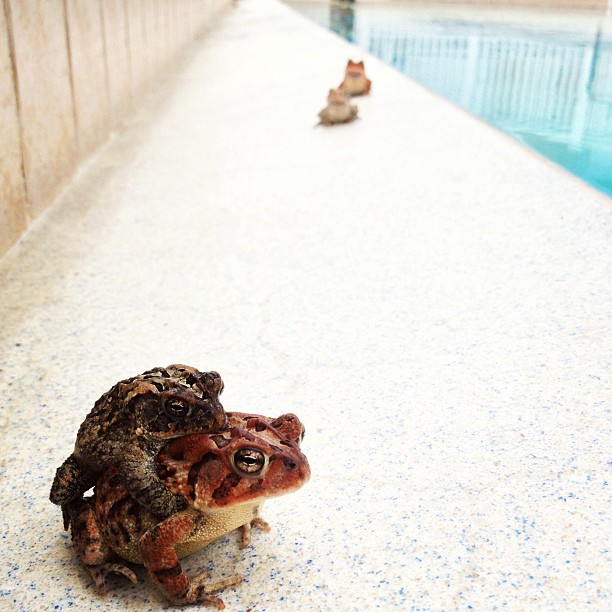 So since we didn't have any clean pool access, the best thing to do? 
Go to the beach.  Ahhh…   It was in a perfect location (in my opinion)- close to the public beach access at Blue Mountain Beach, which nobody really uses since it's tucked away off the beaten path so you have lots of beach to yourself.  I adore non-crowded beaches.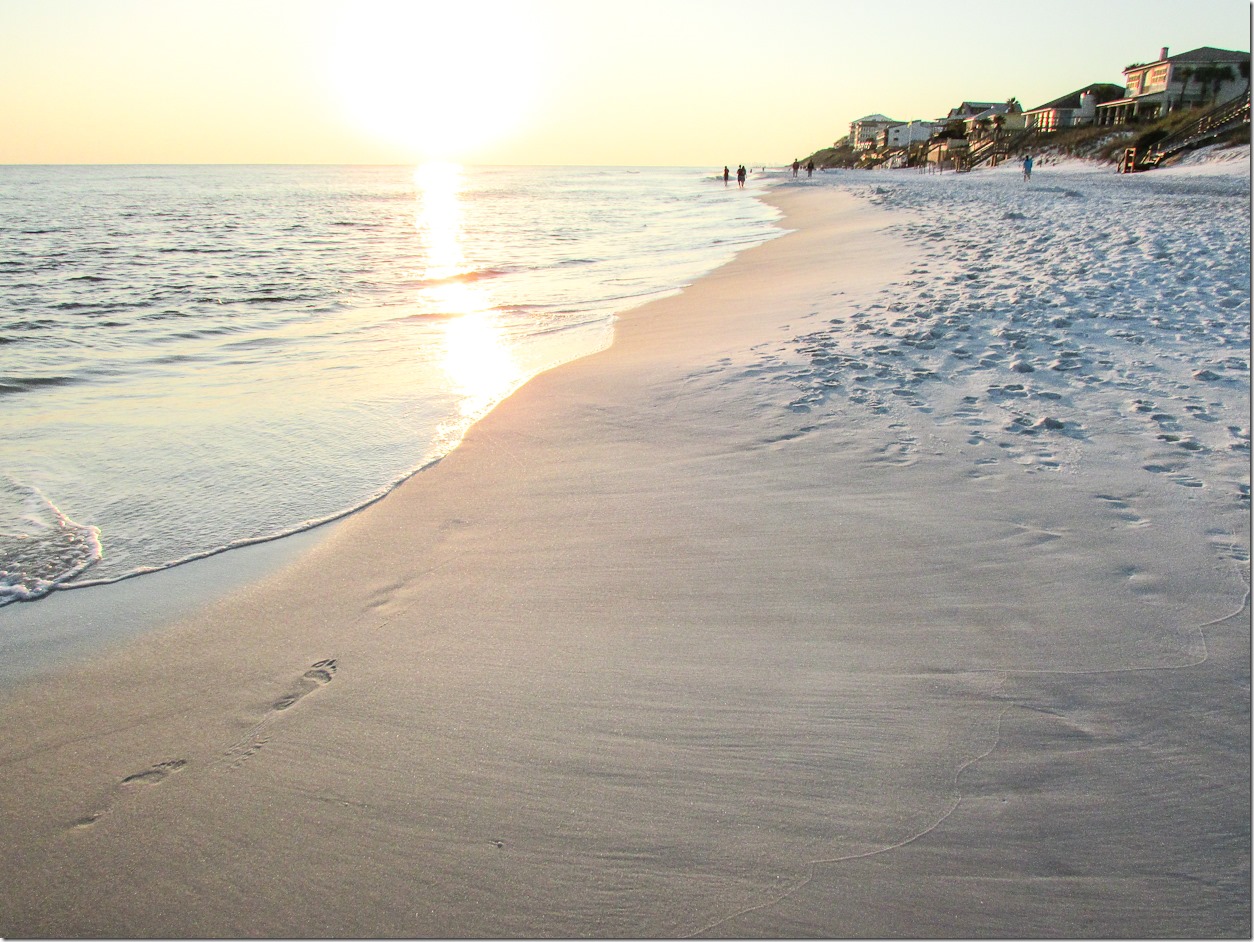 Since the beaches were so deserted, I practiced using my panorama mode on my iPhone to get these shots of G playing on the beach at sunset.    I love a deserted beach.   There were lifeguards, though, so that made me feel a little safer with the red flags were flying the whole time we were there.  The water was too cold to swim anyway, in mid March.

One day we used our new metal detectors on the beach and then crashed someone's super awesome sand castle.  Garrett loved pretending it was his actual castle.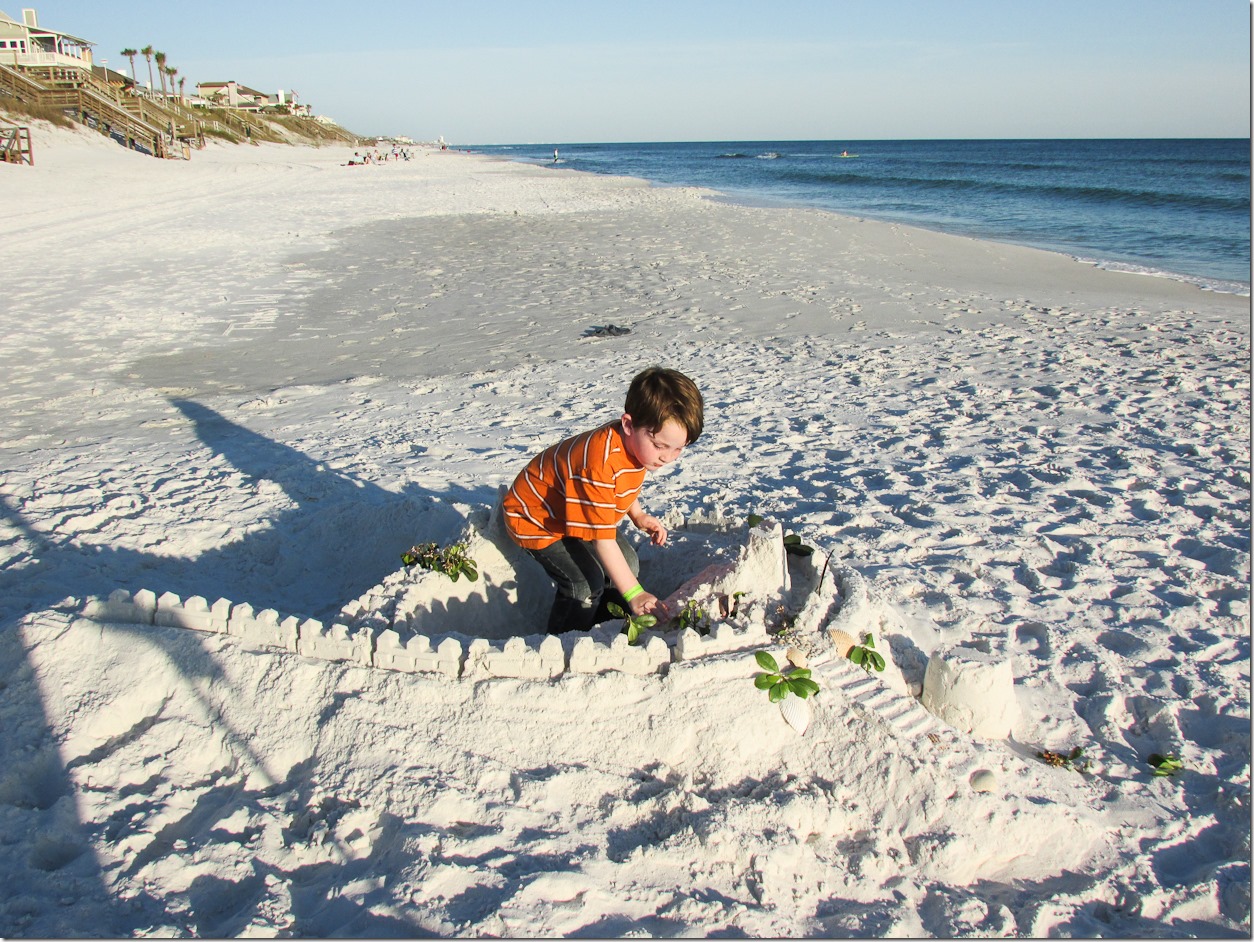 All in all, this was another perfect vacation in the books for the Bryan Family.  We hope to be back soon, 30-A!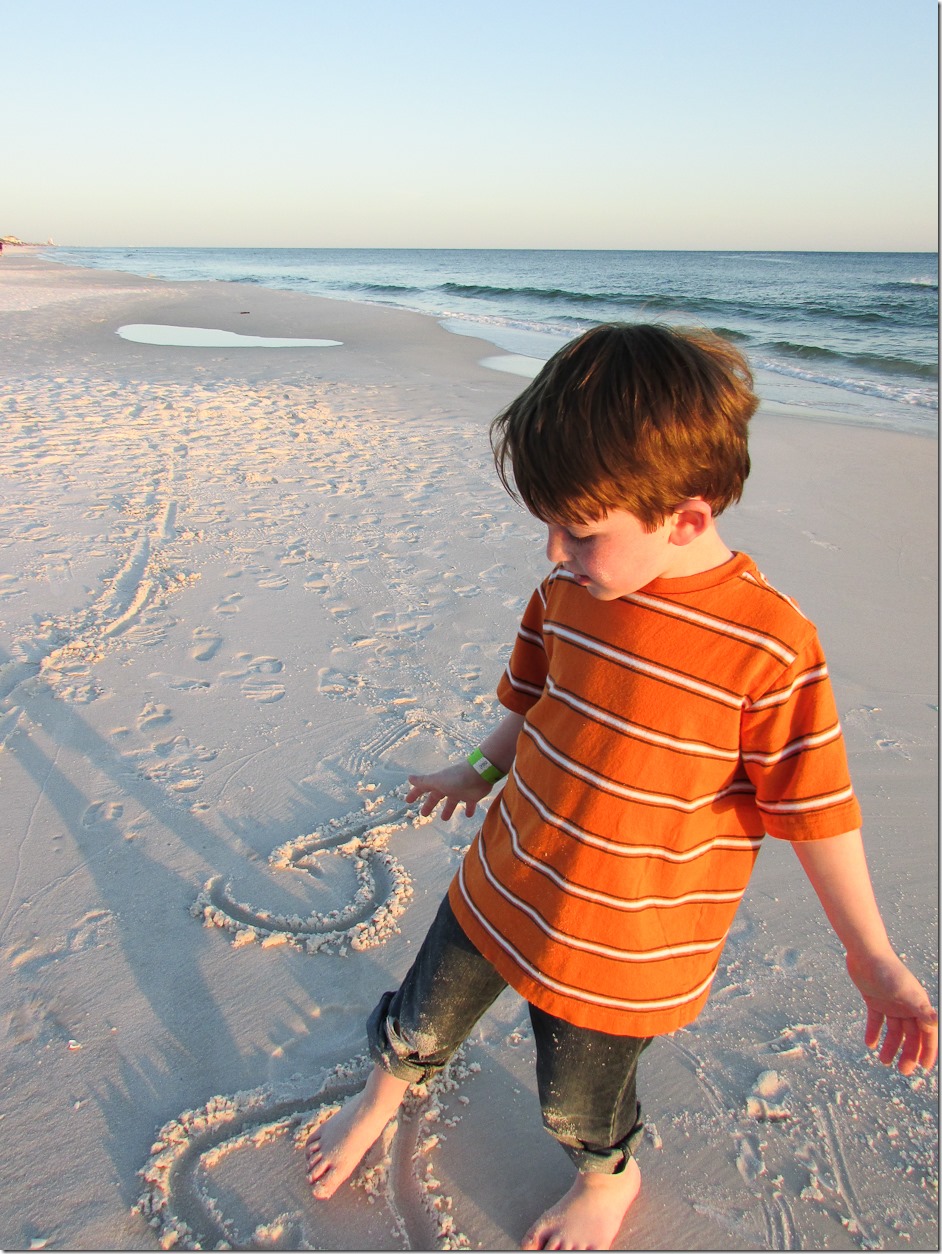 To see more dream beach house tours, visit 39 Bluestem in Watercolor, Florida.