As a child from Alabama I grew up vacationing in Panama City Beach (aka the Redneck Riviera), where the high-rise condos line the Miracle Strip like Wall Street, completely blocking your view of the water with 18 stories of concrete and metal railings.  In college we started going to Destin and Fort Walton Beach, which still had high rise condos interspersed with cute beach houses and plenty of sugar sand beaches.  These days my family makes the Spring Break drive to the 30-A towns of Seaside, Watercolor, Santa Rosa and Blue Mountain Beach, where condominiums are completely banned and there are still remnants of 1950's fish camp houses intermingling with gorgeous new construction homes that are straight out of a magazine. Along the way, I've mixed in Florida vacations that required me to fly- like Fort Meyers, Sanibel, and of course Key West and Port Canaveral for random cruises.  I've never been to Miami or South Beach, for fear of running into one of those dudes that are currently going viral on facebook wearing the half-budgie swimsuits. Yikes.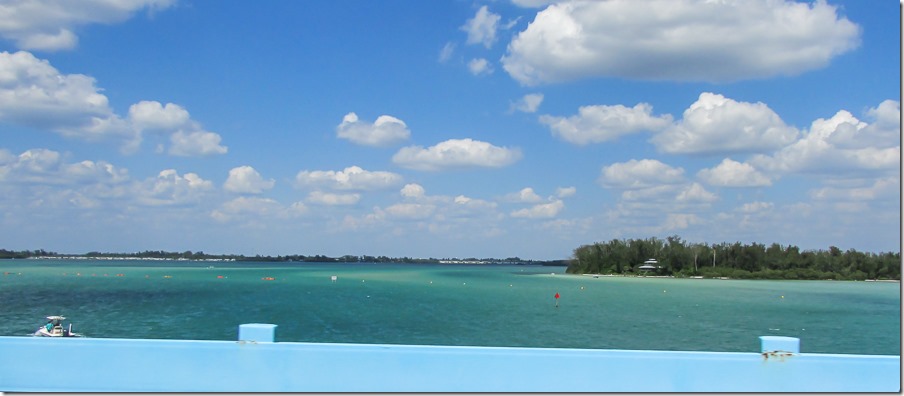 So, all of that is to say that every time I visit a new part of Florida that I've never seen before, I'm amazed by how different it is from what I'm expecting. Anna Maria Island was my latest new Florida city to get a chance to visit, and it was absolutely breathtaking. I expected it to look like Sanibel, but I was wrong.  It has it's own vibe about it that makes it uniquely Anna Maria.  From the minute you step foot (or tire) onto the island, the scenery is amazing.  The water is a perfect mix of aqua and cobalt against the whitest sugar sands that reminded me of the Emerald coast beaches of my childhood with much more vegetation.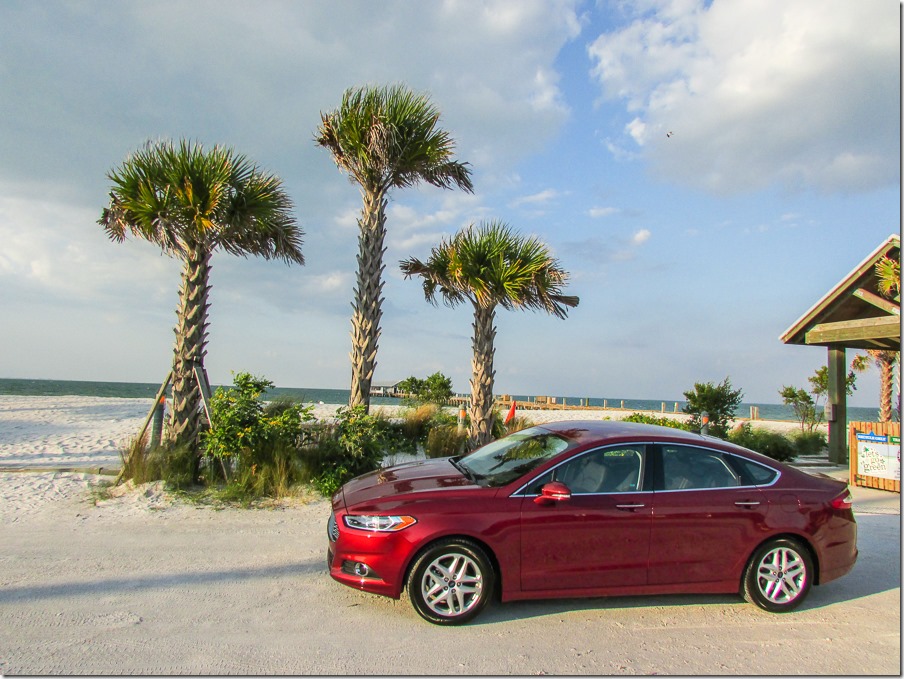 One huge advantage to being on the island is that you can watch both the sunrise and sunset over the water. The sun sets over the Gulf side…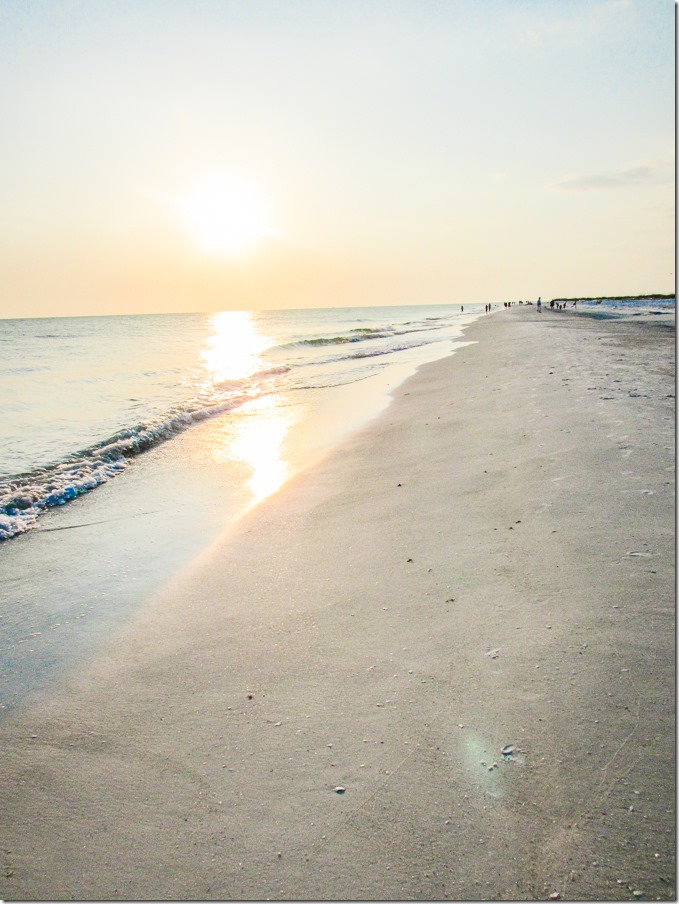 And rises over Tampa Bay side (if you look closely  you can see the bridge way off in the distance).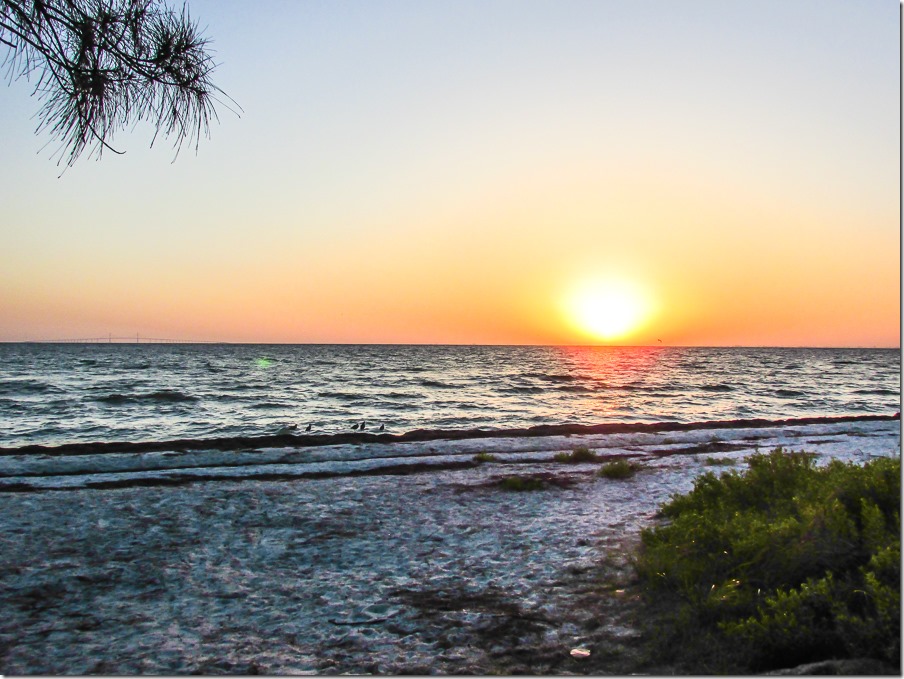 The entire island is just 2 miles wide and 7 miles long, which makes it perfect for getting to a sunset on the water really easily by car, bike or foot.   And the public beaches were absolutely stunning.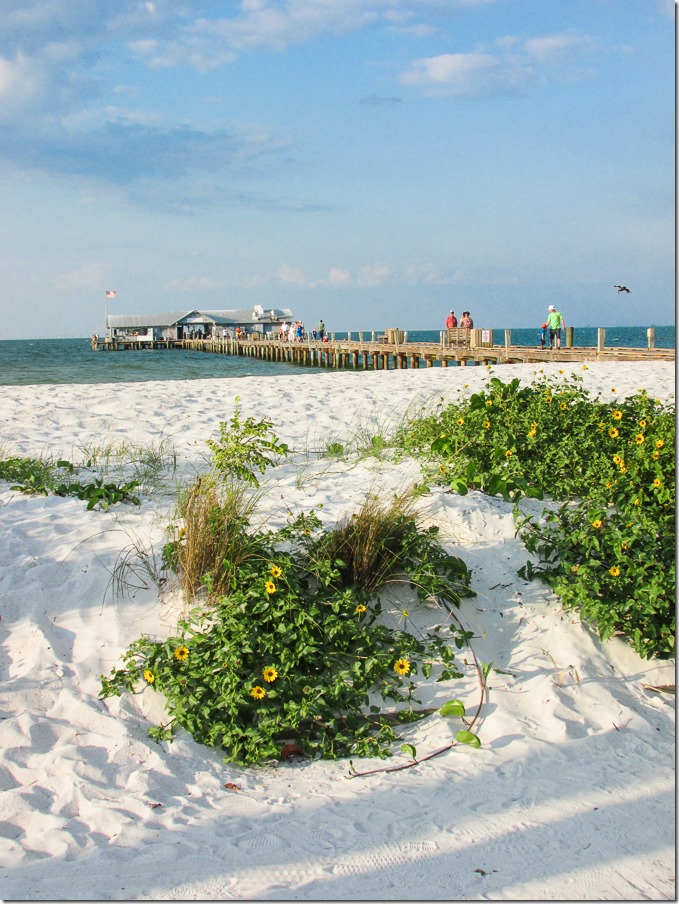 This was the Anna Maria Pier where people were casting nets over the side 24/7. Pelicans and seagulls and marine life were everywhere you went on this island, hopping around like Nemo saying "Mine? Mine? Mine?"  There is a restaurant all the way down at the end with pretty good food, too!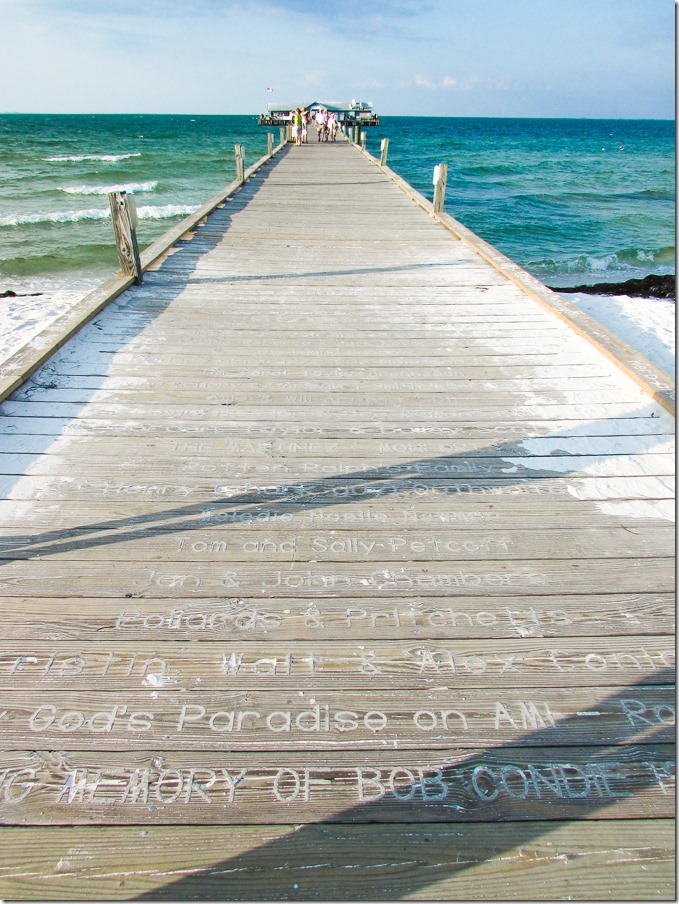 In the heart of town there are plenty of great restaurants and shopping to be found, from junky thrift stores to upscale beachy boutiques.  And Lobstahs.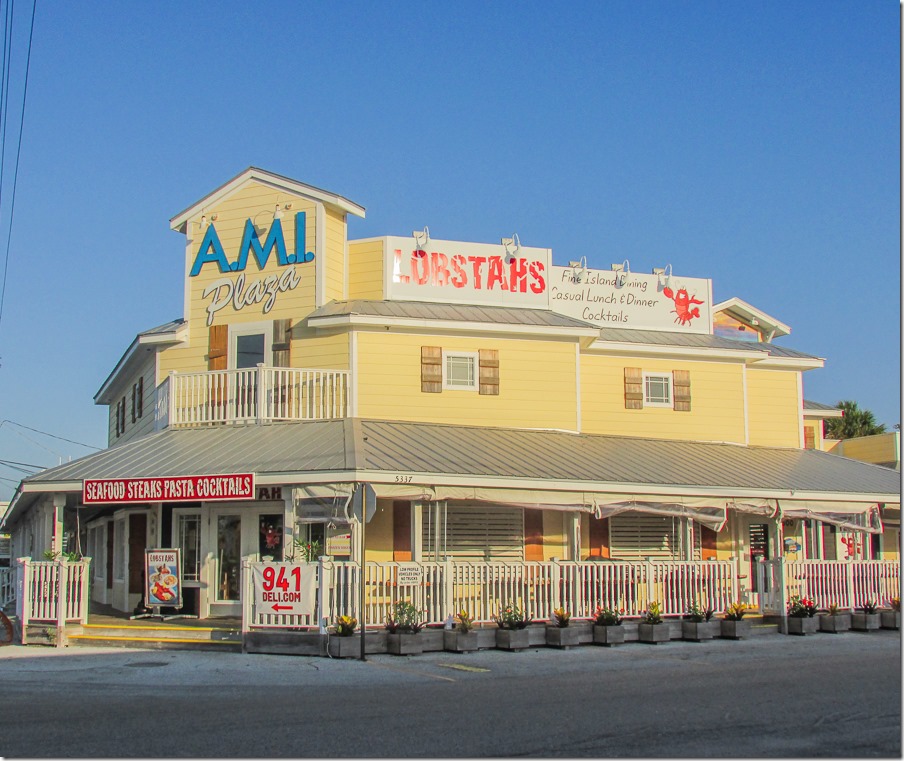 But the majority of the island is made up of neighborhoods that weave their way around the canals.  I'd like to know how many of the houses on AMI have a personal boat dock in the backyard.  I'd wager it's a pretty doggone high number.  A lot of the houses looked to be straight out of an episode of Golden Girls, but others were super cute older cottages with picket fences like this one: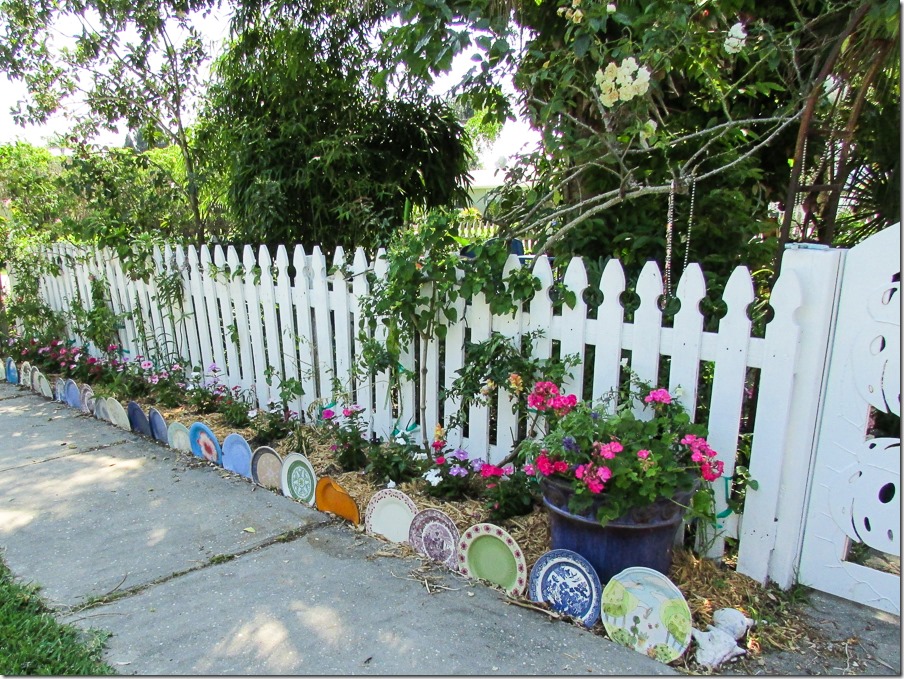 And of course there were bars.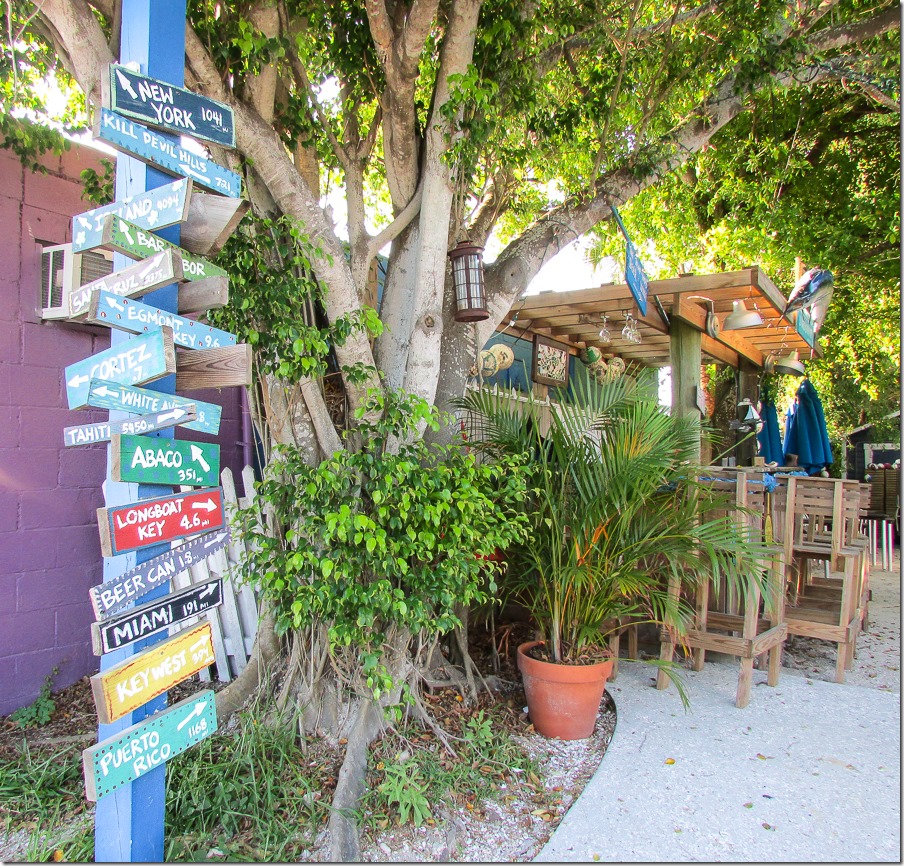 Lots and lots of places to score a fruity drink in this town, most of them with an amazing water view, and a lot of them open air because the weather is damn near perfection just about all year round.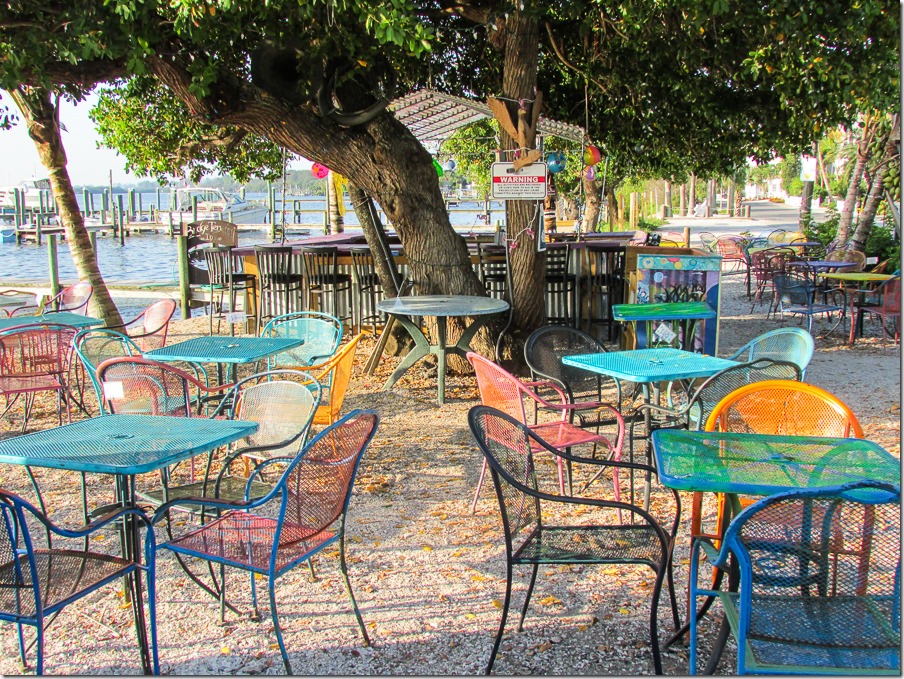 Our gorgeous rental house for the week was Sirenia Cove from Anna Maria Home Rentals.  This place was FAT, y'all.  We also got a great hookup from Ford to drive two new Fusions all weekend, including the new Ford Fusion Energi, which is a hybrid that gets NINETY FIVE mpg.  Seriously.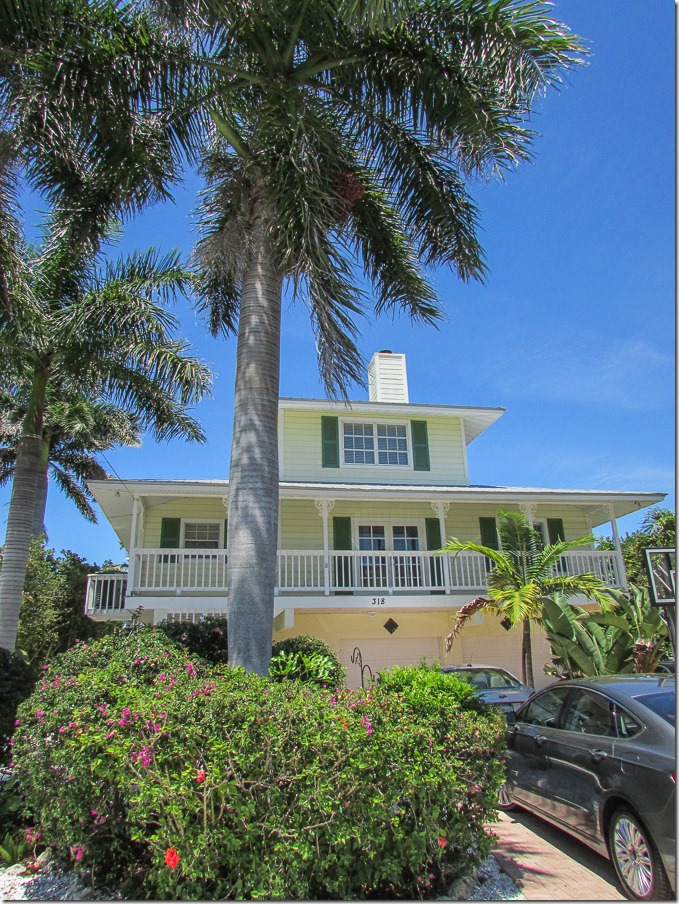 As soon as we pulled up I got this shot of the massive palm trees in the front yard that made me swoon.  They don't grow 'em like this in the Redneck Riviera, y'all.  Somewhere there must be a hardiness zone in Florida where the palm trees can no longer survive the winter nights.  AMI was definitely south of that line.  It was lush and tropical and GREEN.  Just green all over the place.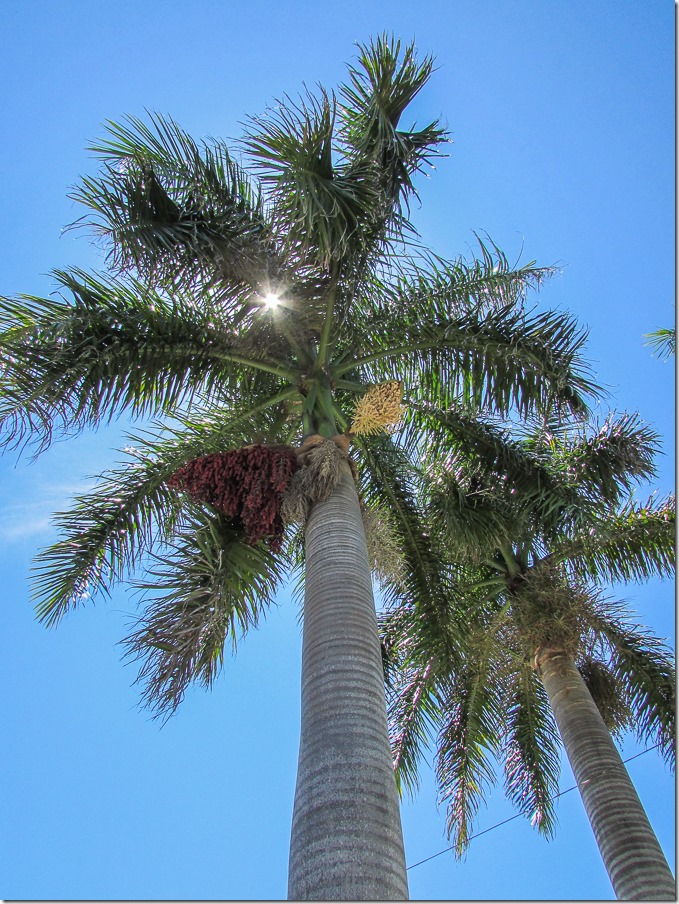 Stepping inside the house was like hopping inside of a magazine. Here are all the bedrooms inside the house, including two master bedrooms and two sets of bunk beds.  This house sleeps a LOT of folks comfortably: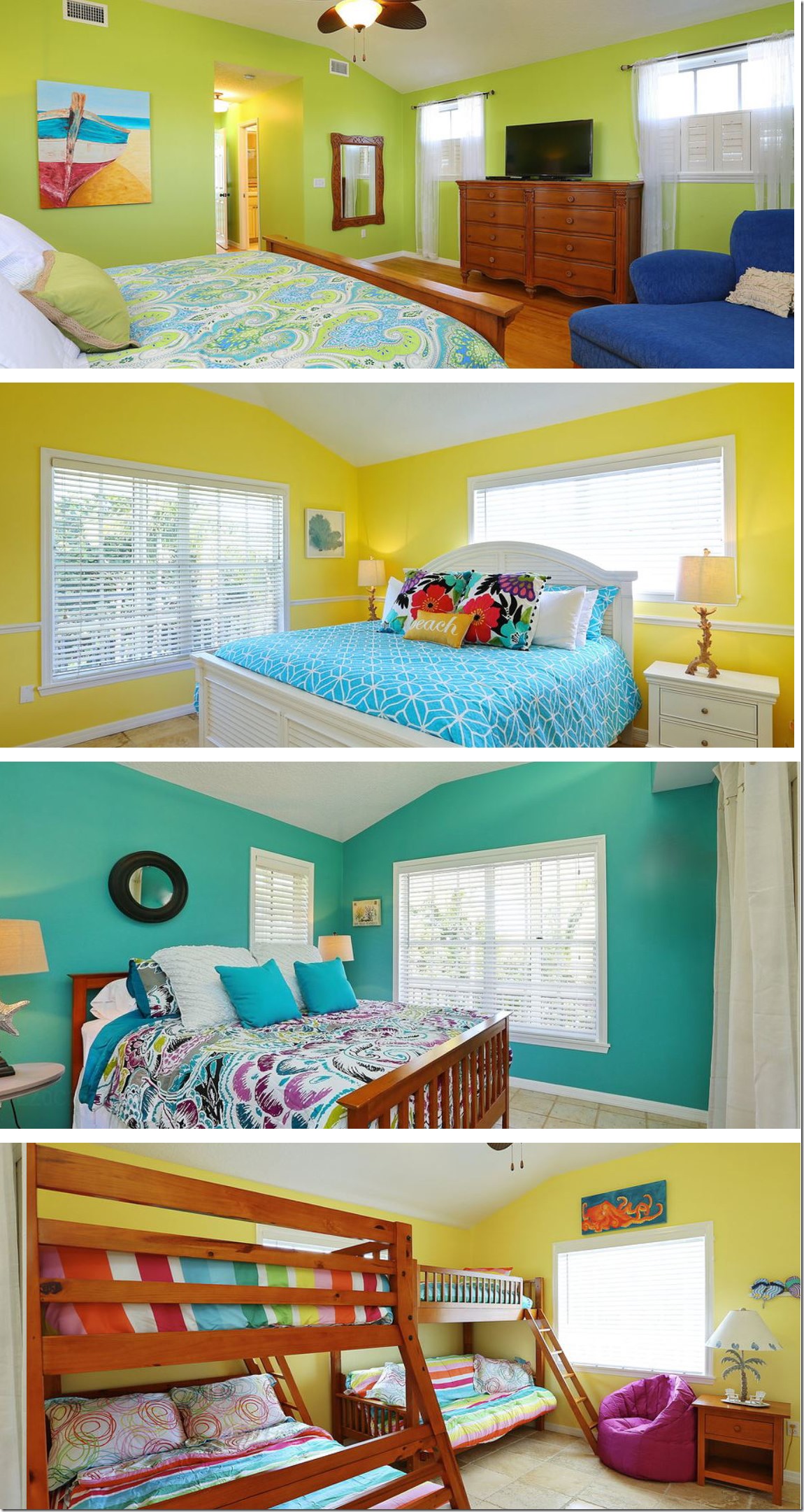 This big open living and dining room opened to the kitchen, with three bedrooms and two baths on this level.  Perfect for entertaining or just hanging out.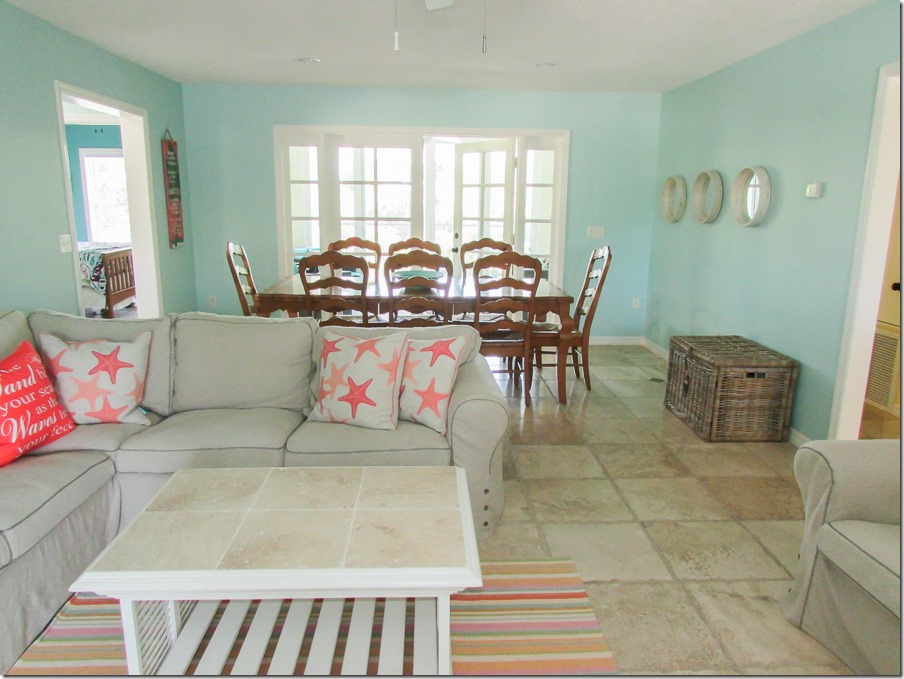 This screened in porch was where we spent a lot of time in the mornings and late night girl talk.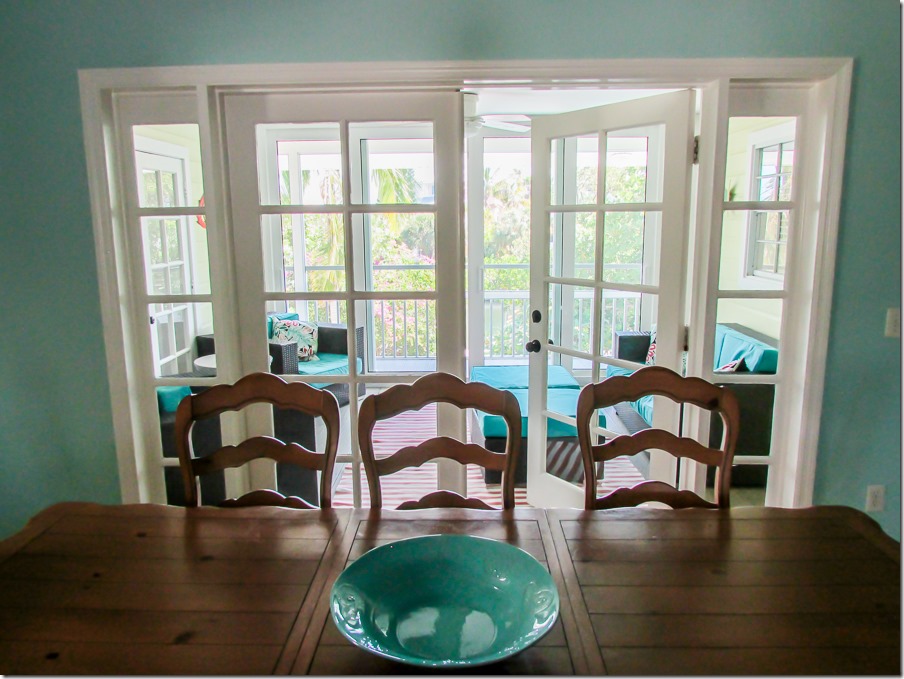 It was a great in-between space that felt like the outdoors with the comforts of a fan and air conditioning.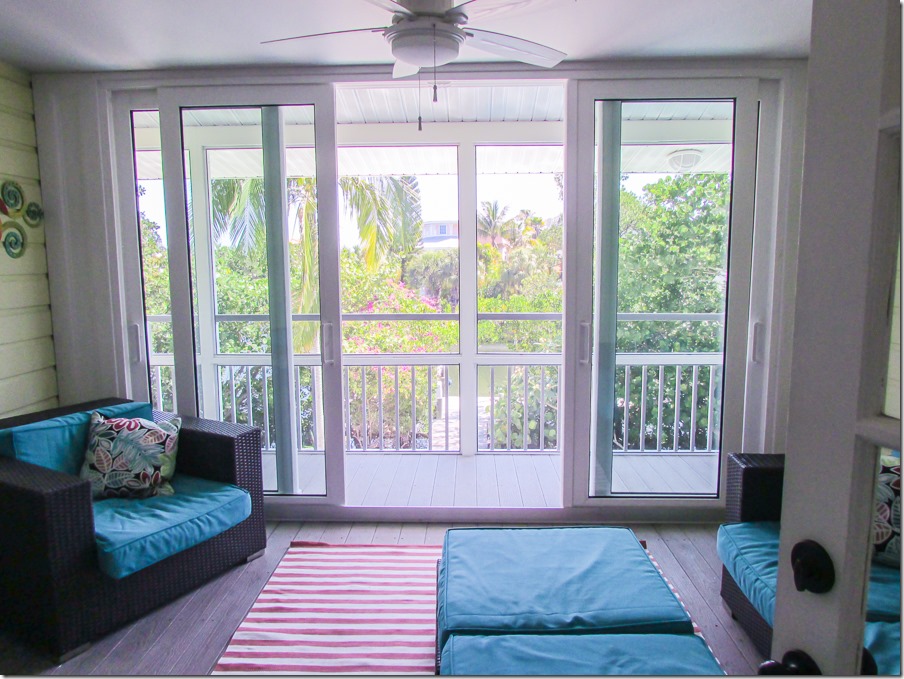 But the best part was the back yard.  Here is the view from the screened in porch.  That water view with all the lush landscaping was just incredible.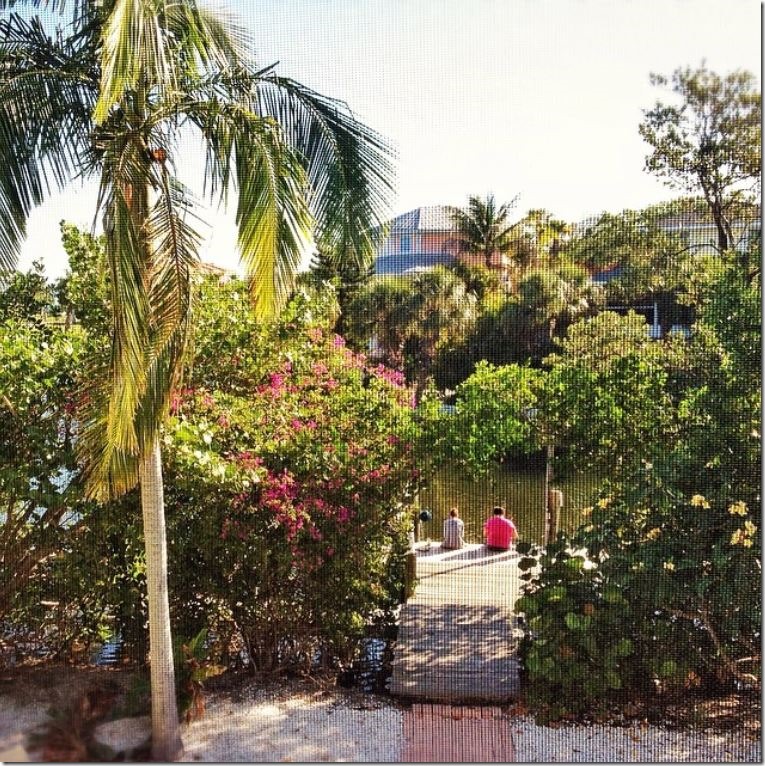 The backyard featured a private boat dock, a private pool, a bar, a big fat lounger and plenty of seating for huge parties. 
The view off the dock was so peaceful.  It reminded me of my days growing up on the river, except the river cabin never had palm trees, or yachts…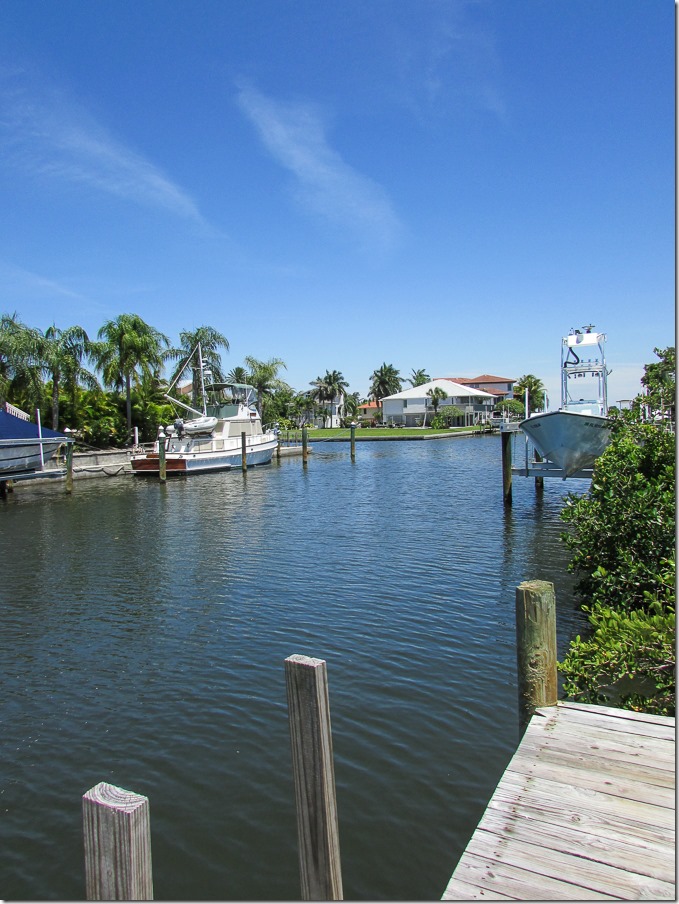 Here is the Panorama view. I could live right here, y'all.  I love the water.  I grew up on water, and I just have a NEED to be around it.  This place kept messing with my head because I would think I was at the river and suddenly I would see two sting rays swim past, or little tiny ghost-like jelly fish, or crabs crawling up the barnacle crusted traps hanging over the side.  I thought about renting some fishing gear, but I saw some huge fish swimming right around the pier.  But then I figured to be that huge in salt water they were sure to have razor-sharp teeth so I decided against it and kicked back with a beer instead. It was heaven on earth for this water baby…

When we weren't sitting on the dock we were sitting in the pool, listening to the neighbor's country music playlist and drinking some cocktails.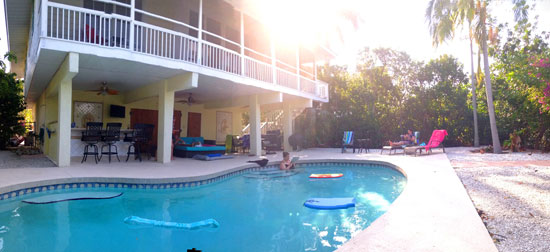 We were given these Shadepop umbrellas in all of our goodie bags.  Isn't this the best invention EVER??   It keeps your drink from melting in the sunshine. Love this thing!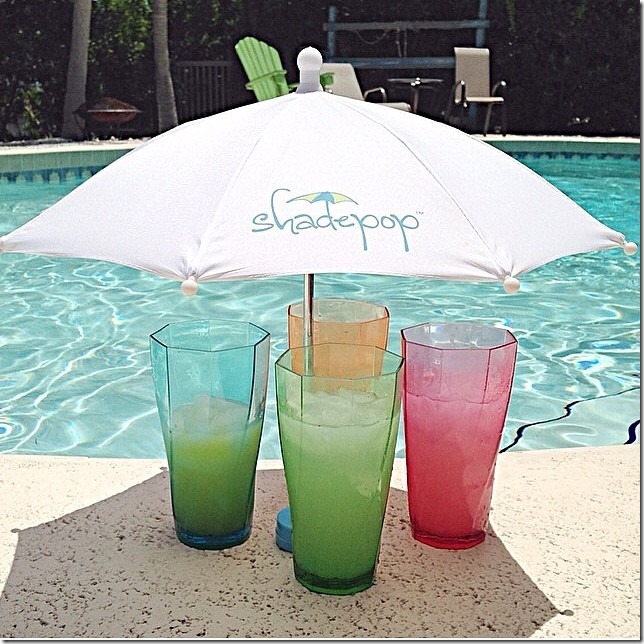 But in case I'm giving you the impression that all we did was lay in the back yard and drink (which we totally did) we also rode our rental bikes down to Anna Maria Donuts for hot made-to-order donuts that melted in your MOUTH.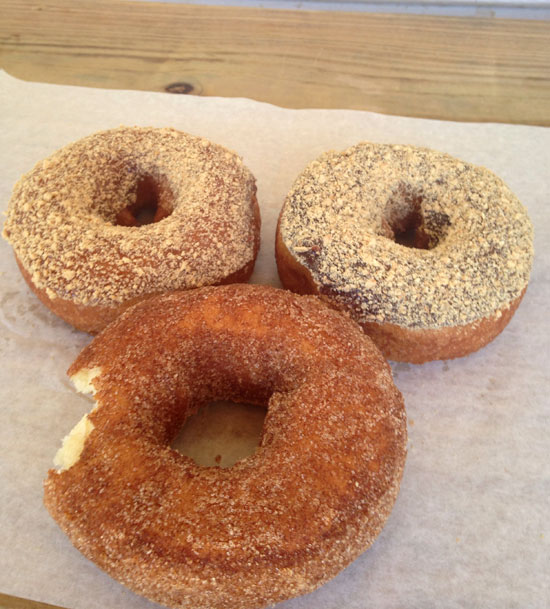 But riding a bike there and back helped offset the calories, right?  Right.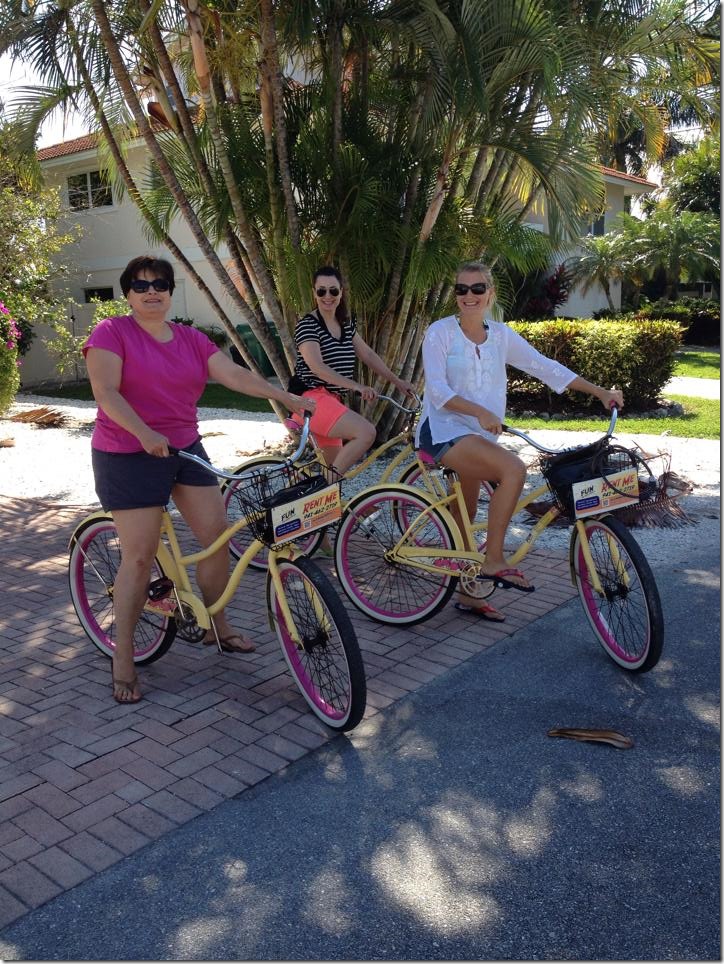 Some of us (not me) went on a kayaking tour of the mangroves.  I'll let you check out some of the other posts to read about that!  We also had this great golf cart from Fun and More Rentals that held all six of us comfortably.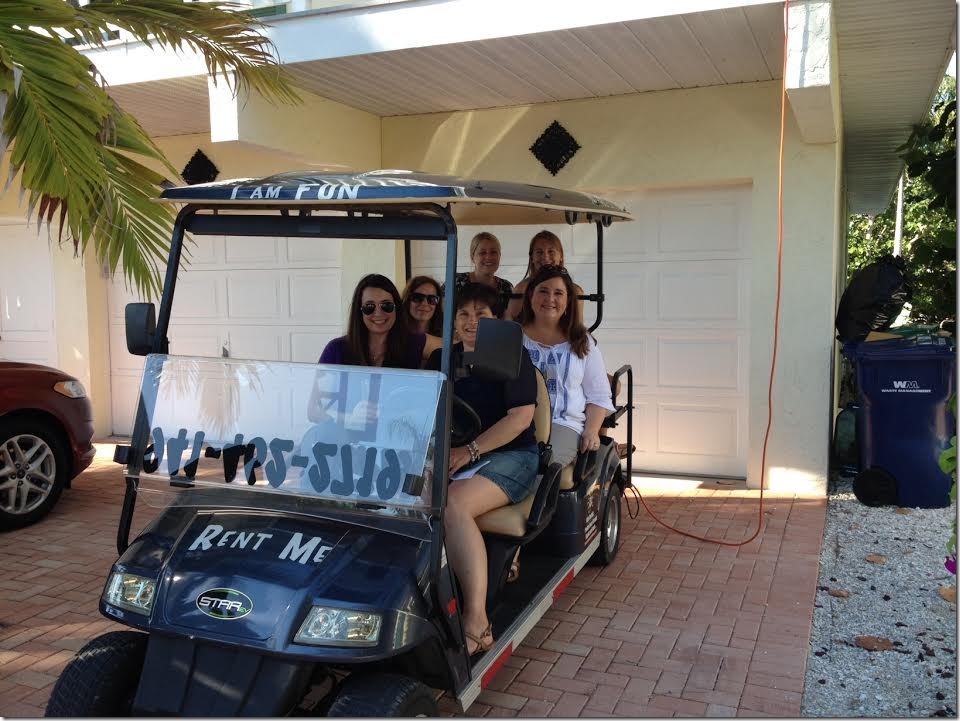 But, let me just say that there is nothing quite like getting all dressed up for dinner, then riding backwards hanging off the back of golf cart going 25 miles per hour while a bunch of women scream directions at each other to try to stay on the golf-cart approved streets of Anna Maria.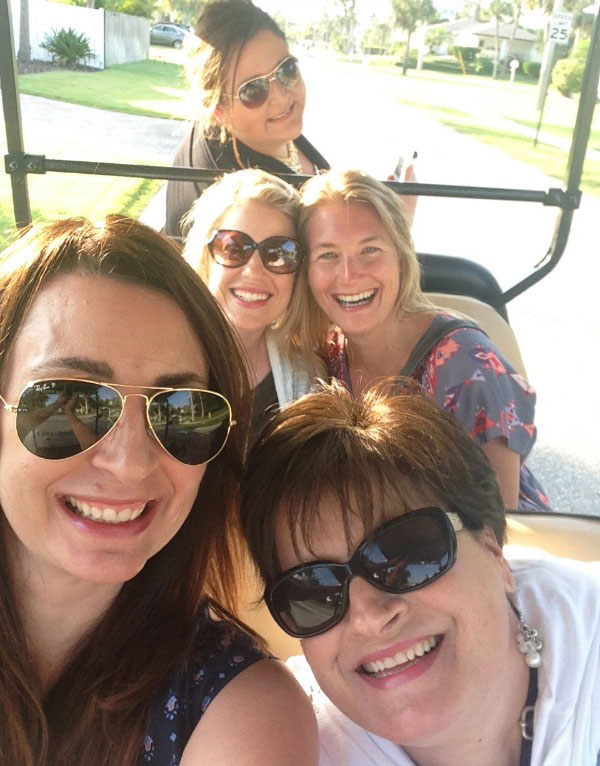 It was a little bit terrifying and a whole lot hilarious all at the same time.  Here is how close I was to the pavement.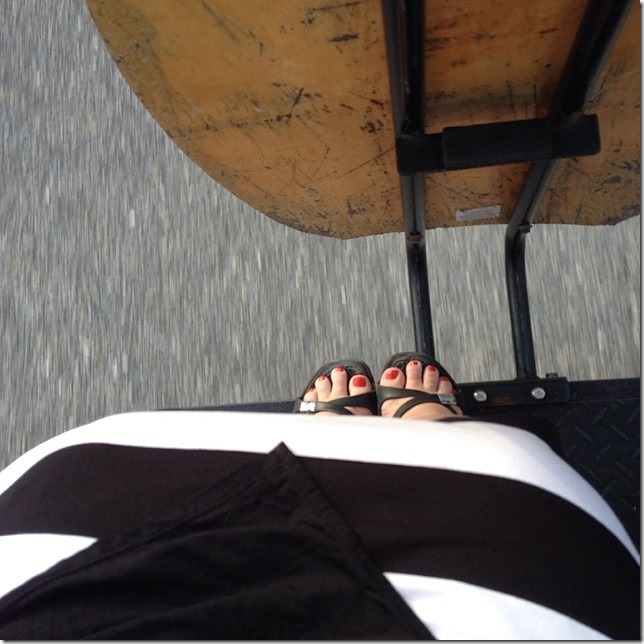 We ate FABULOUS meals out at night, including one at Eat Here Anna Maria that went down in the history books as one of the best meals ever.  We got our own private mirrored booth and everywhere you turned you could watch yourself chew. It is physically impossible to NOT look at yourself chewing, by the way.  The staff was so much fun! We laughed and had the best time at this restaurant.  It was excellent.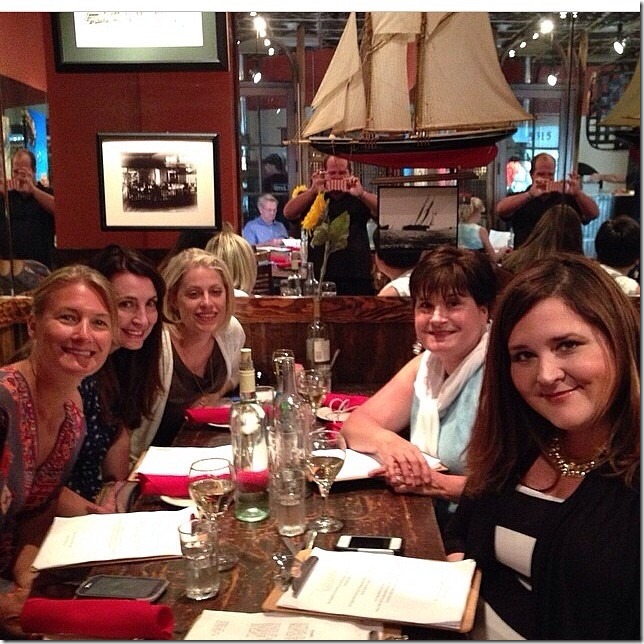 Here is one more obligatory girls-round-the-dinner-table touristy shot.  This one was taken at The Waterfront Restaurant, which was literally within walking distance from the rental house.  Yummmmmmm.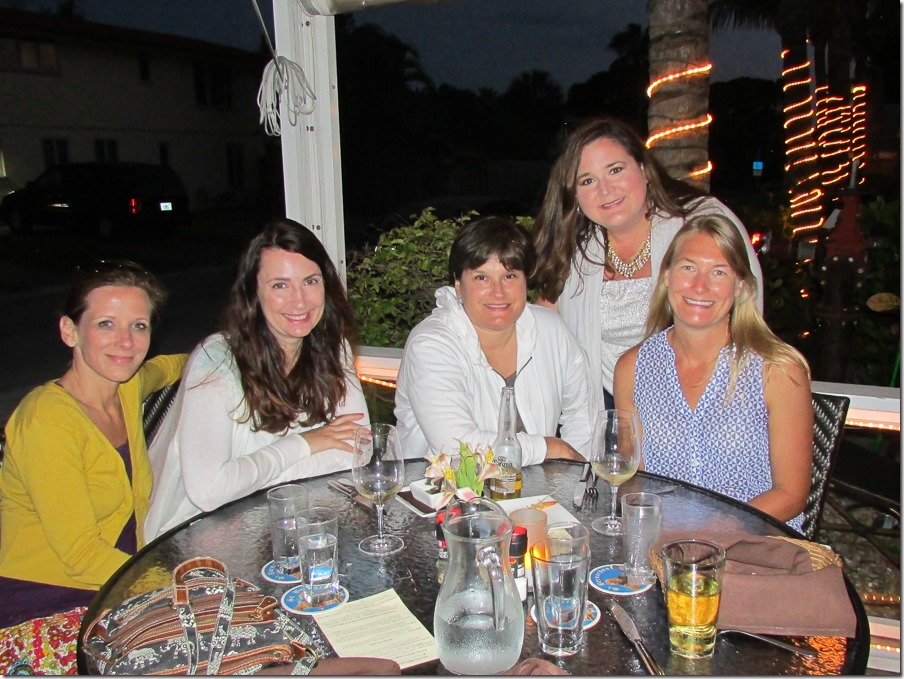 From left to right is Roeshel from DIY Showoff, Kelly from Eclectically Vintage, Diane from In My Own Style, Beth from Unskinny Boppy (me!), and Karah from The Space Between.  Carrie from  Making Lemonade was also there, but had to leave a day early and missed this dinner photo. We had plenty of time party with her, though.  Carrie is my new bar-hopping, cardigan stripping, fruity drink sipping BFF. Seriously, go read her post if you wanna see me in full smoky bar karaoke mode.
Love her and ALL these ladies so much! We laughed and had an absolute BALL at this beautiful island, and I cannot wait to go back! Be sure to click on their links to read their vacation from their point of view and see LOTS more pretty pictures from their perspective.
Now before you go getting all jealous on me and my girls vacation in paradise, let me make my HUGE announcement!  I am teaming up with all these blog girls and Anna Maria Island Home Rental to bring you a DREAM VACATION GIVEAWAY!!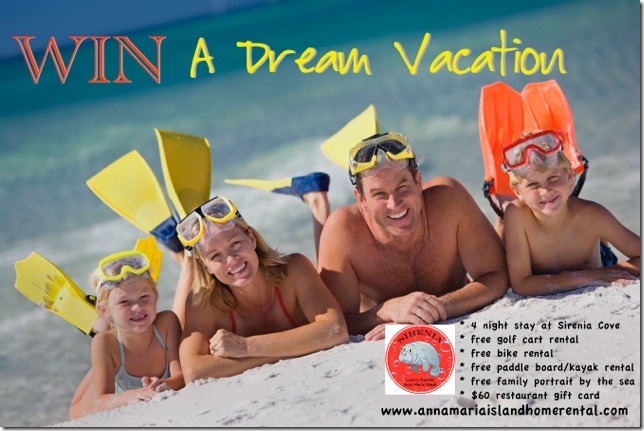 The Prize Package includes:
• 4 Night stay at Sirenia Cove on Anna Maria Island
• 1 ~ $60.00 Gift Certificate to Eat Here Restaurant Group
• 1 ~ Free Golf Cart Rental for 4 Days from Fun and More Rentals
• Free Beach Bike Rental for 4 Days from Fun and More Rentals
• 2 ~ Paddleboard or Kayak Rentals for 4 Days from Fun and More Rentals
• Free use of Beach Chairs for 4 Days from Sirenia Cove
• 1 – Portrait by the Sea value of $100.00 from Photography by Billi
* Photos to be purchased based on selection from proofs
• 2 Free Shadepops
You can totally go relive my entire trip!  How's that for an amazing giveaway package?? You'll have to provide transportation, but the lodging and other fun stuff is included. To enter, be sure to click which entries apply to you inside the Rafflecopter right here:
Good luck!  I hope you win!  
---
This post was sponsored by Anna Maria Island Home Rentals.  As always, all opinions are my own. Please check out the terms and conditions inside the Rafflecopter for more info on the giveaway rules and restrictions.  Good luck!