Today I'm pulling one from the archives to show you guys how we transformed our basement staircase with a little bit of paint and some board and batten.  I originally shared this basement renovation project over on the DIY Showoff's blog back in 2011.
---
When we moved into this house, our basement staircase looked like something from a maximum security prison.    Here is what the steps looked like when you were headed down into the dungeon: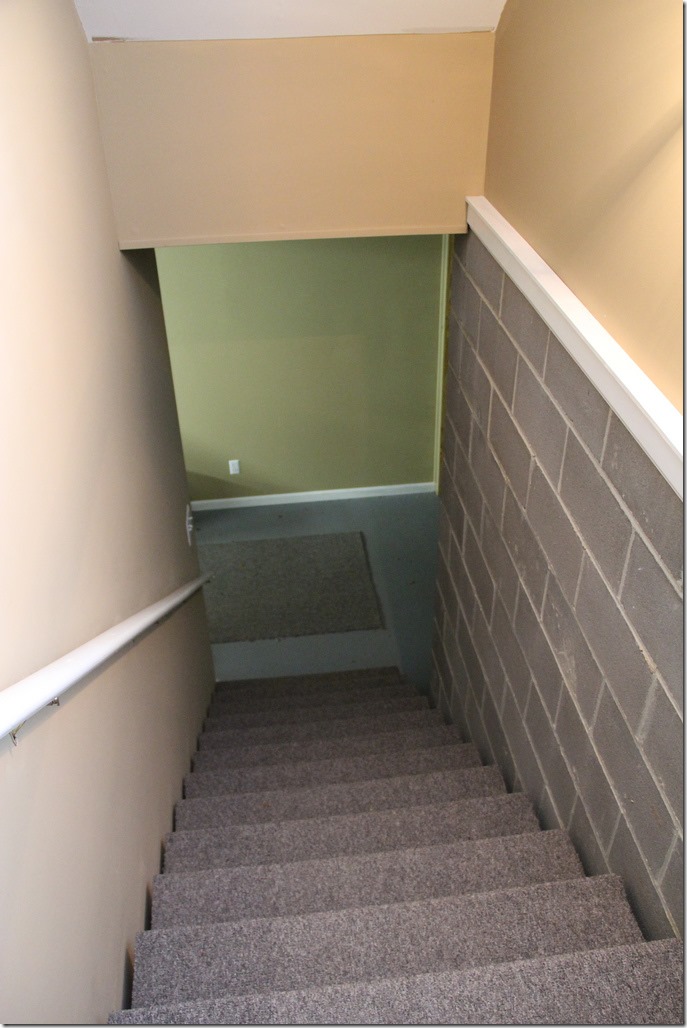 Once you got down there, the scene did not improve.  Grey concrete block walls with cheap grey indoor/ outdoor carpet stapled down to the steps.  It was NOT a pretty picture.  My husband parks in the basement, so every day after work this is what he was greeted with at home.   It wasn't the most cheerful place to come home to everyday, so one day we decided to change that.

Let me show you how we transformed it from the depressing Alcatraz dungeon to something really beautiful, using just paint samples and a little bit of carpentry work.
When I was searching for staircase inspiration I ran across this photo on Pinterest of a Jonathon Adler beach house with multicolored stairs.   Each stair riser was painted a different color, some light, some dark.  I loved the uniqueness of this staircase, even if it was a little bit too nautical for my home.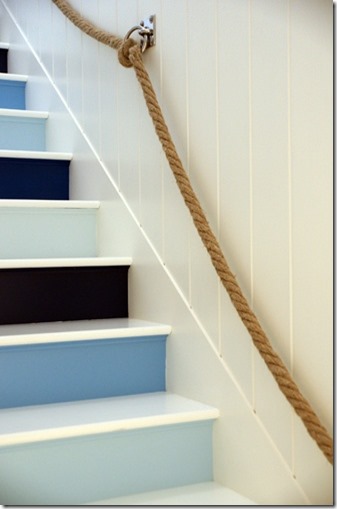 Here is my interpretation of that staircase in my own house.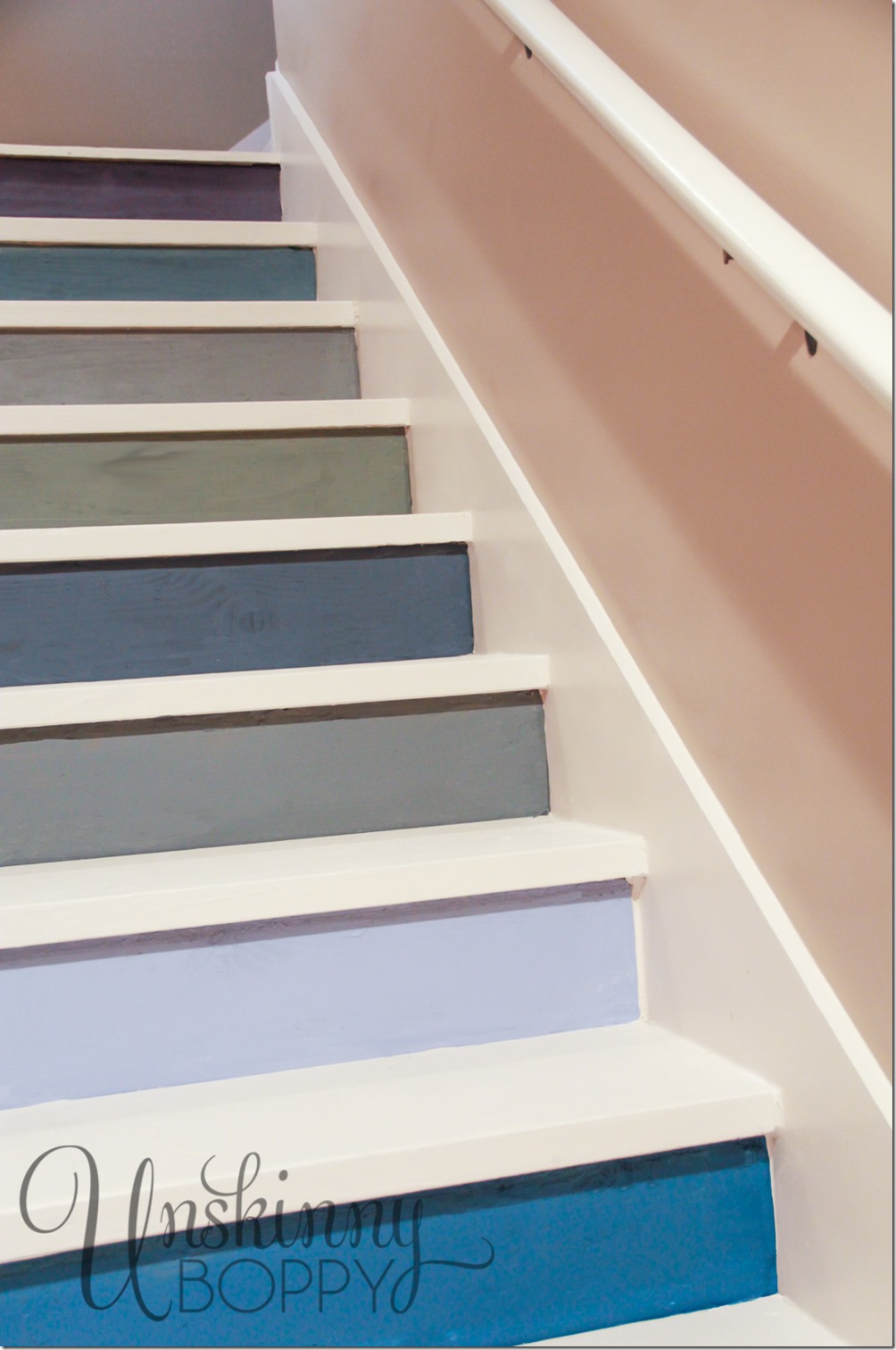 Guess how I got all those risers a different color!   Paint samples!
Let me back up just a minute here and say that I have a bit of a paint sample addiction. Whenever it is time to choose paint colors for a room I agonize over the paint fans for hours, then we make a run down to the local Sherwin Williams and buy their $5 quarts of sample paint. I firmly believe the best way to tell if you really like a paint color is to get as much of it on the actual wall as possible. After living in this house for three years and painting almost every room in it (and some rooms twice!), I've acquired quite a collection of paint samples. It might even be a borderline hoarders tendency since I refuse to throw any of them away. They sit on a bookcase in my basement just in case I find a piece of furniture (or stairwell) that needs a coat of paint on it. Here are all the samples I used for this project.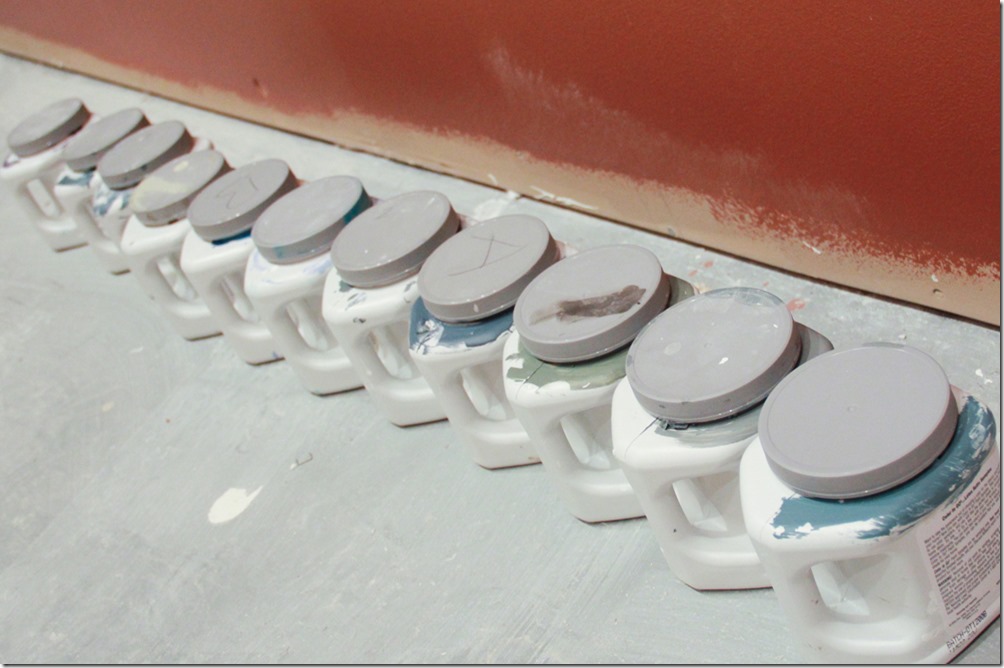 So, what do you do when you have a set of bare wooden steps that have been toe' up from the flo' up and fifty quarts of Sherwin Williams paint samples in various shades of blues and greens and greiges? You paint a blue/green/greige rainbow, of course! And that's just what I did. Every stair riser got a different paint color. I'm kind of ashamed to admit I could have painted about three more sets of stairs and not used the same sample twice.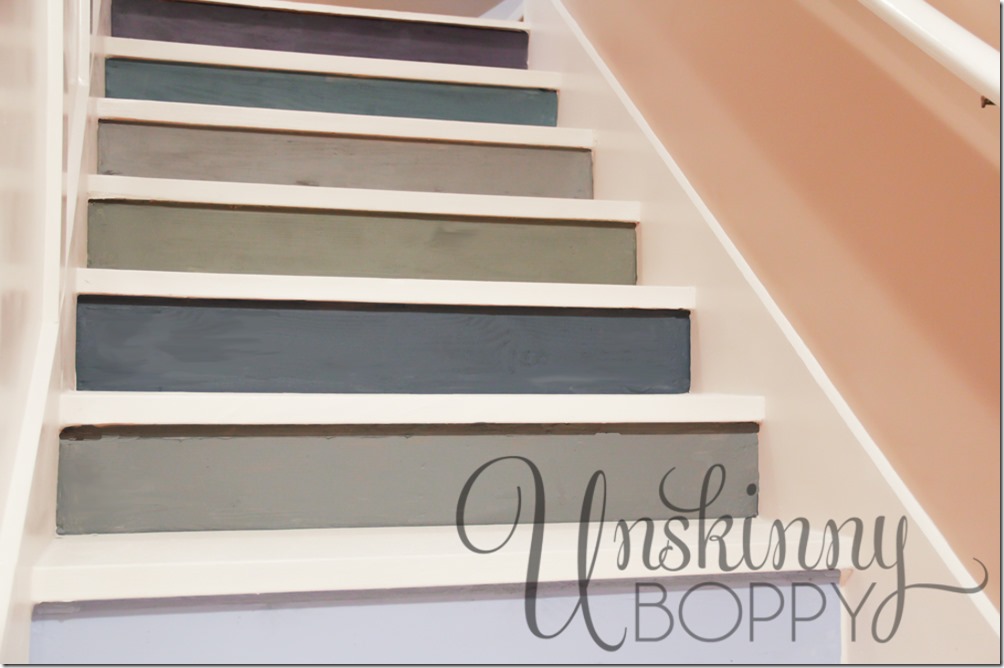 Since this staircase is basically the first thing my husband sees every day when he arrives home from work, we wanted it to be a brighter and more cheerful space. Plus, the basement was getting a major overhaul, so it was hard to imagine leaving that ugly carpeting on the staircase with all new paint, sheetrock, and trim throughout the rest of the space. So one day after a little discussion about my plans my husband ripped all the carpet up with his bare hands. Of course I have no photos of this event since he simply came upstairs with his chest stuck out and announced "Carpet's up!"
And I was all, "WHATthewhat?!?"
Well, allrighty then.
Here is the staircase after he went all Wreck it Ralph on them and ripped off the carpet. Before painting I had to pull out all the staples left behind from the cheap carpet. A pair of pliers made short work of that job. Then I went behind with a tube of spackle and filled in the holes and crevices in the wood.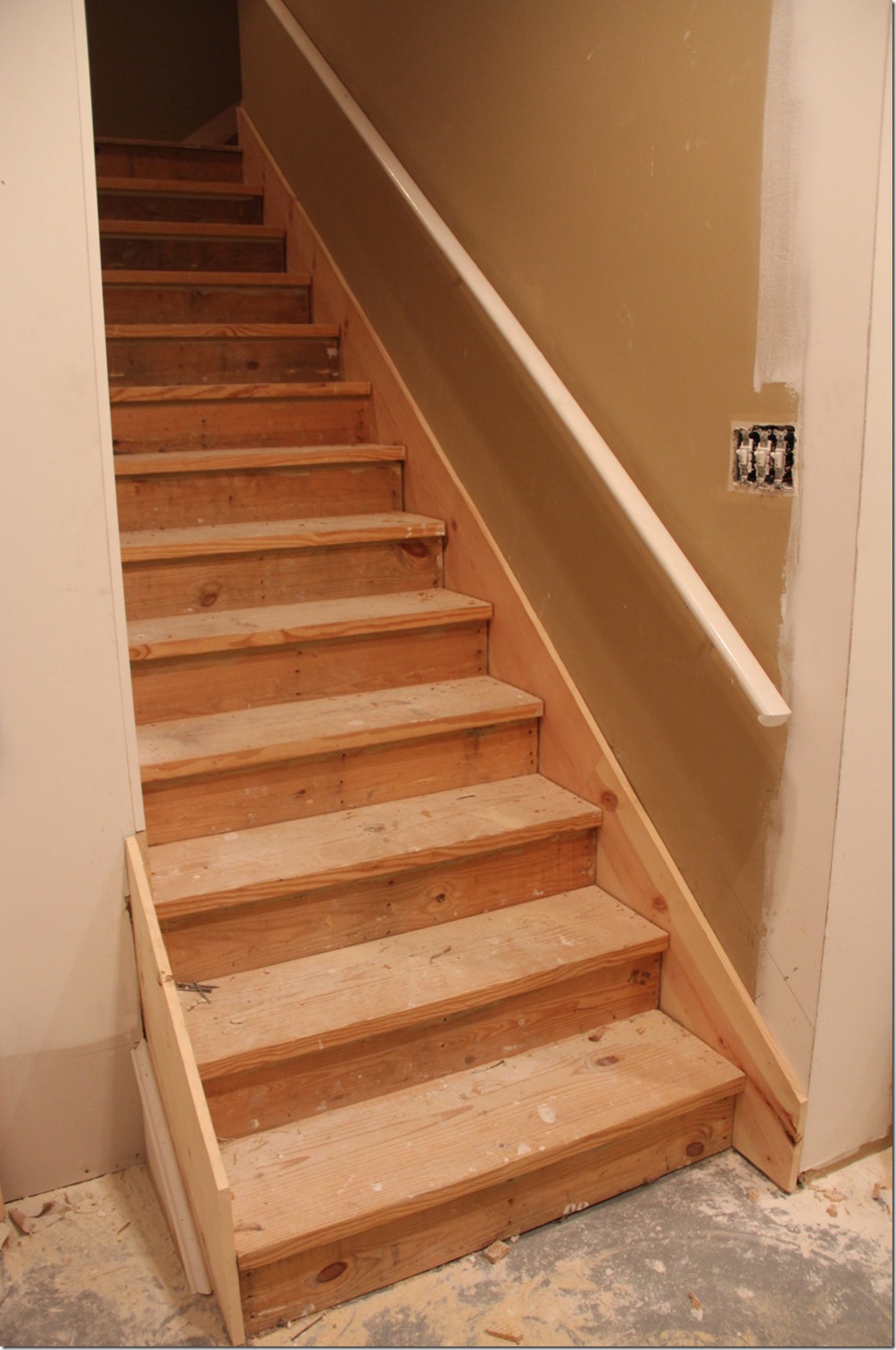 And here is the board and batten taking shape our of 1×4 lumber.  Since it was in the budget, we hired out the board and batten on the concrete block wall to be done by a carpenter. He built out the wall with furring strips attached to the concrete, then added sheetrock and 1×4 lumber for board and batten over that.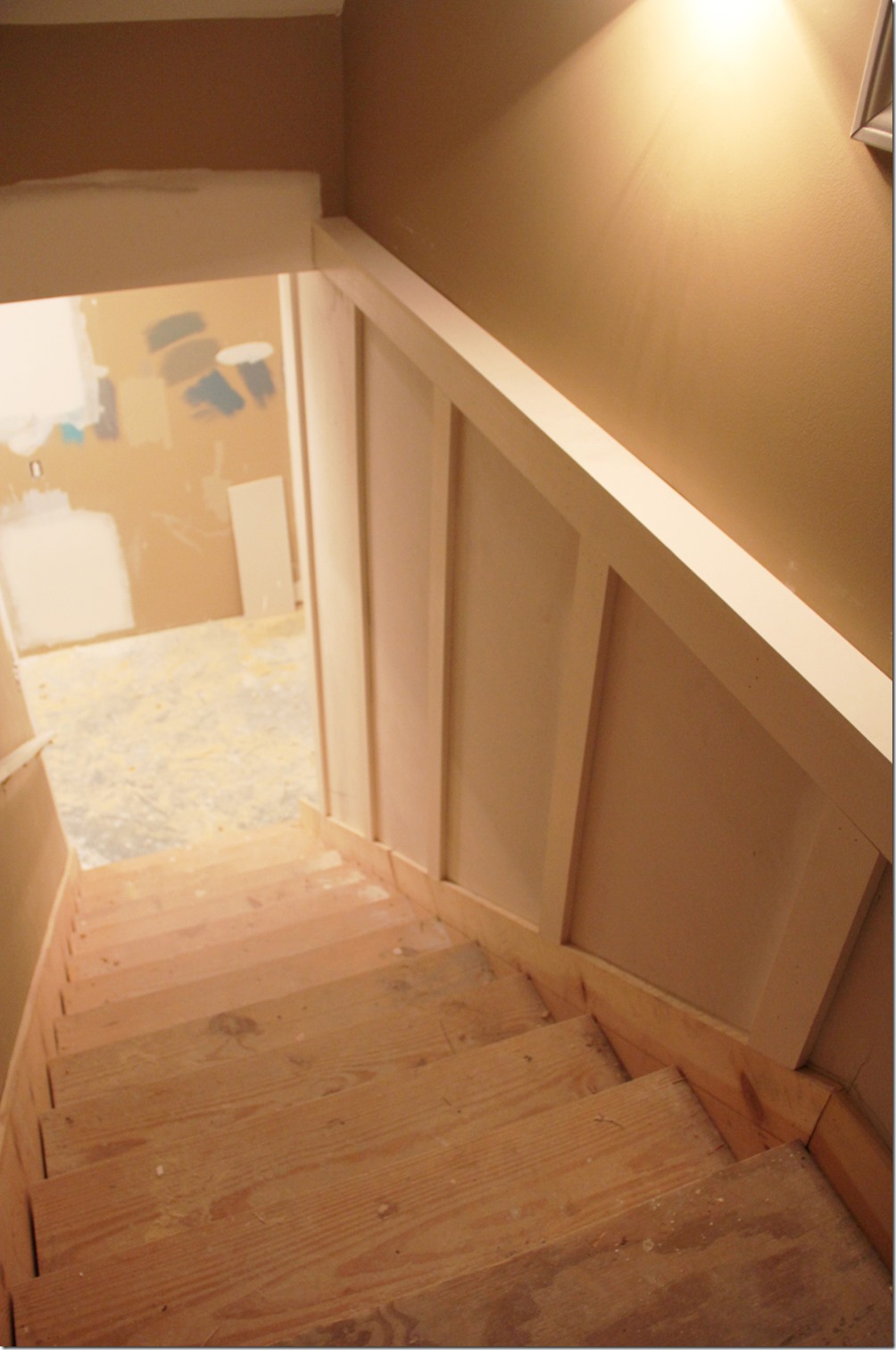 And here is the finished result! Everything got a few coats of Sherwin Williams Porch & Floor Enamel paint (the color is Moderate White in a high gloss).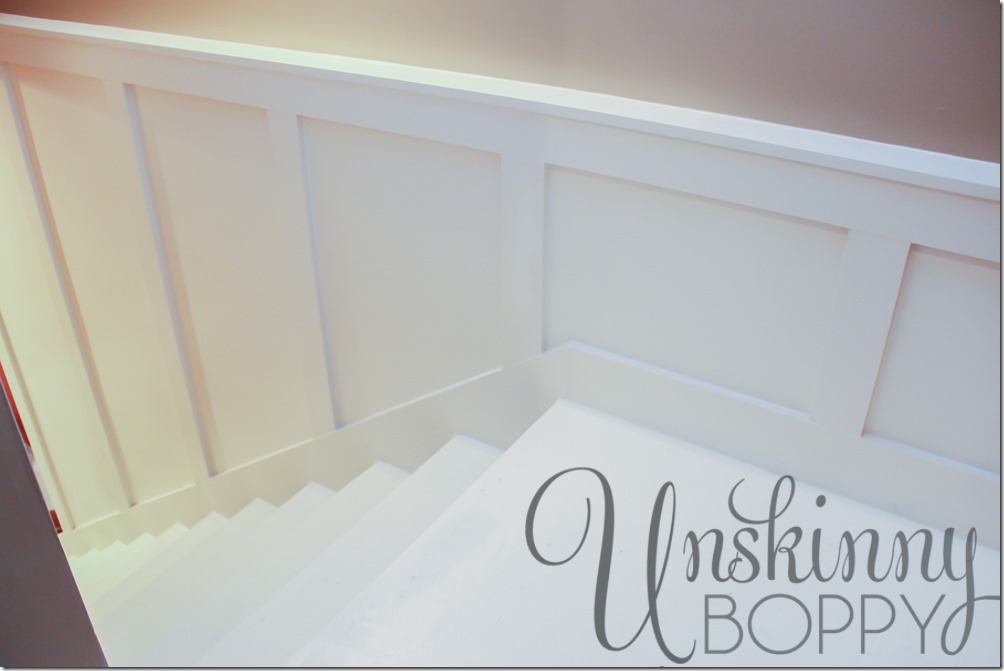 I totally adore the finished result. Although I cannot claim the board and batten as my own DIY project, I can say that the stair paint is 100% me! My knees were happy to get this project completed because there was a lot of staple pulling, spackling, paint brush rinsing craziness involved in this staircase.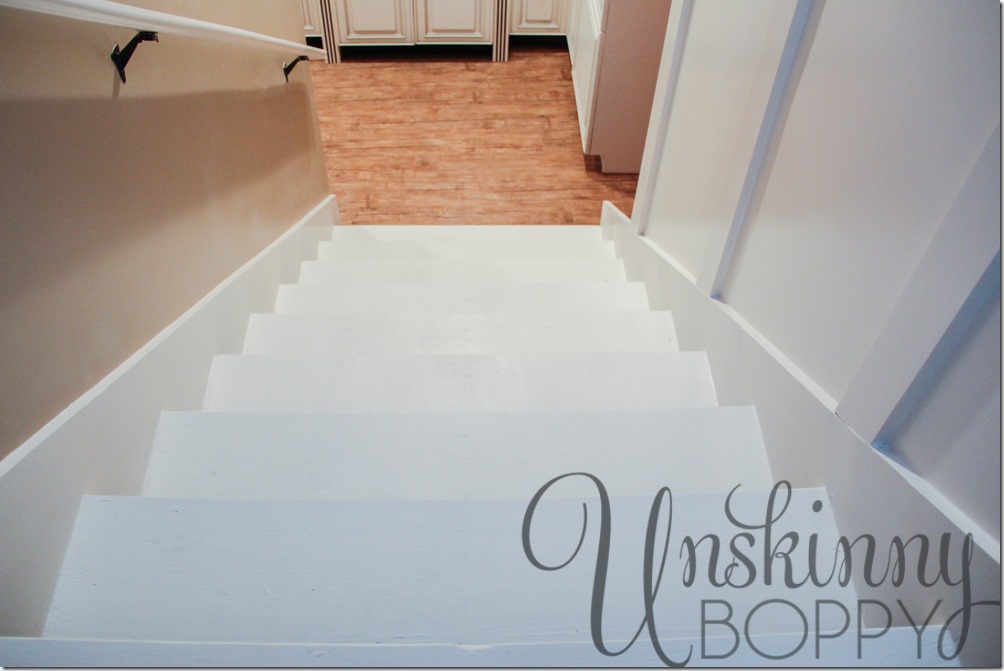 To keep the stair treads from being slippery, I mixed H&C Sharkgrip slip resistant additive into the paint. I highly recommend this stuff for use on wooden stairs.  I've learned that it does NOT work on ceramic tile, but this is a different story for another day. The basement stairs are super non-skid with this stuff mixed in.   It is good stuff.   Here is a tip about Sharkgrip, though- Home Depot does NOT carry it.  I could only find this brand at Lowes and Sherwin Williams.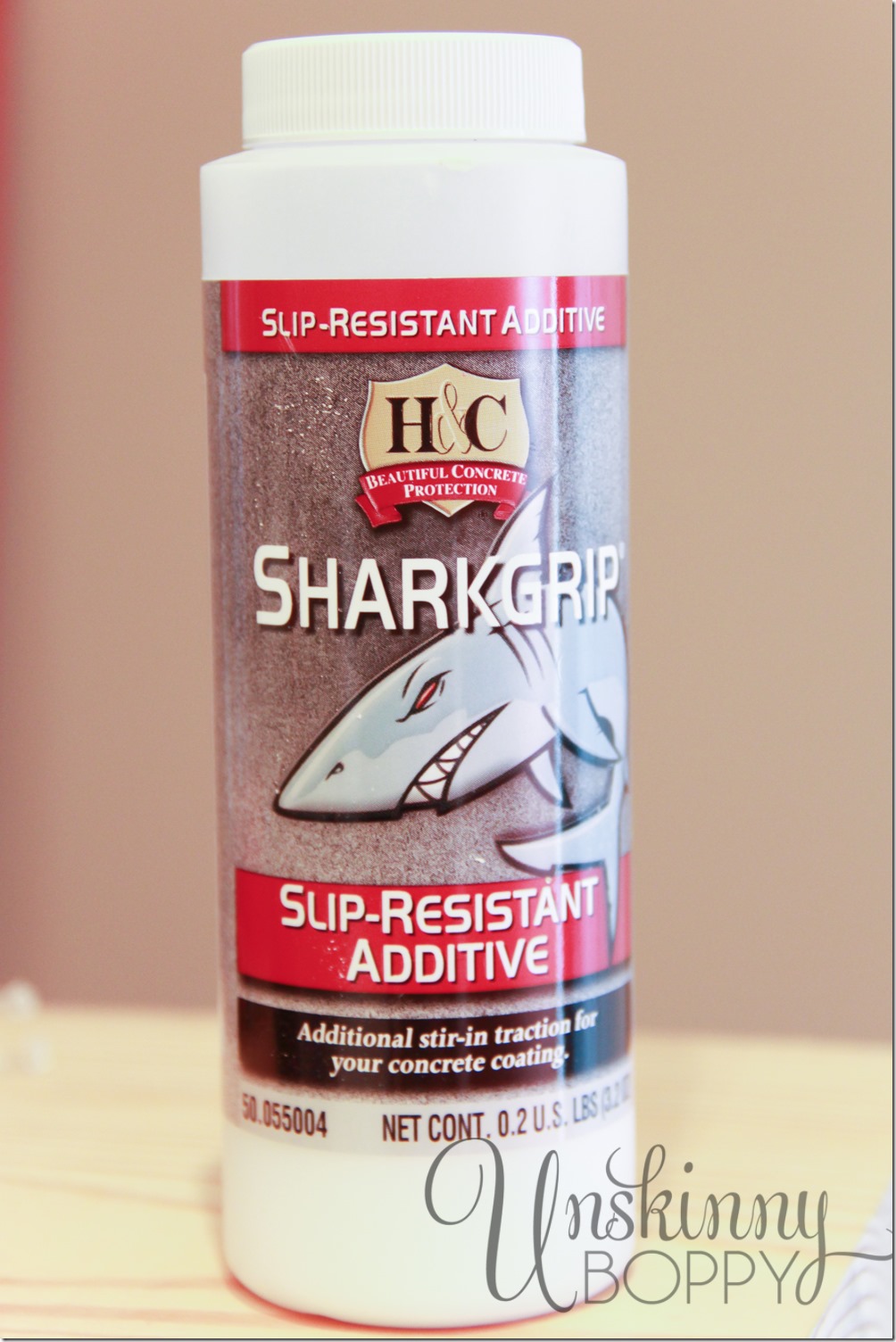 So there you have it!  The finished basement stair case with a rainbow of blue/ green paint samples.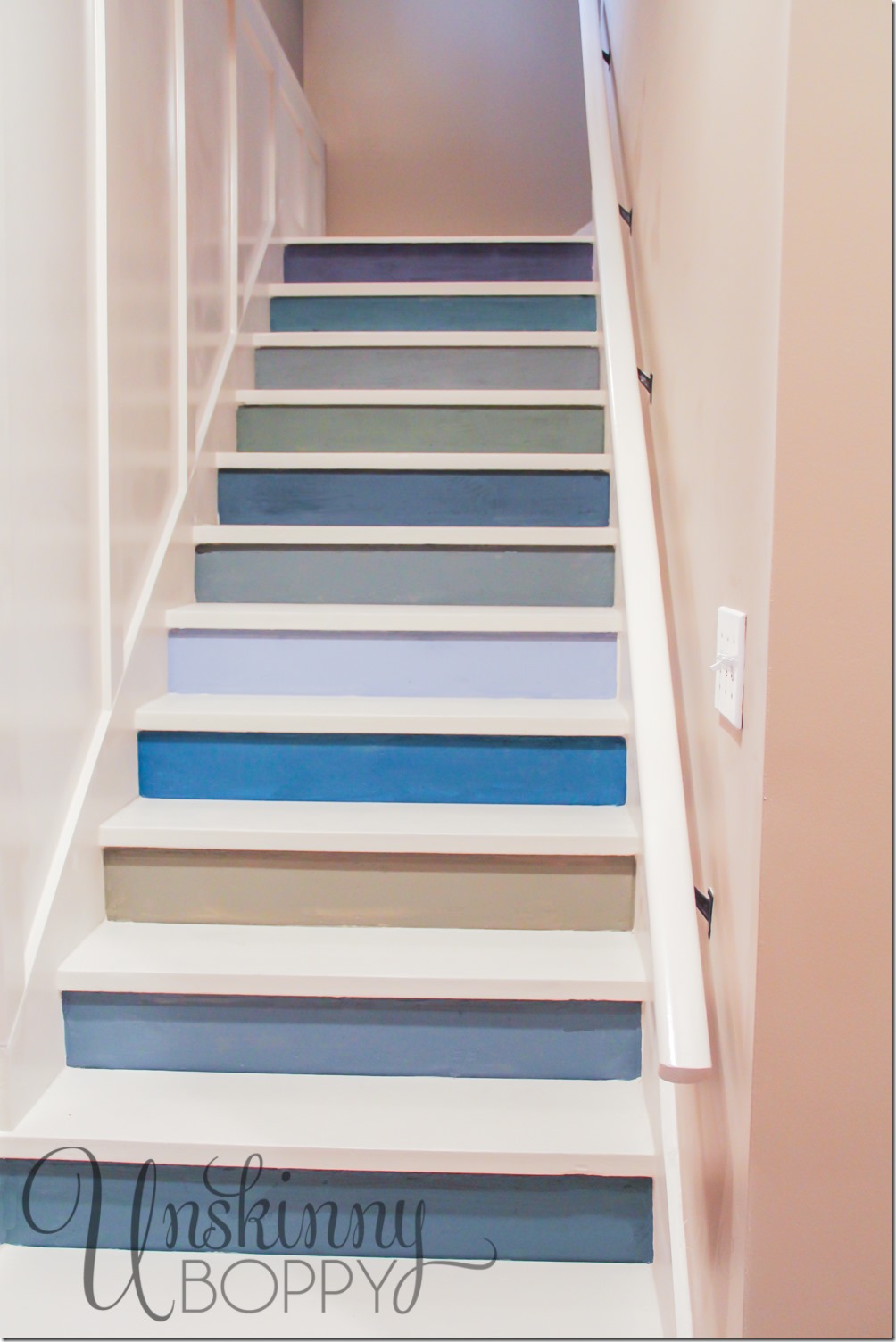 It's been over a year and a half since this project was completed, and the paint is holding up great.  It's not chipping or wearing at all, even with daily use.  I'm so happy we put all those paint samples to use and gave the basement stairs a makeover that it deserved!
---
If you'd like to see more of our completed basement renovations, check out these links:
Basement Remodel Update: Electrical & Sheetrock…. Check
Basement Remodel Update: We're Almost There
The Finished Basement Revealed
Because Matboard is Boring: A Unique Way to Frame Poster Prints
And if you need TONS of great finished basement inspiration idea, be sure to visit my Hometalk clipboard of Finished Basement inspirations.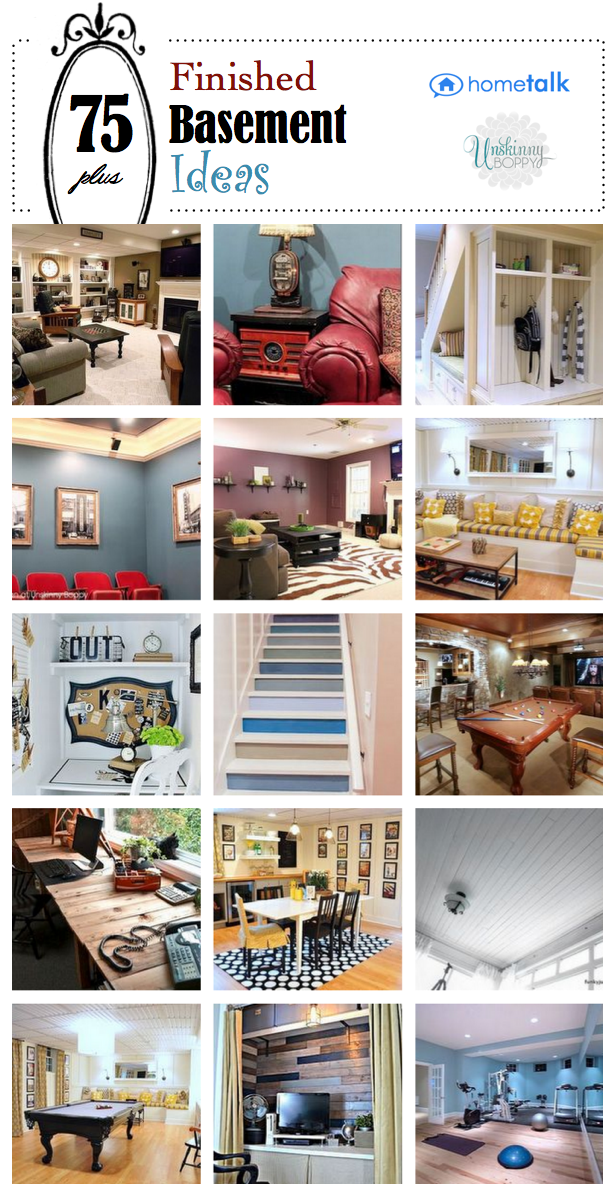 ---