Ever since we started the Whole30 Challenge a few months ago my husband and I have made a pact to stop drinking soft drinks. Cold turkey.  Just sat them down and never looked back. 
Considering we both used to guzzle cokes like a dried up cactus, it has been a little bit of a challenge to keep that promise.  But, so far so good!  We are trying to maintain our good eating habits but with all the end of summer parties and back to school stress, we've let some junk slip back into our diets.  But soft drinks are most definitely on the "banned" list in our house.  Coca-Colas to me are like whiskey to an alcoholic.  It's just better to stay 100% abstinent or else we will have some major trouble on our hands.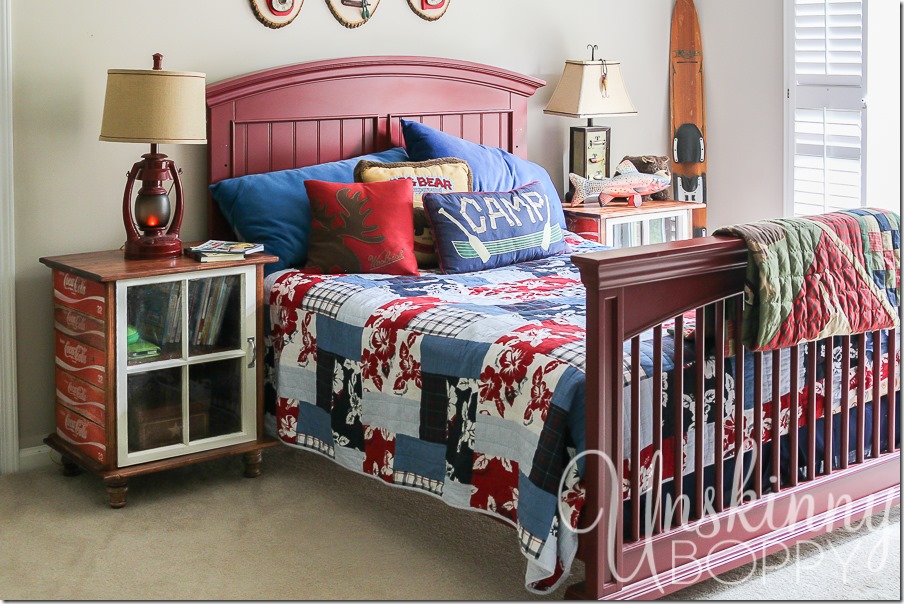 Considering my husband has a full size vintage Coke machine in our basement, they are not, however, banned from use in our décor.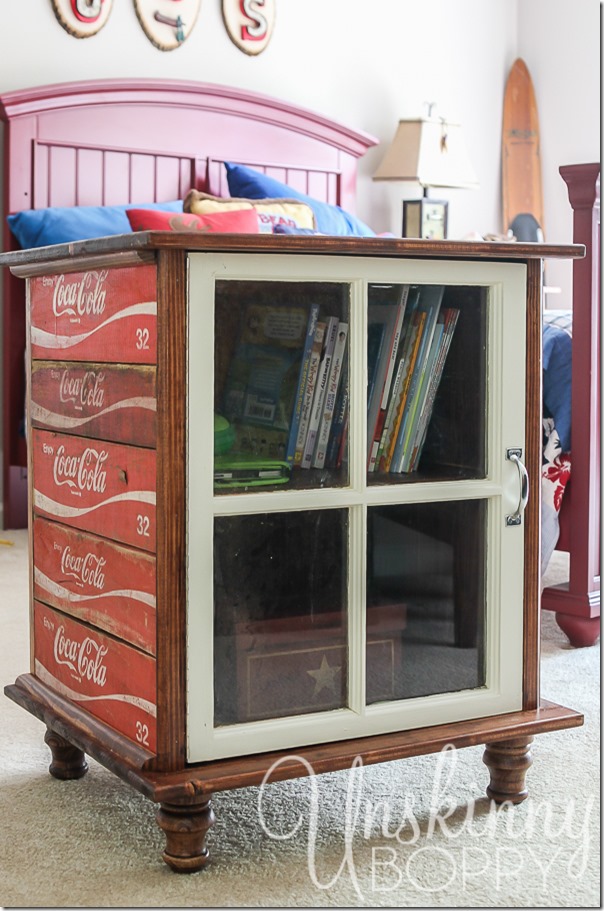 Imagine my surprise to come home from the Haven Conference and find out that my husband had been banging away in the basement building a pair of nightstands for Garrett's bedroom.   I had no idea he was going to build another pair of end tables, but I sure won't turn down hand-made furniture when he's in a mood to build.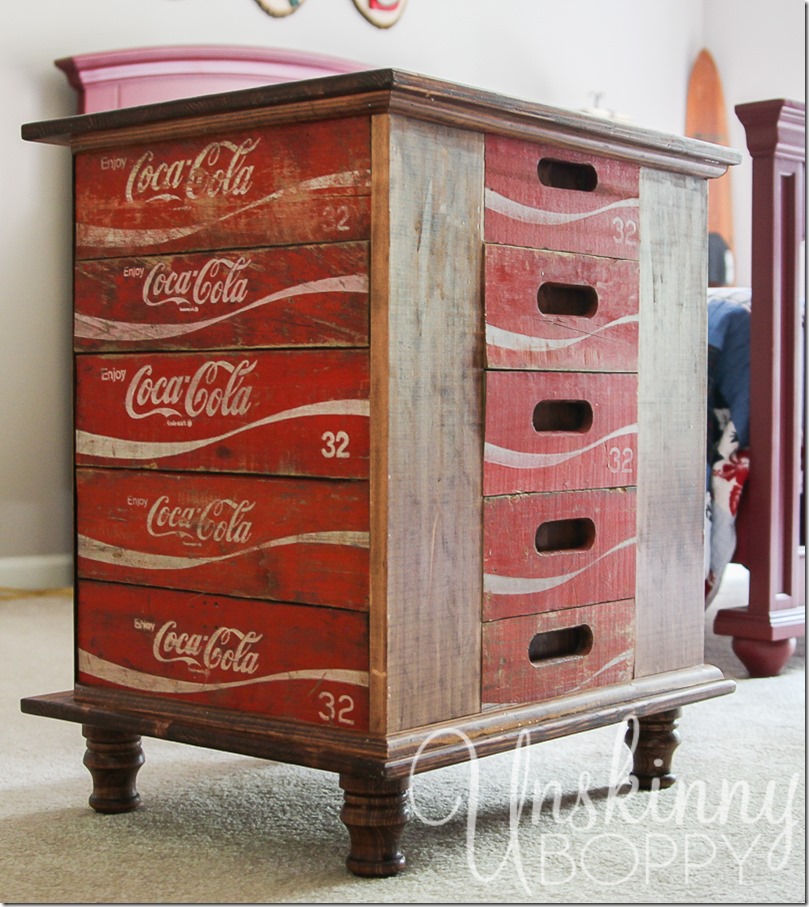 They are built very similarly to the other pair of end tables he built for my living room a few months ago, but this time he used vintage Coke crates for the sides and backs. He cut down all of the crates, removed about 1,000 rusty nails and attached them to the sides with wood glue.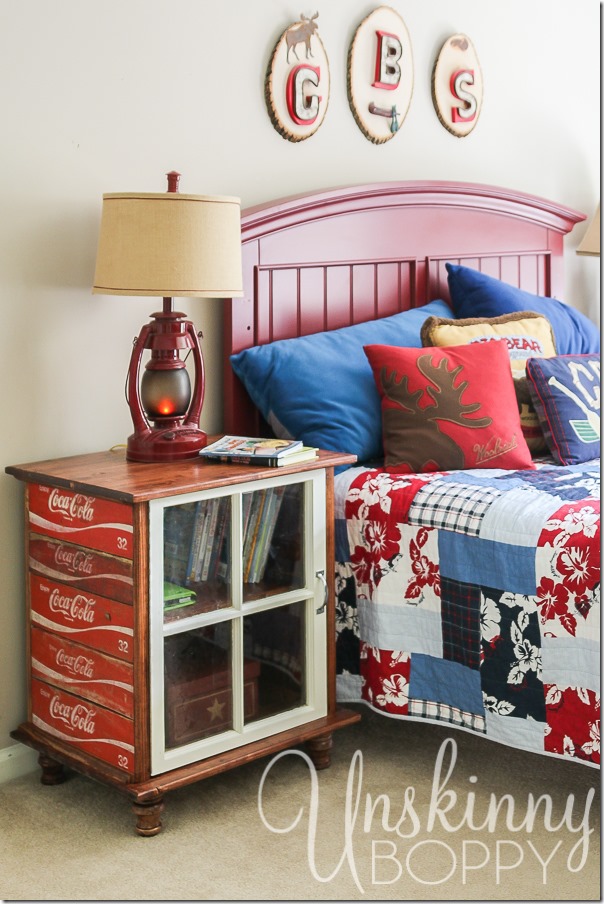 Even though he built these 100% from scratch, I don't have any photos of the process to show you how he did it.  I think that is the reason he started building these while I was away from home, so I wouldn't be down there sticking a camera in his face the whole time he was building them.  He actually got to work on a project without having me stop him every two minutes and snap a photo of the progression.  That is a hazard of being married to a DIY blogger, and he is getting sneaky at figuring out ways around it.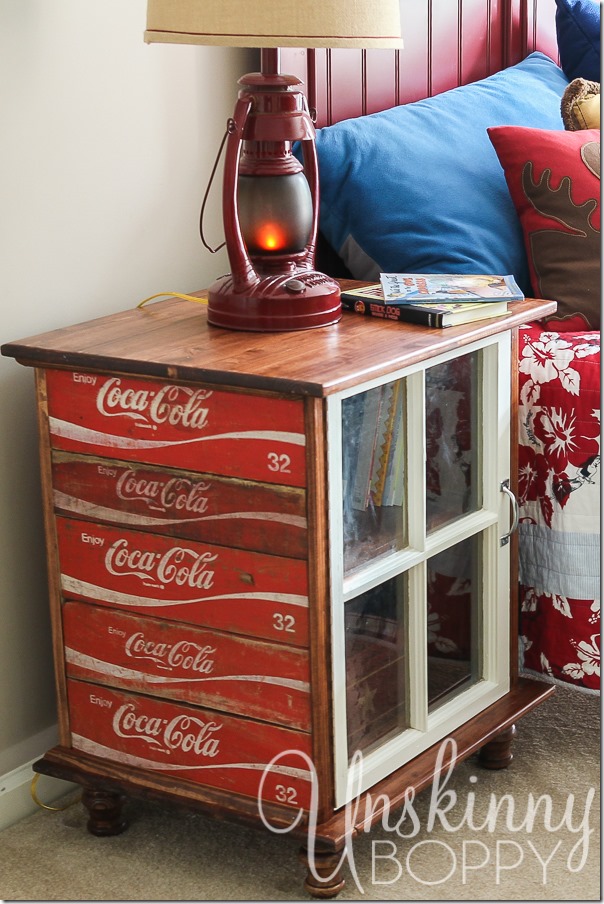 I think these nightstands turned out beautifully, though.  He did such a great job, as usual!  Garrett loves them, and immediately filled up the one closest to where he sleeps with all his favorite books for bedtime reading. His old red lantern lamp looks pretty cute sitting over there, too.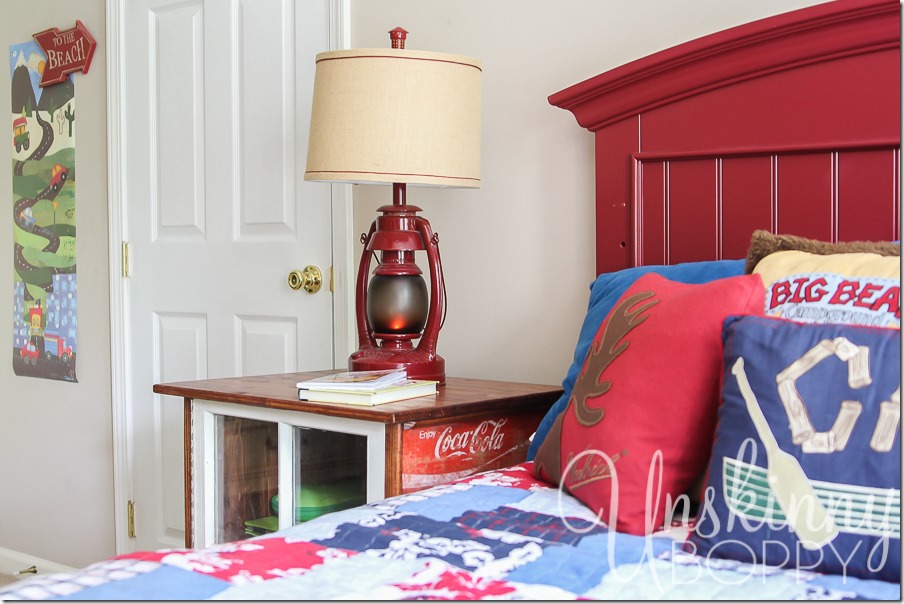 The other side got adorned with a Woolrich plaid stuffed duck, my husband's grandfather's old tackle box and some other assorted woodland creature themed stuff.  I am not sure how much longer we will keep the bear and moose themed bedroom decorations, but I'm certainly milking them for all they are worth.  He's had this bedroom décor since before he was born, so I'm thankful for a good long run after 6.5 years of enjoyment.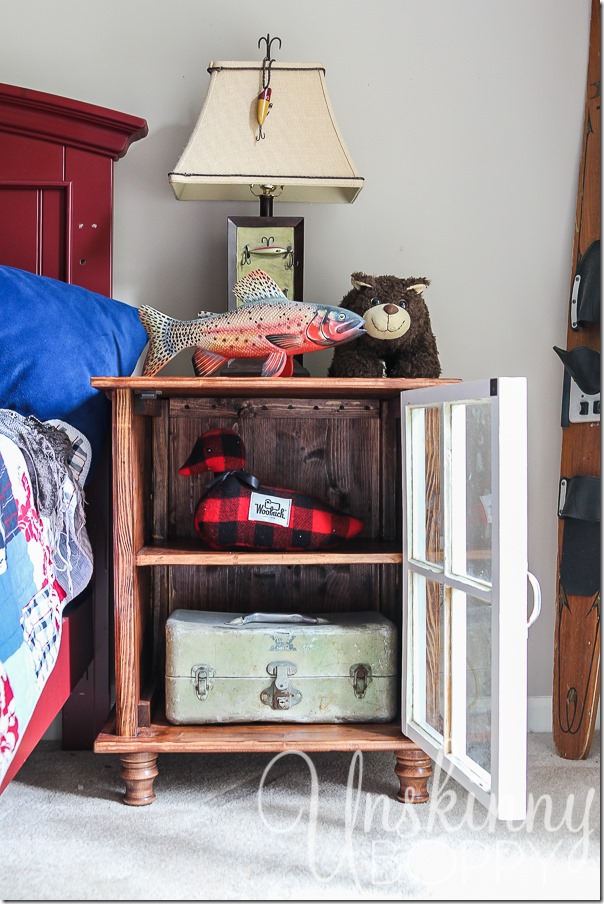 I have some ideas for the future of Garrett's bedroom as he gets older, but for now, I honestly still love his Great North Woods Bedroom.  I also love that my husband took the time to build his son a pair of the most unique night stands on the planet. Thanks, babe!  Good job!
To see the plans on how to build a similar version of these nightstands, check out this post:
How to Build your own End Tables: