I have a confession to make.
I didn't sign up for a single Fall home tour this year.  I got invited to join a few, but I just couldn't bring myself to do it.  My life is going through a good deal of an upheaval at the moment, and I didn't have the energy to completely redecorate my fantel with all the usual autumn accoutrements. In fact, I still have my Christmas mantel up from last year because it makes me THAT happy. Up until this morning, I not pulled out a single piece of fall decor inside my house.
But then.
This happened.
My friend Mary at Urban Farmgirl sent me a gift last week that screamed from some fall decorations around it, so I just couldn't resist.  This reclaimed wooden letter NEEDED some pumpkins beside it and a wreath behind it. Can you believe how gorgeous this letter is?  She makes them in her shop in Rockford, IL!  I am so in love with it!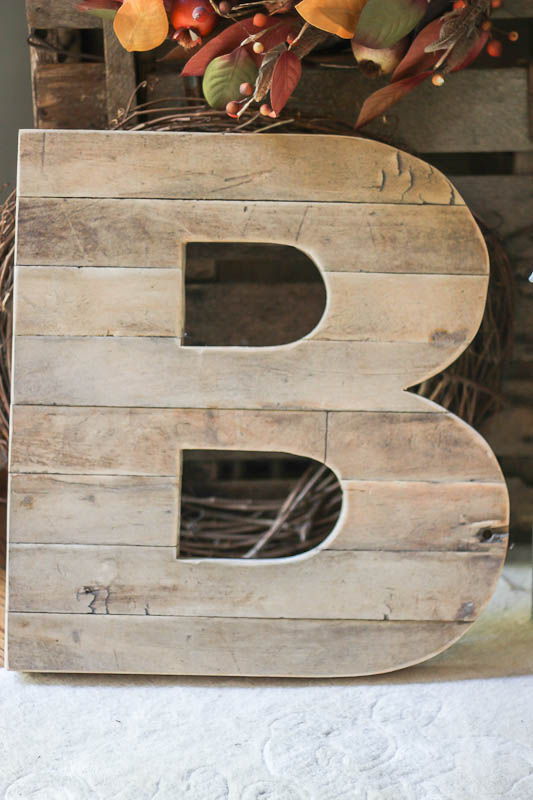 So, here is the backstory on this Big B, straight from Urban Farmgirl's shop…
The wood is solid maple, salvaged factory flooring we harvest from the Nelson Knitting Factory in Rockford, IL. It is one of the oldest factories in our city, dating from the 1850s. They are most famous for making the red-heeled socks that sock monkeys were made from! The factory closed in the late 1990s and has been abandoned ever since. We are harvesting the wood floors before the building faces demolition. Each letter is made up of 100% salvaged and repurposed wood.

 

We chose to leave the wood as original as possible, so it has not been stained or sealed. It is raw and beautifully imperfect, as it became after 140+ years of wear in the factory. The color may vary slightly, depending on where is came from in the factory, some even still bear the original holes where the knitting machines were bolted to the floor.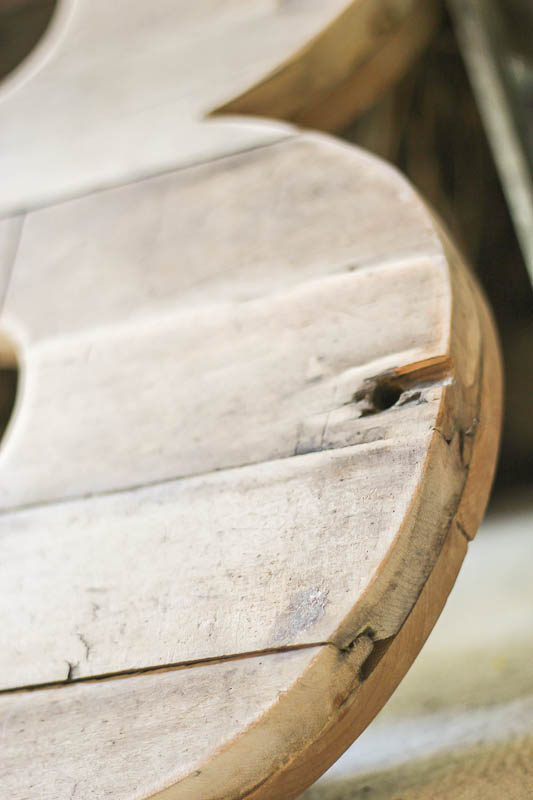 Each letter measures 18″ tall, and they come with picture hangers already attached to the back.
Mary will be selling these beauties for $65.00 each at The Chapel Market this weekend!  If any of you want to reserve a specific letter for pick up at the market, call or text her shop at 815-985-9918. Hurry, though!  She's headed south on Thursday so get your orders over quick!
Here is a photo of Mary's 2013 Chapel Market booth.  I SO wish I had snagged some of that plaid stuff now because I am LOVING it this year.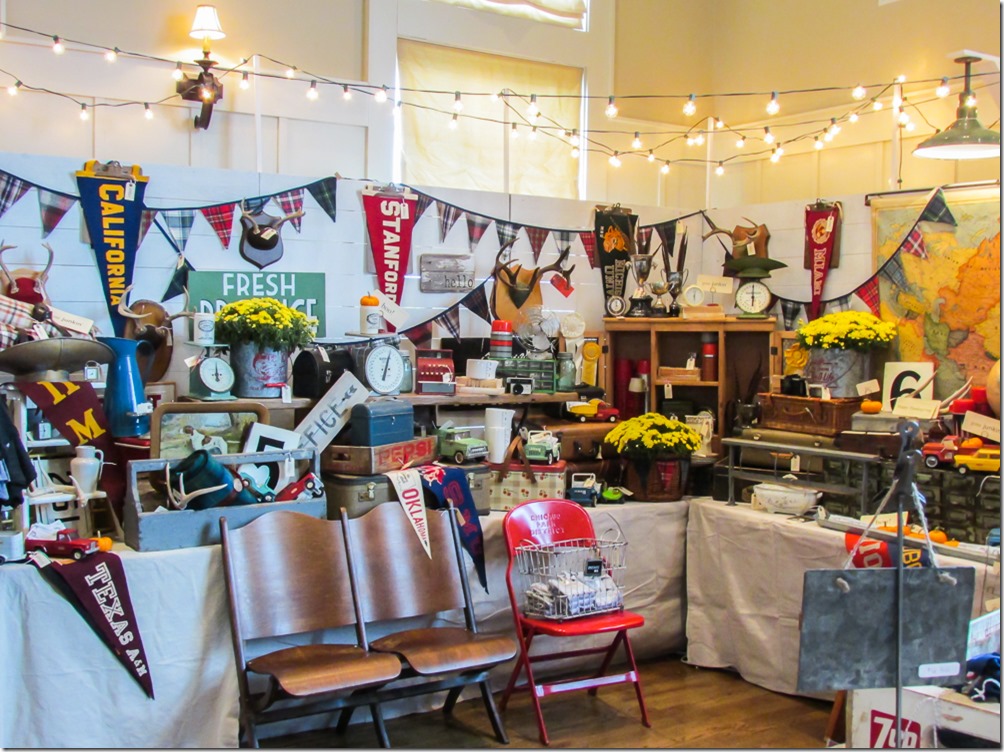 Who all is planning on going to Chapel Market on Saturday?  Admission is just $3.00 and you get to purchase cool stuff from some of your favorite bloggers!  Based on last year's show which I wrote about here, it should be quite a doozy. Hope to see y'all there!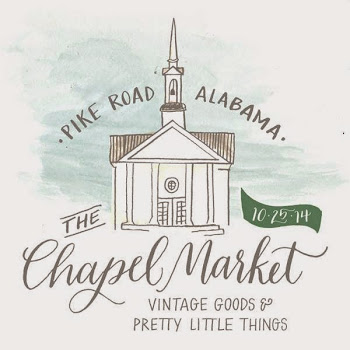 PS:  If you asked me for my favorite pinner on Pinterest, I would tell you it's Urban Farmgirl before you could even finish your question…  Hands down, she's my all-time favorite Pinterest pinner.  I go over to her Pinterest page and just repin nearly every single one, because our styles are so similar.  You should go follow her on Pinterest and while you're there, please make sure you're following my Pinterest boards, as well!