Who else needs some help with craft room organizing? This post is for you! Get your craft room organized with pretty but practical storage solutions from IKEA. These handy solutions solve all your craft supply organization issues!
All summer long Garrett and my cousin Sammi (our summertime nanny) sat in my spare bedroom and got their craft on while it rained buckets outside.  They painted and colored and made bead art and polymer clay sculptures.  G loved it, but by the end of summer my happy little sanctuary looked like a bomb had gone off in a craft store.
Now that school has started back, I decided it was time to get organized with my arts and craft supplies.
Here is my new craft room update with a pretty project table and plenty of storage!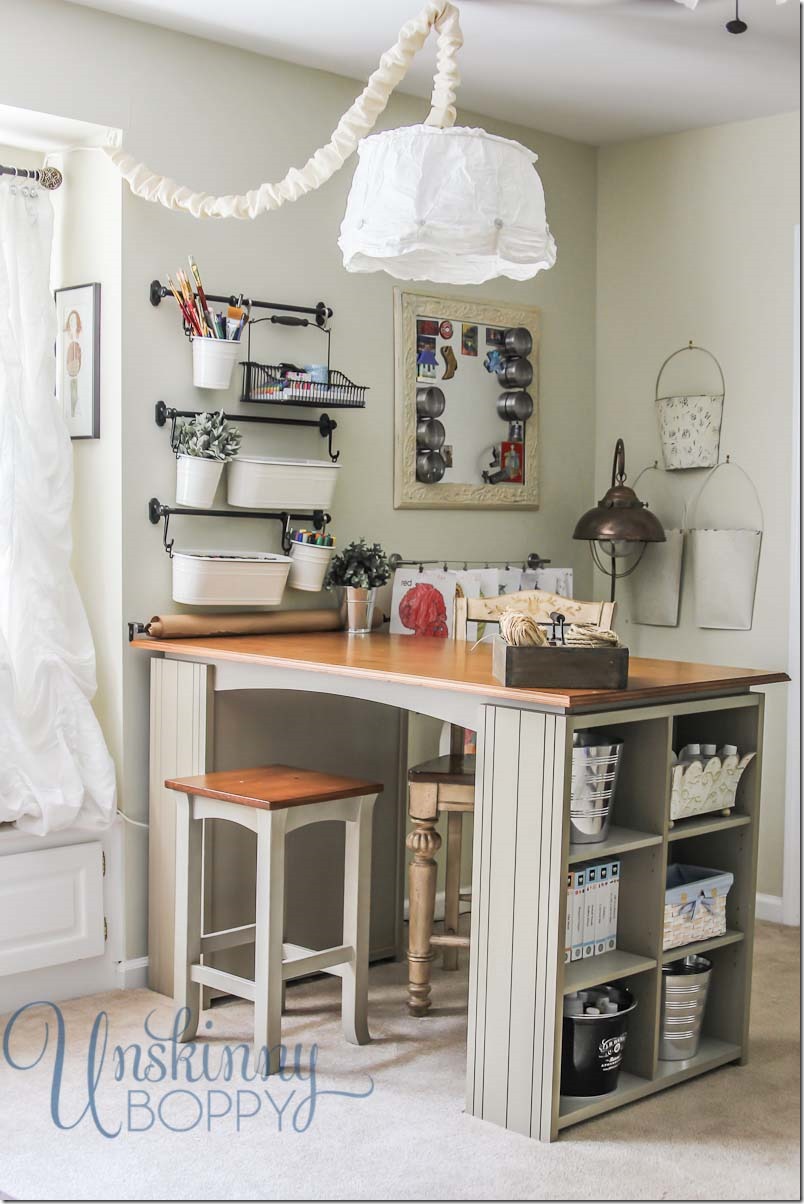 Start with Ikea Hanging Storage
Last month my mom asked me to stop by IKEA and pick up a few supplies for her scrapbooking room. She emailed me her wish list, but since there were no photos to go by I nearly had a panic attack searching for those Swedish Grundtals and Bygels in a haystack.
Finally, a nice IKEA worker saw the crazed look in my eye and took pity on me. He typed out a new list with the departments where each item was located, and I was on my way.
Once I saw what all she was buying for her room I decided to buy some for my room, too!
The IKEA Fintorp series of buckets and hooks turned out to be the perfect, pretty organization idea for my craft room! I really like the elongated buckets for storing bottles of paint.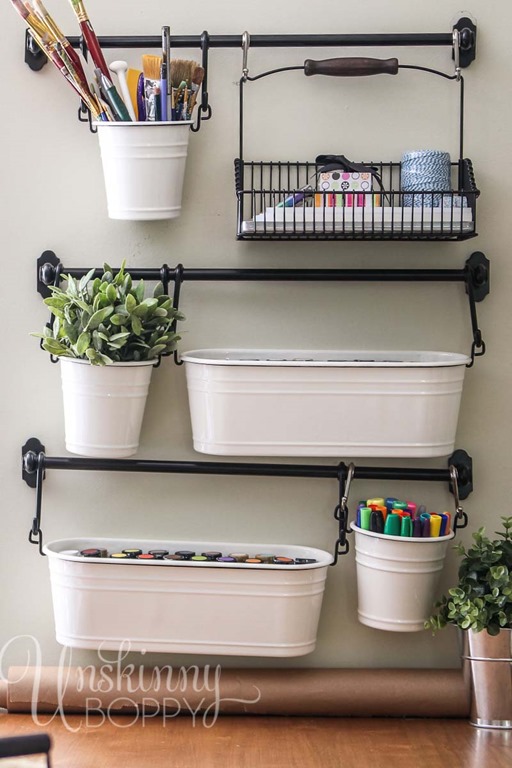 You can mix and match buckets, wire baskets and hooks to create any combination of storage solutions. Plus it's CUTE.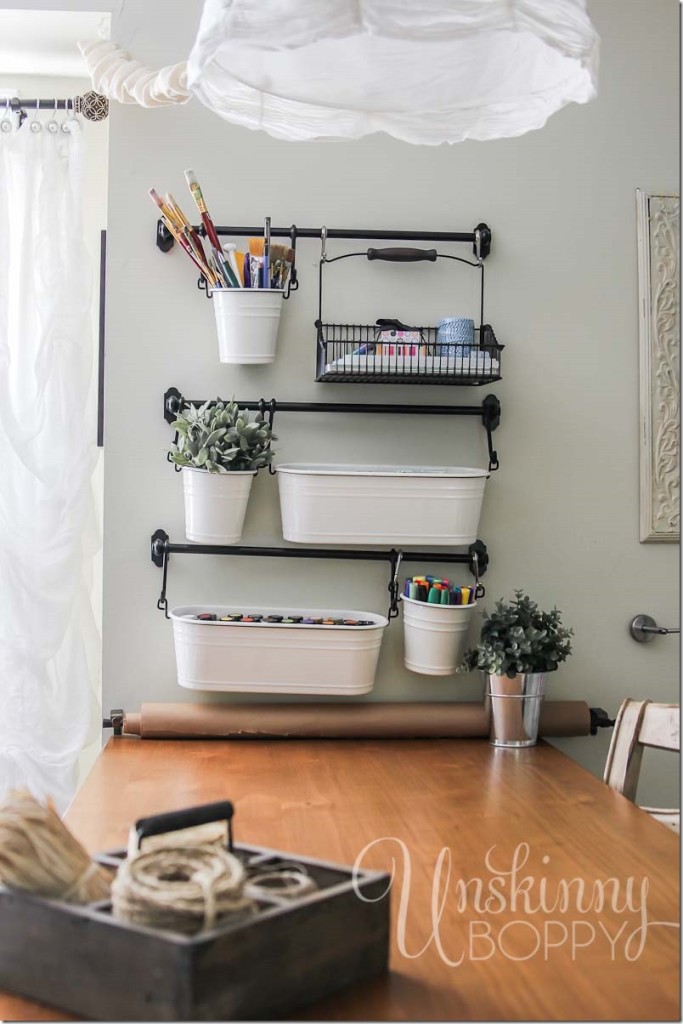 Paint brushes, hot glue sticks, polymer clay, washi tap, bakers twine, markers and TONS of craft paint compliments of my buddies at DecoArt. Be sure to check back later this week to see what all I've been creating with all that paint!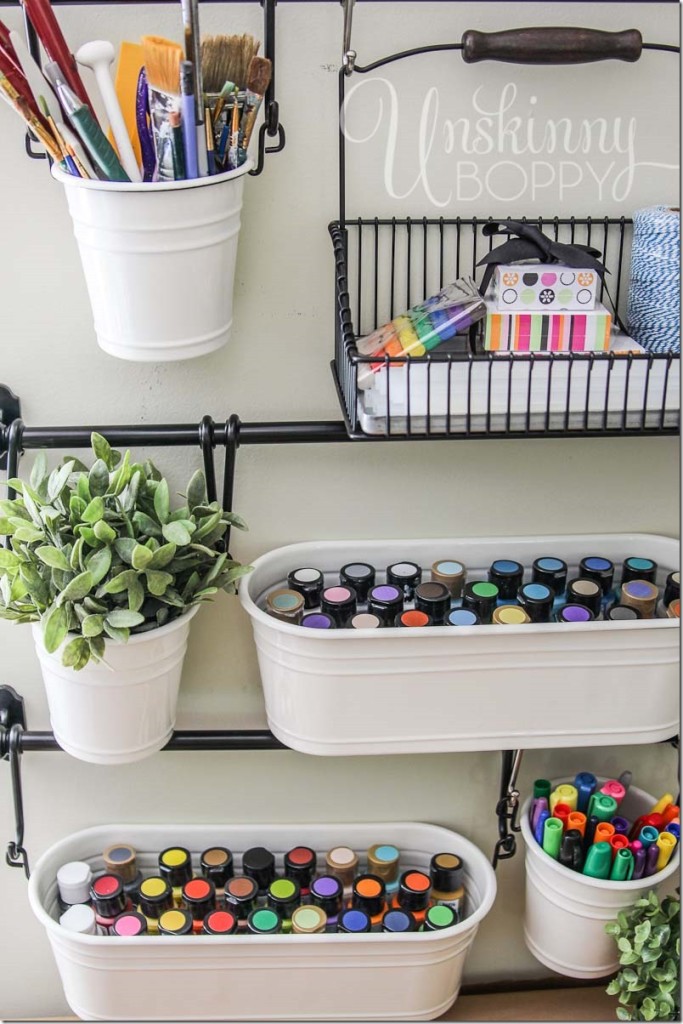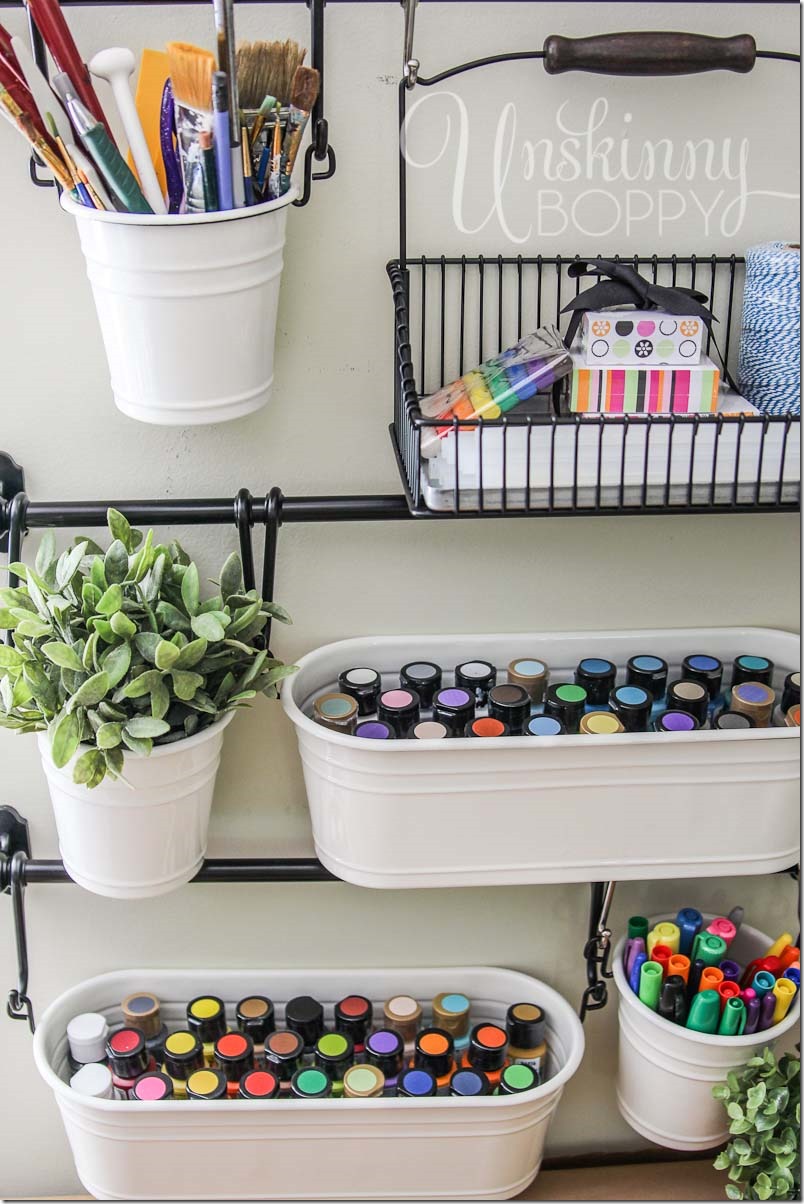 Add some pretty lighting
Another thing I couldn't resist when I was in IKEA was this frilly light fixture. I've been needing some lighting over my craft table, but I didn't want to go to the trouble of installing an actual light. So, with a ceiling hook and a burlap cord cover draped over to the corner, I now have this pretty ruched light fixture that matches the curtains. I'm still iffy on the burlap cord cover. there is a part of me that thinks it looks like a large intestine hanging from my ceiling.
What do you think? Love it or leave it?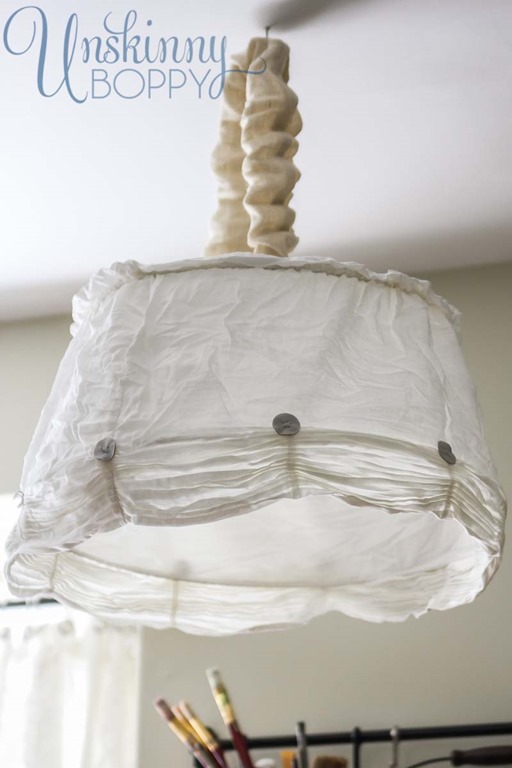 Organize the Artwork
Funny thing about IKEA—you can never just buy things for yourself. It's kind of like a Costco run—you come out with all sorts of goodies for your mama and sister that you never really intended to buy. When my friend Dusty heard I was going to make an IKEA run she asked me to pick her up another set of (affiliate link) Dignitet curtain rods and Riktig curtain hooks for Kate's artwork display. And what the heck? A few sets also made their way into MY side of the buggy, too!
I decided to steal Dusty's excellent idea for my own little artist's artwork. I haven't seen a better way to display a whole bunch of kid's artwork in an organized way!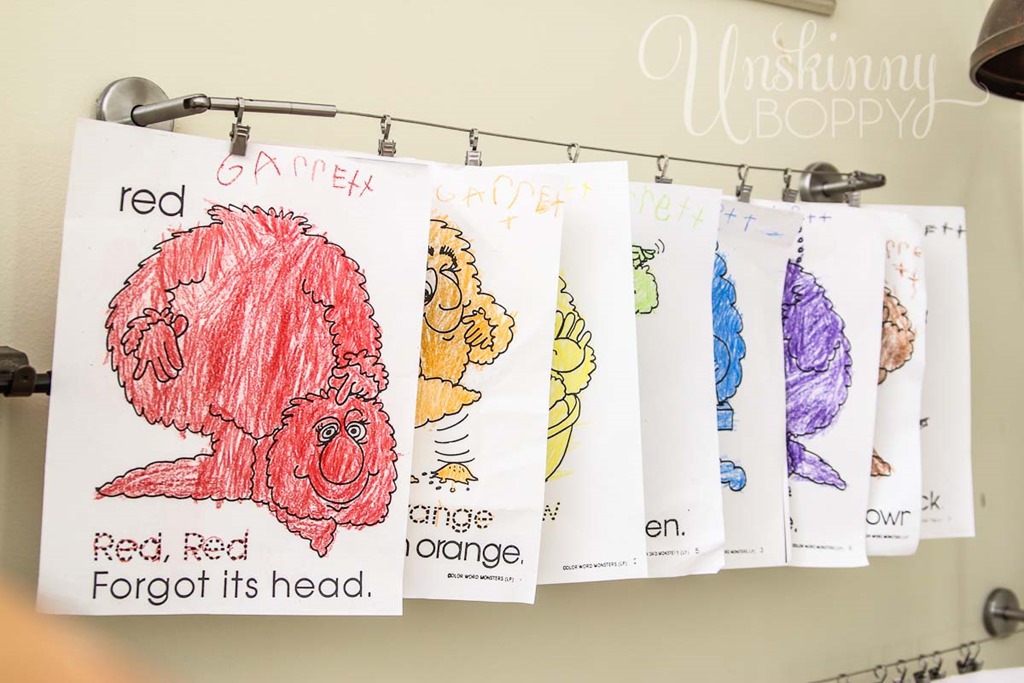 Love this idea so much! Garrett has brought home a new color of the rainbow every day from school, so they are all hanging proudly across the art corner now.
Use Unique Containers
I love using wooden boxes and basket for storing my craft supplies. This little wooden divided box with a handle is perfect to hold balls of twine and string. Since all those fall projects are just around the corner I got my jute and sisal and raffia ready. Bring on the pumpkin projects!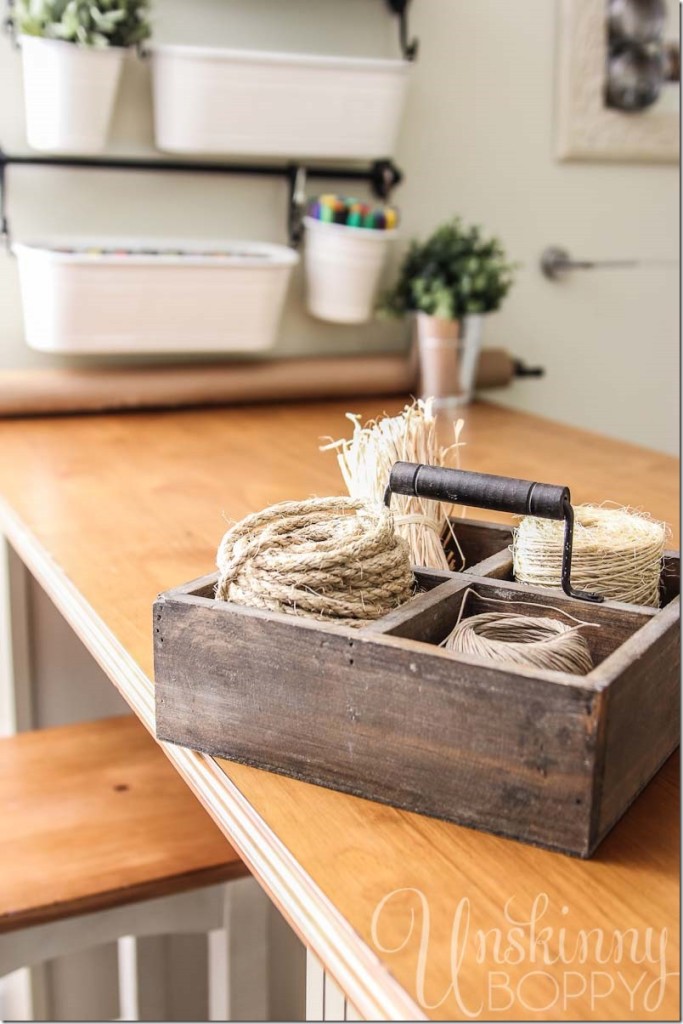 Keep Kraft Paper Handy
Another idea I had was to mount a curtain rod right at the top of my project table for a roll of craft paper that can be rolled out to keep the table clean when a big paint project is underway.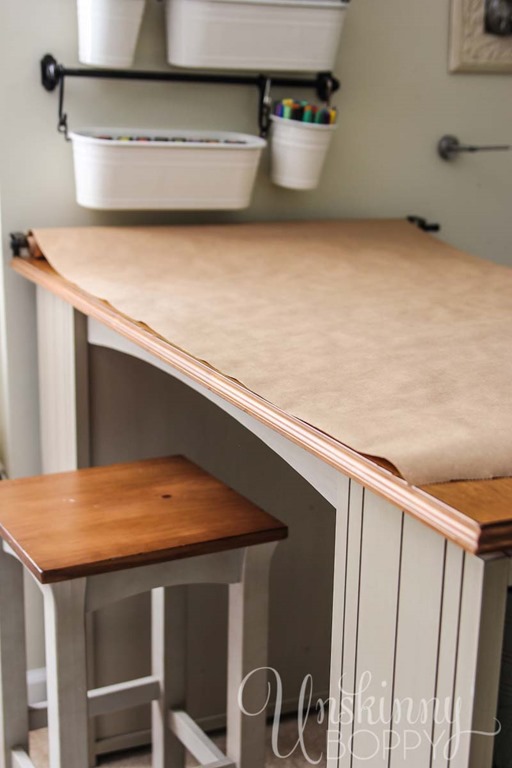 I am SO digging this idea! Since messy is our middle name around here, so I try to keep craft paper around to catch all the drips. Here's a peek at what the table looks like the other 99% of the time when it's not all fake clean and staged for the blog.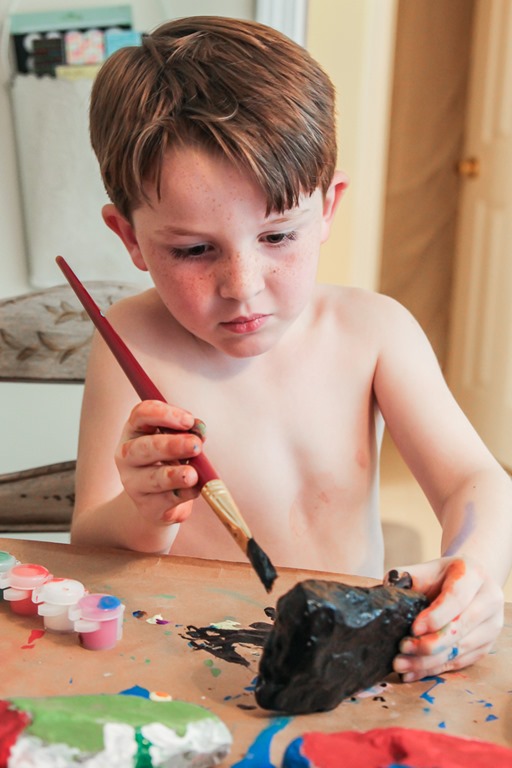 Overall I'm super happy with the way this little corner turned out. Now Garrett and I have a great place to sit and create together…. mess and all!
---
If you enjoyed this post be sure to checkout my other posts about my office and craft room makeover!
Click here for the full tutorial on how to paint horizontal stripes on a wall the easy way:
2017 Update: Also be sure to tour my new attic office/craft room/ play room at our new home!