Welcome to our current house tour!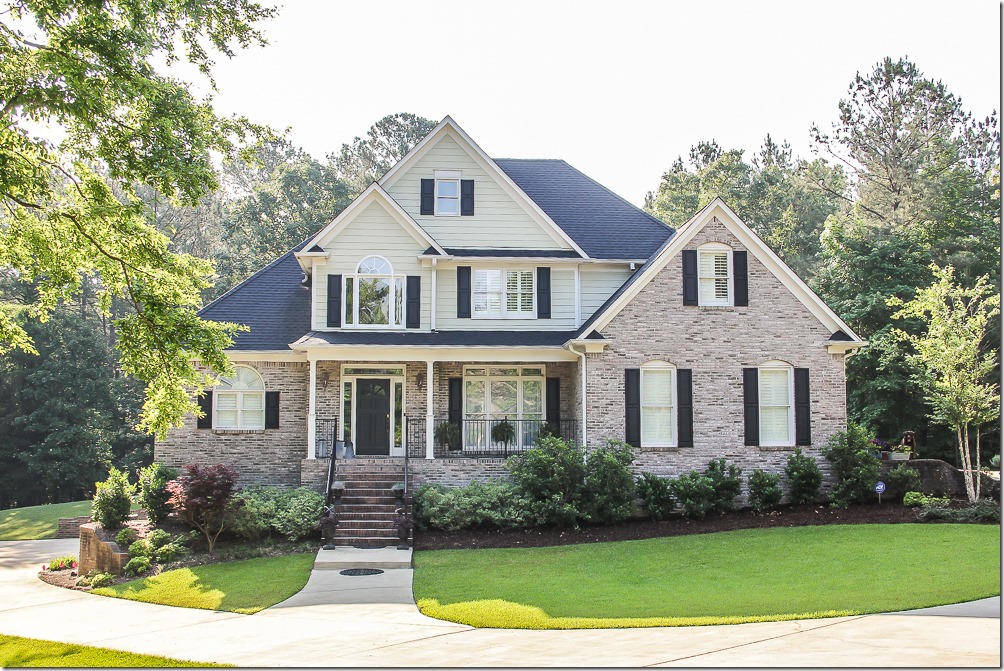 We bought this house in Spring of 2015 when I was pregnant with our daughter Caroline.  I call this our "right-sizing" move.  We were able to shed the massive mortgage had on our previous house and relieve a LOT of the stress on our finances. It's been a really great move for us.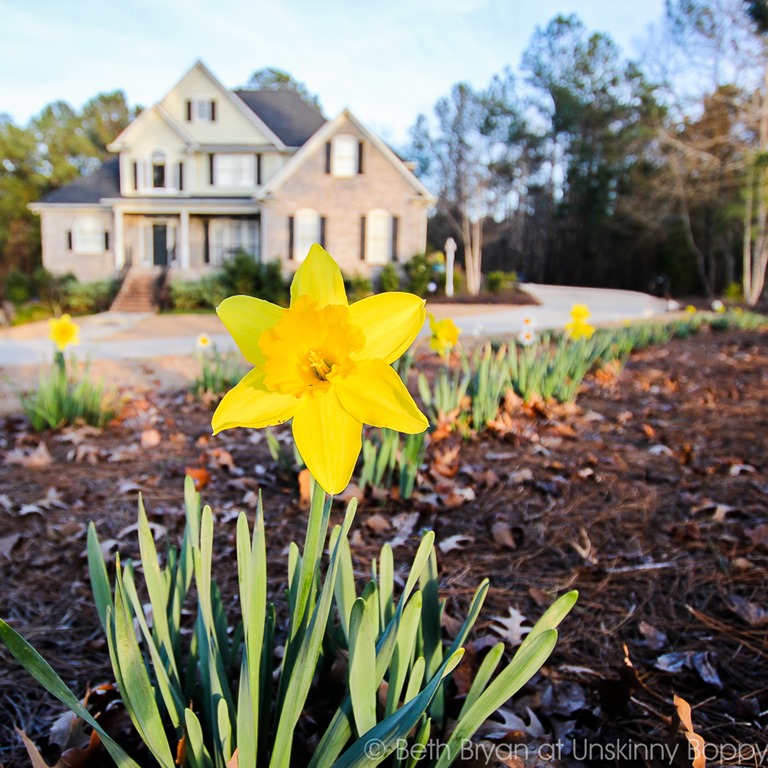 We still have about 2 acres of land and complete privacy in our backyard, but now live right next door to my mom and dad.  Literally, right next door.
According to the fitbit, their house is 300 feet from my front door.  It's pretty awesome for my kids to grow up living this close to Grandma and Granddaddy. My parents house is on the lake in our neighborhood, so we have access to that as well, which is amazing.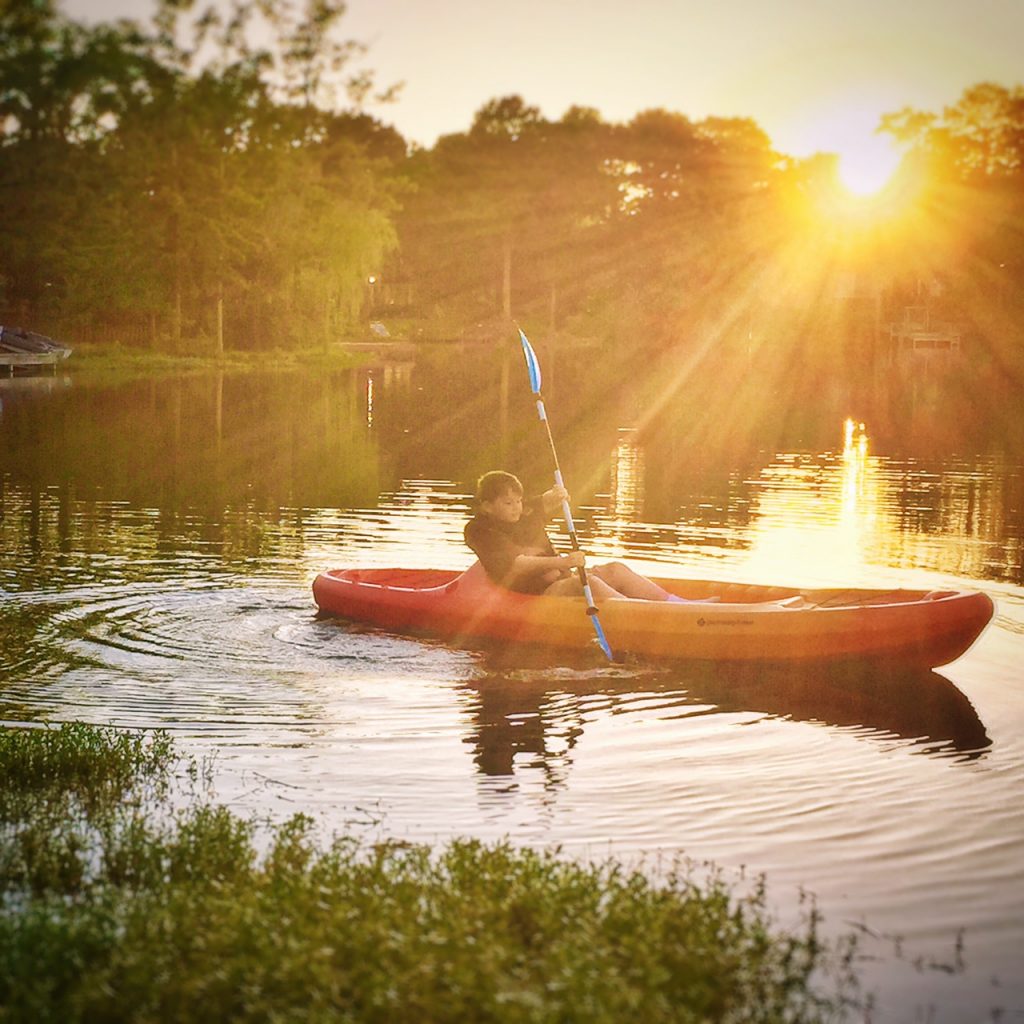 We rarely get snow here in Alabama in the winter, but one time we got a picture perfect snowfall that looked like a postcard.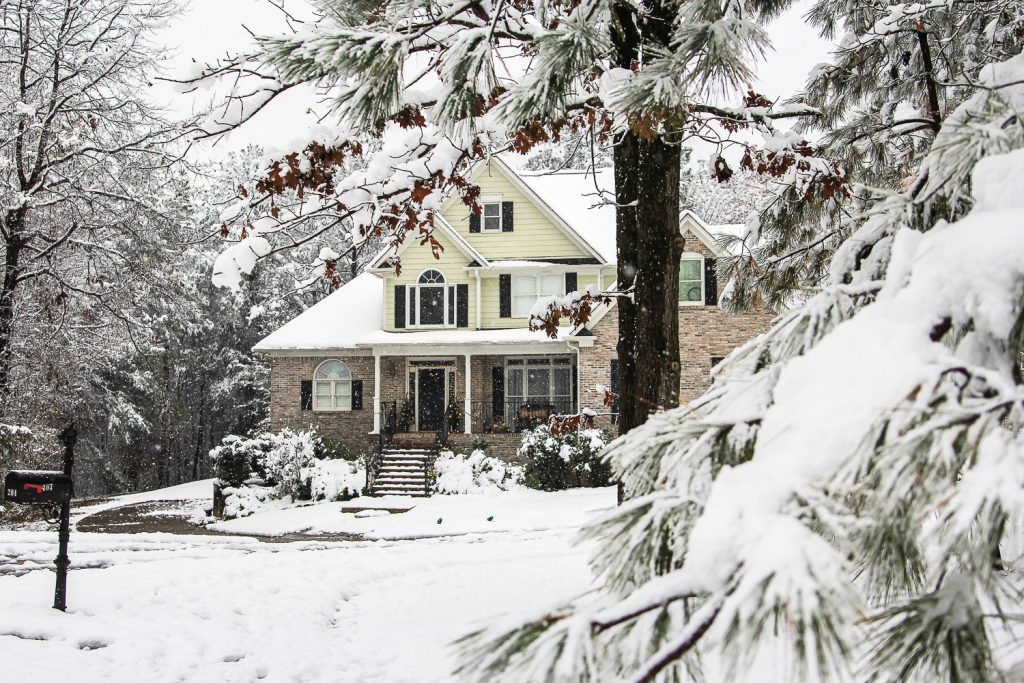 This house has an actual front porch stoop, which I have not had before. I love it. It's fun to decorate for different seasons.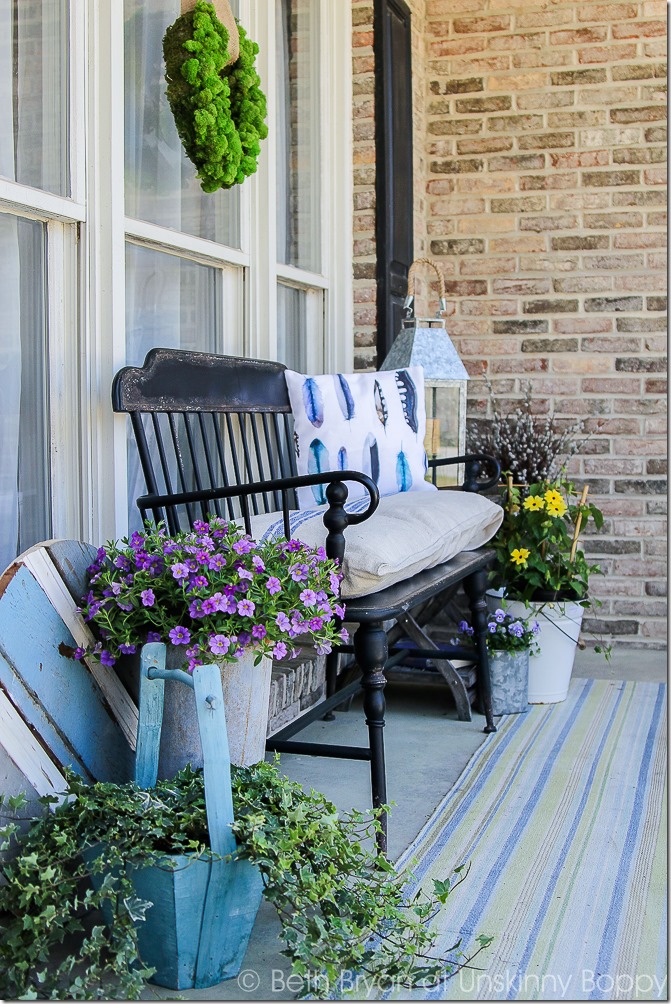 It's fun to decorate for different seasons.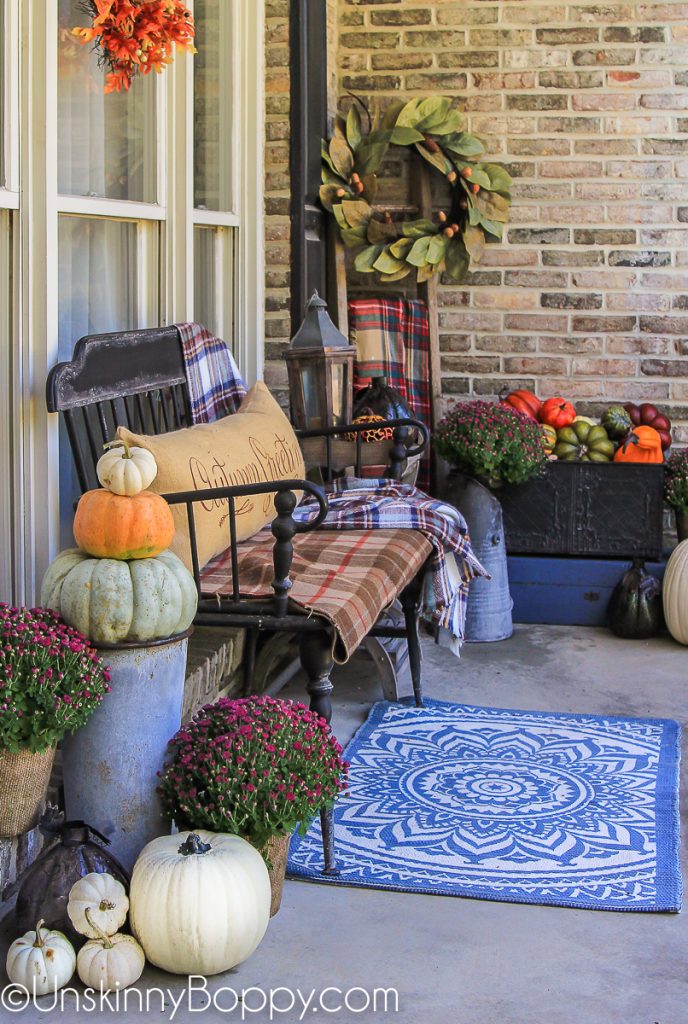 Decorating for Fall is my fave.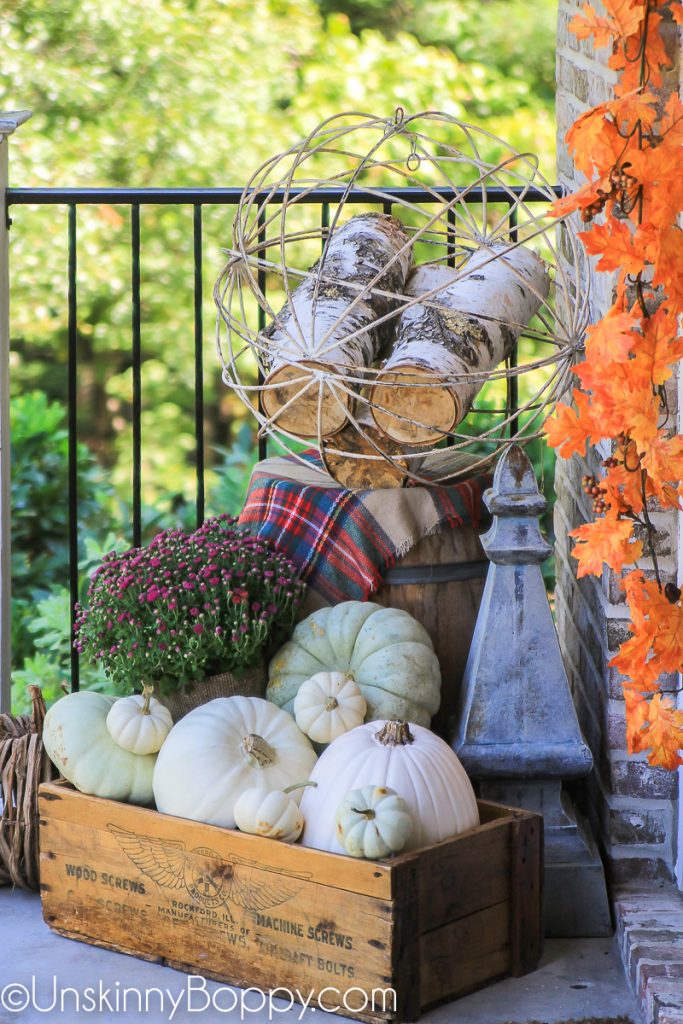 So, come on inside and let's take the tour!
Step inside the Foyer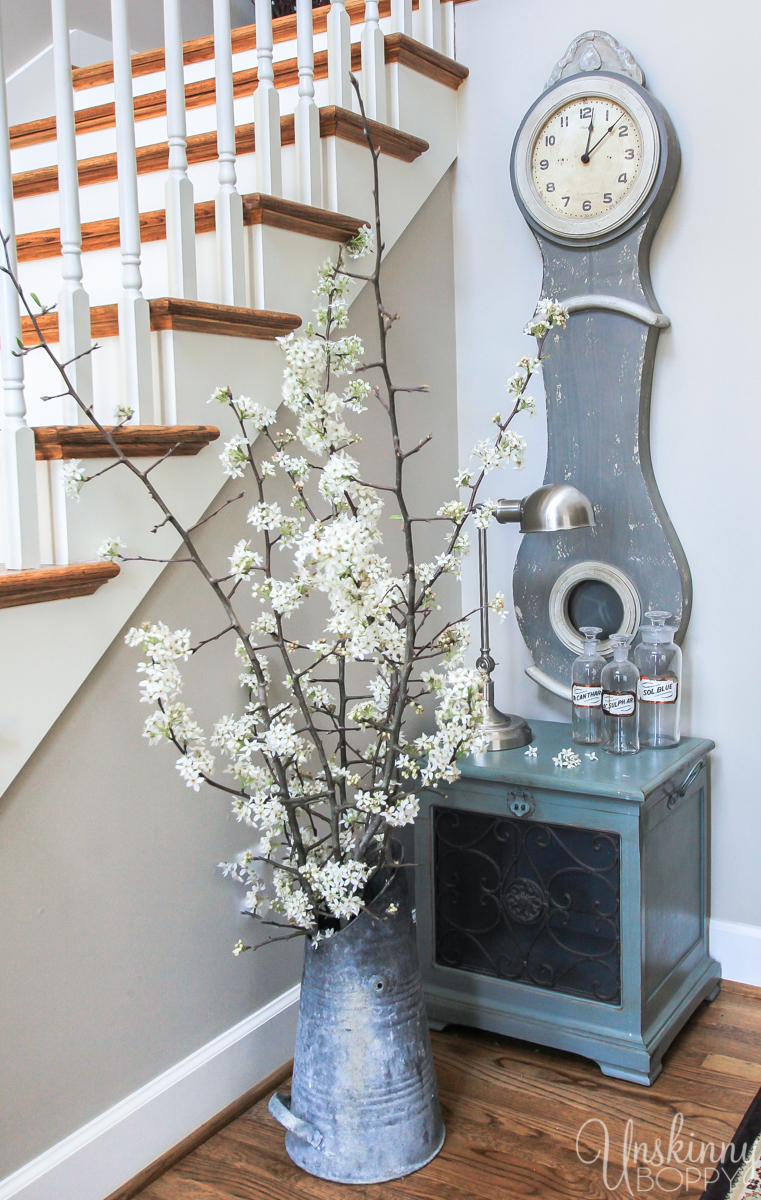 I adore my antique apothecary cabinet in the foyer so I can pretend to be Claire from Outlander every time I pass my front door. #wheresjamie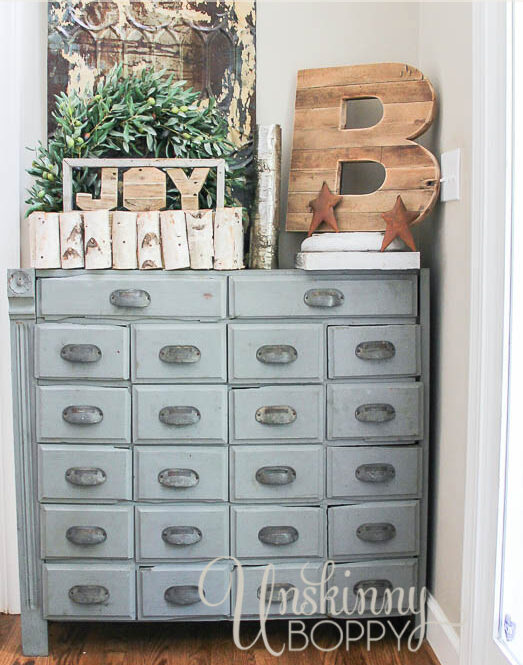 I'm a lover of all things old and herbal, so antique apothecary jars on top of my antique apothecary cabinet makes my vintage heart swoon.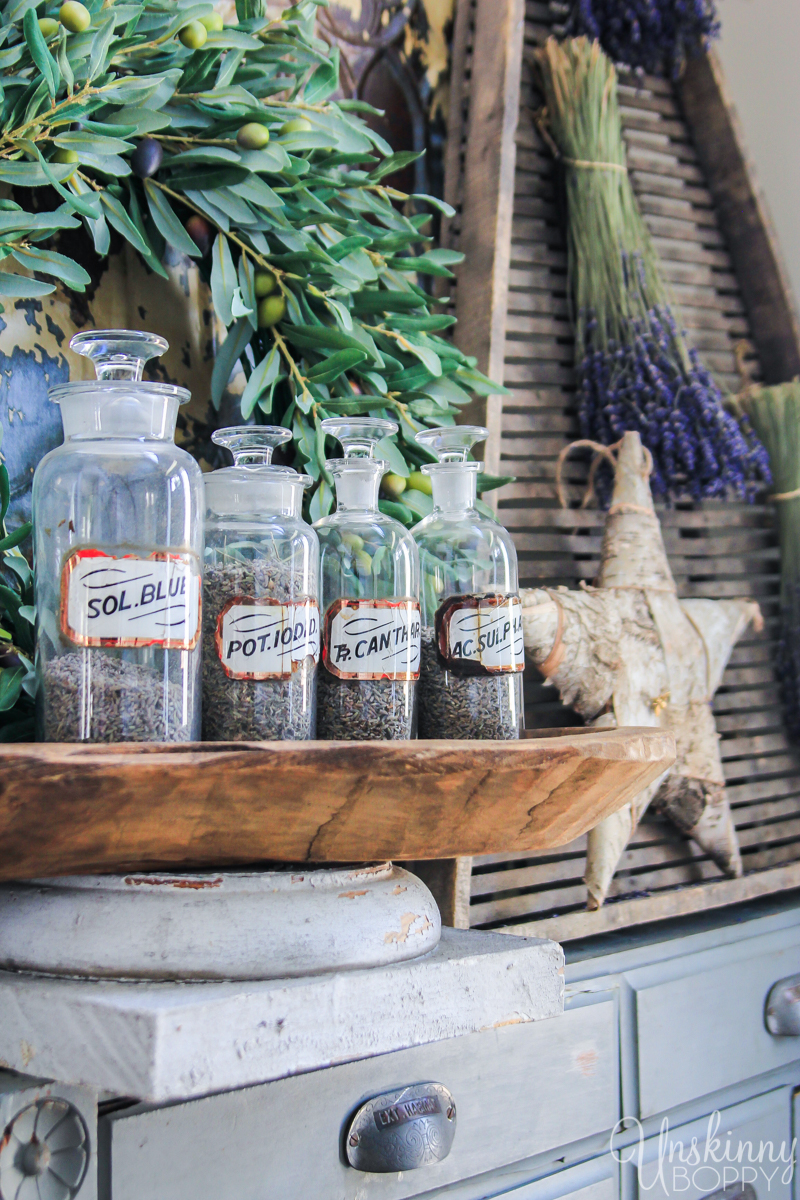 Straight ahead from the foyer is the living room.
The Living Room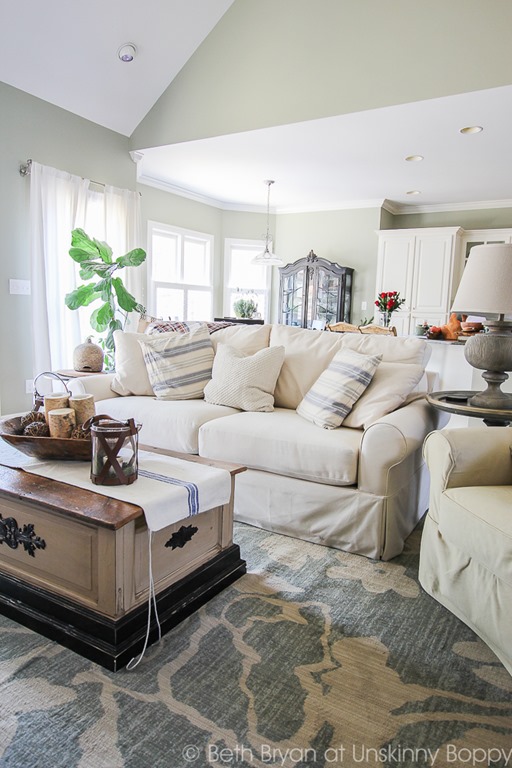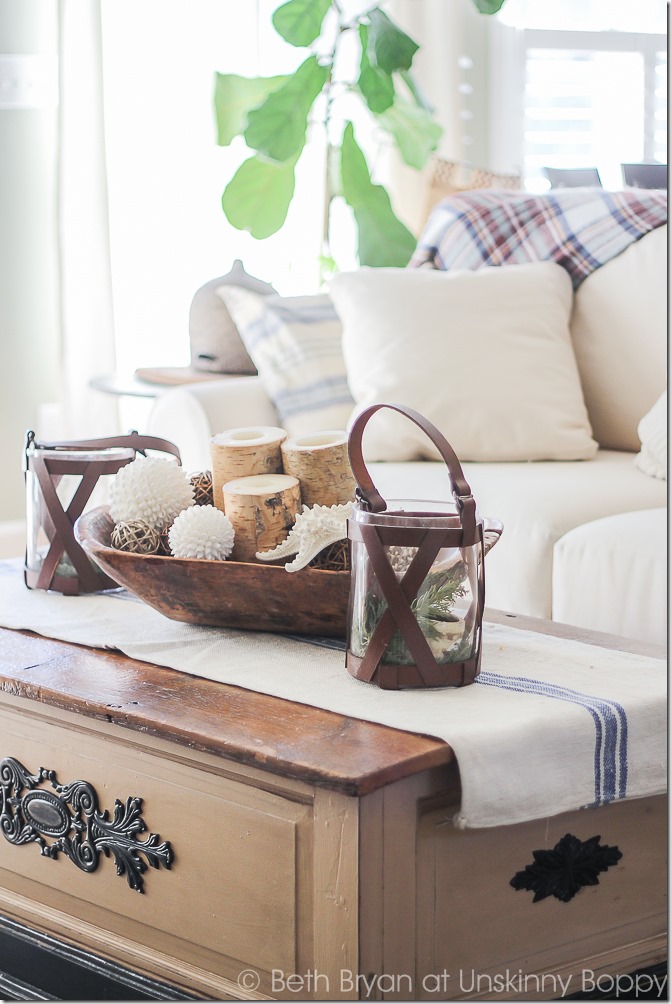 I try to switch up the decor in this room like any good home blogger should.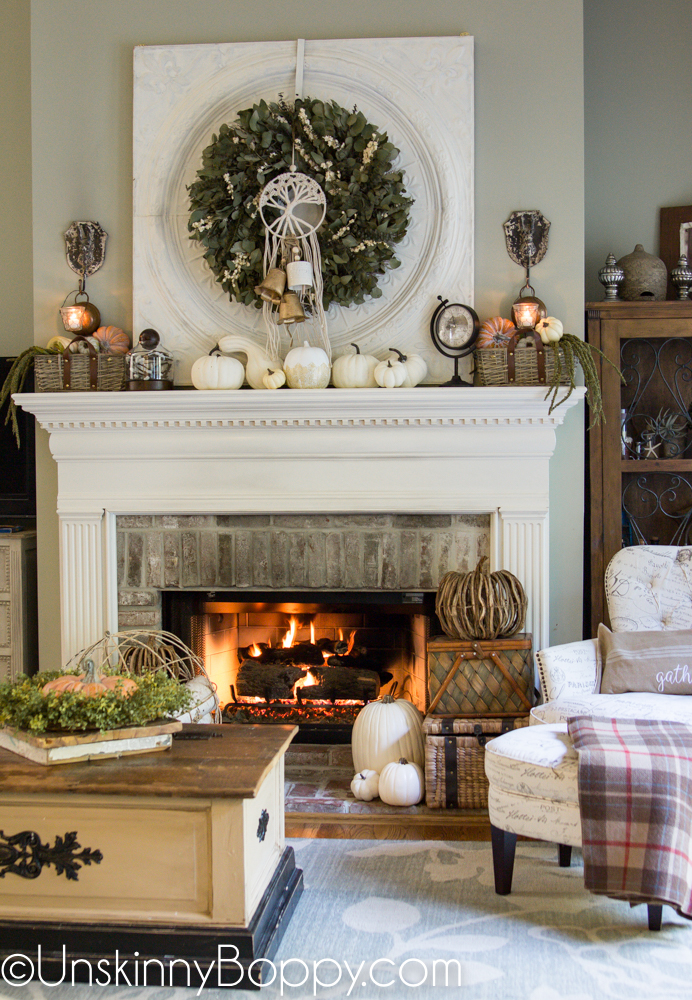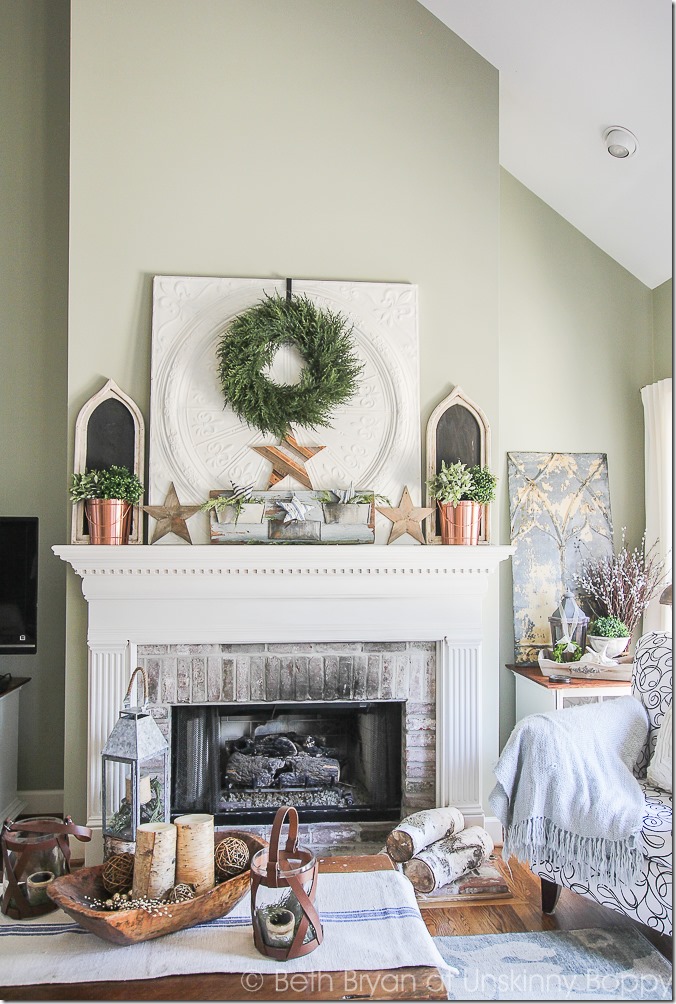 The ceilings in the living room are massive with a balcony to the second floor overlooking it.  I think I need a taller Christmas tree!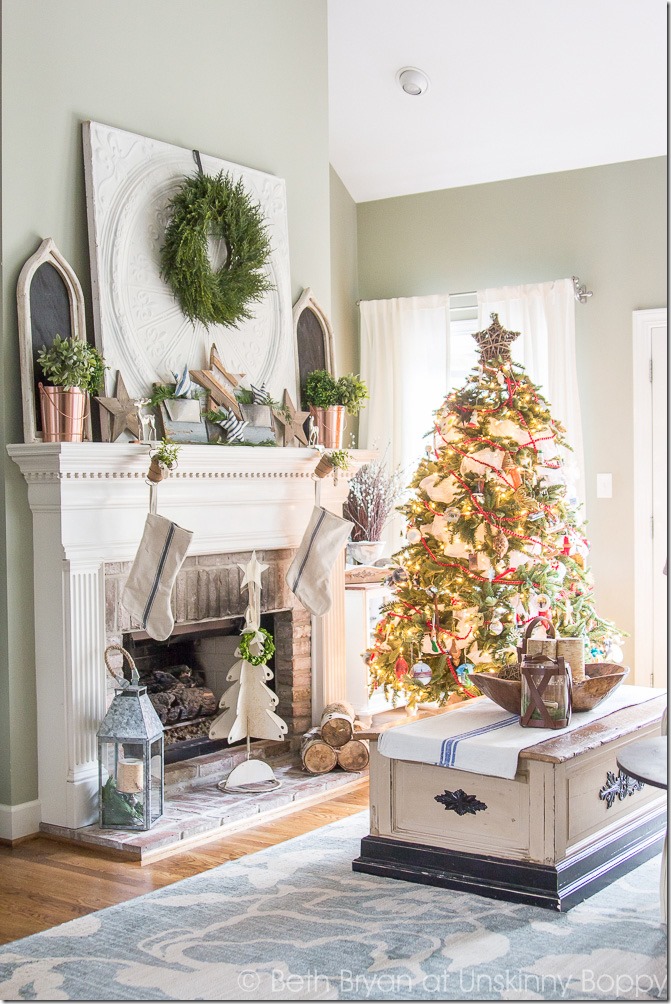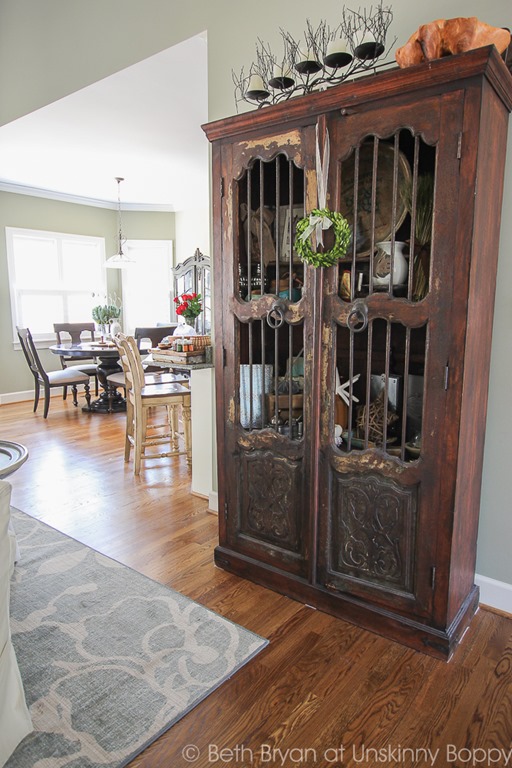 Our sweet dog Gus passed away in February 2016 and his brother Woodrow passed in November of 2018.  We all miss our guys very much. They were such a huge part of our lives for their short time on this Earth. Heres Woodrow lounging in the sunshine.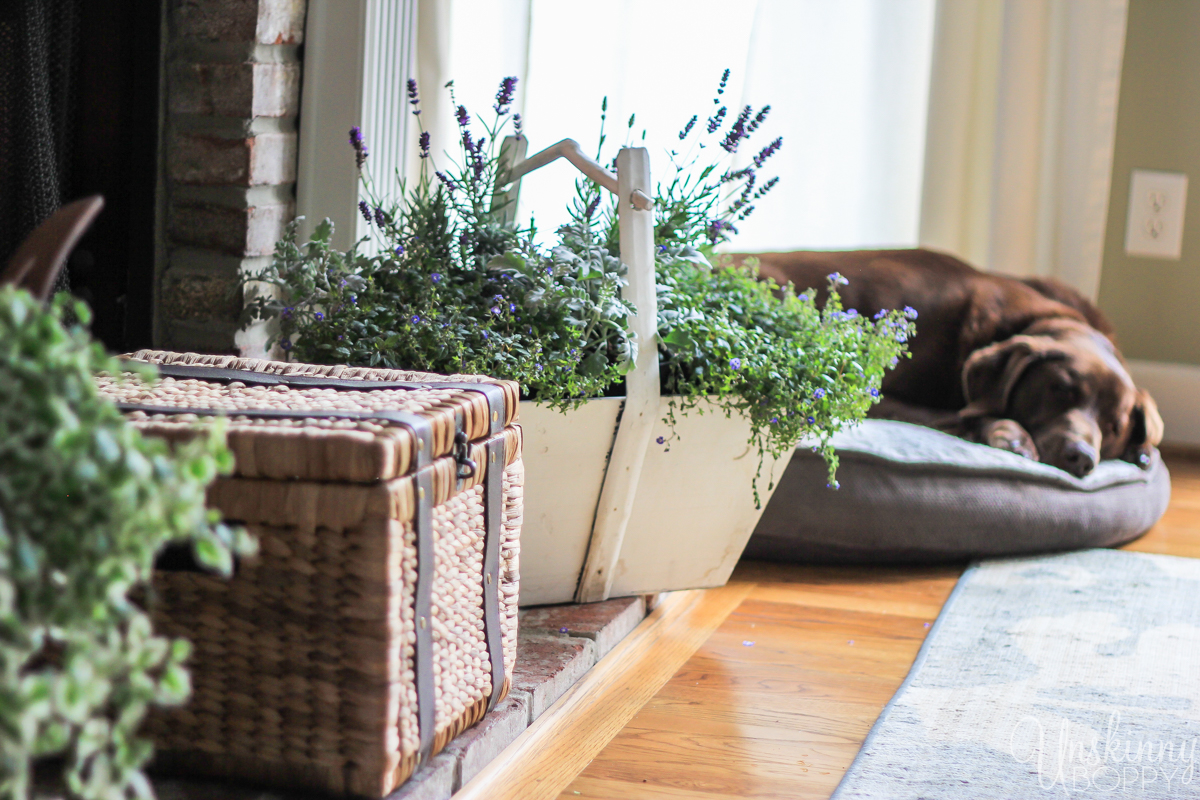 The Kitchen
In the summer of 2022, we suffered through The Great Kitchen Remodel.
This was by far the biggest remodel we have ever done in a house.  The "After" kitchen is totally revamped, with a giant 9 foot island added in the middle of the room and a huge farm sink added to the bay window.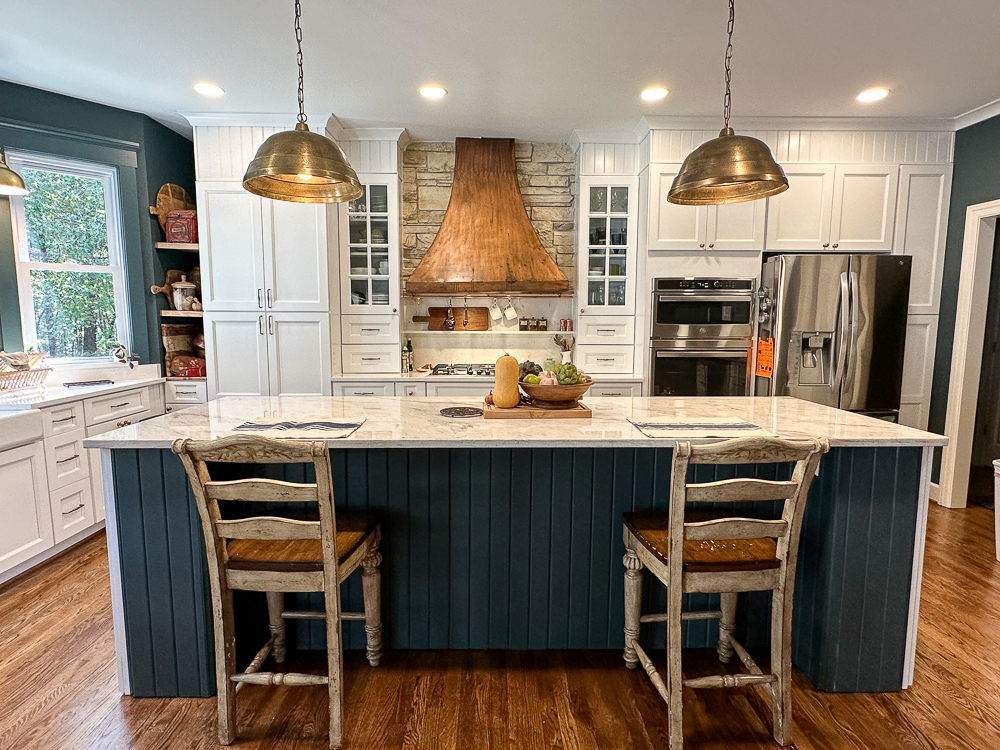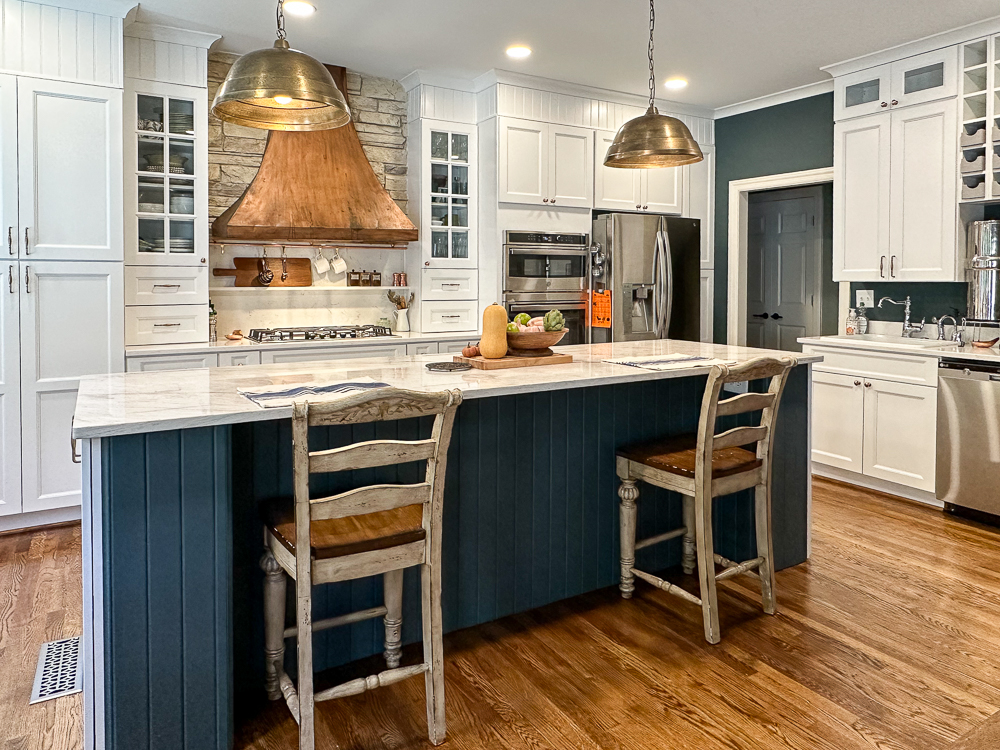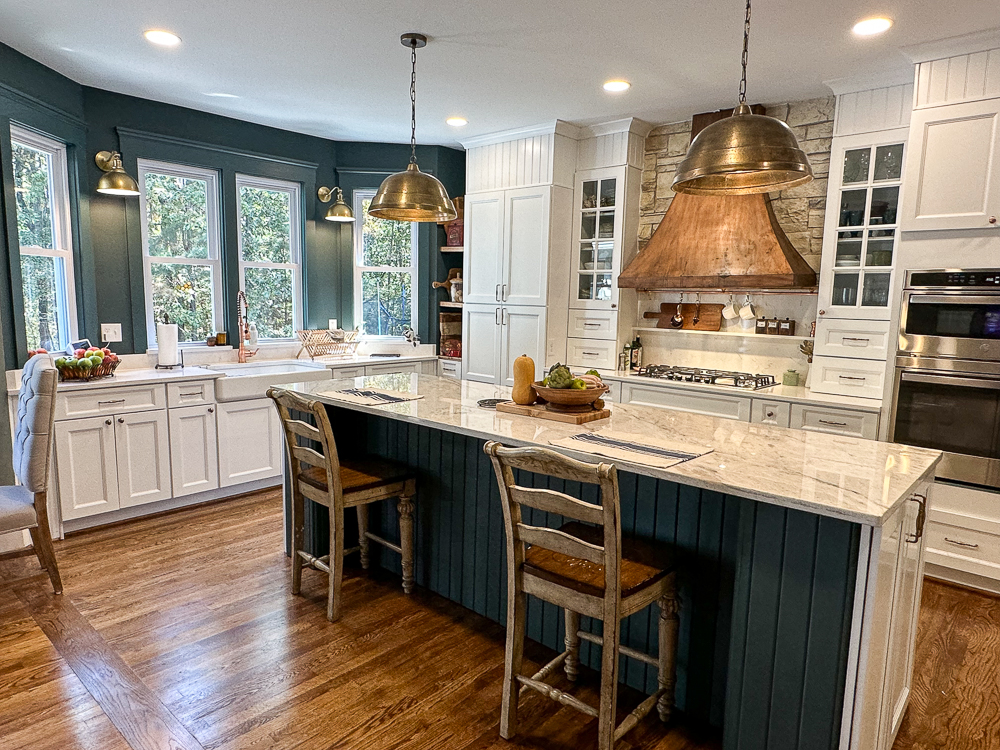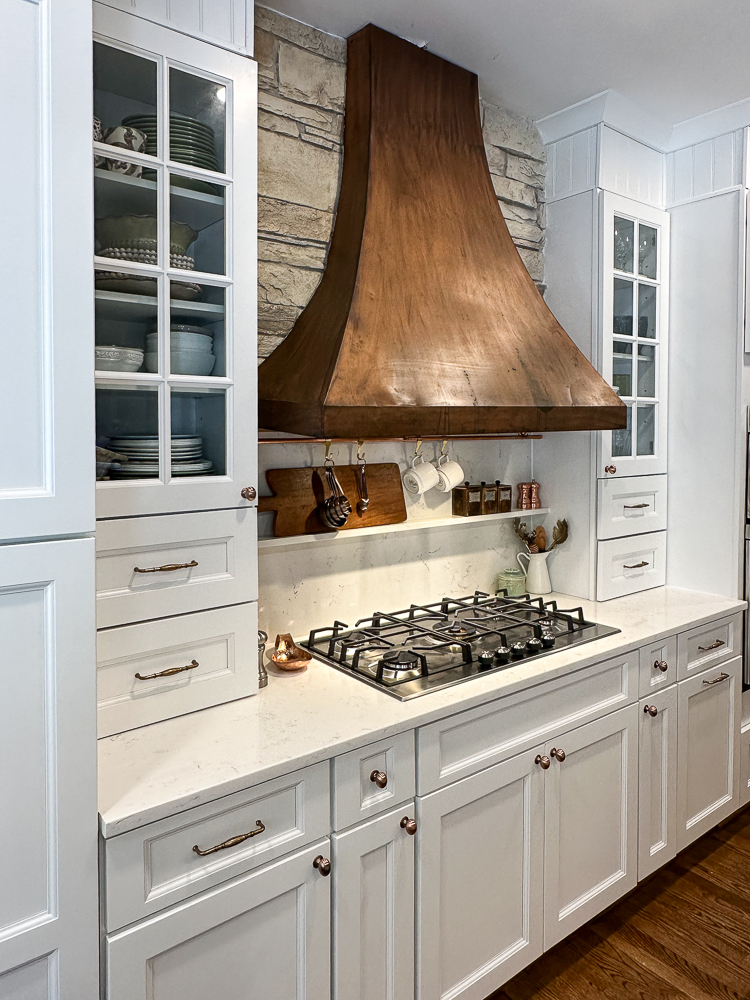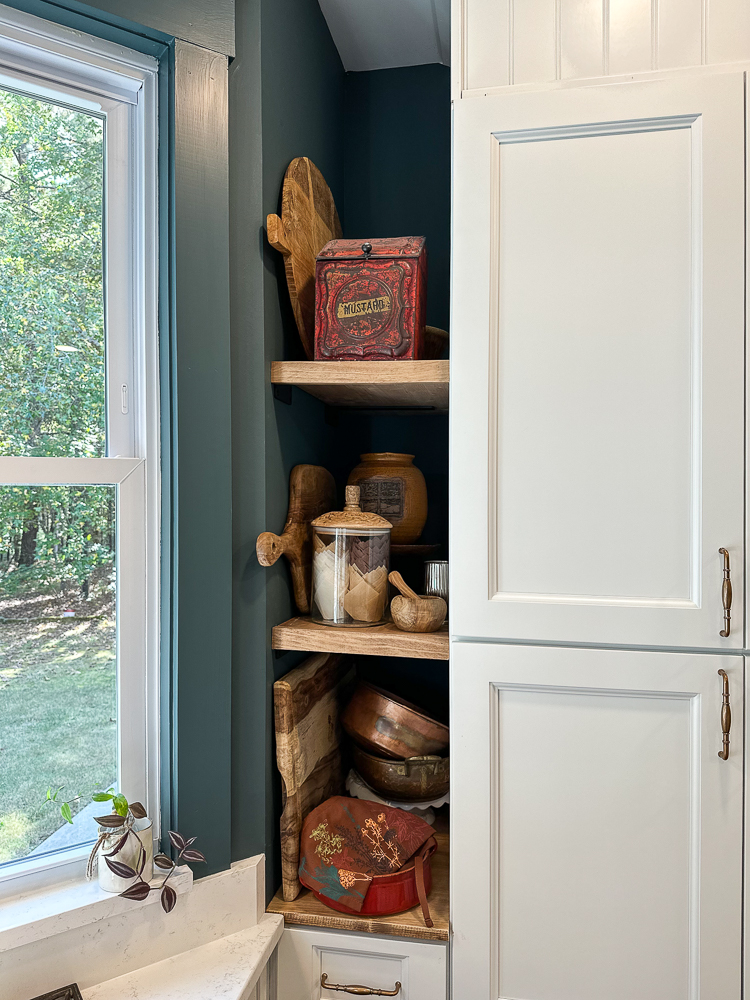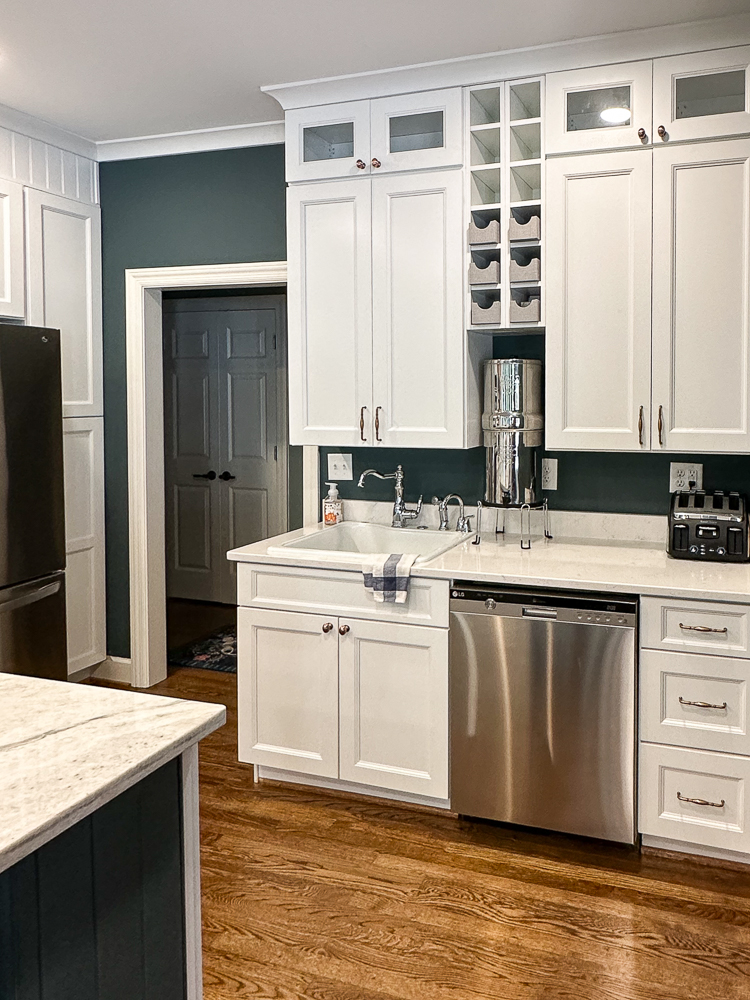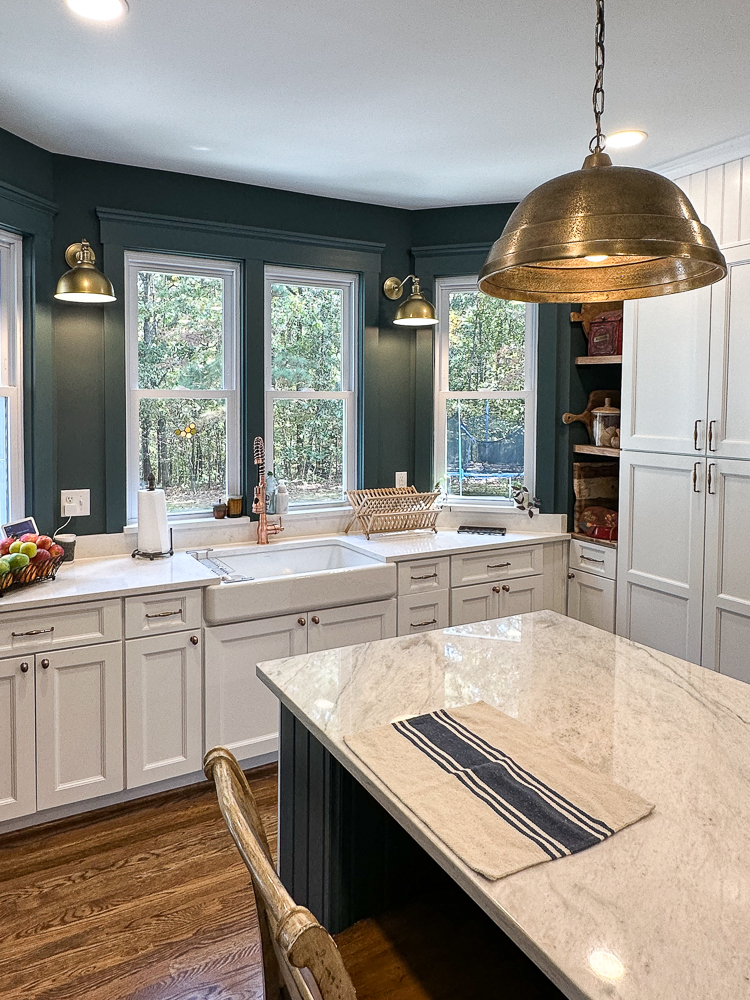 It was a long road to get here, but I could not be happier with how it turned out. 
Master Bedroom and Bath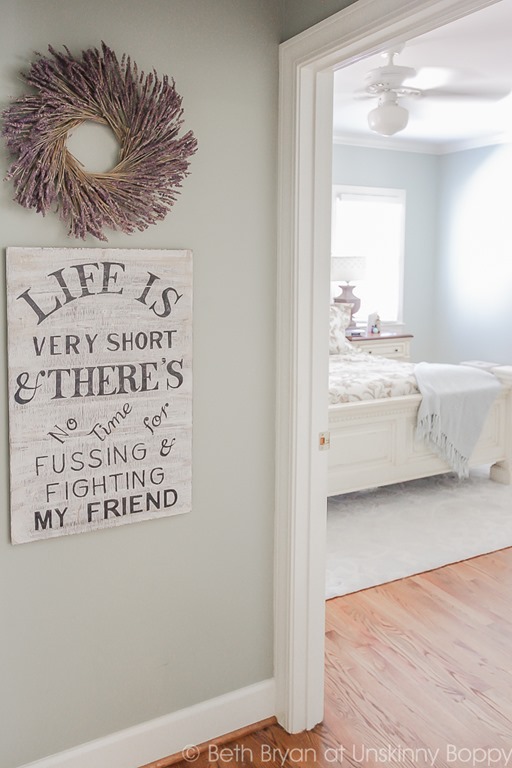 Our master bedroom is on the main level on the other side of the house.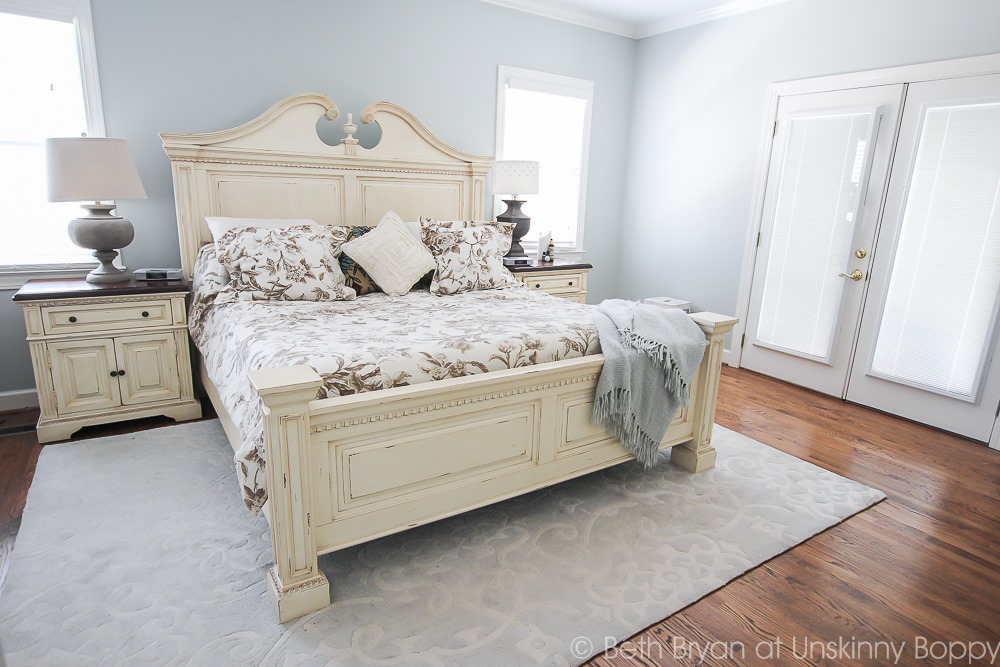 Believe me when I say that it NEVER (and I do mean NEVER) looks like this. It's usually covered in mountains of laundry to be folded.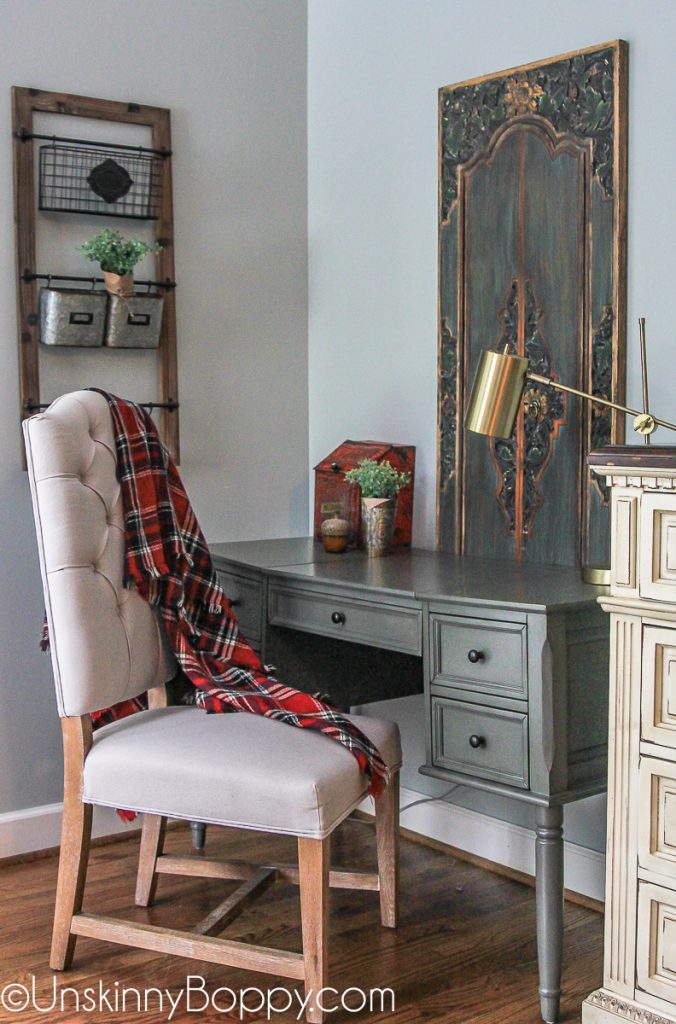 One thing that I love most about this house is having double doors that open from our Master bedroom onto the screened in porch. We added a swing bed out there a few years ago and it is legit HEAVEN on a porch. I love this area so much, and I will show you more pics of this outdoor living room in a minute.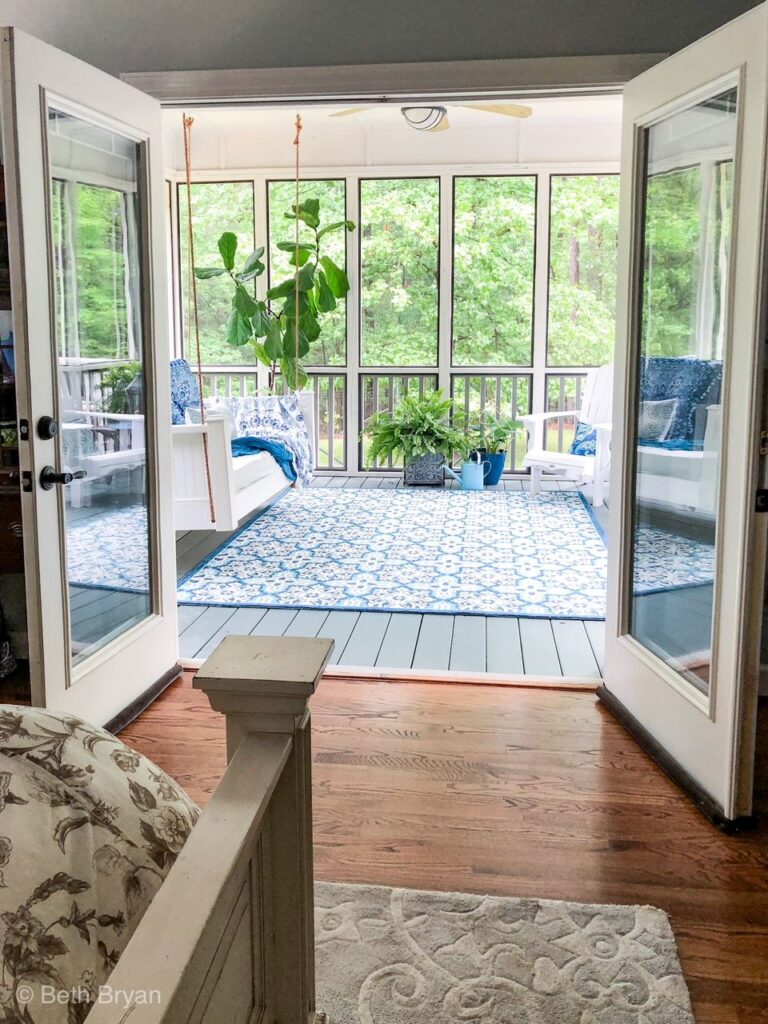 The Master bathroom is another one of those spaces that has not been touched since the house was built in 1997. It is a great bathroom, though, with perfect symmetry that I adore.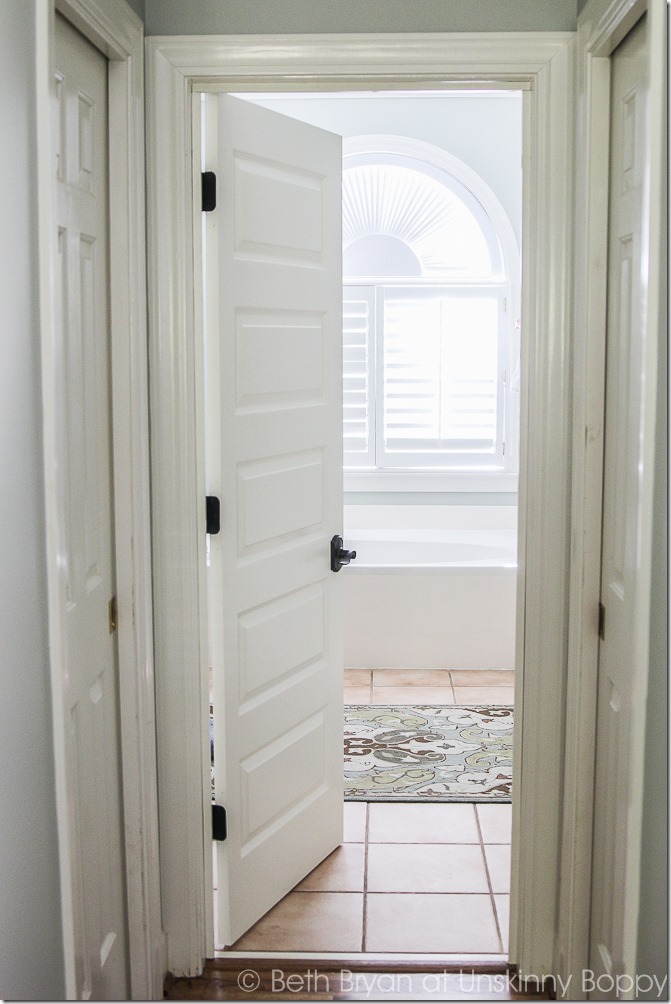 His and hers closets line either side of the hallway, with his and hers vanities on either side of the bathroom and the tub in the center.  I am a huge symmetry fan, so this works for me.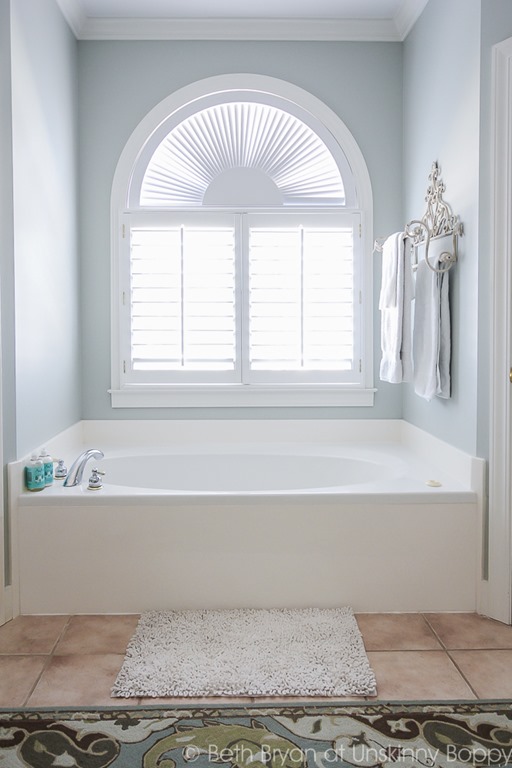 Caroline's Nursery
Our daughter Caroline's room is also on the main floor along with her bathroom. 
Attic Office & Playroom
We renovated our unfinished attic space above the garage into a playroom for the kids and an office space for me.  It's by far my most favorite room in the house.
CLICK HERE to see all the attic reno posts.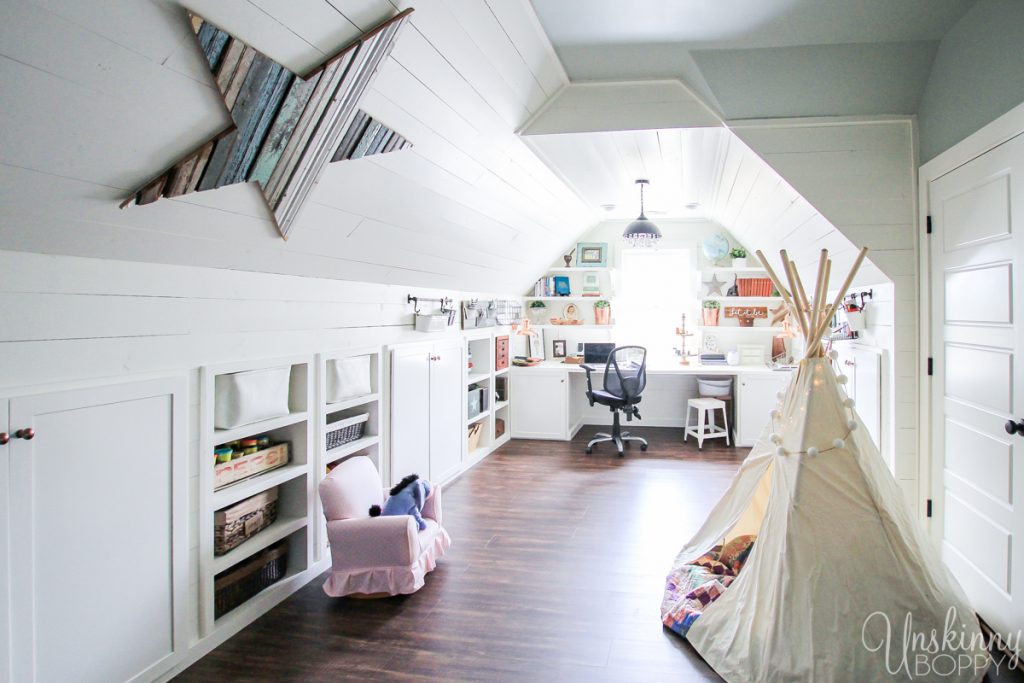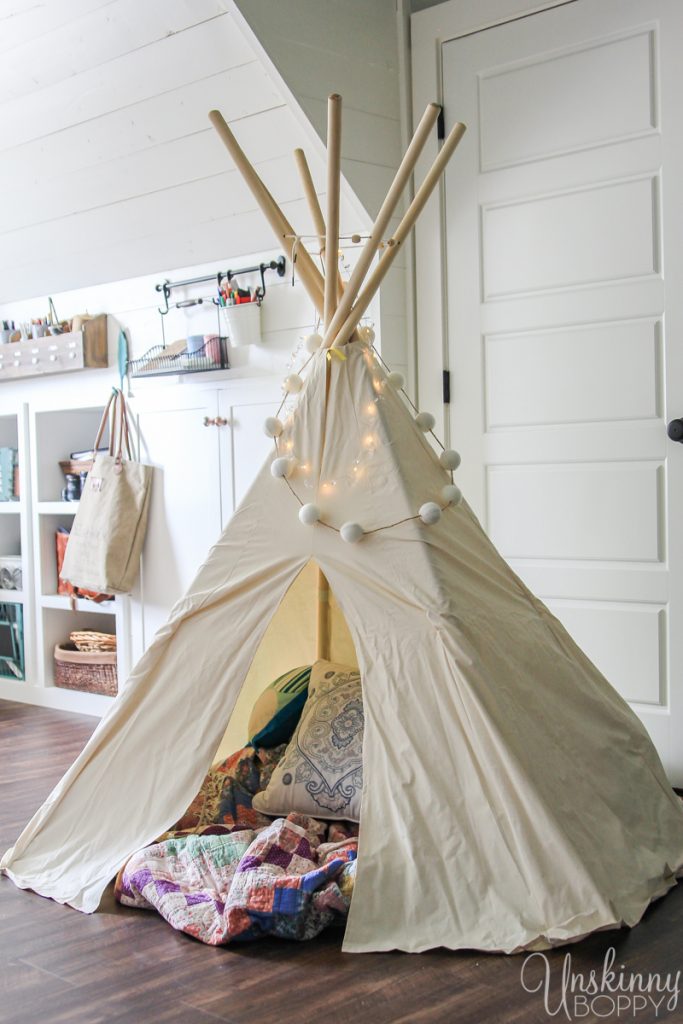 We added a book nook in the back corner for a cozy reading space.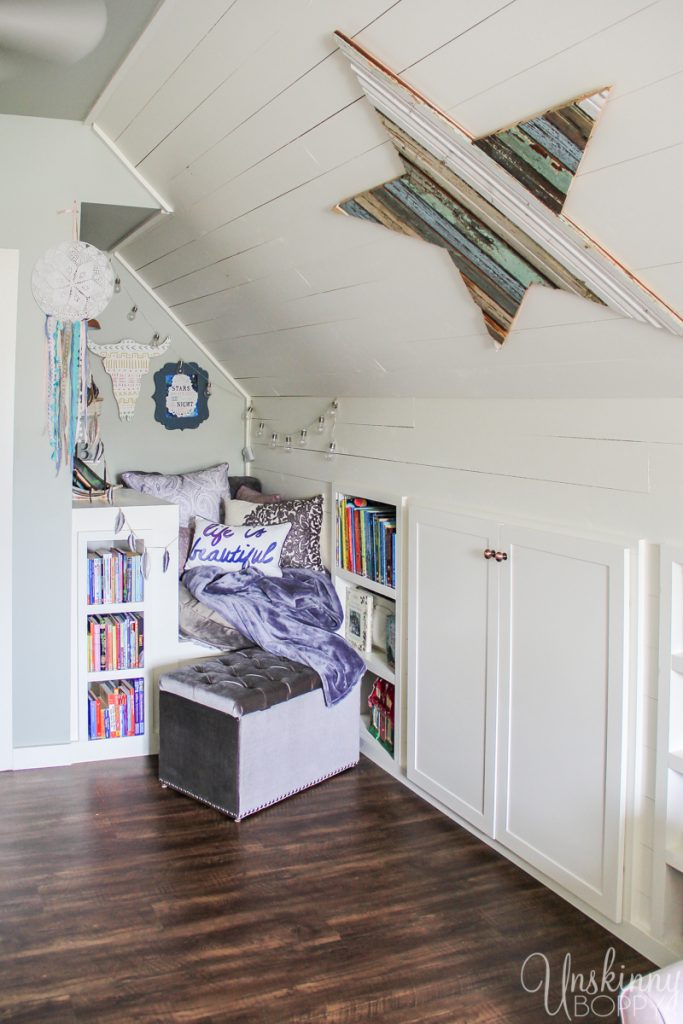 You can lay down and stretch out your legs and it is soooooooooo super comfy in there. I cannot even put into words how amazing this book nook has been for us.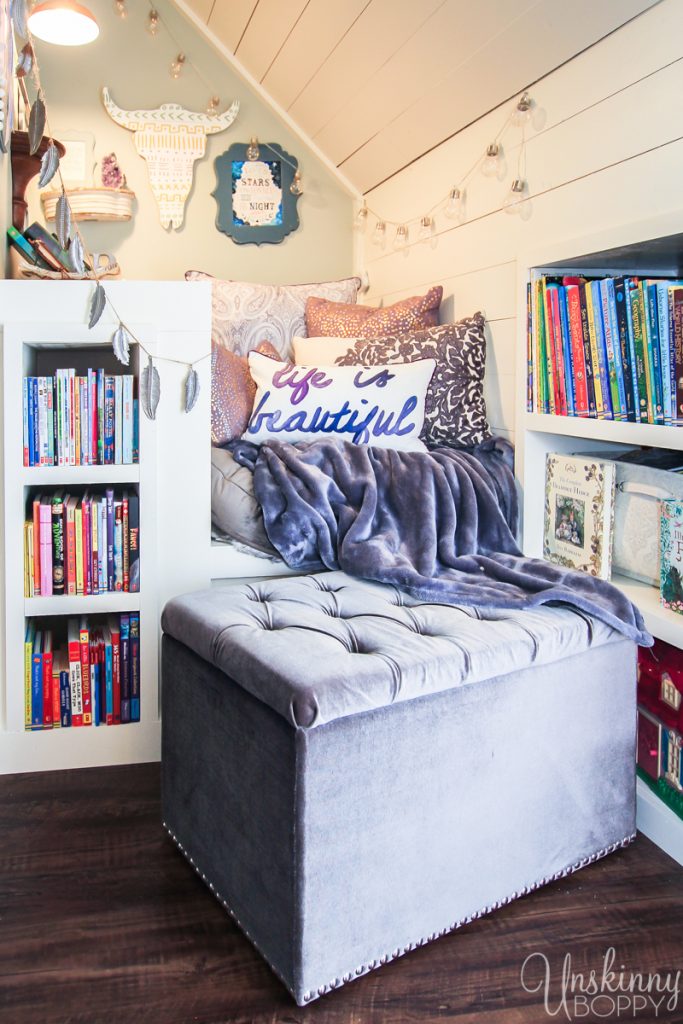 I wish you guys could all come curl up in it and read your cares away in the middle of a rainstorm. Because April showers bring lots of high quality snoozing.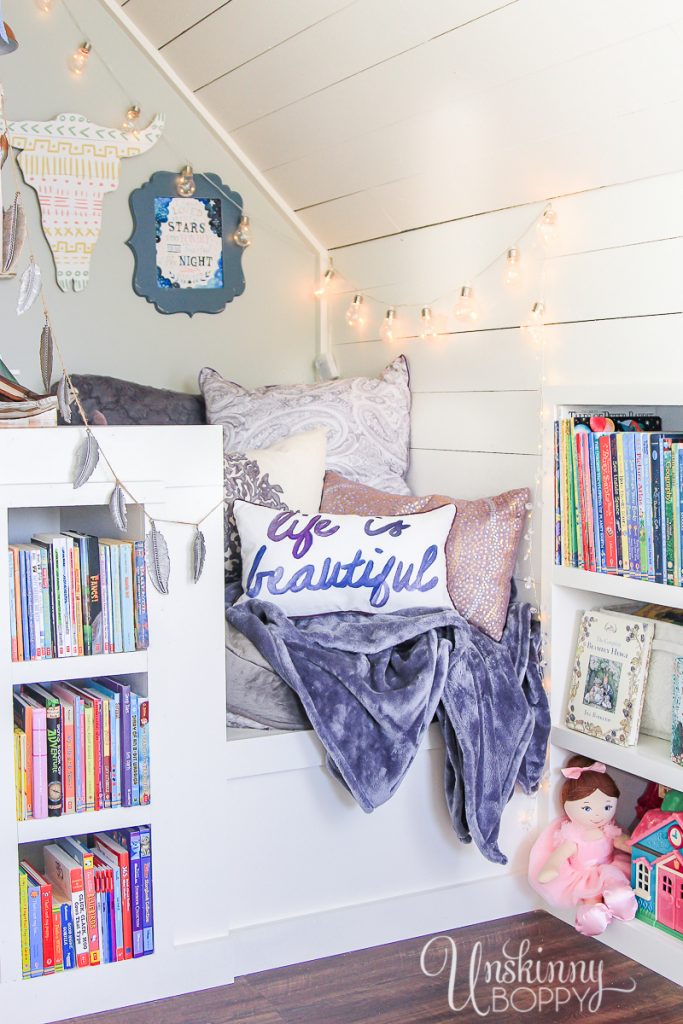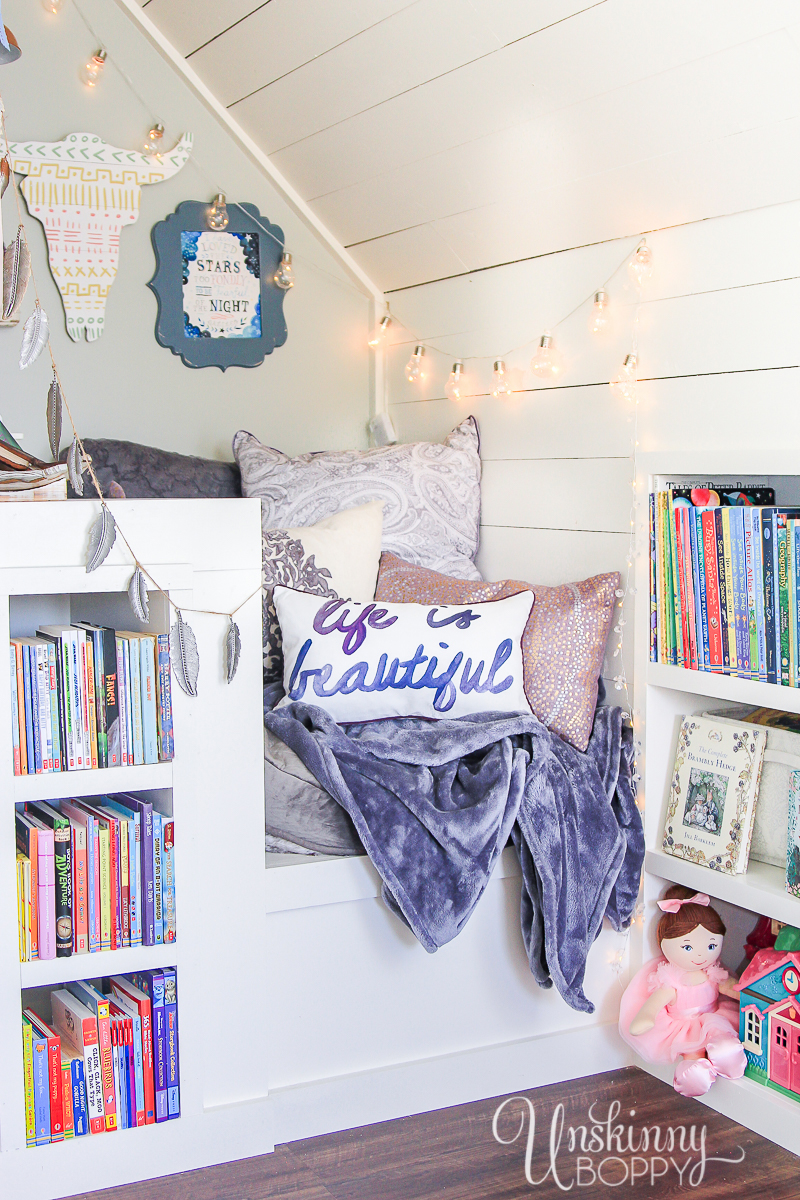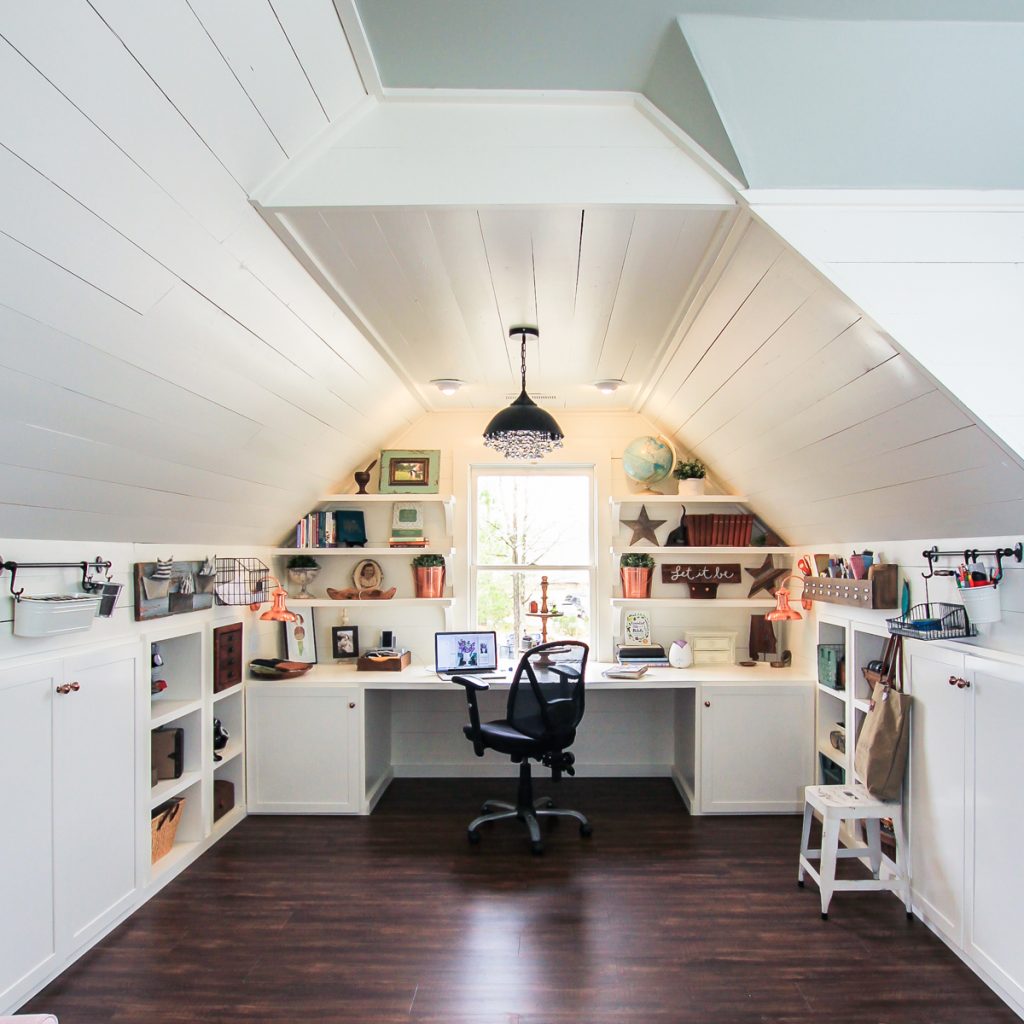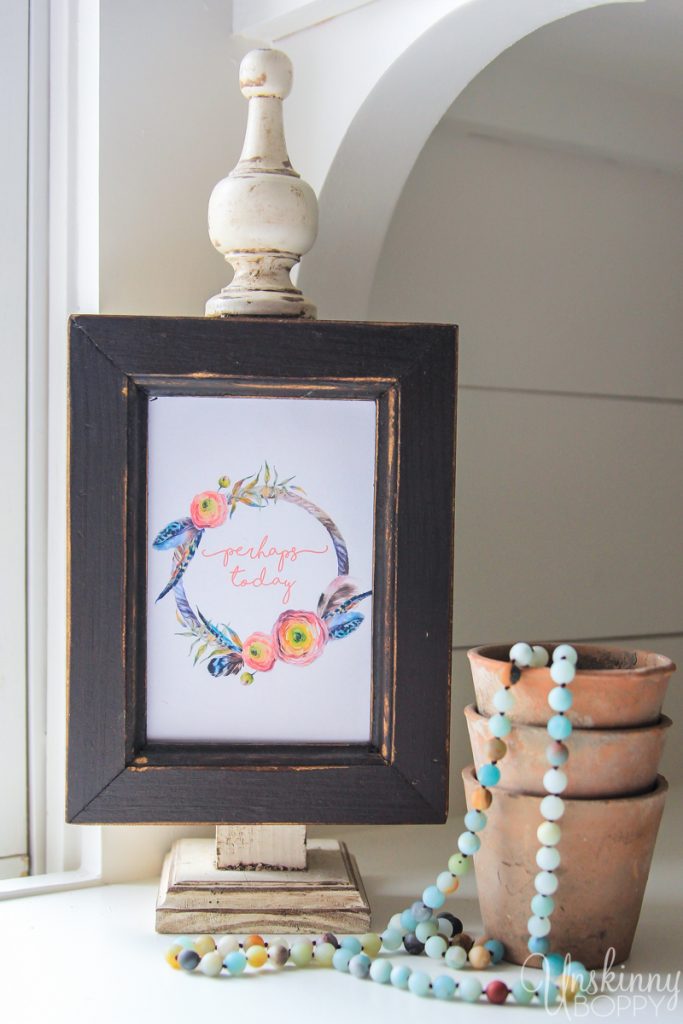 Our son Garrett's bedroom and bathroom are also upstairs along with a guest room. I have not decorated those rooms much at all, so nothing to see there! 🙂 Let's move downstairs and see our basement renovation. 
The Finished Basement 
My husband has an office down in the basement along with a man cave for gaming and watching movies. 
Click here to see the post about his office decor.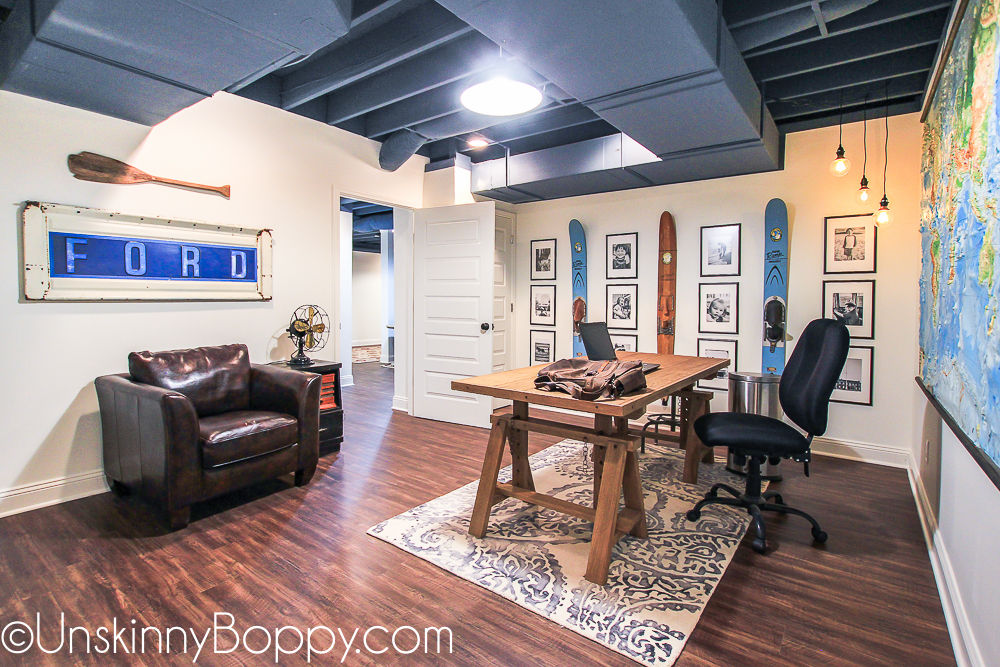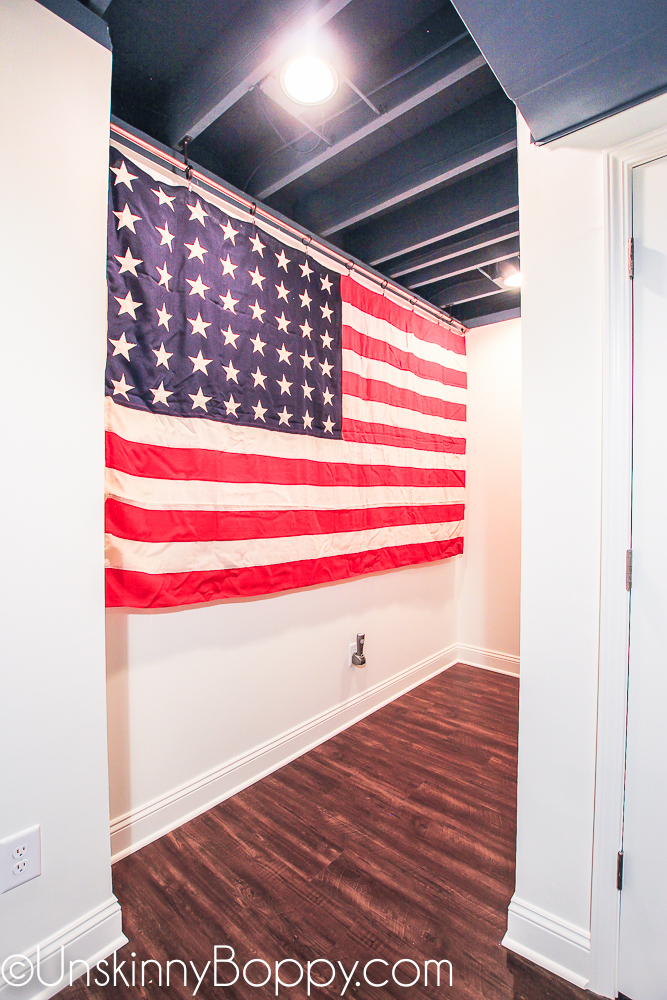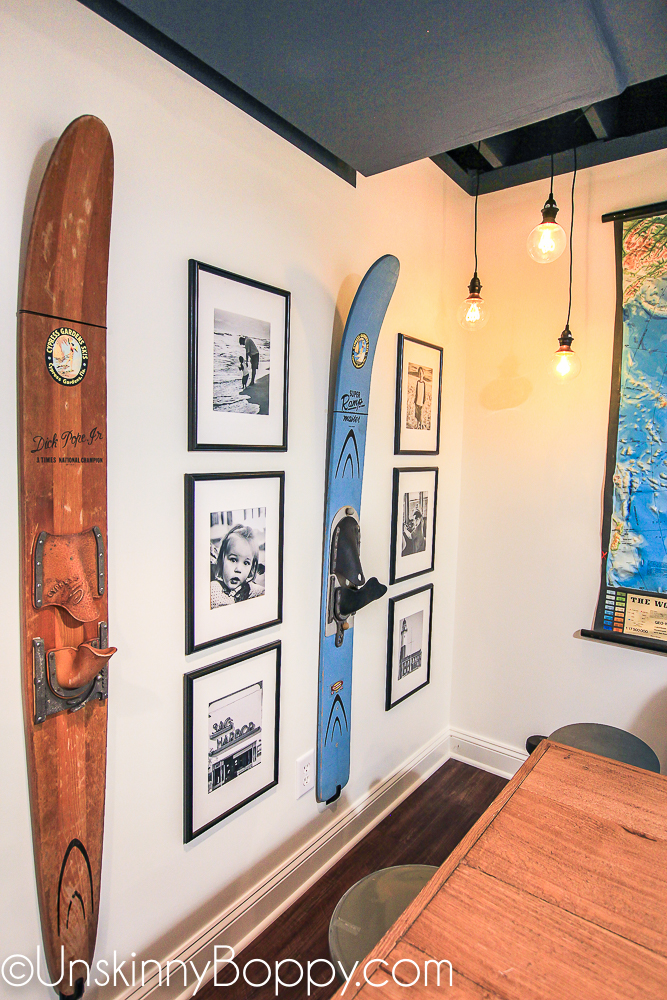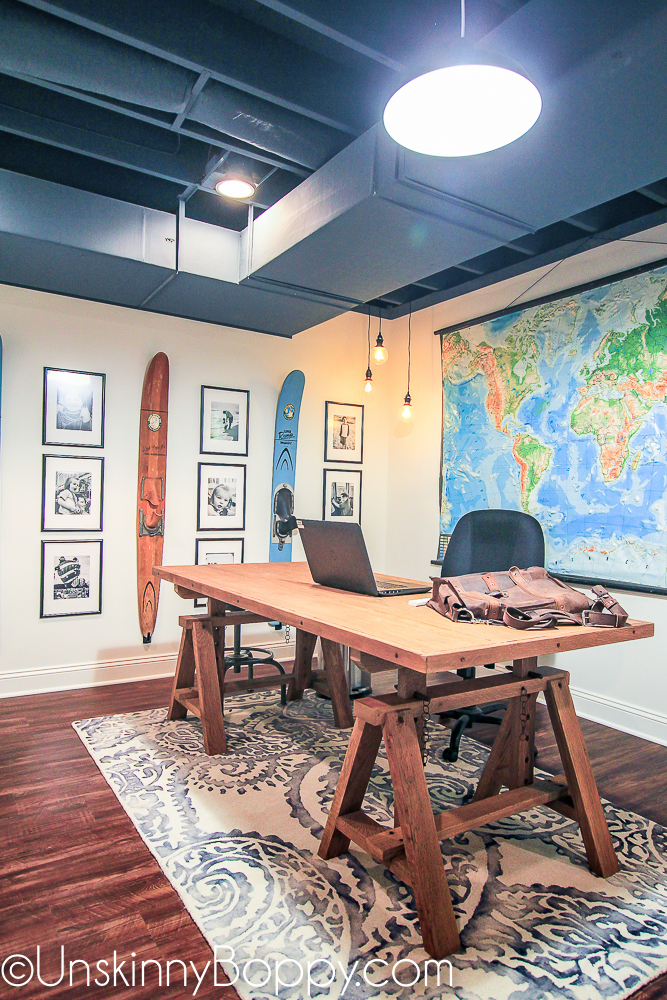 If you Google "Painted Basement Ceiling" our painted basement ceiling is usually the top Google search result you'll find. We are very happy with the way this budget basement renovation turned out.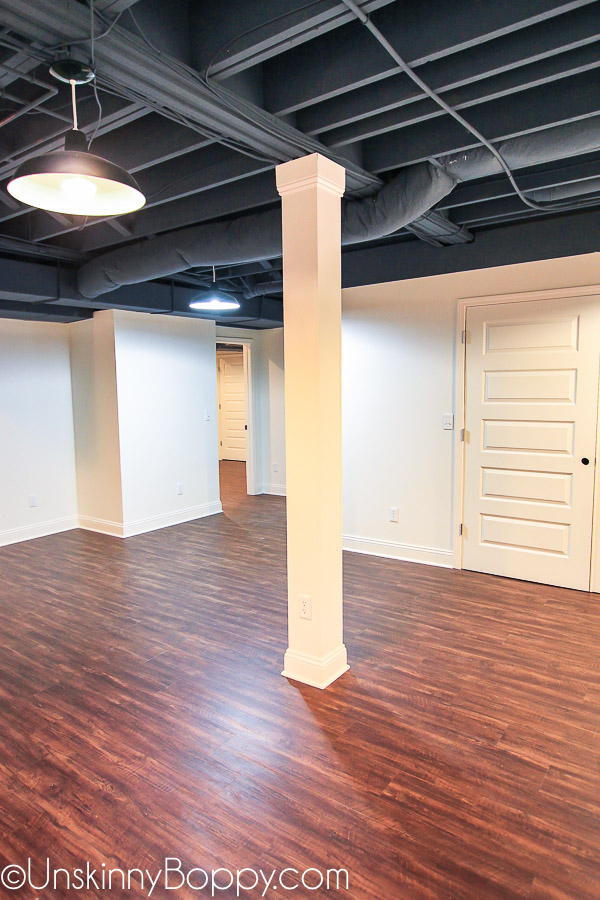 The Backyard
We've worked REALLY hard to transform this backyard at this house into our little oasis. When we bought the house the backyard was in pretty bad shape. There was way more mud than grass and the deck had seen better days. There's still more work to be done, but it makes me very happy to step outside now.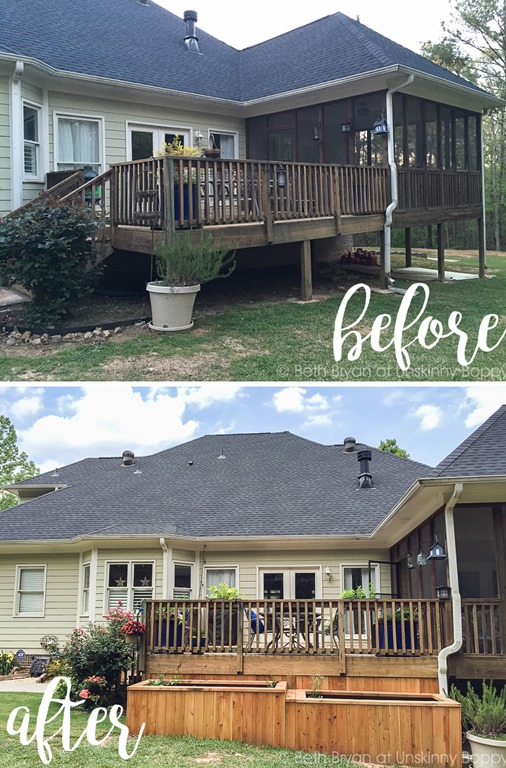 I had raised garden beds added so I can grow veggies really easily now. We love this area so much, and apparently y'all do too because it's been pinned nearly 150,000 times! 
READ ABOUT THE BACKYARD MAKEOVER HERE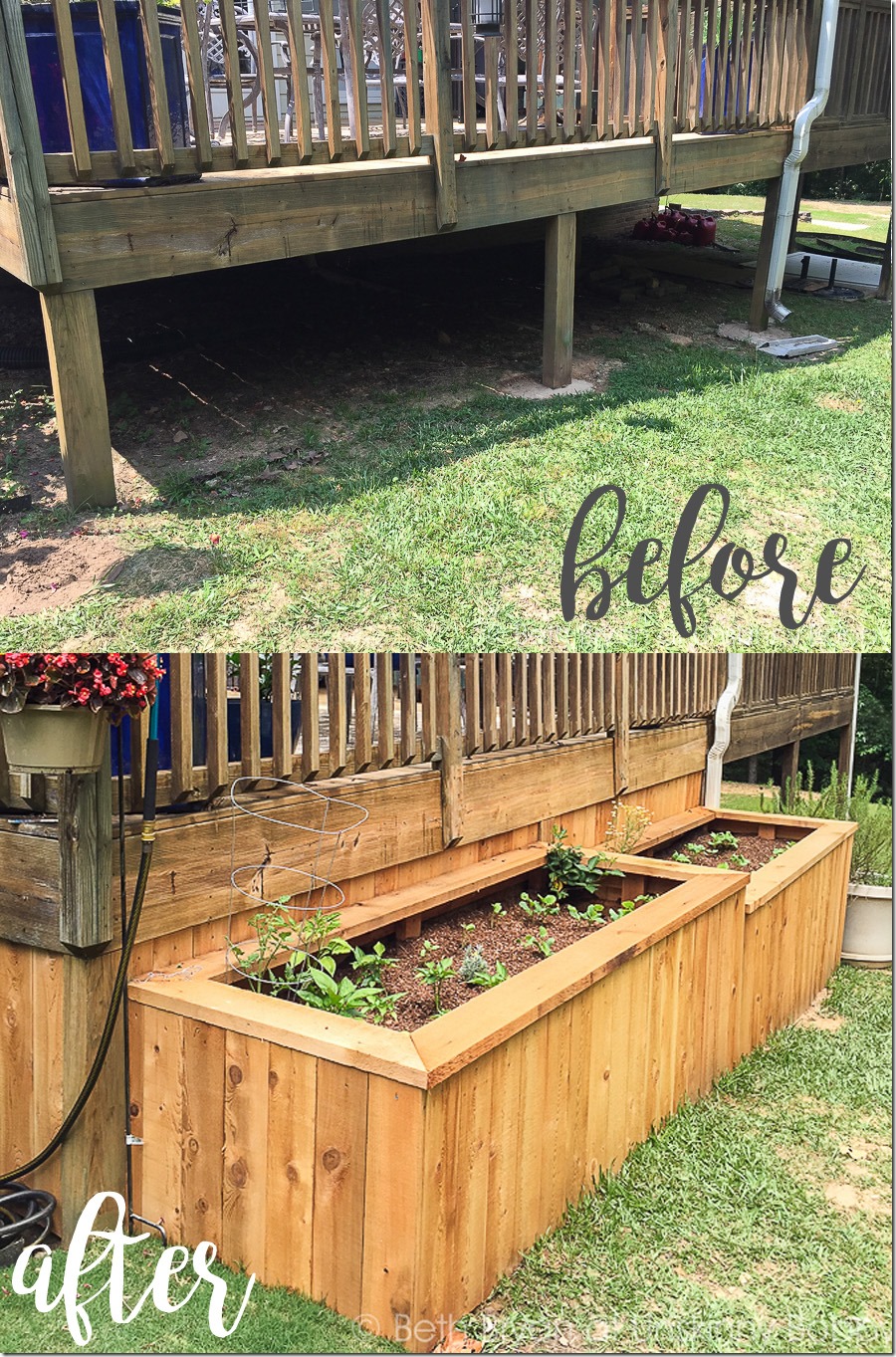 We used Rustoleum Deck Restore to breathe new life back into our sad old deck. I have been SUPER pleased with the Rustoleum product. It's held up great and given us many extra years of life on this deck. 
Here is the before and after: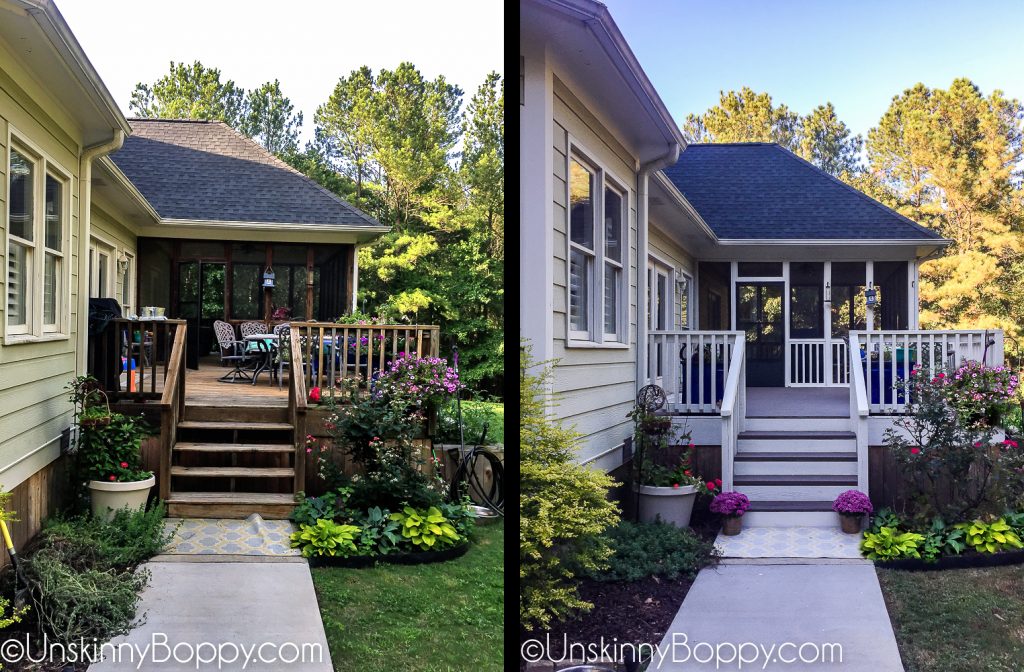 Read about how to refinish an old wooden deck here.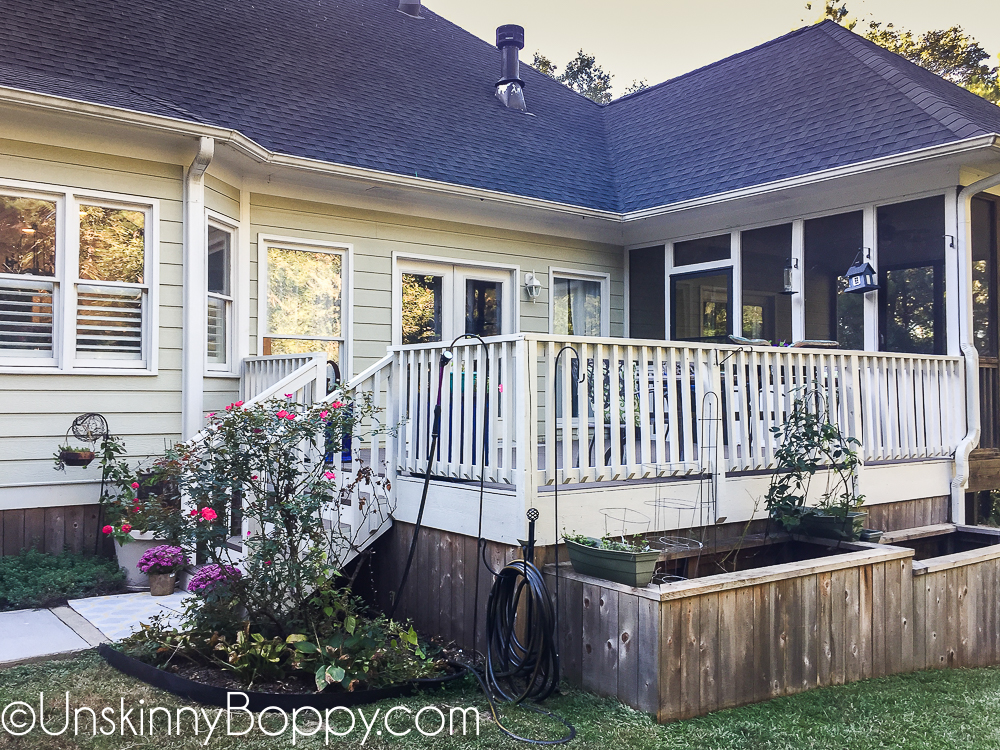 But the BEST part of our backyard is our screened-in back porch makeover with a new swing bed!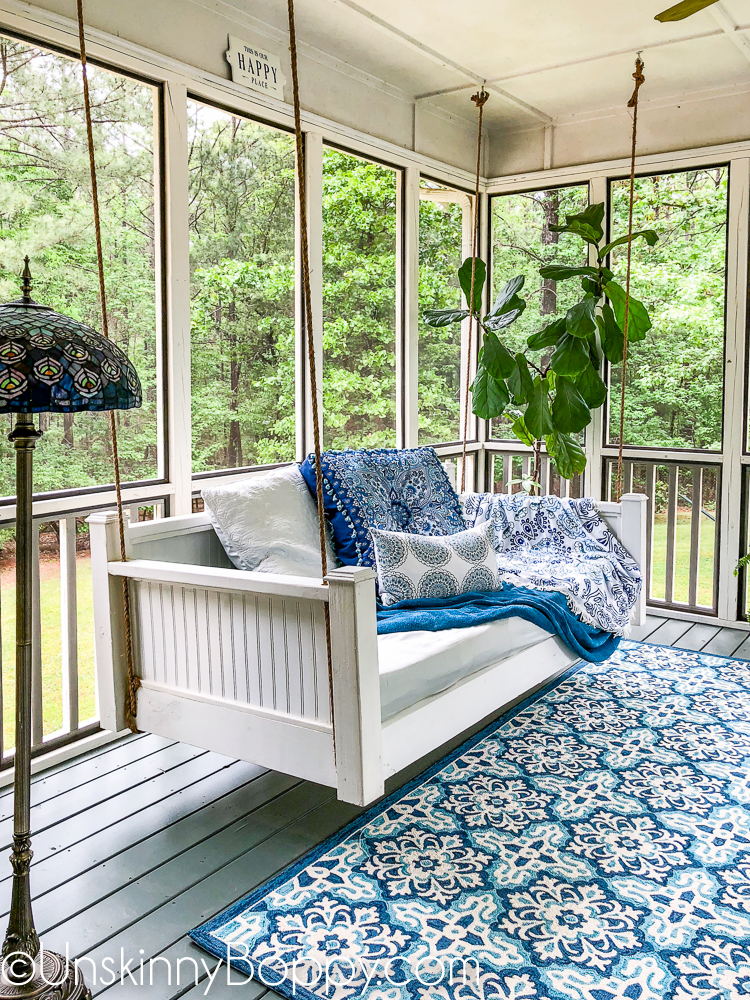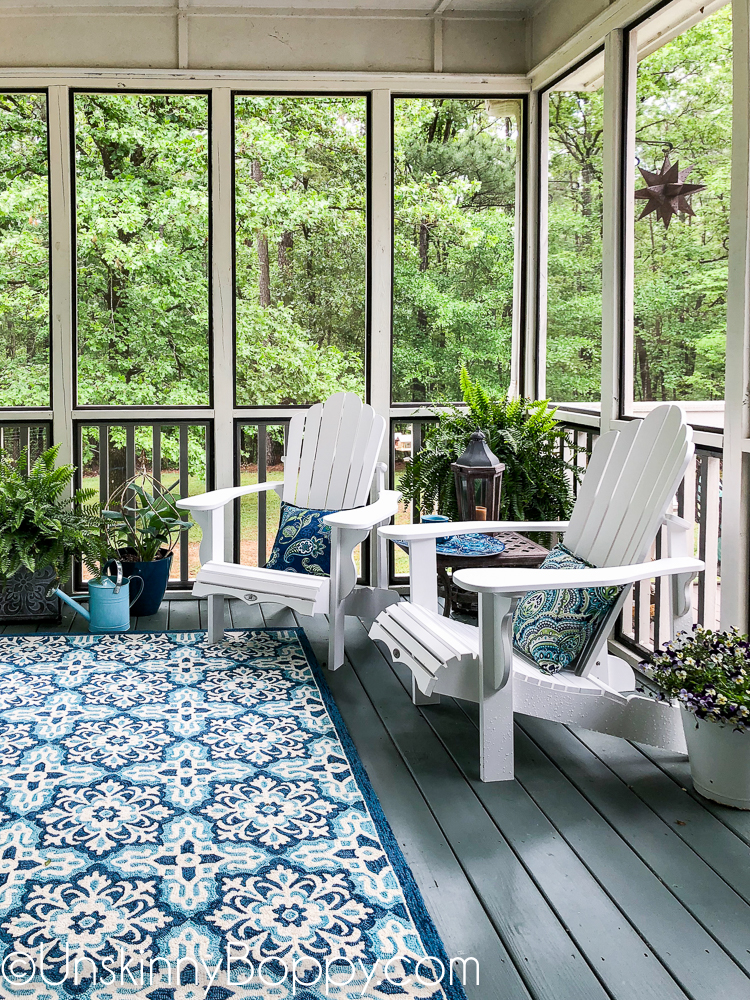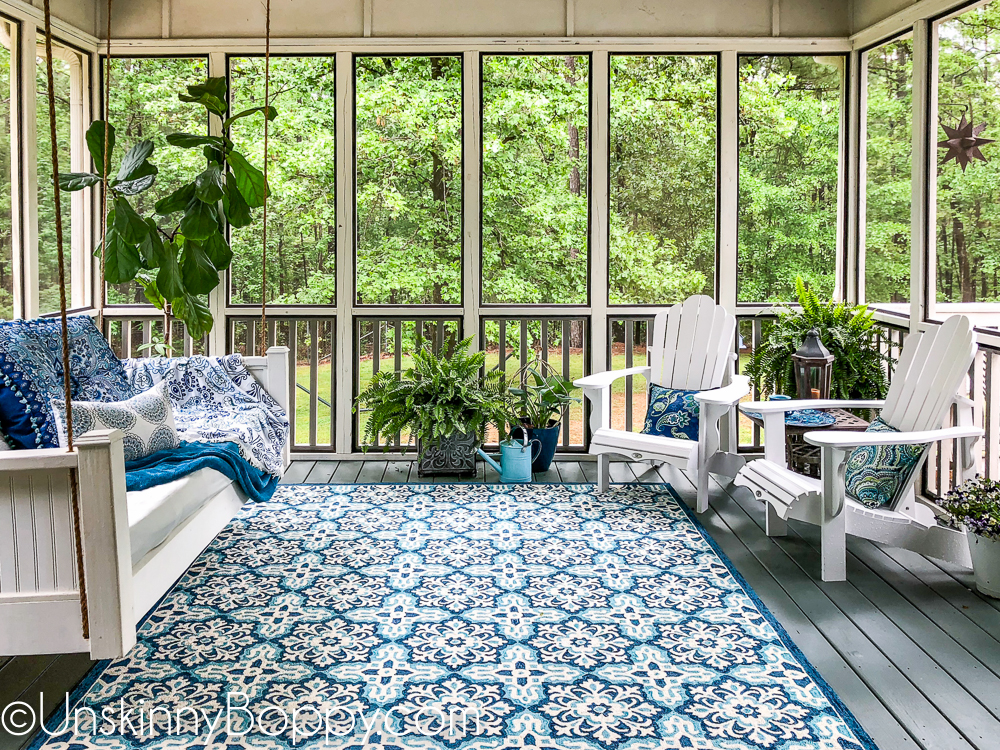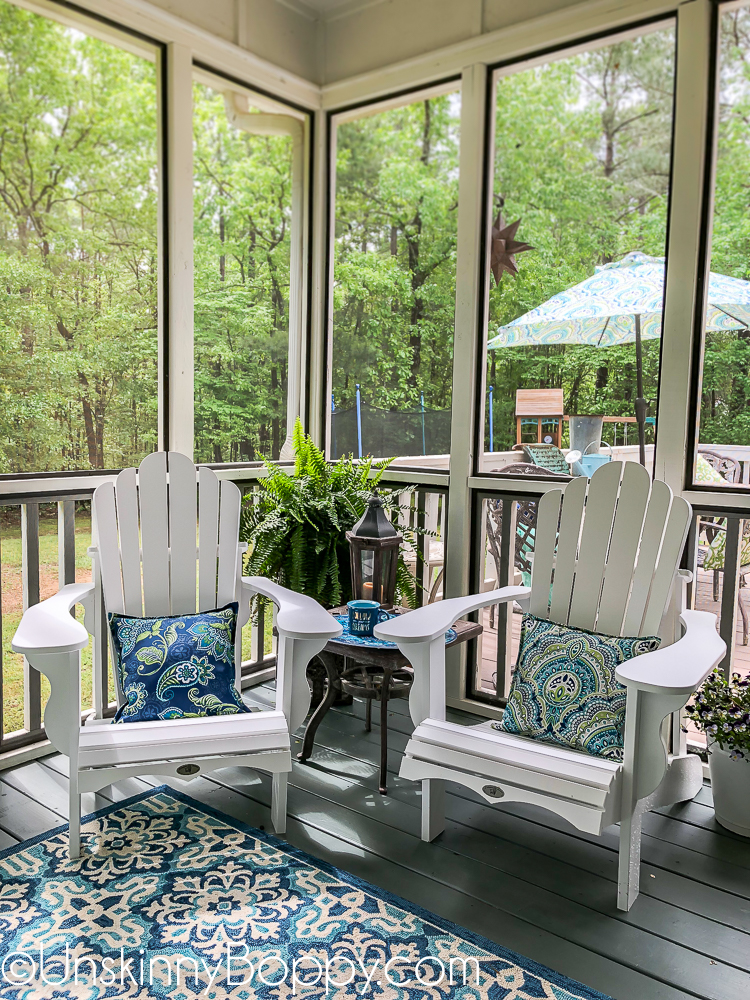 Ahhhhh can you feel your blood pressure lowering when you look at these pics? It's so relaxing out there!
MORE TO COME…
There are still lots of parts of this house to show you guys, so stay tuned! I'll be adding more spaces as we get them completed.
Meanwhile, if you need me… I'll be down at the lake with a fishing pole in my hand enjoying sunsets like these…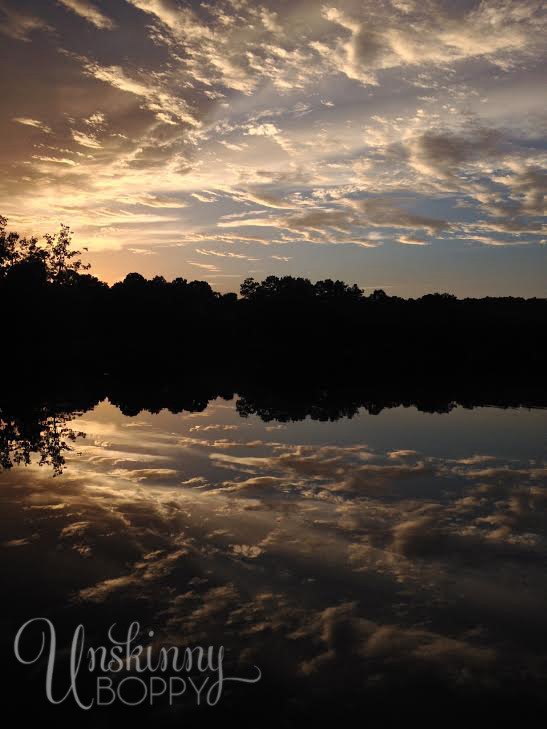 You can see our home featured on:
Country Living – 22 Beautiful Ways to Decorate your Farmhouse for Spring

Shelby Living Magazine (I made the cover!) 

Family Fun Magazine featured my book nook