You GUYS! 
I did it!
I completely conquered my fear of public speaking and made that stage my oyster.  This past weekend I stood on this stage at the Country Living Fair in Atlanta and gave my presentation without a stutter or a stammer or even a shortness of breath.  I'm still floating on Cloud nine…
 Let me give you a glimpse of what a big deal this was for me.  I am the type of person who gets dry mouthed at the thought of saying my name and favorite product when we go around the room at a Pampered Chef party.  Speaking in front of a crowd always makes my heart pound out of my chest and my saliva turns to dust.  I have been terrified by the thought of public speaking for many years, even though I spent a large part of my childhood giving 4H demonstrations in front of a large audience. But when Country Living came calling and asked me to give a 30-40 minute presentation on the Main Stage at the Country Living Fair, I knew there was no way I could turn that offer down.  I knew I would have regrets for the rest of my life if I said no and chickened out.
So I did it.  I leaned in, to quote Sheryl Samburg. 
And I was awesome.   Check out my name on the Main Stage schedule!  And here I am on the presenter roster.  I knew it was official when I saw my face on this page!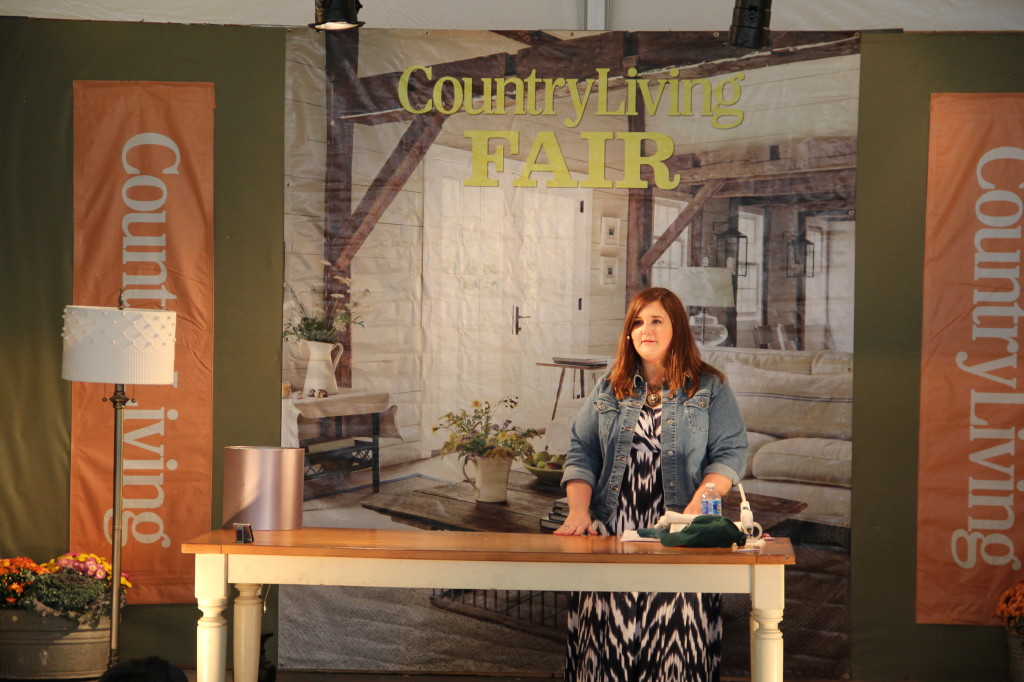 My presentation was called "Flaunting your Fair and Flea Market Finds".  I gave my top 5 best shopping tips for shopping at flea markets and vendor fairs, then I showed a bunch of photos of how I have decorated my home with previous Fair and Flea Market finds.  Finally I wrapped up the whole thing by demonstrating how I made my thrift store sweater lamp shade. 
Basically, it was the culmination of all of those years of 4-H demonstrations!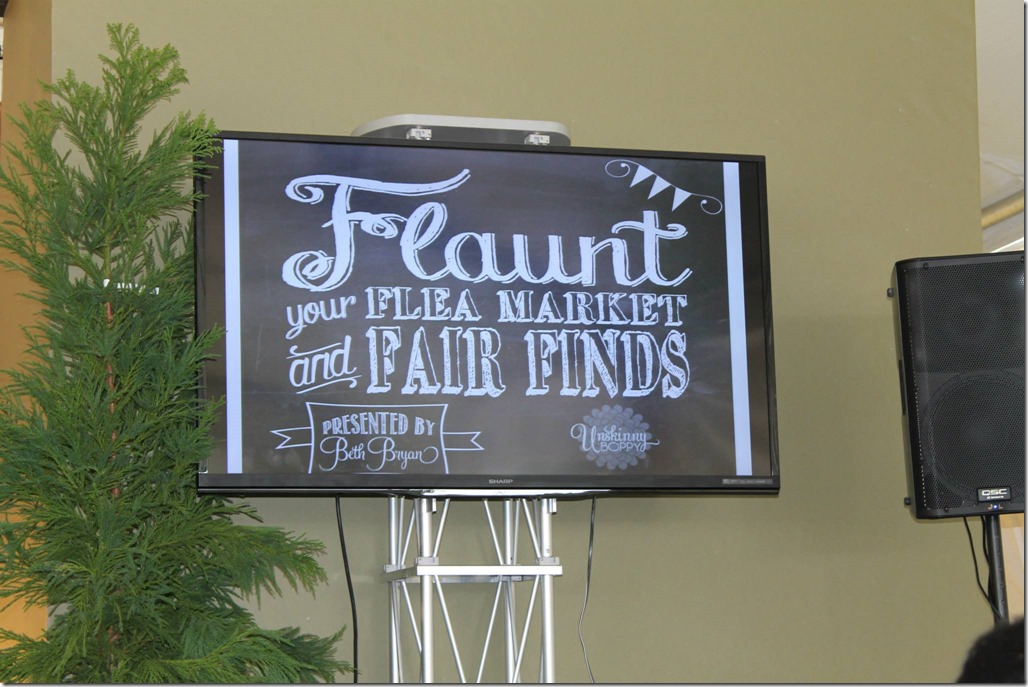 I could not have imagined just how much fun it could be to stand on stage and make people laugh, nod their heads in agreement, and elbow their husbands when I said something they liked.   I could not have imagined how much I would gain strength from the smiling faces of my awesome family, and all the other blogtalk bloggers who came out to support me from the crowd.
Knowing that my awesome sponsors from Mohawk Home were in the audience made me proud. (It was great finally meeting you, Darby!!) 
Seeing my husband standing tall in the back of the room gave me incredible strength. (Thanks for the great pictures, babe!)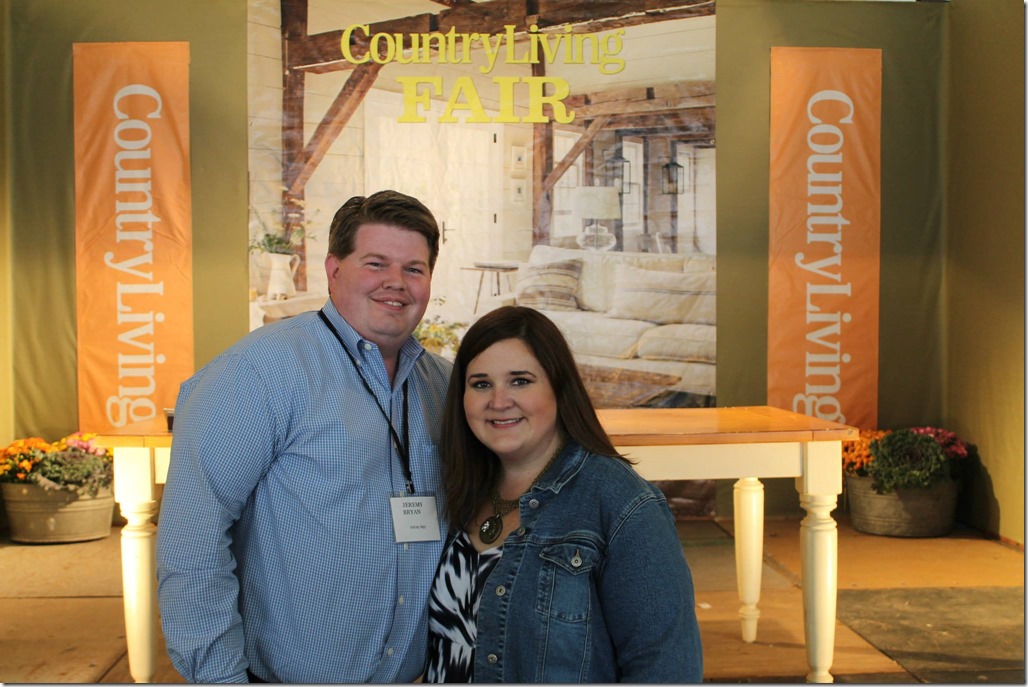 I was wearing my awesome Lucy Locket from Lucysinspired, which I hoped would be the rusty amulet that gave me superhuman vintage strength.  Or maybe it was the essential oils that I slathered down in before I walked out on stage.   The poor sound guy probably thought I was in need of a bath since the Vetiver and Valor essential oils are not known to be the best perfumes out there. I reeked of patchouli and spruce and frankincensce, but, they did their jobs!  I was focused, and courageous, and totally at ease during the entire 30 minutes because of my essential oils and sincere prayers before walking on stage. Or maybe it was just the panic attack medicine my doctor gave me as a preventative.  Hehehe.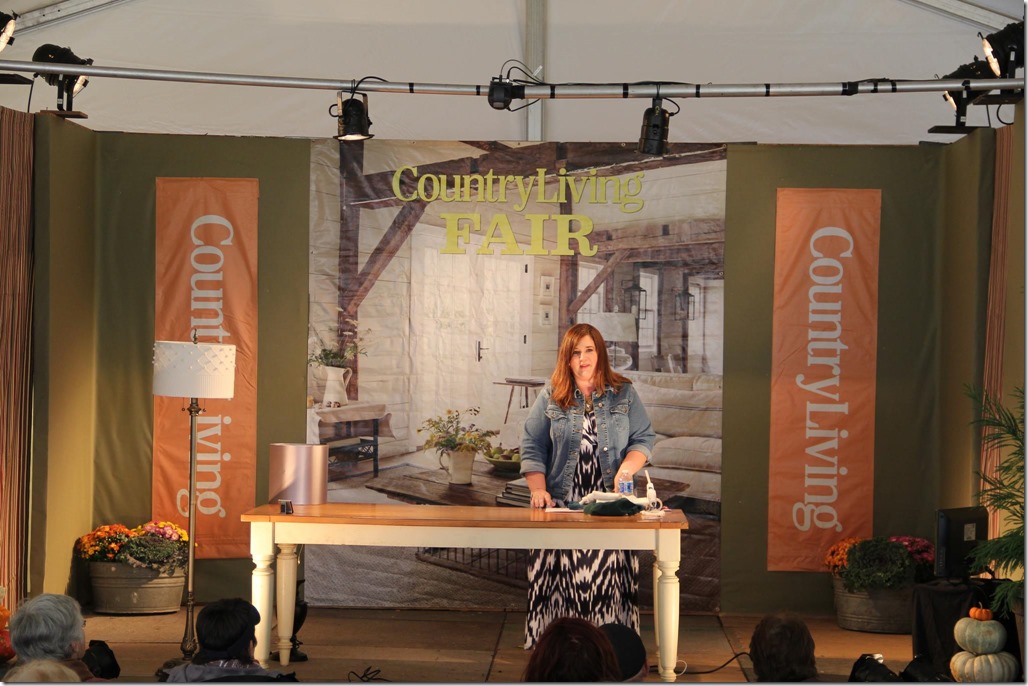 Whatever it was… it worked.
I wanted my presentation to be funny and conversational, but I never anticipated just how much it would make people laugh out loud.  The audience laughed in the most unexpected parts of my speech, which were totally ad-libbed and not planned at all.  Like me holding the top of the sweater up over my lampshade to demonstrate what it looked like before I cut it.   It's easy to sit behind the computer and type some witty comment, but delivering them in front of a live audience is a horse of a different color.
But, amazingly, this produced roars of unexpected laughter.  And every single laugh just gave me more strength to keep going even further, which resulted in this…
I have to give a shout out to Mrs. Betty Watson, the lady who I nearly came to blows with last year over the beehive pottery. I used her photo in my presentation, and everyone loved it. She is so cute!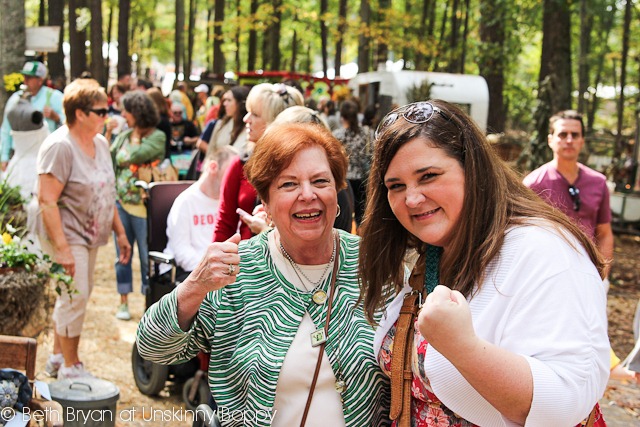 Here is the funniest part, though– I actually ran into Mrs. Betty and a group of her friends at the Fair right before I went on stage.  Here is my new BFF/ evil Fair nemesis and I together again this year. Such a great sport she is!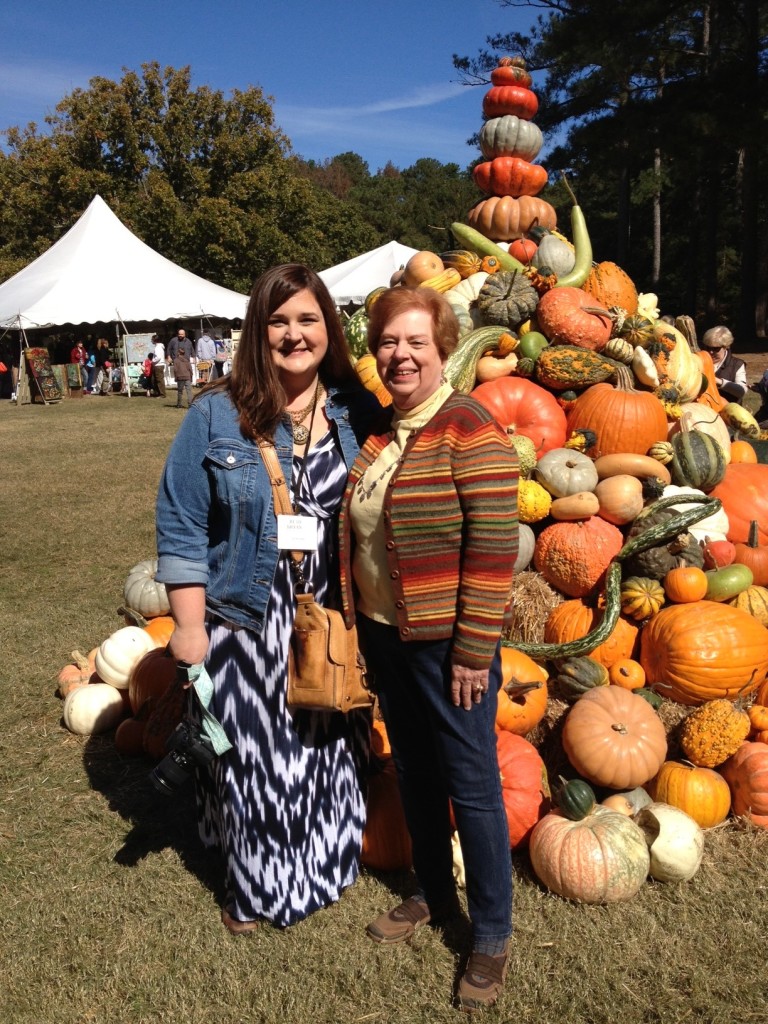 After it was over about 15 sweet women rushed the stage to get my business cards.  I handed out so many that unfortunately, I ran out before everyone got one.  I am so sorry if you wanted a card from me and didn't receive a card.  Next time I'll know better and bring a bigger stack!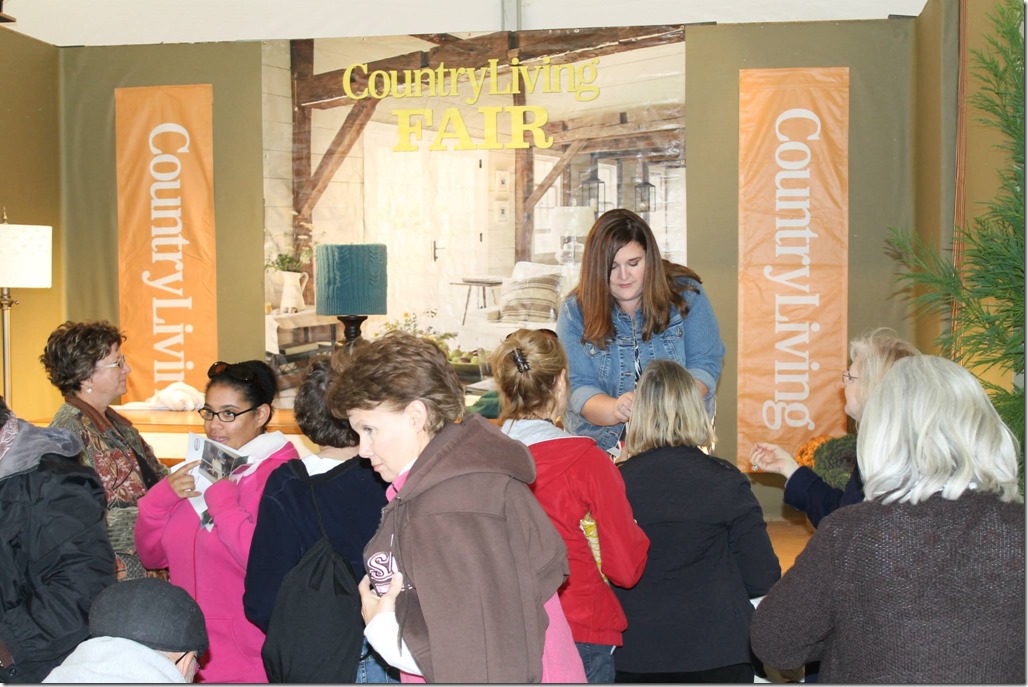 I hope I was able to answer everyone's questions with something helpful and give them a take-away that they can use the next time they go haggling at a Flea Market or Fair.  I got some shout-outs on social media afterwards, so I know Brandy from Don't Disturb This Groove took my advice to heart! 🙂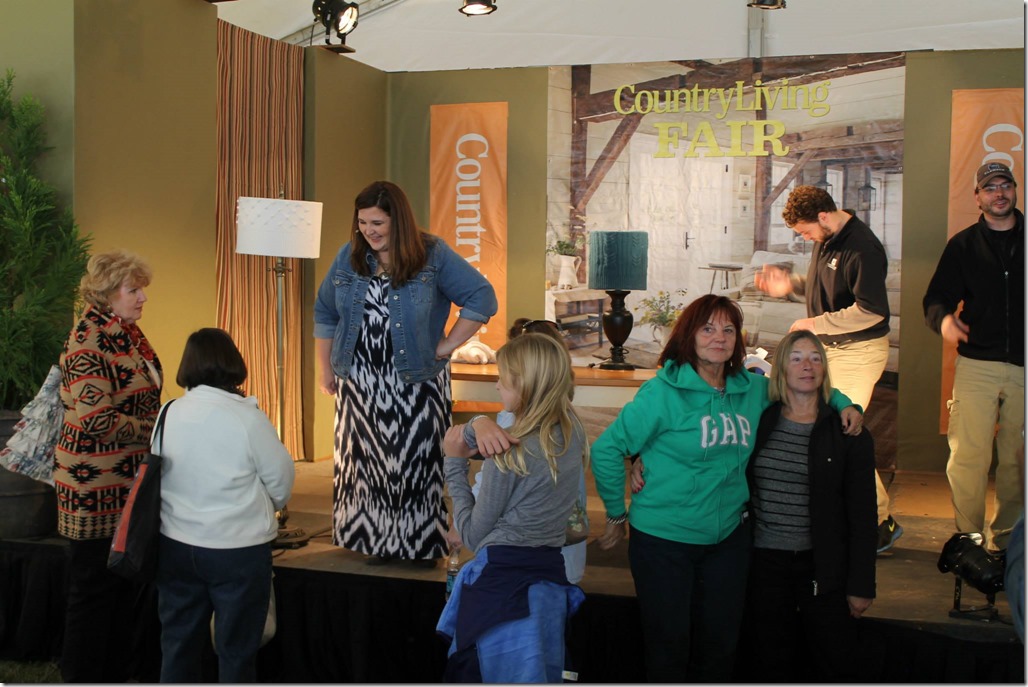 I have to give a huge shout out to my friend Heather from At the Picket Fence who also graced the stage that day.  I was running late and unfortunately missed Heather's presentation, but she was front and center for mine, which I appreciate SO much.  Love this girl and her amazing heart.  Thanks, too, to Miriam at Hometalk, for recommending me to the folks at Country Living as a speaker.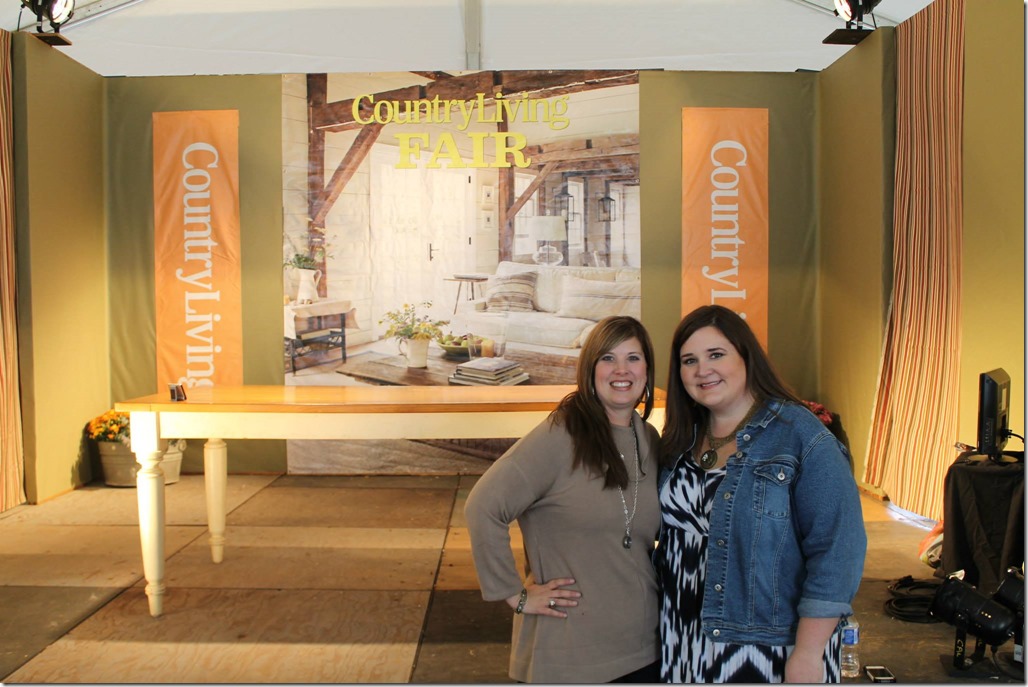 I'm so thankful to my sister and niece, for being there to support me.  My niece was SO excited to be at the Country Living Fair.  She is a little hippie chick–a Sister on the Fly in training, so these were totally her people.   Thanks also to my sister's friend Dusty for making the trip over and being in my audience!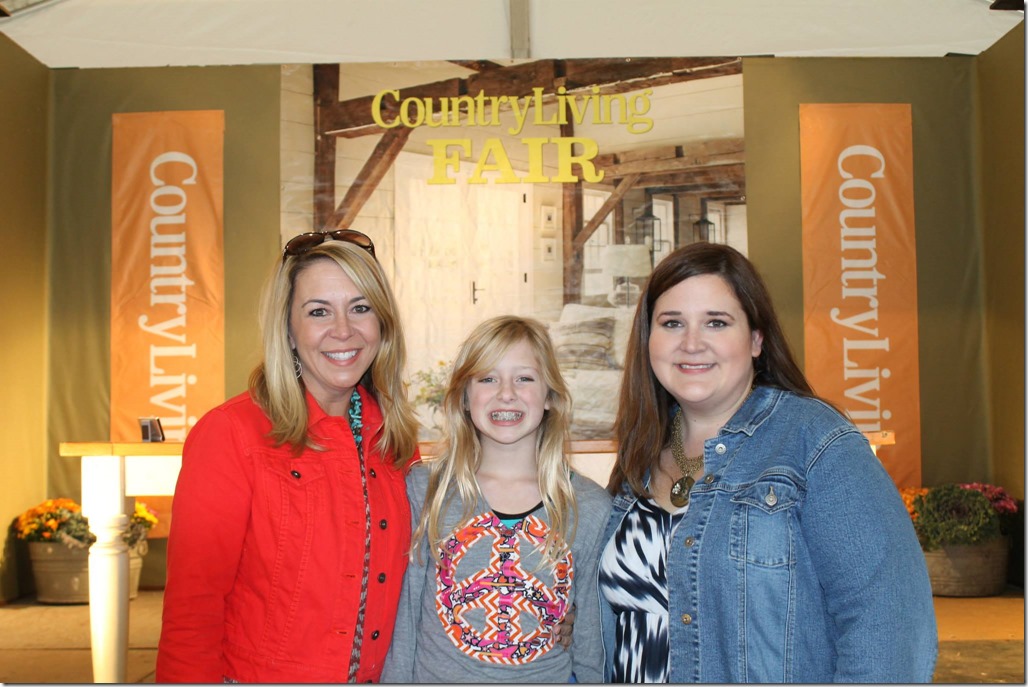 And my parents, who are the most awesome cheerleaders that you'll never see turn a cartwheel.  I love you both!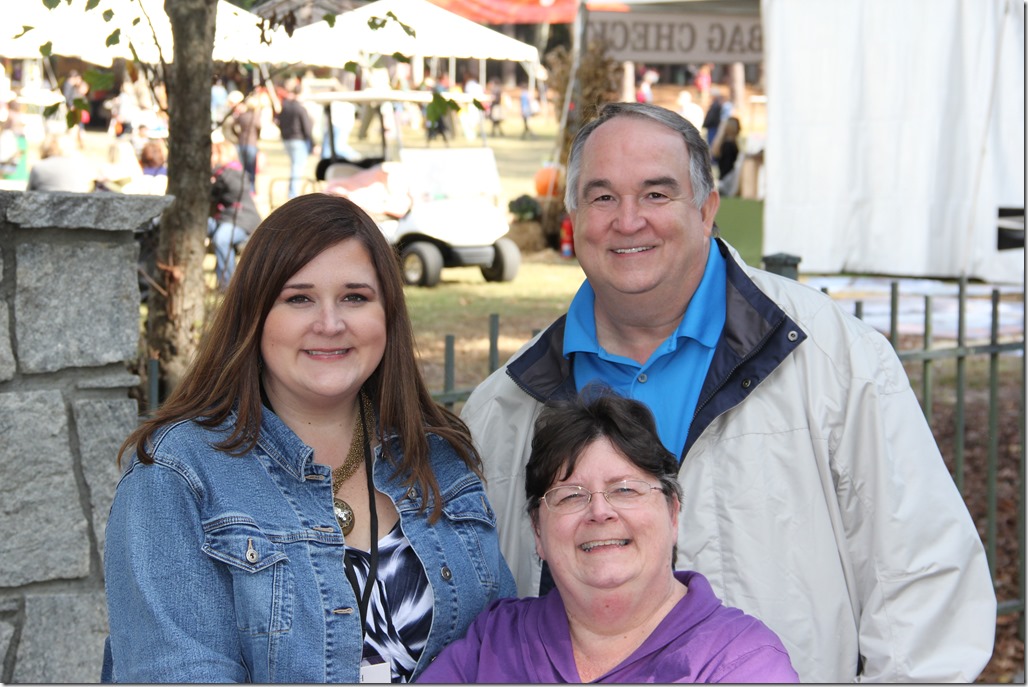 But honestly, I want to say a very sincere and heartfelt "Thank you!!!!" to all of YOU, my readers!  Without amazing folks  who come visit my blog and check out my projects and follow me on my social media pages, I would not have been up there on that stage on Saturday.  You guys are what keep me going and give me the creative energy to produce content for this blog.  I am thankful for each and everyone of you, every day.  Thank you from the bottom of my heart for cheering me on as I run this couch to 5k that I call a blog.  I never could have imagined all the places it would take me.
And last but certainly not least….Thank you, Country Living, for entrusting your stage and audience to me.  It was an honor and a pleasure.
Much love to you all!