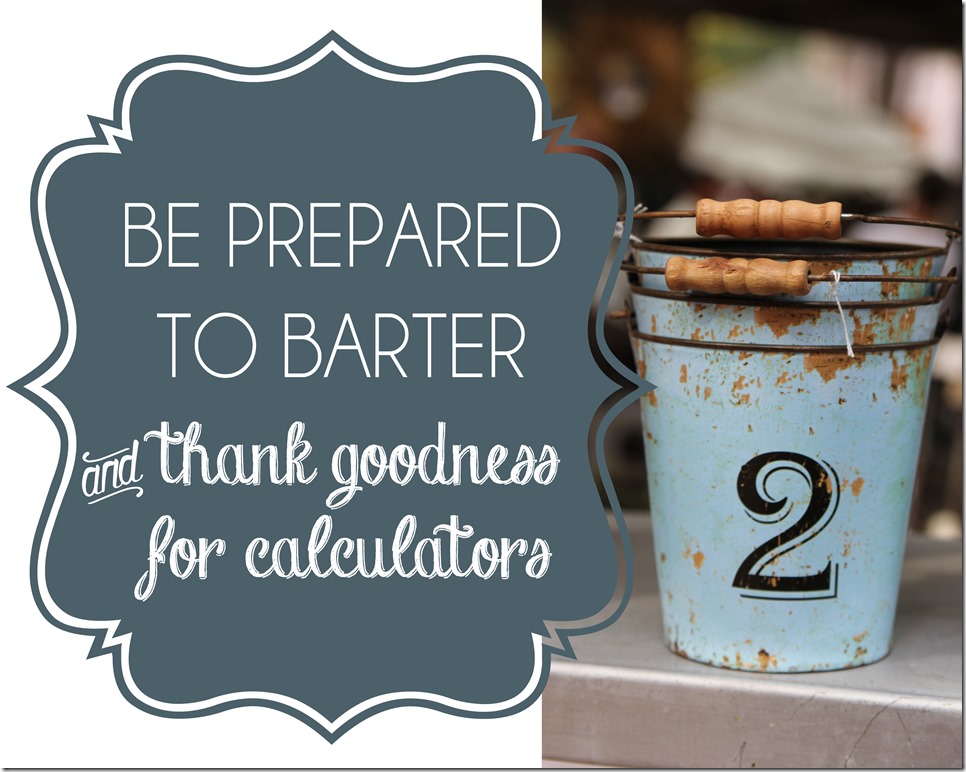 In my younger days I used to be scared to barter with folks.  I always felt like I was too timid or shy, or maybe I was too Southern and didn't want to offend anyone, or I didn't feel like I could think on my feet fast enough to go back and forth with a vendor on prices.  But then I got some practice while on vacation in other countries.  When you go to a market in a lot of other countries, it's kind of expected that the prices are going to be negotiated.  One time we were in this Caribbean marketplace and this guy told me that he would make me a great deal on the trinket I was holding. He told me that he would sell me two for five dollars, or three for ten.  It took me a second, but then my logical brain started working and I realized that wasn't a good deal at all.   It didn't take me long to figure out that I was going to get a crappy deal if I bought three at $3.33 each instead of two at $2.50 each.  This is when I started learning to haggle…  and I haven't stopped.  These days it comes like a second nature to me.  I don't even hesitate to ask for a better deal.  Let me share with you my three best secrets for getting a better deal in a bartering situation.
The first thing I do is ask for the price of the item, then I ask if that is the lowest price they can offer me.  After they answer, I keep my mouth shut.  I don't say another word. I just give them a quizzical look and count to 15.   Unless your vendor is an old man wearing overalls with a hay straw sticking out of his mouth, then I dare you to give this method a try and see what happens. If your vendor really IS an old man wearing overalls with a hay stray sticking out of his mouth, then be prepared to get into a very awkward, silent, quizzical, staring match.  Those types are tough nuts to crack.  But, for the most part, everyone who is out hocking their wares at a vendor booth is going to be ready to make a deal.  So, ALLOW them make their deal.  Fifteen seconds of not saying a word will typically make any vendor want to fill that uncomfortable silence and start slashing their prices.  Give it a whirl sometime.
After they begin lowering the price, don't take their first offer.  Don't take their second offer.  Be prepared to walk, and never look interested in the item that you are trying to buy even if it makes you want to pee your pants with excitement.  Stay calm and collected, and your bartering power will increase dramatically.  If you can be silent and stare at them for a count of 15, then I promise that your bartering power will go up by leaps and bounds.  Nobody enjoys uncomfortable silence, so shut up and let the vendor do the talking. See if the prices start to drop with every second that you sit and stare at them in silence.  You might be very surprised at the ninja-like price slashing effectiveness of this one move.
Secondly, after I have found out the price of an item, I like to take my cell phone out and stare at it in deep concentration.  The seller usually thinks that I'm looking it up on ebay to see what it's really worth, but what I'm actually doing is calculating what my lowest price is going to be.  If I have a LOT of stuff (like, multiple big-ticket items), I will add up the price of each item and then take at least 30% to 35% off of that number.  That is my starting offer and I never expect to actually GET that amount. From there I will work my way up in small increments to see if they can do any better.  Typically they will meet you in the middle and find a number that is agreeable to you both.
A word of warning: Once you start haggling, it is hard to stop. You're going to want to haggle with everyone from the lady handing out samples at Costco to the Starbucks Barista over the price of your grande non-fat soy latte.  Know when it's appropriate to haggle.  Hey, here's a tip.   Try it at Lowes or Home Depot sometime.  You might be surprised.
There is an exception to my haggling rule at a vendor booth, and that applies to any item which proceeds are being donated to a great cause.  For example, I chose to pay full price for this beautiful blue coat rack that I bought at The Chapel Market last year since all the proceeds from my sale benefited Acres of Hope and kids who needed adoptions.  I loved it, and it looks perfect in Garrett's rustic boys bathroom, so I feel good that I got a unique piece that I absolutely love while helping fund a charitable cause.  It's a win/win!  If you know that the proceeds of an item are being donated to charity, don't be the schmuck who tries to get a bargain on it.
~~~ Let me stop here and say that I've come back and edited this post after getting some comments about my advice on haggling with vendors.  There is a time and a place to haggle, and you have to be the judge of when it's appropriate.  Here is a short guide for when I think it's ok and when it's not.
Yard sales and Flea Markets?  Always haggle.
Junk or antique stores?  Always ask if they are willing to come down in price.  Usually they are.
Vendor booths with lots of found items or estate sale resales?  It never hurts to ask.  They put a lot of work into hauling and moving the stuff, but they are typically negotiable.
Vendor booths with handmade items like artwork, photography, pottery, glass, soaps, or sewn or knitted items?  Tread lightly.  These are artisans who have a skill that others don't, and they deserve to be paid full price for their work.  Plus they usually paid a hefty price just to rent the booth.
Vendor booths where all proceeds go to a charitable organization?  Never ask for a discount. That's just tacky.~~~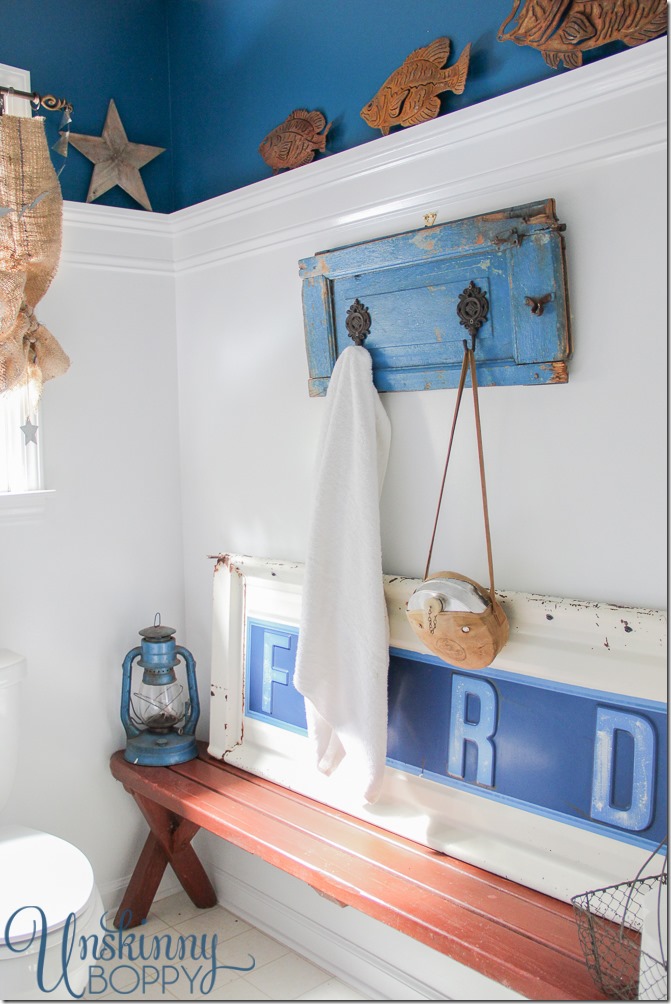 Let's move ahead to the next point by clicking "next" or scroll back through if you just landed on this page from Pinterest.