I'm home from Haven 2014, without very much to show for it except the memories and a hangover.  I never even pulled out my big camera, so I have VERY few actual photos that turned out from the weekend.  All of my iphone selfies taken at the ballroom parties look all dark and downright embarrassing.  Plus, I totally forgot to actually take ANY photos AT ALL with most of my bloggy BFFs (both old and new). 
So, instead of showing you the grainy assortment of pitiful photos that I actually have on my iPhone, I thought I'd just Photoshop myself into all the pictures from the #havenconf stream that I should have taken!
Here are a few of my favorites…
Dusty (All Things G&D), Jacque (The DIY Village), and me tearing it up on the dance floor at the Ryobi party.
SO GLAD I got to meet my long time bloggy crush, Kelly from live.laugh.rowe!  Here we are Clockwise with the awesomeness that is Randi (Dukes and Duchesses), Rachel (I Love My Disorganized Life), Kelly (Miss Information), and Claire (A Little Claireification).
Awwww look at me with all my Anna Maria girls!!!  I love Carrie (Making Lemonade), Diane (In My Own Style), Roeshel (DIY Showoff) and Karah (Space Between)  We are only missing Kelly (Eclectically Vintage) and we would be a happy family again!  Don't forget to go enter to win the HUGE giveaway for your own 5 night trip to Anna Maria Island with tons of extras!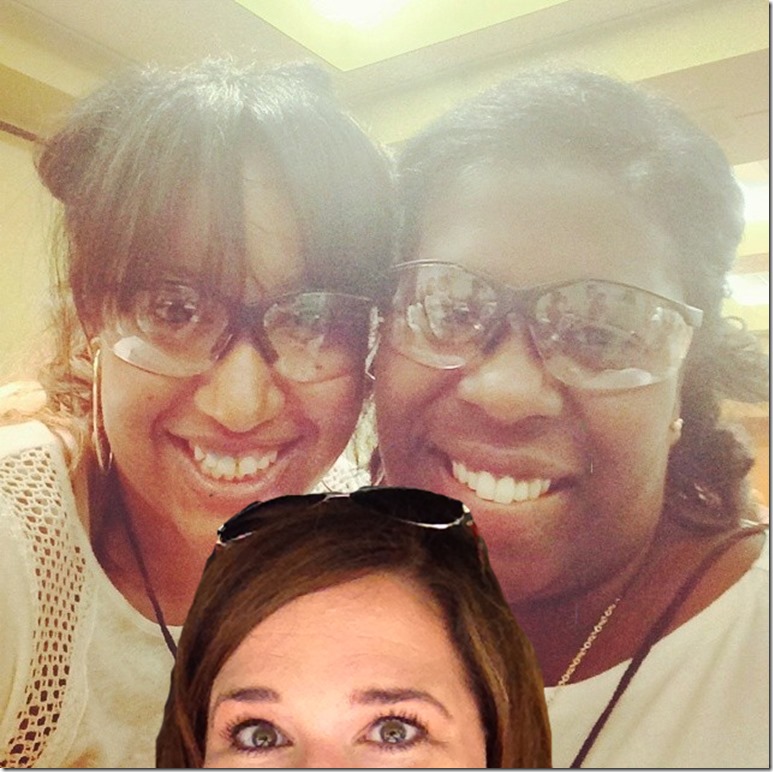 My sweet, amazing friend Brandi from Don't Disturb This Groove introduced me to this pretty lady (Katrina from Chic Little House) who gave me some very nice compliments on my Lightroom presentation. Since Brandi was the face I focused on during my Country Living Fair presentation, I think I might hire these ladies to go with me anytime I have a public speaking event so I can see them smiling up at me from the audience.  Pure loveliness, that's what they are.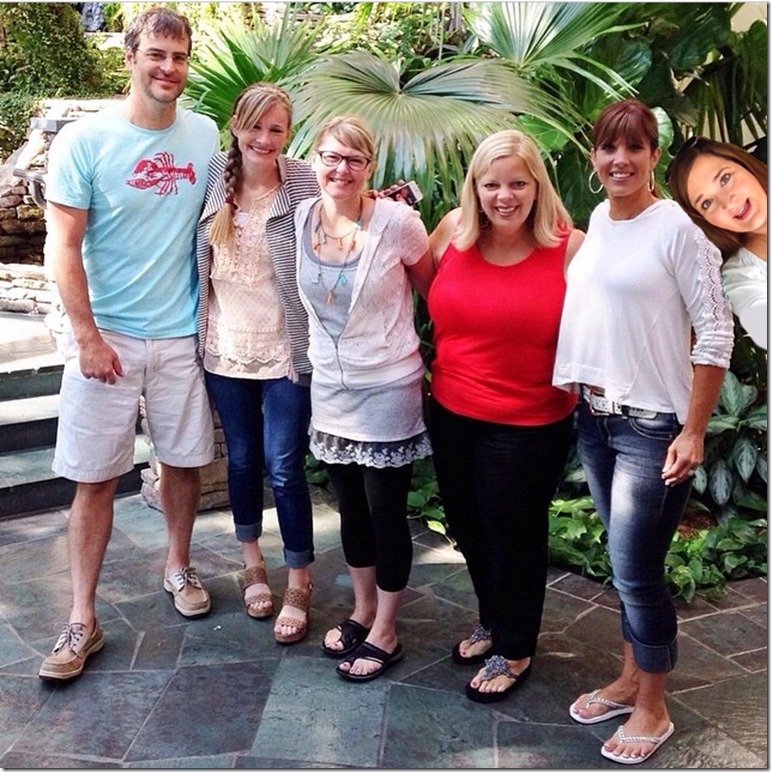 This crew right here…. I swear.  I don't know what I'd do without 'em.  I love, love, love these peeps. From left to right: Jamin and Ashley from The Handmade Home, Jen Rizzo, Kari (Thistlewood Farms), Heather from At The Picket Fence and ME! 🙂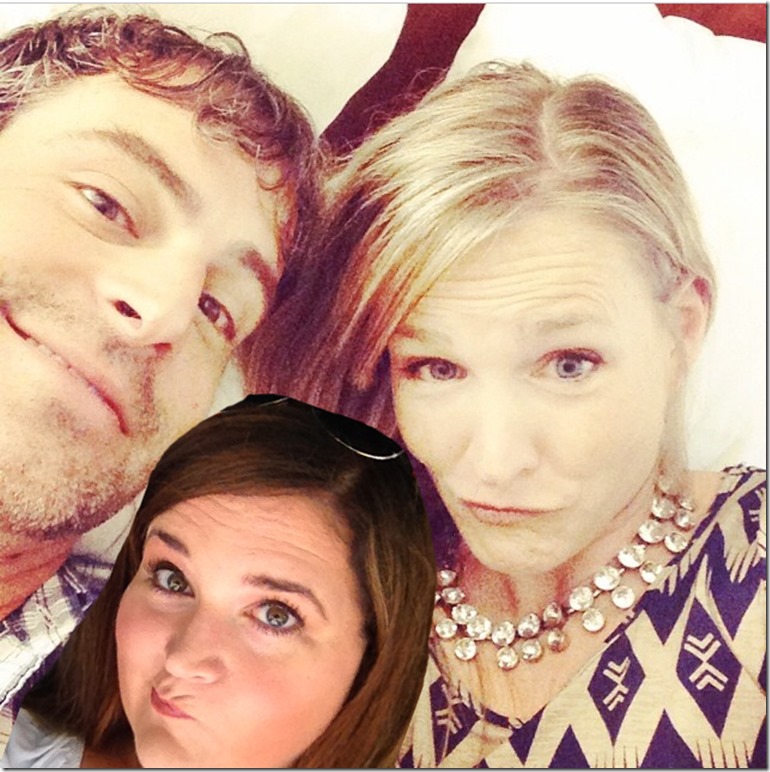 Speaking of the Ashley and Jamin…. I haven't had a good chance to talk to either of them up until this Haven, and now I feel like we are old friends.  And snuggle buddies….  If you haven't bought a copy of their book, you need to check it out! 
Jenn (Beauty and Bedlam) and Brittney (Pretty Handy Girl) are buddies from our Tybee Island trip, but this was my first time meeting Candace (Vintage News Junkie/Rusted Roots).  Fun seeing you ladies again!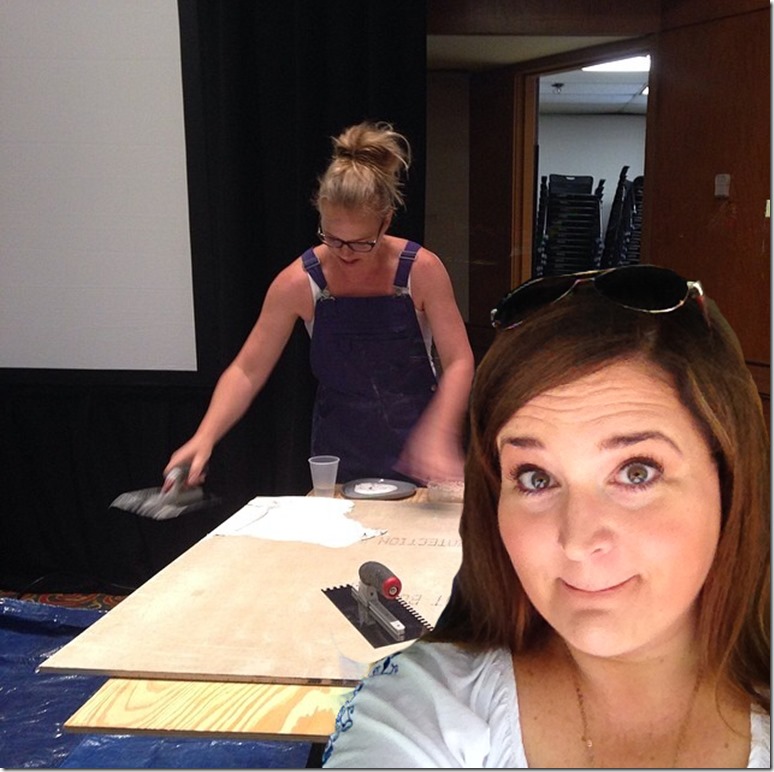 Lemme tell ya.  Sandra (Sawdust Girl) is SO high energy that I swear I almost didn't catch this photo with her.  So glad I got it though! WHEW.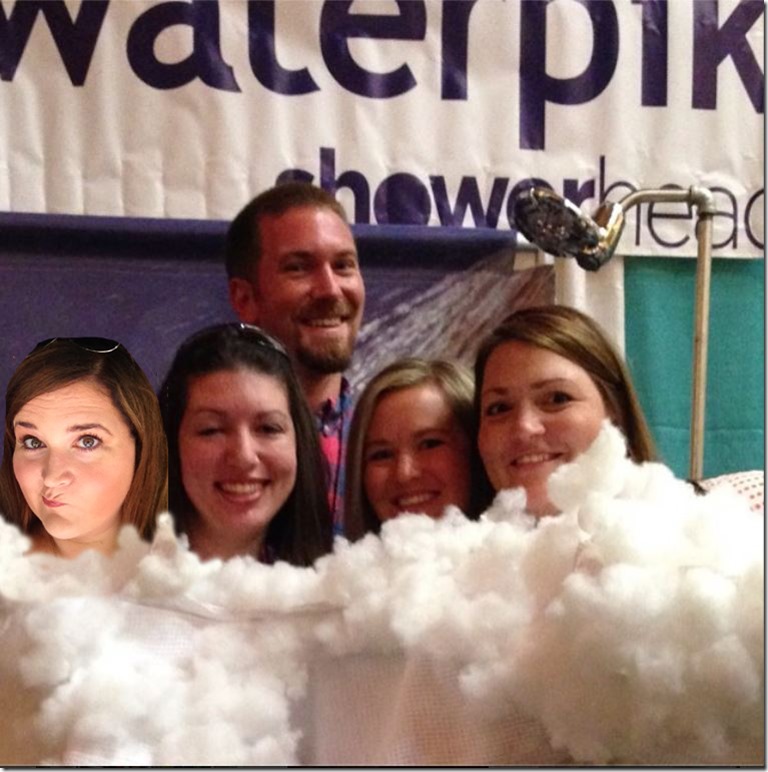 Oh! And how could I forget the sponsors who gave us awesome swag?  Thanks Waterpik for the shower head!  LOVED seeing my girls Jessi (Practically Functional), Jocie (One Project Closer) and Jacque again!  And who is that I spy under that shower spray? It's Jamison from Rogue Engineer, who I just completely adore.  I have LOTS more to say about Jamison, but remember he drew this awesome set of furniture plans for me a few months ago? Well, he is the nicest dude you'll ever meet. So nice showering and candy-stealing with you, Jamison. And all these crazy women.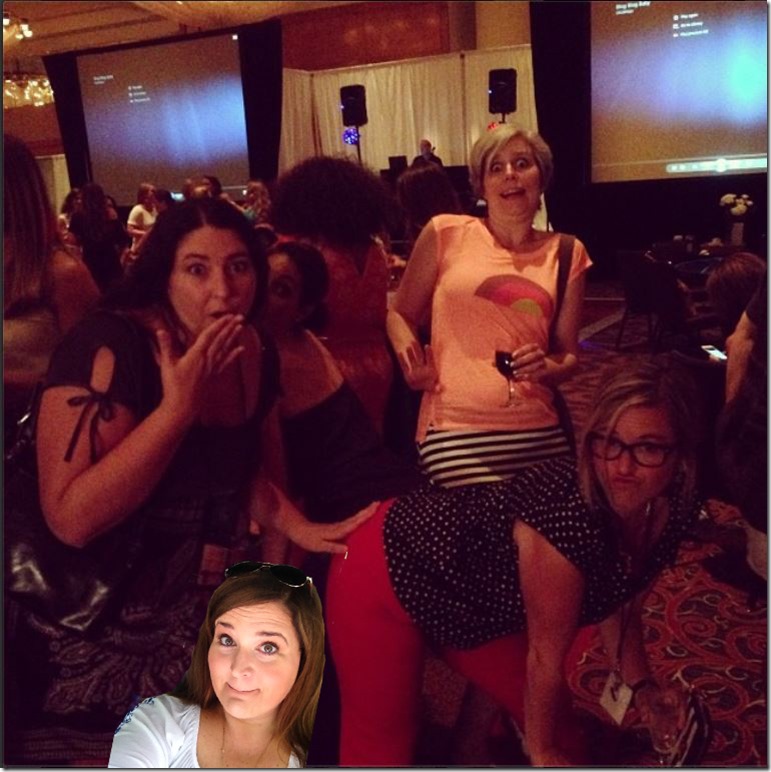 Speaking of crazy women…. who doesn't love some twerking?  Jocie's got moves, yall. She is SUCH a spitfire. I just love her!  So great seeing my beautiful friend Gwen from The Bold Abode and FINALLY meeting Keri (Shaken Together) in person.  These chicks are SO FRIGGIN awesome!!!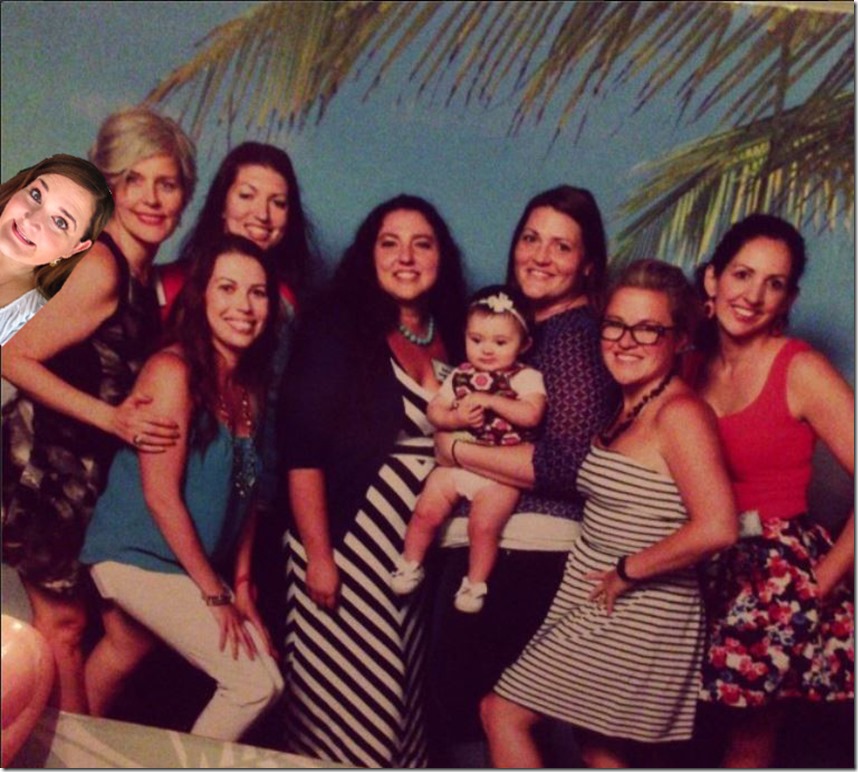 I just love this picture of all of us. What would I do if I had missed being in this photo with these ladies?  I'd be really sad, is what I would be.  From left to right: Me, Gwen, Melissa (The Happier Homemaker), Jessi, Keri, Sweet Baby Joss, Jacque, Jocie and Kelly (View Along the Way)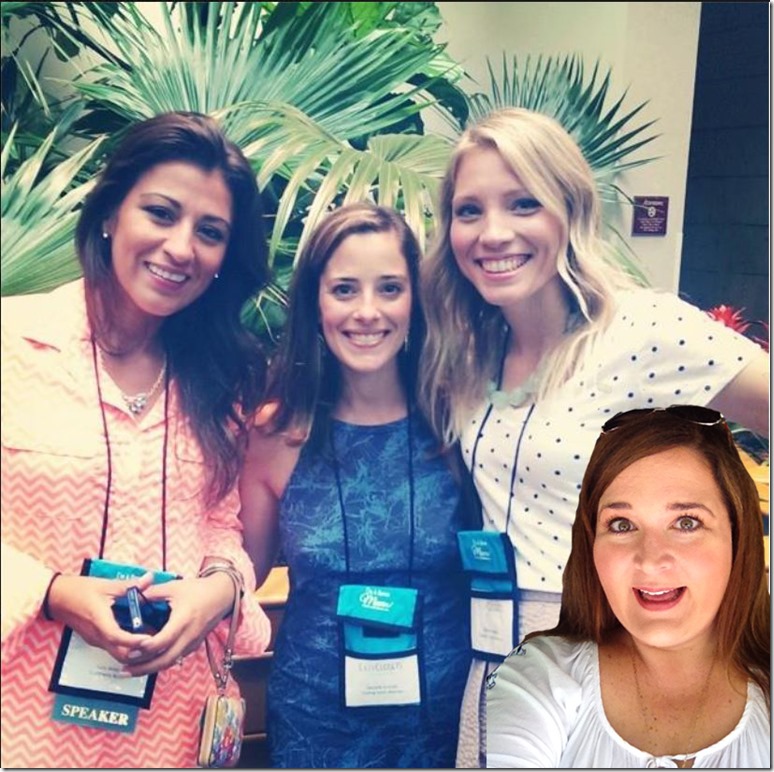 I spent the last night of the conference cozied up to a bottle of champagne and these three beautiful women right here.  I have known my gorgeous friend Lucy from Craftberry Bush for a while now, but it was my first time meeting her in person!  She is just stunningly beautiful both inside and out.  Meeting her in person was a highlight of my trip!  She introduced me to Danielle (Finding Silver Pennies) and Rachel (Shades of Blue Interiors) and we all bonded over some late night girl talk. Talk about a trio of talented, beautiful women.  Love these ladies!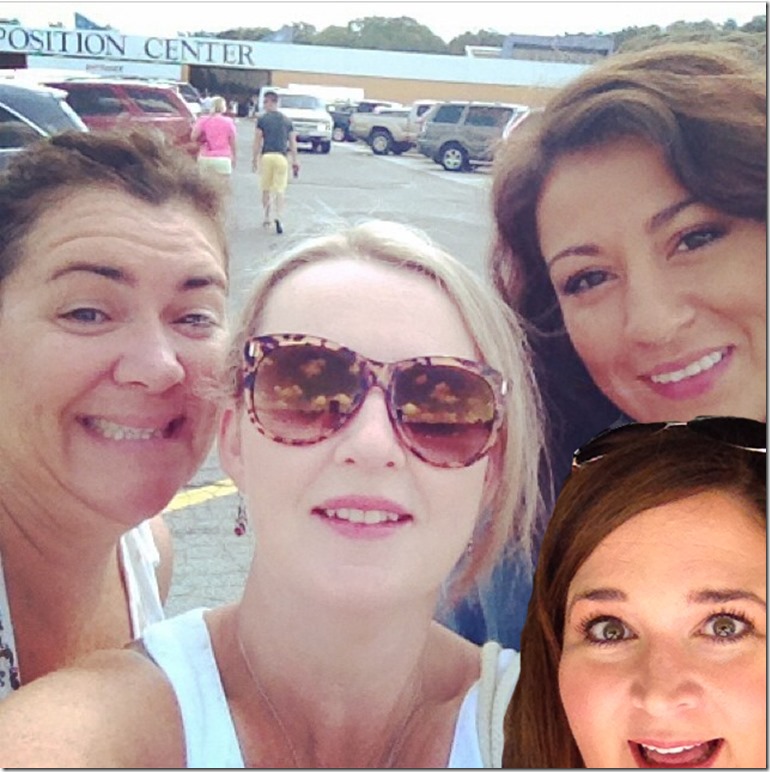 Then, on the last day, these ladies visited Scott's Market together, and I totally crashed that party.  So great hanging out with my friend Sue from Shop at Blu, Wendy from Front Porch Mercantile and Lucy at Scott's!  (in my head)…
In reality? I was too dead tired to walk another step, so I drove straight home.
Y'all!  It was SO MUCH FUN!!  There are about 411 other people who I wish I had a photo with, but of course I don't! I do have a few more actual pictures that I'll be sharing tomorrow along with the ACTUAL recap, but for now, whew…  I'm spent. 
PS–  Maybe next year I should teach the "How to Photoshop Yourself Into All Those Haven Selfies That You Missed" Class.
PPS—Please let me know who to credit if you see your photo!